Fresh Hell
NYC's War Against Noisy Cars Foiled by Drivers Who Don't Have Plates
Hell Gate has obtained the results of a pilot program that placed a sound camera at four locations around NYC.
1:55 PM EDT on September 30, 2022
Cars make noise. And if you were to modify your car—say, by drilling three-eighths-of-an inch-wide holes in your exhaust pipe, performing a "resonator delete," swapping your stock muffler for a performance muffler, or removing your muffler altogether—it would make much, much more noise. 
If you've been to New York recently, you're familiar with the sound: a guttural, mechanical whine delivered with the intensity of a gunshot and the harmony of a fart. Echoing at all hours. Motorsport, I guess.
As of 2021, New Yorkers owned 71,000 more cars than they did in 2019, bringing the citywide total to a record two million personal vehicles. Since the onset of the pandemic, modified cars—along with their naturally loud two-wheeled counterparts, dirt bikes and motorcycles—seem to have made New York City noisier than ever. Vehicle noise complaints submitted to 311 are up 70 percent from pre-pandemic levels.
Last October, Governor Kathy Hochul signed the "Stop Loud and Excessive Exhaust Pollution Act" (SLEEP) Act, which tightened rules and beefed-up noise-related penalties—$800 for a first offense—for drivers of modified or otherwise loud vehicles. The law also states that an auto shop could lose their license if they're caught performing three or more of the modifications within 18 months.
Older rules against loud vehicles were rarely enforced—the number of traffic violations the NYPD has handed out has dramatically decreased over the past several years. But the City's Department of Environmental Protection has quietly launched an initiative to fight the racket from souped-up mufflers. 
Last June, the DEP began a year-long pilot program that employed a sound-triggered roadside camera to ticket excessively loud vehicles. The camera's sonic sensor snapped a video when it detected noise that registered at 85 decibels or louder from a distance of 50 feet or more. News of the program spread last February, after a DEP-issued summons was posted to auto-enthusiast Facebook page Lowered Congress and car blog Road and Track confirmed the image's authenticity.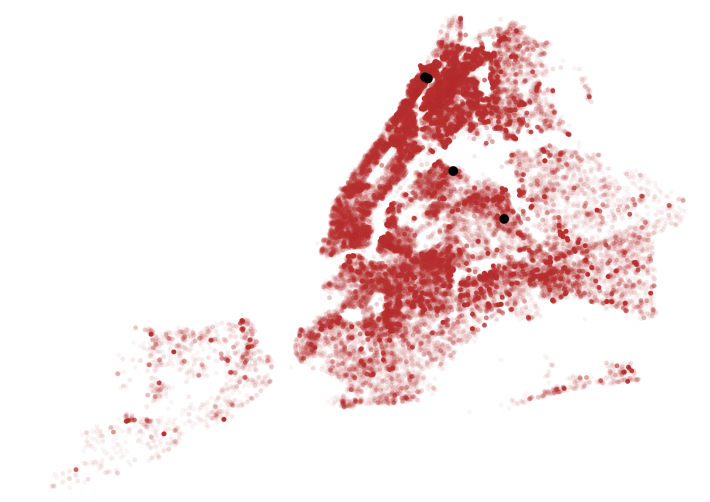 The DEP's camera—which was tested in four locations around the city— successfully logged thousands of noisy vehicles, according to public records obtained by Hell Gate. But because of the camera's limitations, and because so many of the drivers lacked or obscured their license plates, authorities were only able to identify a third of them.
The device was first placed in Queens, at the intersection of the Long Island Expressway and 99th Street, and then along 20th Avenue in Astoria, before it was moved to two locations in Manhattan: Hillside Avenue and Fort George Avenue, both in Inwood.
Altogether, the sonic camera captured 2,071 noise "events" through June of 2022, according to a DEP slide deck dated August 22. Of those 2,071 events, 63 percent were determined to be cars or motorcycles that exceeded the 85-decibel threshold; the rest were determined to be buses, trucks, municipal vehicles, or in the case of the Fort George camera, loud block parties.
A whopping 700 of those events—or 38 percent of all vehicular events—were unusable because the camera's footage was too blurry to make out the plates, a seemingly glaring flaw for an enforcement device. Another 402 drivers had no visible license plates; 35 drivers were sporting license plate blockers, and 68 more couldn't be identified because it was not possible to tell which vehicle was the noisy one. Overall, just 243 offending vehicles were actually caught and identified.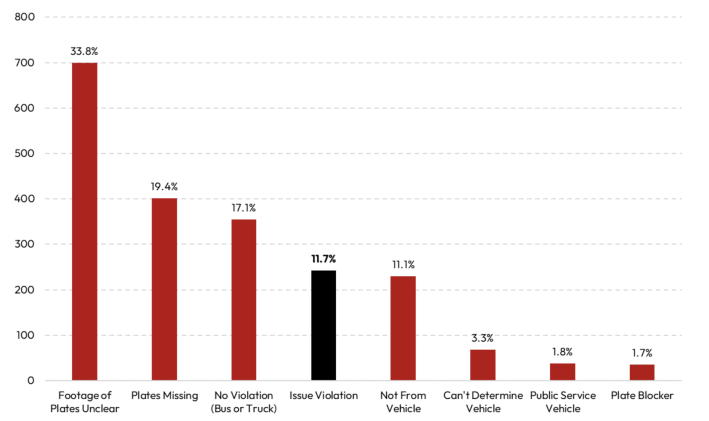 The Fort George camera caught the most noisy vehicles, with an average of 287 events a month, though it also had false positives from the block parties. The camera on 20th Avenue in Astoria averaged 230 events a month, but the DEP had to move the camera "due to fear of vandalism" after its location was posted online, according to the DEP slide deck.
The camera along the LIE, which averaged 100 events per month, surveyed too many lanes of traffic, which made identifying offenders too difficult. The Hillside avenue location, which was selected by the NYPD, captured just 25 events a month.
As of August, just 29 summons had been delivered, with 40 more being processed. At first, ticketed drivers were delivered notices compelling them to bring their vehicles to a DEP facility—in February, it was the Newtown Creek Sewage Treatment Plant, in Greenpoint—where they would be inspected for noise code compliance. Three such events were held in November, February, and March (all occurred on weekday mornings). It is unclear from the deck how many drivers actually showed up. In addition, drivers faced fines: initially, from $220 to $880; and following the SLEEP Act's passage, $800 to $2,500. 
The DEP presentation notes that the camera appeared "more successful at addressing muffler noise than in-person joint operations with NYPD," and that in-person operations are "one-time events that generally do not result [in] change in the area." While automated enforcement is far from perfect, it's fairer and safer than the alternative. And for the job of curbing the external internal combustion engines that harangue the city's eardrums, it might be better, too. 
The DEP's deck concludes that "presence of the camera appears to reduce muffler noise," though it doesn't offer evidence to that claim beyond an anecdote from a Hillside Avenue resident who claimed that noise dropped when the camera was installed and rebounded when it was removed.
Brigid King, who has lived in a corner house along 20th Avenue for the last twelve years, described the vehicular noise "terrible, absolutely terrible." King hadn't heard of the pilot program but was happy to learn of it. "You can't sleep," she said. "I never would have bought this house if I'd known it'd be like this."
Pending approval from the Office of Management and Budget, the agency is set to purchase two additional cameras this fiscal year and five more in FY 2023. The agency also might beef up the program with decoy cameras in order to better conceal and protect the real ones.
The DEP did not respond to repeated requests for comment.
Of course, not everyone is happy. Bronx resident Phillip Franklin, whose anti-SLEEP Act Change.org petition garnered over 1,200 signatures last year, described the pilot project as unfair to auto enthusiasts. "It's bad enough we have speed cameras and bike lanes seemingly on almost every block, now we have to deal with this? It's ridiculous," Franklin wrote in a message to Hell Gate.
"I can see some of the concern," Franklin said. "But we live in the city that never sleeps. It's loud regardless of where you go."
Eric Krebs is a writer from Queens. He has written for the New York Times, Slate, and Bloomberg. You can reach him at: ericjohnkrebs@gmail.com
Stay in touch
Sign up for our free newsletter