Paying Rent
NYC's Affordable 'Social Housing' Is Fading
The City Council is considering a package of legislation to support building more—but would it do enough?
11:18 AM EST on March 6, 2023
New York City has a rich history of creating social housing: affordable housing co-ops, Mitchell-Lama buildings, public housing, and community land trusts. What sets social housing apart from other forms of so-called "affordable" housing are its general principles: "deep affordability," or being truly affordable to poor and working-class people; democratic management; and being removed from the speculative market.
Over the years, these bulwarks against rising rents have been significantly eroded. Now, the City Council is considering a package of legislation to support building more social housing. But their limited scope points to how much needs to change—these bills are primarily procedural changes to enable more nonprofit development, a far cry from the massive housing construction programs that existed from the end of World War II to the beginning of the Reagan era. 
The goal of these bills, Brooklyn City Councilmember Sandy Nurse said at a rally outside City Hall in late February, is to "defend our communities against the class war that is being waged against us" and give working-class New Yorkers the opportunity to stay here.
These bills "will keep truly affordable homes in our neighborhood," Debra Ack of the East New York Community Land Trust told Hell Gate at the rally, timed to coincide with a Council Housing and Buildings Committee hearing on the legislation. "We know the speculators are out there trying to flip our homes. We saw what happened in Bed-Stuy."
Three bills pending in the Council have been backed by more than half its members. Intro 637, sponsored by Brooklyn Councilmember Lincoln Restler, would require the City to give first priority to nonprofit developers and community land trusts when selling City-owned land. Manhattan Councilmember Carlina Rivera is sponsoring Intro 196, or the Community Opportunity to Purchase Act, which would give "qualified entities" the first opportunity to purchase apartment buildings that are for sale. Intro 714, sponsored by Manhattan Councilmember Gale Brewer, would establish a City land bank, which could acquire property and transfer it to community land trusts and nonprofits. 
A fourth bill, sponsored by Nurse, would have the City conduct a study on the feasibility of establishing a social housing authority. (The Housing Justice for All coalition is developing legislation to create a similar state authority.) The Council is also considering resolutions urging the state legislature to pass bills that would give tenants the right to make the first offer if their building is being sold; create a rent voucher program for people who are homeless or about to be evicted; and prohibit evicting tenants without a "good cause," such as nonpayment of rent.
New York City now has the highest rents and the most housing code violations in its history, Public Advocate Jumaane Williams told the people at the rally. "The corporate model has brought us to this point," he said. 
For the past 30 years, the City's efforts to create "affordable housing" have mainly relied on efforts to have it trickle down from luxury development, by giving tax breaks and zoning incentives to for-profit developers who include up to 30 percent below-market-rate apartments. Yet "affordable" is defined in relation to the federal "area median income" (or AMI, in housing policy jargon) that is standard for the metropolitan area—$120,000 per year for a family of three—instead of the City's median household income of about $70,000. A $4,900 per month two-bedroom apartment could qualify as "affordable," under a formula that includes housing for people making up to 165 percent of AMI. 
That method has produced very little housing for people who make less than $40,000 a year. Council Housing Committee chair Pierina Sanchez said that these guidelines have excluded most of the residents of her West Bronx district, where the median income is well below that, in the AMI system's "extremely low-income" category.
City housing officials have said for years that it's impossible to build extremely low-income housing without substantial additional public subsidies. 
At the Housing Committee hearing, Comptroller Brad Lander noted that from 1978 through 1993, the City's affordable housing funding and land were split three ways among for-profit developers, nonprofit developers, and tenants converting buildings to shared-equity co-ops. Under the Giuliani, Bloomberg, and de Blasio administrations, however, 80 percent went to for-profit developers. "Nothing I've heard today," Lander said, indicates that the Adams administration wants to change that breakdown.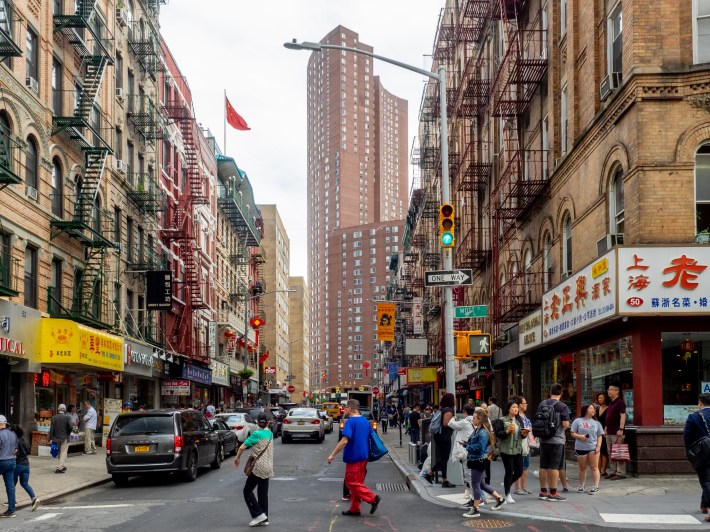 A 'change of direction' toward lower rents
The amount of housing this legislative package would lead to, if passed, would be far less than that created through the state's old Mitchell-Lama program, which built almost 140,000 apartments between 1955 and 1978, or the 2,600-apartment complexes that labor unions developed in the postwar era. 
"It's not Mitchell-Lama 2.0, or public housing 2.0," Sam Stein, a housing policy analyst at the Community Service Society, said of the Council's package. But it would be, he said, "a change of direction for the City government, and we'll try to build on it if it passes."
If nonprofits or tenants had the right to make the first offer on buildings, as one of the bills proposes, they would still have to outbid private owners.
That problem isn't insurmountable—but it requires limits on the market. Justin Timbolesi, a housing consultant, told Hell Gate that when he worked for a land trust in Oakland, California, they relied on a three-part strategy to acquire land. First, they got financing "that can move as rapidly as the market" from progressive private investors—who were often, he said, "leftist trust-fund kids." Second, the City created a multimillion-dollar housing fund that would pay those investors back. And critically, there were organizing efforts that put political pressure on landlords. In 2020, partly in response to public pressure after three homeless mothers and their children occupied a vacant house owned by a private equity firm and were then subsequently evicted by the police, the company agreed to stop flipping buildings in Oakland and to sell the occupied house to the land trust so the women could live there.
Stein pointed to another problem: There is much less publicly owned land than there was 20 years ago, when parcels like the Hudson Yards site were still available. Officials from the City's Department of Housing Preservation and Development told the Housing Committee that it owns only 810 vacant lots, and it is planning to transfer two-thirds of them. In 2017, it had 1,009; in the 1990s, it owned 4,700 buildings abandoned by their landlords, 1,500 of them vacant.
Still, former Comptroller Scott Stringer did studies in 2016 and 2018 that said the 1,000 vacant lots HPD owned could be used for 50,000 apartments.
The "City of Yes" says "no"
Another hurdle: HPD opposes all of the proposed bills. Deputy Commissioner of Development Kim Darga told the Housing Committee that giving community groups the first crack at buying buildings would disrupt the housing market and hurt small owners. The department would have to review hundreds of transactions a year, added Lucy Joffe, the City's assistant commissioner of housing policy.
The agency—and by extension, one could argue, the mayor—also opposes the proposed land bank. Darga pointed out that the City couldn't manage the thousands of abandoned buildings it seized for back taxes in the 1970s and early 1980s. If a land bank doesn't have a clear plan and financing lined up, that could leave the building "in limbo," she added.
For-profit developers also made their objections known, arguing that the proposals would dampen current affordable housing production. "It will further exclude and undermine Black- and Latino-owned firms from participating in the real-estate industry," testified Genesis CEO Karim Hutson.
HPD also doesn't want to exclude for-profit developers, Darga said, although it now demands that for public land, they have to include nonprofits or businesses owned by minorities or women in their partnerships.
Councilmember Sanchez noted that when Governor Kathy Hochul announced plans in January to build 800,000 new housing units in the state, she did not mention any standards for affordability.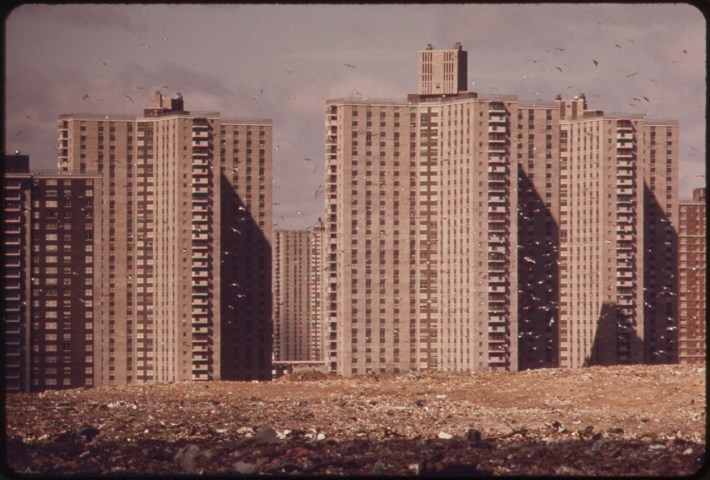 NYC's long history of rejecting the profit motive
Social housing makes up about 10 percent of the city's housing stock, Lander said—and he wants to expand that to 20 percent.
Its history goes back to the late 1920s, when Jewish leftists built several co-op complexes in the Bronx. Public housing, most of which was built between 1945 and 1980, is by far the city's biggest source of apartments with rents under $1,000 a month. Despite the New York City Housing Authority's notoriously poor maintenance, largely due to being starved of funds since the Reagan era, the agency has more than 250,000 people on the waiting list for its 178,000 apartments. 
The Mitchell-Lama program gave developers low-interest loans and tax breaks to produce housing for working- and middle-class people, and guaranteed them a six percent annual profit. The apartments built were about half rentals and half limited-equity co-ops, in which residents own their apartments but can't sell them for a profit. Co-op City in the northeast Bronx, whose 15,372 units make it the largest residential development in the U.S., is a Mitchell-Lama complex; as are Starrett City in southeast Brooklyn, Confucius Plaza in Chinatown, and General Sedgwick House in the Bronx—the 1969 building dubbed the birthplace of hip-hop. 
The Mitchell-Lama program is "one of our biggest housing successes, and we have nothing like it today," Lander said. 
The same era saw labor unions build limited-equity co-ops, like the International Brotherhood of Electrical Workers Local 3's Electchester in Queens, opened in 1949, and the International Ladies Garment Workers Union's Penn South in Chelsea, in 1962. In Penn South, maintenance costs remain low—about $1,000 a month for a two-bedroom apartment—but the purchase price of apartments has gone up, largely due to an agreement with the Bloomberg administration to finance infrastructure repairs; an apartment that cost $18,000 in 2000 now goes for $185,000. 
In the 1970s, grassroots neighborhood organizations such as Banana Kelly in the Bronx and Los Sures in Williamsburg began converting distressed and abandoned buildings into limited-equity co-ops known as Housing Development Finance Corporations, or HFDCs. In New York City today, there are about 1,200 HDFCs with a total of 25,000 apartments, according to the Urban Homesteading Assistance Board. Few new HFDCs are being created, however: The number produced annually has dropped from more than 100 buildings a year in 1985 to less than 15 a year since 2015, according to a report by the Housing Committee.
New York's remaining social housing units are far cheaper than market-rate apartments, but getting into them usually takes winning a lottery. In February, there was a lottery for Ruppert House, a 652-unit Mitchell-Lama co-op on the Upper East Side. It was selling three-bedroom apartments—virtually impossible to rent for under $2,000 anywhere in the city—for $32,400, with monthly maintenance costs ranging from $797 to $935. The apartments were available to buyers with incomes between roughly $32,000 and $207,000 a year.
But much postwar affordable housing has been eroded. Some union-built co-ops have voted to go market-rate, sacrificing low monthly costs for the right to sell their apartments for a profit, as the Amalgamated Textile Workers buildings on the Lower East Side did in the 1990s. And in the Mitchell-Lama program, owners can buy their way out once their buildings are 25 years old. Since the 1980s, more than 45,000 rental units—two-thirds of those built—and about 6,500 co-op apartments have been removed from the program, according to Cooperators United for Mitchell-Lama. 
Then, there's the issue that co-op housing is often only viable for those who can afford a down payment, excluding many younger and lower-income people. One way around that, said Stein, would be to have a mutual housing association rent apartments built on land owned by a community land trust. In Vienna, a city where half of its 1.9 million residents live in social housing, the City and nonprofit housing associations own 420,000 rental apartments.
Despite these problems, social housing advocates say building more of this kind of housing is essential during a time when the vacancy rate for apartments renting for under $1,500 a month is below one percent, and there are on average 70,000 people sleeping in homeless shelters on any given night, 20,000 of them kids. If providing this housing would be costly, Councilmember Sanchez told the people at the February rally, so is providing public education for the city's children.
The crucial rule, Cooperators United for Mitchell-Lama's Richard Heitler told the City Council committee, is that residents can't sell these apartments for a profit. They only get back what they paid in. 
"That is what makes it affordable to the next generation," he said.
(Photo credit: Eden, Janine and Jim / Flickr)
Steven Wishnia was the last writer published in the old Village Voice and maybe the only person ever who's worked as an editor for both High Times and Junior Scholastic. He's written on subjects from labor and housing to African soccer and the Supreme Court voiding sodomy laws. Author of the novel When the Drumming Stops, he was bassist in the 1980s punk band False Prophets.
Stay in touch
Sign up for our free newsletter