$20 Dinner
Nigerian Street Food Meets Fast Food on Nostrand Avenue
Akara House's creation actually vibes more faux chicken sandwich than veggie burger.
1:34 PM EDT on March 23, 2023
When Funso Akinya was growing up in Nigeria, in a small town about a three hour drive from Lagos, fried bean fritters known as akara were a street food staple, usually purchased in the early morning, packed up with some bread on the side, and brought to school or work for lunch.  
Akinya moved to Brooklyn in the early aughts—he's lived in Crown Heights for the last dozen years—and immediately got into the hospitality business. "I've always been a lucky guy to work in the food industry," he told Hell Gate. "My first job was at McDonald's, in my second week in America. The food there tasted really good."  
Instant fast-food fandom aside, Akyina's memories of his childhood favorites refused to dim, but it wasn't until a couple of years ago that he seriously considered opening his own restaurant. "I started thinking about the vegan and vegetarian community in Brooklyn," he said, "and I realized that akara, which is a plant-based food, could be part of that. I realized that I could turn it into a sandwich." 
And so, as Chris Crowley first reported over at Grub Street, Akinya turned the street fritters of his youth into full-fledged veggie burgers, selling his newly-invented akara sandwich out of a former Kennedy's Fried Chicken on Nostrand Avenue, now called Akara House. 
"This is a Nostrand Avenue special," Akinya said. "Ketchup and mayo and pickles and cheese? They don't do it like this in Nigeria. This is American style."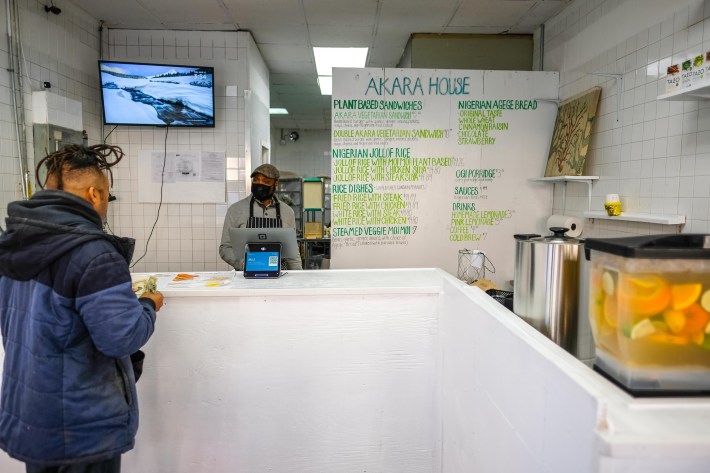 Akinya's creation actually vibes more faux chicken sandwich than veggie burger (he told me he ate at Popeye's every night for three months, "trying to figure out how to capture the chicken") the black-eyed pea mixture fried to a slightly crisp crust, slathered in mayonnaise, with cucumber slices (not pickles) on bottom and unmelted American cheese up top. 
It's a good sandwich made great by the bread, a chewy Nigerian agege roll that Akinya has specially made by a baker in Georgia. And if you really want to elevate this plant-based beast into a memorable meal, be sure to get a side of the sweet-and-spicy ata dindin pepper sauce, and dump it on with abandon. Two of these sandwiches will cost you $10, a total bargain, though it's important to note that Akinya fries up each patty to order, and it's not a speedy process.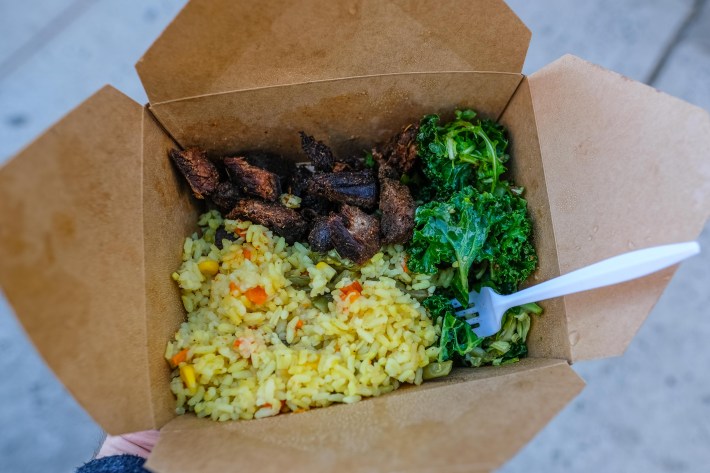 There are other tasty, filling options at Akara House as well. The nutty, peppery, charred to hell steak suya is nearly jerky-like in its gnawability, and can be had over a pile of classic Nigerian jollof rice, or with some yellow fried rice studded with vegetables.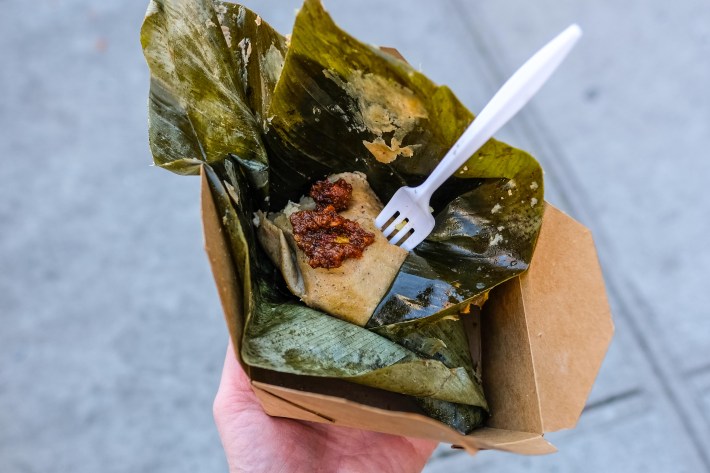 You can also get chicken suya and rice here, or, keeping it plant-based, a banana leaf blanketing a mound of moi moi, which features essentially the same ingredients as akara, but it's steamed rather than fried, so the texture is more like a pudding.  All of these dishes get a nice jolt from that ata dindin.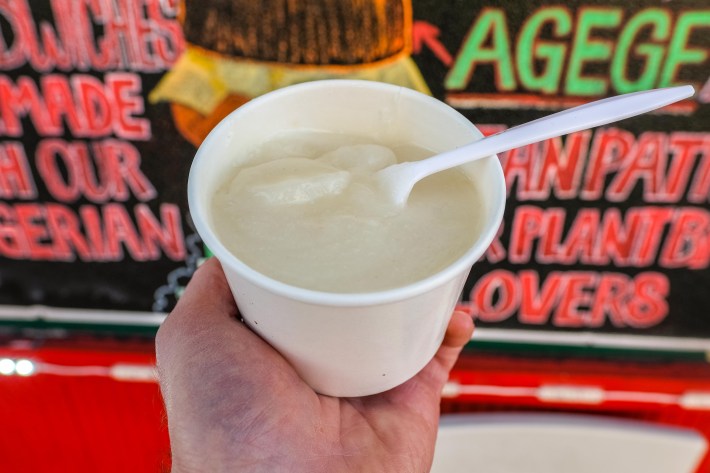 There's was only one beverage available when I went last week, a homemade lemonade that appeared to also have a fair amount of oranges in the mix, and no dessert, though Akinya's ogi porridge, nominally a breakfast food and made here with corn and infused with honey, did the trick in that department.  
There are two stools before a narrow counter by the front window, and a couple of chairs set up on the sidewalk. If the weather's nice, Brower Park or St. Andrews Playground, both just a few blocks away, are pleasant places for a quick picnic.      
And though Akinya may have invented this particular version of the akara sandwich, he's hesitant to take credit for too much. "I don't own the food," he said. "It's not my food. Akara has been around since before I was born. The glory goes to those women back home that I witnessed growing up, doing this every morning on the street, because it's not an easy job. Every time I lose focus I look towards them, and get my energy from them."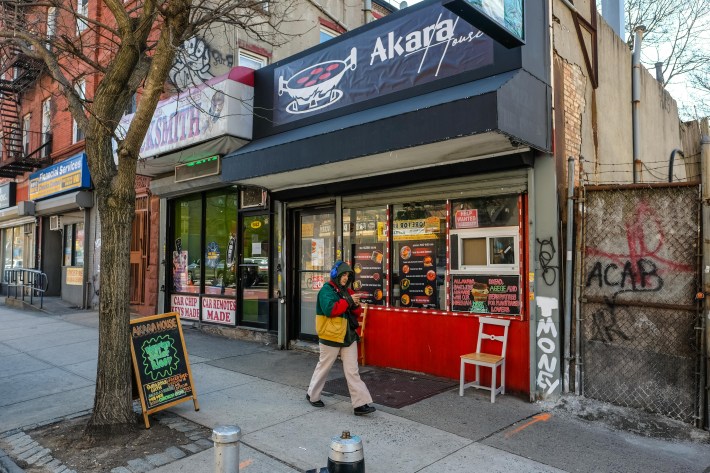 Akara House is located at 642 Nostrand Avenue, between Bergen and Dean Streets, and is currently open from 11:00 a.m. to 10:00 p.m. on weekdays, until 12:00 midnight on Saturday, and until 7:00 p.m. on Sunday. Hours may vary, however. It's mostly a one-man operation right now, so if Akinya needs to be elsewhere, or runs out of food, the gate goes down.
Scott Lynch is a freelance food writer, photojournalist, and preschool receptionist. He loves New York City.
Stay in touch
Sign up for our free newsletter