The Cops
New York's Finest: Automate This
The NYPD robots are stupid and creepy, but at least a robot can't steal its ex-wife's car keys.
1:40 PM EDT on September 26, 2023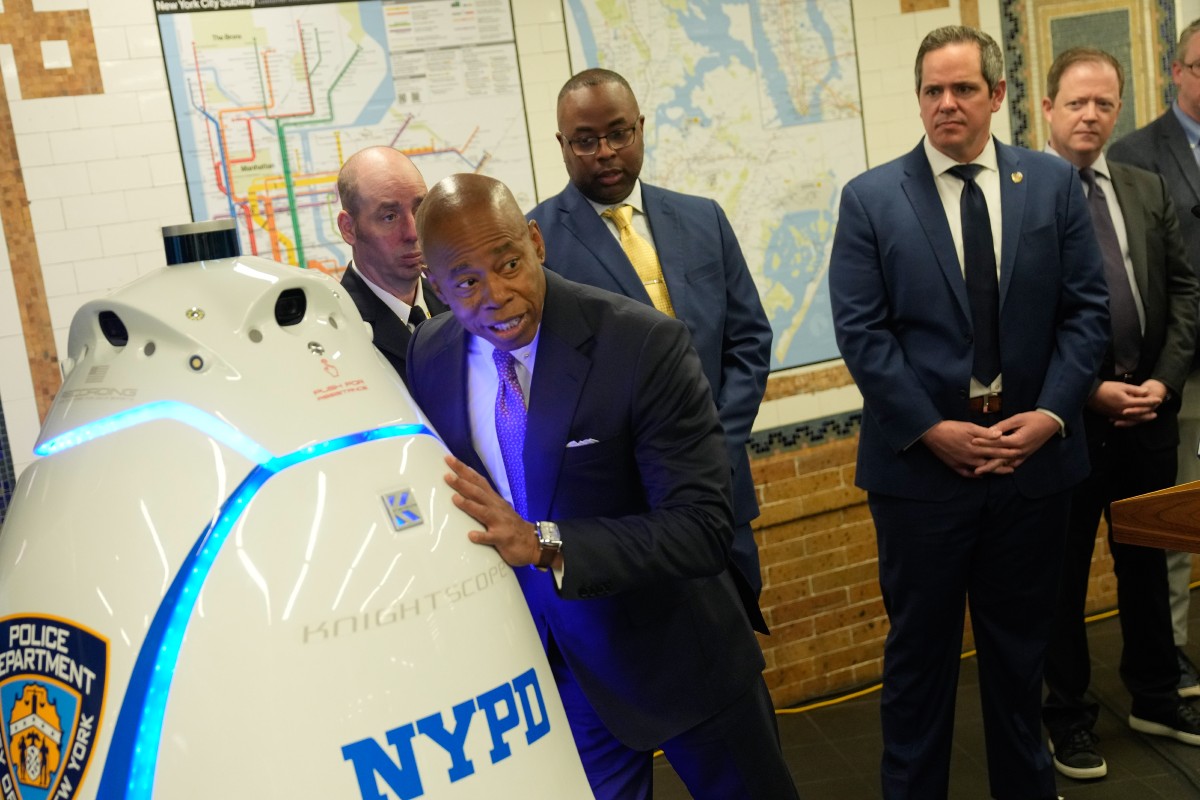 Credit where credit is due: The new NYPD robot, which looks like EVE from "Wall-E"  took steroids and then melted a little, is funny. When our Mayor Eric Adams struck his signature heart-gesture pose with the armless "K5" robot when it was introduced to the public on Friday, that was also pretty funny. But the funniest thing of all is that the robot's debut last week prompted Adams to give the NYPD's boys in blue the "fast food cashier treatment," which is to say that he got excited by the prospect of replacing New York City's cops with giant, doofy machines. 
"This is below minimum wage," Adams said at a press conference, referring to the alleged average $9/hour cost of leasing the robot from its creators at the California-based company Knightscope. "No bathroom breaks, no meal breaks." Ha! Hahahahaha! 
This robot, which one critic described as a "trash can on wheels,"  will be deployed at the Times Square subway station and will reportedly only record video, and not audio, of its surroundings. It can make calls at the press of a button (although it's reportedly going to be connected to the subway Wi-Fi, so good luck with that). But mostly, it is yet another prop in the Adams administration's security theater. We watched him do the same thing earlier this year with those sinister, stupid Boston Dynamics dogs—that is, trumpet the fact that New Yorkers are being surveilled in public every day under the guise of embracing technology. 
But at least an NYPD robot can't do any of the truly horrible stuff that human cops do…yet. This edition of New York's Finest features a teenager struck and killed by a cop car, five-figure wage theft, and ever-present domestic disputes.
Got information about any bad behavior from the cops that we missed? Shoot us an email at tips@hellgatenyc.com.
Stay in touch
Sign up for our free newsletter