Nosh Pit
'This Is Hell': NYC Restaurant Owners Call New Outdoor Dining Rules a 'Poison Pill' for Small Businesses
New seasonal rules will end up wiping out many al fresco structures and decimate a program that is both wildly popular and crucial for medically vulnerable New Yorkers.
2:04 PM EST on November 16, 2023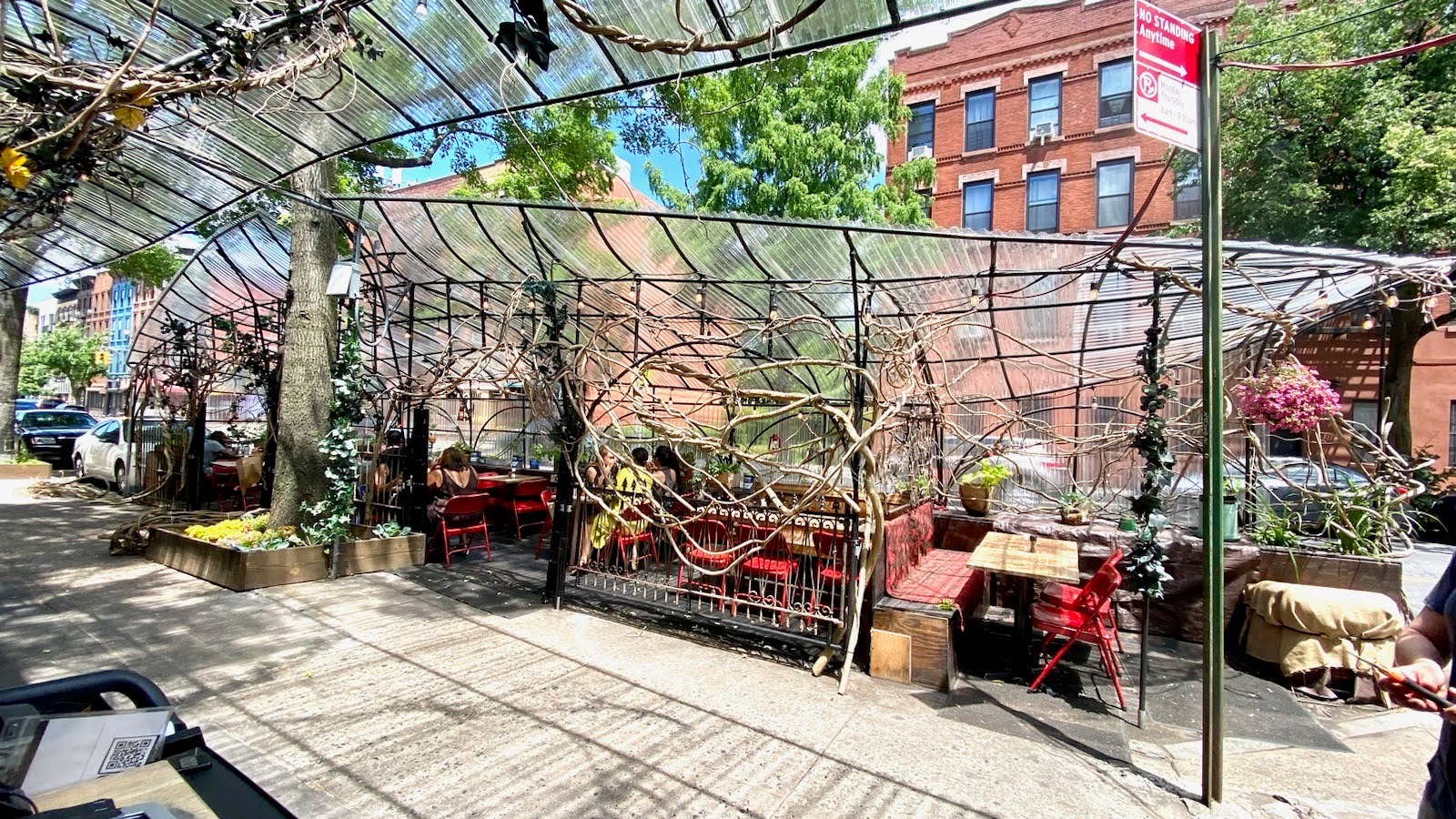 In August, City politicians passed legislation to make outdoor dining permanent, and boasted that the new law would be an enduring benefit to both customers and restaurant owners.
"The permanent program is going to help our small businesses thrive, get people to spend money in our neighborhoods, and create great jobs for New Yorkers," Mayor Eric Adams said. "Our outdoor dining will be here forever and it will continue to expand and grow."
But restaurant owners with outdoor setups say the new seasonal rules will end up wiping out many of the al fresco structures and decimate a program that is both wildly popular and crucial for medically vulnerable New Yorkers. 
"This is hell, what's going on," said Charlotta Janssen, the owner of Chez Oscar in Bedford-Stuyvesant. "The only silver lining we restaurants had was outdoor dining. It's like we're disposable and erasable."
Under the law passed by the City Council in August, sidewalk seating will be allowed year-round. But crucially, curbside dining will only be allowed from April through November, which many restaurant owners say is a dealbreaker, because they can't afford to take down, store, and rebuild their structures each year. In Paris, the number of curbside cafes fell from 12,000 to 4,000 when the program was made seasonal.
Samantha DiStefano, the owner of Mama Fox in Bed-Stuy, is afraid she'll lose her popular streetside structure, which cost tens of thousands of dollars to build, if the City proceeds with the new rules. The loss of all the seating will mean laying off staff.
"Once it comes down, it's down. There's no way I can put it back up. I can't afford to pay someone to take it down. I can't afford to store it, and I certainly can't afford to rebuild it every year," DiStefano told Hell Gate. "There is just no scenario in which this is doable for a small business. I'm sure there are large restaurant groups that have no trouble shelling out 40, 50, 60 grand to do it, but that's not our situation."
The new proposed rules also state that restaurants will not be allowed to build enclosed structures and can't have fixed roofs to protect against rain, only easily removable coverings or umbrellas. (In other words, no more sheds.) Streeteries won't be allowed in any no-standing zones. And in certain locations—when a setup is adjacent to an unmarked crosswalk or when a setup is adjacent to the approaching travel lane and an intersection—they'll have to be at least 20 feet from a crosswalk, up from eight feet under current rules.
On Monday, November 20, the Department of Transportation, which is charged with overseeing outdoor dining, is set to hold a public hearing to hear feedback about the proposed guidelines.
Charlie Marshall, who owns The Marshal on 10th Avenue in Hell's Kitchen, said he and other restaurateurs on the avenue may be forced to take down their roadside cafes because of no-standing rules in place during rush hours.
"If they don't really want outdoor dining, they should just come out and say it. They shouldn't try to get credit for extending it, and then prohibit it everywhere," Marshall said of City officials. "I voted for this mayor because he said he wanted to preserve outdoor dining. And he's not. So how am I supposed to vote next time?"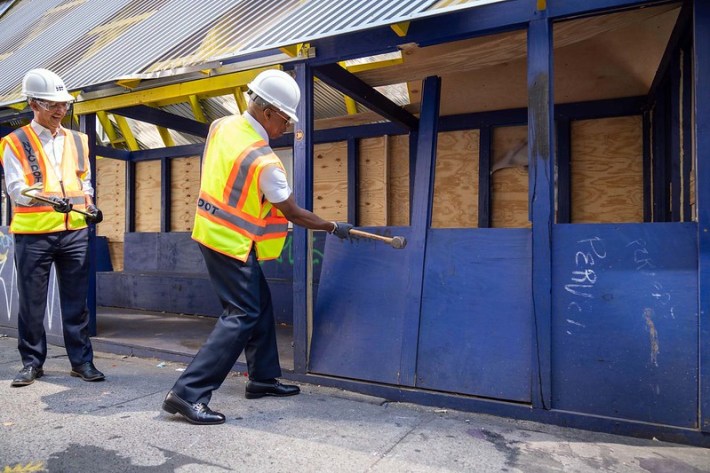 More than 12,000 eateries opened outdoor dining set-ups after the City allowed it in June 2020, according to a report by NYU. More than half of them were outside of Manhattan, compared to 30 percent of sidewalk cafes pre-pandemic. The report authors also found that four out of 10 outdoor dining establishments are located in neighborhoods where the majority of residents are people of color, double their 20 percent share pre-pandemic, and 17 community districts that had no outdoor dining at all before 2020 have it now. 
Tighter restrictions threaten to reverse some of those gains, although the City is offering lower fees for outerborough restaurants. (In addition to a standard $1,050 fee for an outdoor dining license, to be paid every four years, there are additional fees, ranging from $6 to $31 per square foot annually for sidewalk dining and $5 to $25 for curbside dining, depending on the location.) 
Some fans of outdoor dining will just move indoors if their favorite spots lose al fresco seating. But for New Yorkers who can't safely dine indoors because of ongoing COVID-19 risks, outdoor dining can be the difference between a robust social life and isolation.
"Indoor dining is completely off the table," said Michele Joerg of Park Slope, who never fully recovered from a COVID infection in 2022. "The ability to dine in New York City is one of the reasons you live here. It's the heart and soul of being a New Yorker."
Astoria resident Amanda Brzezowski only dines outdoors, because she cares for a family member with cancer and has health issues of her own. She has seen several restaurants in her neighborhood remove outdoor seating.
"It's hard enough being somebody that's trying to be COVID safe, in a society that's not really embracing that," she said. "The only times I've felt a little bit normal are times I've been able to go out to outdoor dining in our neighborhood and feel like I'm part of a community, instead of being stuck in this isolation all the time. It's really isolating. It's really lonely."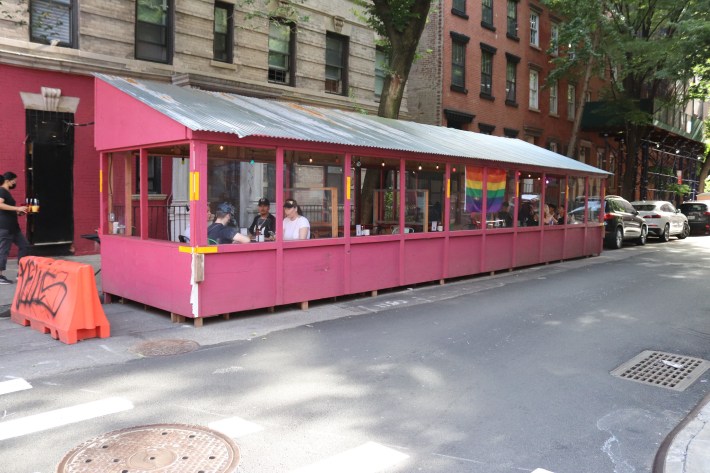 While former mayor Bill de Blasio made the outdoor dining program "permanent" in 2020, legislation was not finalized before he left office. Outdoor dining faced more skepticism in the new City Council, including from Speaker Adrienne Adams, who at one point said she did not believe in curbside dining at all. Restaurant lobbying groups ultimately backed the seasonal legislation, believing it was the best they could get. 
But the City's attempt to compromise by restricting curbside dining to warmer months has not satisfied opponents, who complain streeteries cause problems with noise, garbage, rats, and obstruct sidewalks and take away street parking. 
Earlier this month, a group of residents filed a lawsuit asking a judge to overturn the new law and order the City to take down the sheds. They charge that the City failed to do a required environmental study. 
"They just went right ahead in their arrogant way and did whatever they wanted to do," said Michael Sussman, a lawyer for the plaintiffs, of the City.
Sussman disputed the notion that his clients are NIMBY cranks. "It's not about a bunch of white people who are 70 years old saying, 'We don't like noise.' I reject that categorically. There's profound effects."
This isn't the first lawsuit filed by residents opposed to outdoor dining. In response to another lawsuit, a judge struck down the temporary open restaurants program this past July, finding there was no basis for the emergency orders the City was using to keep it going. Shortly after that ruling, the City Council passed the permanent law.
The City has removed 320 dining sheds since the summer of 2022, either because they were abandoned or in violation of existing rules, according to the DOT. Spaces where sheds are removed generally return to being parking spots.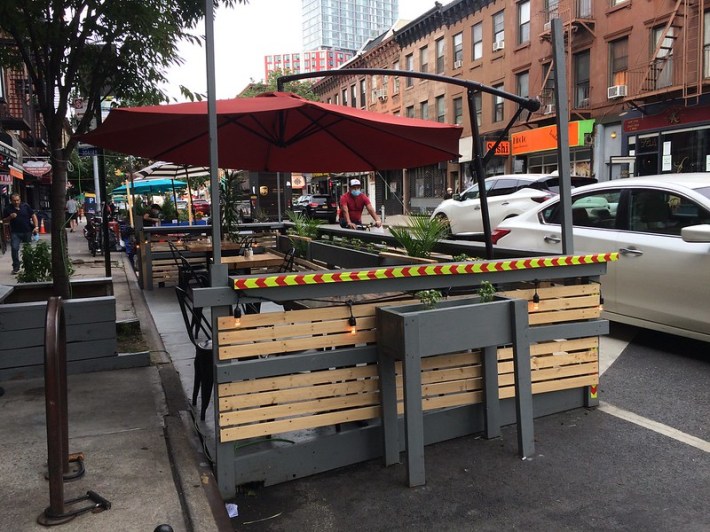 The DOT says it is open to making changes in response to the public feedback it gets during Monday's hearing—though the change to a seasonal program cannot be reversed without City Council action. The permanent program "will build on the lessons learned during the pandemic to improve safety and quality of life—while still allowing for creative and flexible setups. We look forward to reviewing public feedback before finalizing rules," said DOT spokesperson Vincent Barone. 
Restaurants can keep their current setups until next November, but some owners say they'll probably be gone before then if there are no significant changes to the new rules.
In Bed-Stuy, Janssen designed an elaborate steel structure for Chez Oscar that's bedecked with plants. It's popular year-round, especially on the warmer days that are now common throughout the winter, and for customers with dogs. She's still fighting to keep outdoor dining, but said other restaurants in her neighborhood have thrown in the towel. 
"They're all giving up, because they don't feel listened to," she said. "At some point, you pick your battles as a business owner."
Mike Calle, whose family owns Donato's restaurant in Woodside, invested thousands in a professionally installed wood structure because of the City's promises that outdoor dining would be permanent. But he can't afford to reinstall the setup every year and hopes the City will reconsider. "If we take it out, it's going to be taken out for good," he said. 
At the Queensboro in Jackson Heights, owner Michael Fuquay plans to keep curbside dining, although the added costs will be a burden. "We would be bankrupt if we did not have that outdoor dining space," he said.
He believes the seasonal rules were deliberately designed to push restaurants out.
"There are people in the City Council that aren't real fans of outdoor dining, but can't afford to be seen as opposing it because it's a really popular program, and they don't want to be the ones that stuck a knife in restaurants," he said. "It's intended to be a poison pill that makes it not practical for a majority of small restaurants."
Melissa Marturano, who lives in Prospect-Lefferts Gardens and relies on outdoor dining for safety reasons, said that she's already seen some restaurants in her neighborhood remove their setups.
"That scares me, that I won't be able to engage in public activities as much as I would like," Marturano said.
The Adams administration and City Council, according to Marturano, are "surrendering to the car lobby, the parking lobby."
Erin Durkin is a New York City journalist who has worked for Politico, the New York Daily News and the Guardian.
Stay in touch
Sign up for our free newsletter