Going Places
A Very Moynihan Train Hall Thanksgiving: 'Wow, I Can't Even Sit Down?'
Hell Gate tours the brand new train hall on its most-traveled holiday weekend
12:23 PM EST on November 26, 2022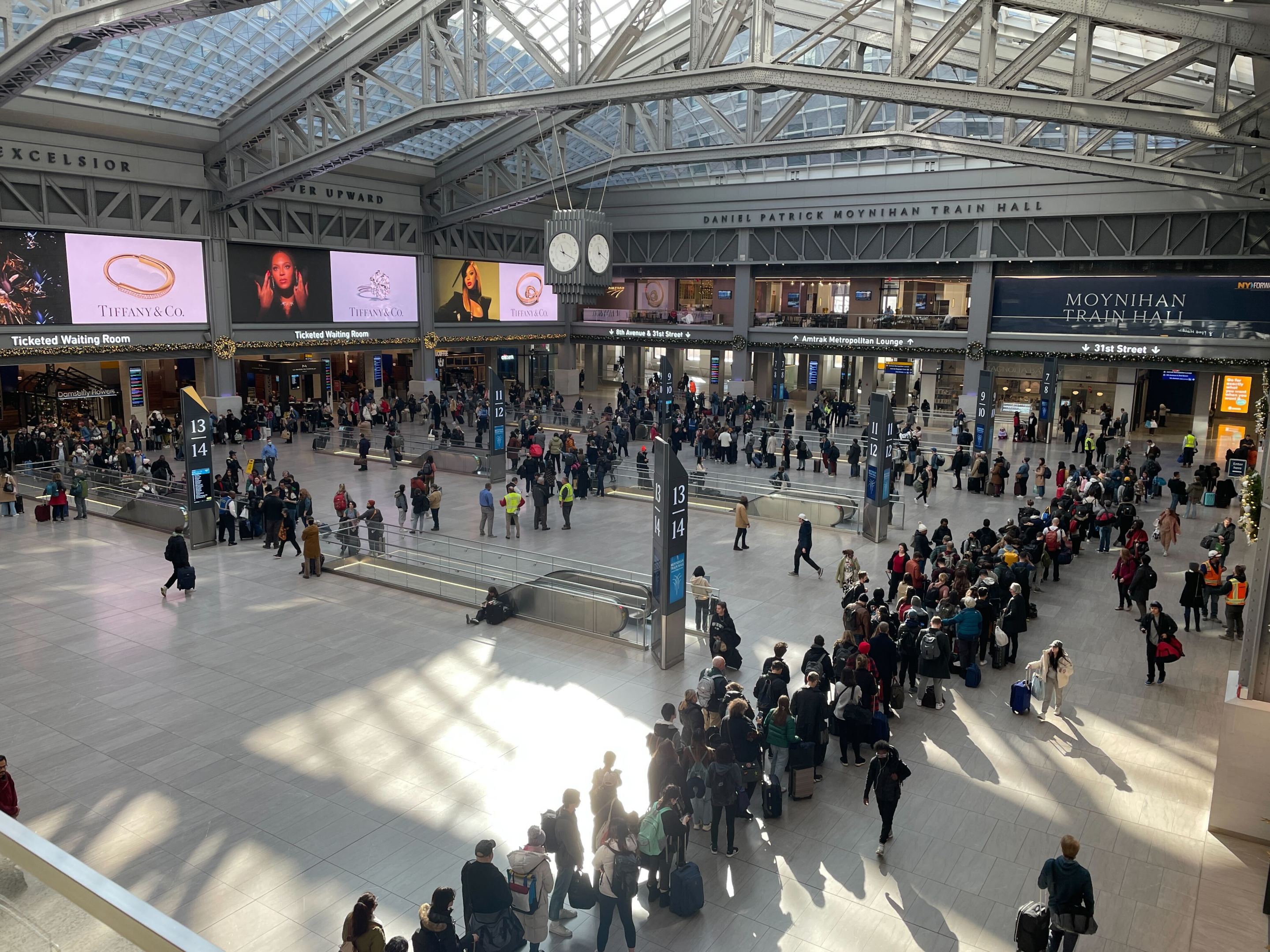 When Wandra LaJoie stepped off a train from Charlotte, North Carolina on Tuesday night the first thing she did was look for a place to sit in Moynihan Train Hall. Her journey had taken a little over 12 hours, but she'd have to wait a little longer because her granddaughter was running late to pick her up. She couldn't sit in the waiting area for ticketed passengers, because that had abruptly closed at 9 p.m. So she plopped down on the floor next to her two large suitcases. 
"I'm kind of overwhelmed right now. Because I noticed all that was closed up so I was like, wow, I can't even sit down?" LaJoie told Hell Gate. "It's kinda crazy if you ask me, with all the traveling going on."
Of course, if LaJoie wanted to sit down, she could have walked across the train hall into the food court, purchased something, and sat down. Or she could have walked to an escalator, descended, walked through a passageway past some LIRR track entrances, past the A/C/E subway entrances, into the concourse of a different transit hub called Penn Station, up another set of stairs, and into a second Amtrak waiting room. (Crumbly Penn Station is the real 24-hour train hall, while its brand new, $1.6 billion replacement closes from 1 a.m. to 5 a.m.)
LaJoie's dilemma raises a question that was on the lips of many commuters we spoke to at Moynihan Train Hall over the station's busiest week of the year: Why is there nowhere to sit in the magnificent main hall?
"I'm super curious to understand the thought process that went into not having seating," said Elyse Stoner, who arrived around 90 minutes before her train to Philadelphia on Tuesday evening, and was sitting on the floor when we spoke. "I like that it's so open, it's not a dark, cramped train station. But yeah, I don't really understand."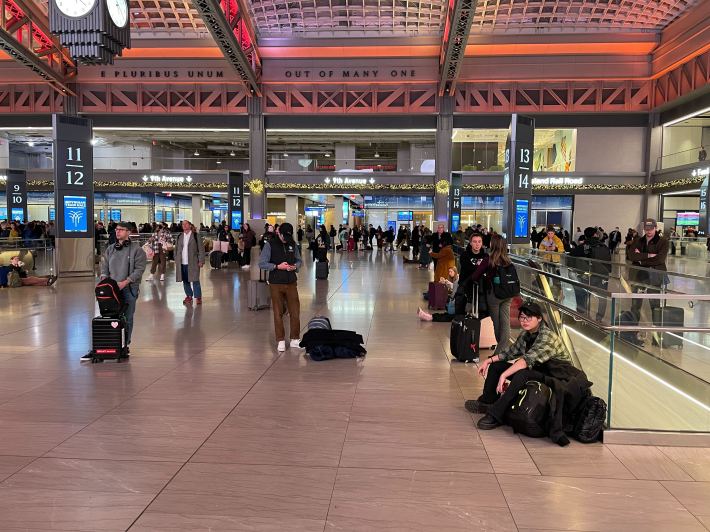 If you ask the soup of agencies who oversee Moynihan (they include the MTA, Amtrak, the New York State government via Empire State Development, and Vornado Realty Trust, the developer that oversees the commercial leases in the station), you don't get a straight answer. 
The MTA just gave us the exact same statement that the agency's chief of external relations, John McCarthy, has been using since February, after a group of lawmakers asked them to install more seating: "We agree that Moynihan Train Hall is a spectacular terminal designed with seating for ticketed passengers and we will continue to work with Amtrak, MTH's primary occupant, to review the facility's future needs for space."
Riders have already filled in the blanks.
"It's much of what New York has as a whole, it's hostile architecture," said Jaime Dever, who was waiting for his partner Allison to board a train to Boston on Tuesday night. "The goal is to keep homeless people out of this room, to the detriment of people who need it."
Sam M., who works in finance and was waiting for that same train to Boston, referred to hostile architecture as "a liberal arts term," but agreed with the premise and its presence in Moynihan. 
"It seems like it's something that was very intentional, and it's something that I want to say I understand to an extent," he said. "But at the same time, I feel like there are reasons for accessibility, why there may need to be more seats."
One Amtrak police officer we spoke to on Wednesday was even more frank. 
"This is a mall, they don't see it like a train station. They don't want homeless people here," he said. "But I'm not gonna touch them—and violate their 4th Amendment rights? No way."
Security guards in black jackets were plentiful this week, but we only saw them hassle one man, who was in the food court accosting people, and had angrily knocked over a small plastic sign that sits on many tables, before running away. The signs read: "Seating is reserved for Moynihan food hall and bar customers only."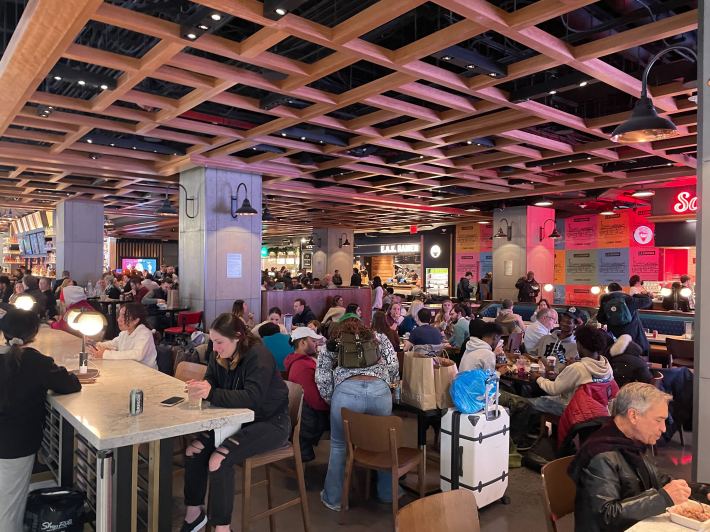 Last year more than 250,000 people passed through Penn Station and Moynihan during Thanksgiving week, according to Amtrak. This year is even busier, with Tuesday, Wednesday, and Sunday being the most heavily trafficked days. The main hall swarmed with Amtrak workers in yellow vests directing people to their tracks and answering questions.
One of those staffers, Rita, said it was "weird" that there was nowhere to sit next to the track entrances, especially given that other major train stations in Chicago, Baltimore, and Philadelphia all have plenty of free seating. 
"But there's other stuff [Moynihan's] missing too. Like a big board," Rita said. "There's nowhere to point to really tell them where their trains are. Lots of people have asked me about that."
Instead, there are many little displays scattered around the train hall, and four giant screens above that play advertisements on a loop.
"I don't need to be bombarded with Michael Kors advertising while I'm sitting here," said Rebecca Giusti, who was waiting for her mother to arrive by train, so she technically couldn't hang out in the ticketed passenger room. (For what it's worth, after a few hours pacing the floor, we later asked the Amtrak attendant nicely, and they allowed us to take a seat for a while without showing a ticket. The waiting room is also where the red cap service is for customers who need assistance, and is supposed to close around 10 p.m. most of the time, and midnight on weekends.)
Someone who didn't mind the lack of seating: Aziza, a 2.5 year old Sphynx cat belonging to Picara Vassallo. "She likes to move around, check things out. She really likes these escalators," Vassallo said, by way of explaining why she wasn't in the ticketed passenger waiting room. "It's so crowded in there, you're just staring at each other. And the ceilings out here are amazing."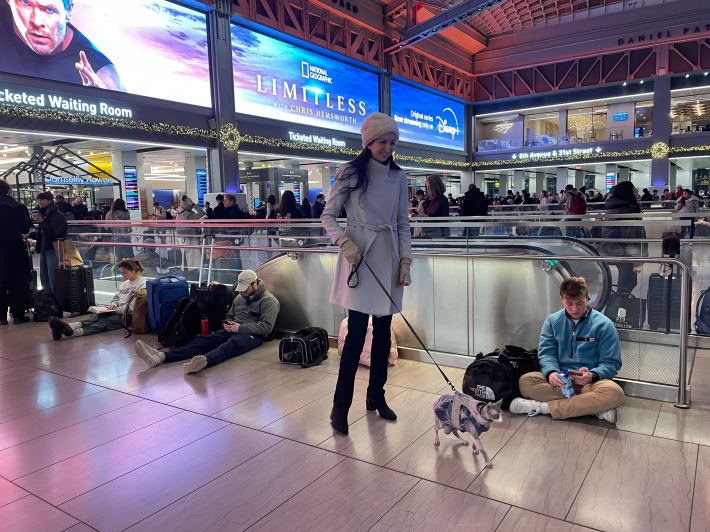 Another design flaw that is seemingly baked into Moynihan is the boarding process, in which hundreds of people stampede towards their train track once it's announced, then are held at the top of the escalator as an attendant checks each ticket, something that could be done on board. Crowds build, and they have to be corralled into an orderly line that stretches around the entire main hall. ("It's like grade school," one Amtrak employee observed. "You get line cutters and the people who get really pissed about the line cutters. Total clusterfuck.")
Amtrak spokesperson Jason Abrams blamed this process on the size of the train platforms. "The platforms are just not wide enough. They were built in the 1910s. We've modified them, refreshed them with paint jobs, made sure that the concrete is strong, but they're not wide enough for the amount of people that come in." 
Abrams said that once the Gateway project to repair and add new cross-Hudson tunnels is finished, this will be less of an issue: "The fact that we'll have more platforms will allow for more trains to come in and out and have access and room to allow people to hopefully [board faster]."
Until Gateway is done (in 2035 if we're lucky) riders will have to rely on Amtrak workers like Jermaine Jones, who on Wednesday morning was greeting every person who got within 5 feet of him with the phrase "How ya doin what train are you on?" then pointing them to the end of the line where they needed to be. "If you're gonna write something, write that I need a promotion," he boomed when we approached him. "All aboard!"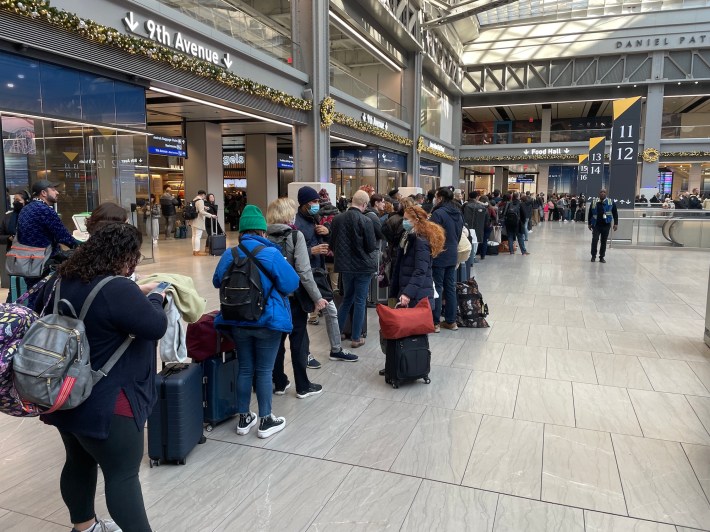 For questions about the lack of large central signage, Abrams referred us to Empire State Development, who controls what appears on the screens, and who did not return our request for comment. Neither did Vornado. 
On our way out of the station on Wednesday afternoon, we approached Denis Gray, a 78-year-old former foreign correspondent for the Associated Press. It was his first time at Moynihan. He was also sitting on the floor.
"Most civilized countries, they have a lot of seating in the railways and airports," Gray said. "I live in Thailand now, a developing country, and when you walk into a place like this you're guaranteed to have plenty of seating for everybody." 
We shared our editorial perspective on Moynihan Train Hall and bid him a happy holiday.
"Next time I'm here," he said. "I want to see a lot of chairs."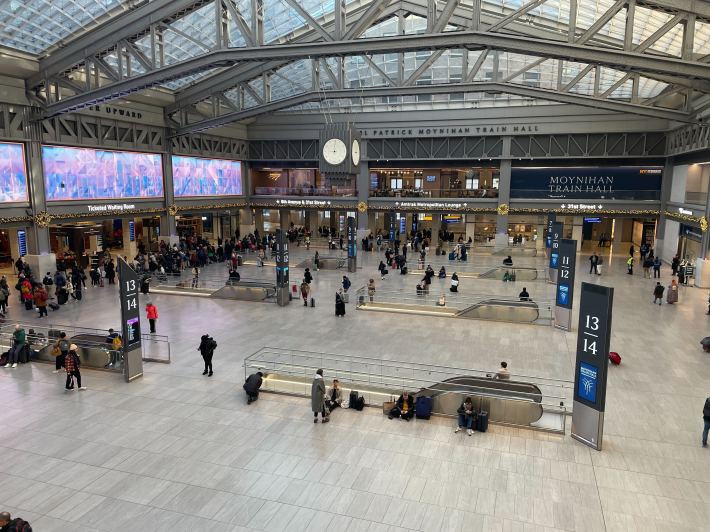 Chris is an editor at Hell Gate. He spent a decade working for Gothamist, and his work appears in New York Magazine and Streetsblog NYC.
Stay in touch
Sign up for our free newsletter