Fresh Hell
Asylum Seekers Are Tired of Being Shuffled Around NYC: 'We Just Want to Be Treated Like Humans, Not Animals'
Dozens of migrants are sleeping on a Midtown sidewalk in protest.
7:49 PM EST on January 31, 2023
On West 57th Street, dozens of men are sleeping outdoors in the cold wet of late January to make something very clear—they didn't survive the perils of the Darien Gap, or escape a political crisis in their home country, just to find themselves being shunted into what they say are inhumane conditions by New York City Mayor Eric Adams. 
"They didn't tell us anything, they didn't advise us where we were going," said Alvaro Alvarez, who spoke to Hell Gate in Spanish. Alvarez migrated from Venezuela and was bused to NYC from Texas three months ago. During that time, he said he bounced from a hospital to a homeless shelter, and eventually to the Watson Hotel in Midtown, where the Adams administration has rented out over 600 rooms for asylum seekers. This weekend, he was told by the City that he was being relocated to yet another location: a 1,000-bed emergency relief center at the Brooklyn Cruise Terminal in Red Hook. But when he heard alarming reports from people who had already been relocated there, he refused to go. 
"There was no heating, no security, you can have your things stolen," Alvarez said, recalling what he was told.
Next to him, another man held up photos that had circulated among migrants on WhatsApp groups. It showed beds stacked a few feet from one another, a setup that offered no privacy. 
"We just want to be treated like humans, not animals," Alvarez said. 
After they were taken in MTA buses to the cruise terminal, over a hundred migrants found their way back to the hotel on Sunday to try to get back in. When they were barred from entering, the men camped outside on the sidewalk in protest. At the Watson Hotel, people were able to sleep in private rooms and use non-communal showers. But at the cruise terminal center, they reported a lack of bathrooms as well as cold temperatures; many had possible health concerns over sleeping so close to one another.
Over 26,000 migrants are now staying in City shelters, and the Adams administration has said that hotels like the Watson must now be utilized for families—meaning the single men who had been staying at the hotel must relocate to larger congregate settings like the one in Red Hook. 
"We've been here for three days, sleeping in the cold. We're staying because what they've offered us is unacceptable," said Venezuelan migrant Keyder Escalona during a midday press conference held by the protesting asylum seekers and some of their supporters. "We're asking for a place where we'll have dignity."  
Even as Escalona spoke, other men who had been staying at the hotel began boarding MTA buses to take them to the cruise terminal, despite its reportedly poor conditions. Earlier in the day, Manuel Castro, the commissioner at the Mayor's Office of Immigrant Affairs, agreed to accompany a group of migrant men to review the facilities in Red Hook. Those men are expected to report back to those outside the Watson Hotel on whether the cruise terminal was warm and sanitary enough, and lockers for their belongings.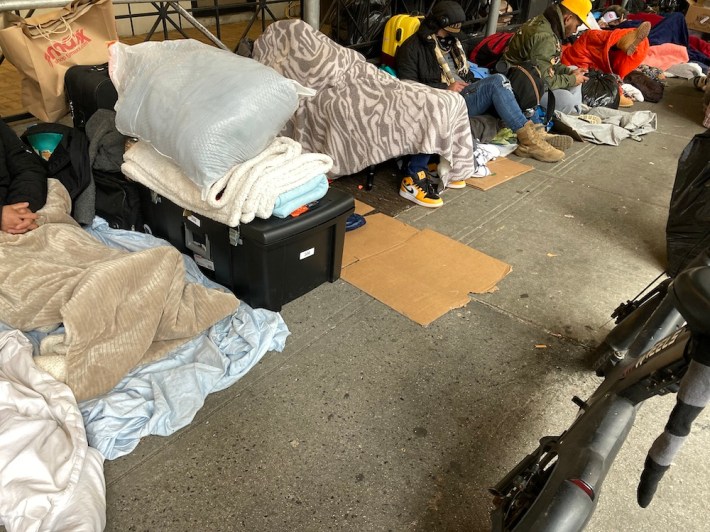 "We're not trying to go back to the street or live here for free, we just want the City to follow through with their promises," Escalona said. 
Local south Brooklyn elected officials were taken by surprise by the announcement of the relief center at the cruise terminal, and a planned inspection of the site was cancelled on Monday. 
"If the shelter was ready for people to begin arriving Saturday, it should be ready for elected officials to visit on Monday," read a joint statement from Councilmember Alexa Avilés, Assemblymember Marcela Mitaynes, and State Senator Andrew Gounardes.
Earlier efforts by the Adams administration to create large congregant spaces had previously run into opposition from the city council—an attempted tent shelter on Orchard Beach was scrapped before anyone could stay there, and another relief center on Randall's Island was taken down after serving only a few men. Many people at the latter site were then transferred to the Watson Hotel. 
Critics of these types of shelters in the city council point to a possible violation of NYC's right to shelter policy, which mandates safe social distancing for people staying in shelters—one that cramped spaces like the cruise terminal center seemingly violate. Mayor Adams has been unclear and contradictory at times as to whether he believes that the right to shelter policy applies to arriving asylum seekers.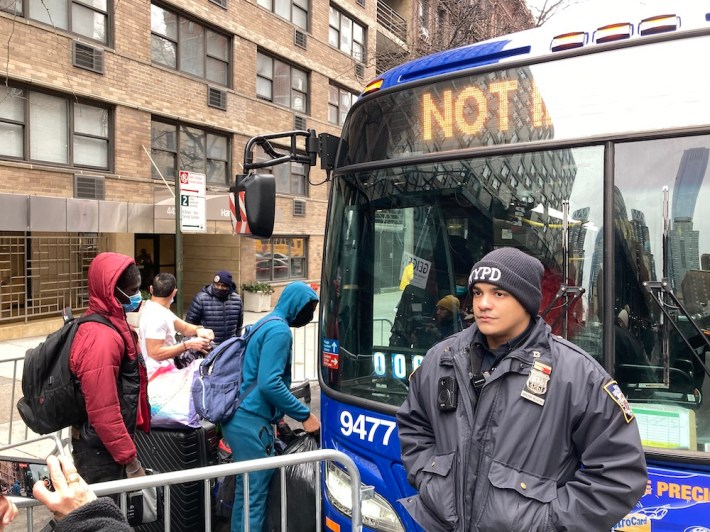 "We want brick-and-mortar facilities, not outdoor facilities," said Brooklyn City Councilmember Shahana Hanif, who came to meet with migrants at the Watson Hotel on Tuesday. "I'm particularly frustrated and angry that no information was communicated to them. There were some real fears that people had about getting detained and possible deportation, that was because of this lack of information."
The city council has pushed for the City to use hotels like the Watson to house the influx of people into New York, as the City's existing shelter system has been stretched to capacity. City Hall has countered that there is only a finite number of hotel rooms available, and that renting them out is costing the City millions, funds that City Hall has ordered must now be cut from the city council's discretionary budget for social services. (The federal government is reportedly about to reimburse New York City for many of the expenses related to sheltering the asylum seekers.)
Hanif said she believes this is unfairly trying to set New Yorkers' needs against those of the new arrivals to the city. 
"We reject this notion that communities need to be pitted against one another to deliver a just budget to the city. We are among the wealthiest cities, and to be told that our community groups won't get money so that we can deliver services to asylum seekers is a false comparison," Hanif said. 
She also questioned the timing of the mayor's order to cut funding for the city council's budget, which came when her own oversight committee began looking into costs associated with the mayor's handling of the situation. 
"We did two days' worth of investigation as to how every agency that's managing [the treatment] of asylum seekers is failing, and so I can see how they didn't appreciate that we demanded transparency and accountability," Hanif said. 
On Tuesday, City Hall challenged the statements made by the men who refused to stay at the Red Hook facility, and told Hell Gate that there is ample storage space, heating, and toilets there. 
"The facilities at Brooklyn Cruise Terminal will provide the same services as every other humanitarian relief center in the city, and the scheduled relocations to Brooklyn Cruise Terminal this weekend took place as planned," said City Hall spokesperson Fabien Levy. "We remain in serious need of support from both our state and federal governments."
But the people caught up in a larger battle between the city council and the mayor over the priorities of the city say they really aren't asking for much.
"We're not here because we like to protest," said Escalona, who traveled back from Red Hook to Midtown. "We just want a dignified place to stay, because we're all human."
Max Rivlin-Nadler is a co-publisher of Hell Gate. He's reported for Gothamist, The New York Times, Village Voice and NPR. You can find him walking his dog, Stiva, or surfing in the Rockaways.
Stay in touch
Sign up for our free newsletter