Going Places
Midtown Rally Against Congestion Pricing Does Not Go as Planned
Counter-protesters shouting "Congestion pricing now!" drowned out the proceedings.
10:19 AM EDT on March 13, 2023
On Sunday afternoon at the base of the Queensboro Bridge in Manhattan, an elderly man in a fur cap was politely explaining how congestion pricing was going to "kill New York." 
The man said that he and his wife were there to join a few dozen others to protest the long-delayed plan to charge fees on the 1 million cars driving into Manhattan below 60th Street every day. 
Some people had shirts and signs with the phrase "AXE THE TAX" on them. A handful of reporters looked around for the big anti-congestion pricing luminaries who were on the bill—namely Councilmembers Joe Borelli, Bob Holden, and Vickie Paladino. They never showed up.
Wouldn't this man, who said he lived near the entrance of the bridge, at least appreciate having less congestion in his neighborhood? "London tried it," the man replied dryly. "It did not decrease the traffic." (It did, by 30 percent.)
Moments later, our conversation was drowned out by chants of "Congestion pricing now!" A group of counter-protesters from the Riders Alliance had arrived to disrupt the anti-congestion pricing proceedings before they could even begin. The fur hat man walked over to confront them, and began waving his leather-gloved finger into the face of a younger man in a Transportation Alternatives beanie. 
A group of NYPD officers began to filter in and separate the two groups with barricades, as some of them continued to square off and scream-argue about transit policy and urbanism.
"In Manhattan traffic is going slower because of the bike lanes, because of the bus lanes!" shouted Michael Zumbluskas, a recent long-shot Republican Congressional candidate from the UES. He was directing his ire at a very tall young man wearing knee pads, a helmet, and holding an e-board.
"You're complaining about more people being able to use the roads who were previously shut out by the fact that everything used to be a car lane!" the guy in the helmet, Colin Hamilton, screamed back. "You're describing improvement!"
A man with a bullhorn amusingly alternated between calling the head of the Riders Alliance a "fraud," and trying to reason with the counter-protesters: "We don't come and disrupt your press conferences so don't come and interrupt ours."
"Car drivers are accustomed, they have been for 100 years, to receive this enormous subsidy of public space without really paying for it, without paying for the pollution, the congestion, the physical danger we have to experience," Hamilton told me, after the NYPD had broken up the discussion. "They take it as their due. So when you say to people that space is the city's most valuable resource and now you have to pay for it, even though it may be a movement towards a fairer balance of things, they still see it as persecution." 
For foes of congestion pricing, it might feel like things are starting to get dire. The policy was passed in 2019 and had an implementation date of early 2021, pending federal DOT approval. The goal: raise $1 billion a year for the MTA to improve mass transit while significantly cutting pollution and gridlock. But the Trump administration, the pandemic, and bureaucratic inertia amongst a New York political class who is loathe to anger wealthier, car-owning voters (their median household income is some $30,000 higher than their car-less counterparts) ensured that congestion pricing would move at the speed of traffic over the Williamsburg Bridge on a Friday night at 11:30 p.m. 
Last year, the MTA finally released a mammoth environmental impact assessment, sat through dozens of hours of public testimony, and answered more than 400 technical questions raised by the Biden administration. If the feds approve the plan without a significant, additional environmental review, the MTA can start tolling in the second quarter of 2024, after a group of appointees choose a tolling scheme from a menu of options that range from $9 to $26.
The congestion pricing opponents at Sunday's rally did not have a consistent answer to what exactly they wanted to see happen: Should the legislature repeal state law? Should the federal DOT order a thorough review? 
Queens State Assemblymember David Weprin, who has opposed congestion pricing since Mayor Michael Bloomberg proposed it in 2007, told the crowd he wanted a "moratorium" on congestion tolling until January 1, 2029, "at the earliest." 
Or at least I think he told the crowd this based on a copy of his prepared remarks, because his actual speech was completely drowned out by the counter-protesters. 
"Many of my constituents have no viable transportation options other than driving a car," Weprin said of his district, where census data show that only 4.2 percent of commuters would pay a congestion fee, and where more than 40 percent use mass transit. "There are no exemptions for the disabled, the elderly, or the infirm," Weprin falsely claimed—disabled drivers are explicitly exempt in the state law creating the policy.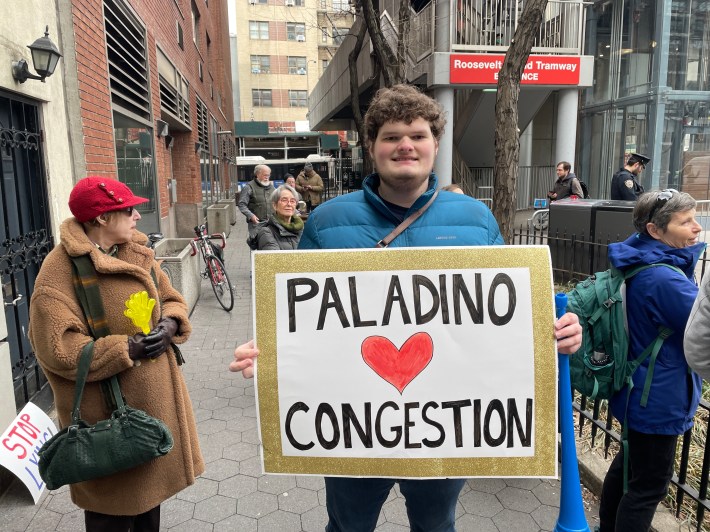 Ralph Sutton said he lived in the zone, and personally, didn't want to have to pay more to drive his car. "My family lives on Long Island," he told Hell Gate. "I'd really rather not pay the $20 every time I want to go see my family." Sutton, who works in real estate, also argued that congestion pricing would deter office workers from coming back to Manhattan. "I think New York is at a very critical time right now, where we're trying to get people to come back to work in person to generate more tax revenue for the city," he said.
What about the 75 percent of New Yorkers who don't drive to work, especially not into Manhattan below 60th Street? "Then what are we taxing?" Sutton asked. "We want no cars in Manhattan anymore?"
"This is not a tax for congestion. This is a tax for the MTA. This is a bailout of the MTA, which is one of the most mismanaged organizations in Albany," said opponent Glen Cosman, bringing up a common refrain at the rally. 
Cosman had an idea for a congestion pricing replacement: "You could throw $1 more on every parking ticket. There's millions of parking tickets. Throw a dollar on that." (Outstanding parking tickets currently owed to New York City total some $500 million.)
Others at the rally were less, shall we say, solutions-oriented.
"This is really about a kind of despotic mentality, that really is impinging upon people who don't have a voice," Sandy Reiburn, a notable opponent of affordable housing in Brooklyn told me, after referring to Streetsblog as "the Proud Boys of the biker bros." 
After about an hour, over which the counter-protesters maintained a consistent dull roar, both groups dispersed ("I think they did that to intimidate us," one of the anti-congestion pricing members glumly remarked afterwards). Across 59th Street, a veterinarian named Trevor was picking up the poop made by a giant white fluffy poodle mix named Maverick. Trevor said he lived in the East 50's, doesn't own a car, and hadn't heard of congestion pricing, though he said he wasn't worried about it. 
"I would never drive a car in Manhattan," he explained. "I think it's a total waste of time when public transportation is there. It's such an American idealized sort of tradition to have your own car to be free, but we just really need to invest in public transport."
An earlier version of this story identified Mark Weprin when we actually meant to name his brother, David.
Chris is an editor at Hell Gate. He spent a decade working for Gothamist, and his work appears in New York Magazine and Streetsblog NYC.
Stay in touch
Sign up for our free newsletter