City of Immigrants
'I Just Want to Live': Mauritanian Asylum Seekers in NYC Face an Uncertain Future
"People aren't coming for jobs or the American dream—it's a life or death situation."
1:02 PM EST on November 6, 2023
On a recent Tuesday, Mohamed Lemine, who came to New York City from Mauritania this summer, made his way to the Grand Hyatt Hotel on 42nd Street. It was the week of the United Nations General Assembly meeting, and he and dozens of other Mauritanians were there to protest the visit of Mohamed Ould Cheikh El Ghazouani, the president of the West African country. Men of different ethnic backgrounds chanted and held signs reading "No to slavery and no to racism" and "No to the continued impunity of perpetrators of human rights violations in Mauritania." "Fuck Ghazouani, he's a killer!" yelled one protester. 
Back in Mauritania, Mohamed Lemine had been detained by the police for two weeks after criticizing the president on Facebook (he declined to give his last name due to fear of reprisal against his family members in Mauritania). "I spent two weeks in jail, and oh my God, it's a long two weeks," he said. "It felt like two years, not two weeks. Every day you wake up, they start beating you, talking shit about you, sometimes they don't give you anything to eat, anything to drink. Even if you try to pray, they will not let you pray."
Mauritania's president is from an Arab and Berber ethnic group known as the Bidan, or "White Moors," that has been in power since the country gained independence from France in 1960. Black Mauritanians—a loosely defined collective that includes a darker-skinned Arabic-speaking group known as the Haratin, or "Black Moors," as well as Afro-Mauritanians of various sub-Saharan ethnicities—have long faced severe discrimination.
An outgoing man in his early twenties who had taught himself English by watching "Breaking Bad" and "Game of Thrones," Mohamed Lemine told me that this detention was the final straw after a lifetime of disrespect and violence at the hands of police and well-connected elites. "All my life, society is beating me and bullying me because I'm not white," he said. Once, while at work, he had been assaulted in public by a customer over a minor dispute about a return. When he went to the police, they told him they knew his attacker, started calling him slurs, and ignored his complaint. Nonetheless, he said other Mauritanian asylum seekers he had met in New York City had been through worse. "Some of them have bad stories," he said. "The government killed some of their families."
In 1989, amid rising ethnic tensions, economic crises, and conflict with Senegal, the Mauritanian government expelled around 75,000 Afro-Mauritanians, mostly to refugee camps in Senegal and Mali. Some of those Afro-Mauritanian refugees fled to the United States, with the largest numbers settling in Ohio, but prior to 2023, there were still only about 8,000 foreign-born Mauritanians living in the country.
Since the beginning of the year, more than 10,000 Mauritanians, many of them fleeing racism and police violence, have journeyed through South and Central America to surrender themselves at the U.S.'s southern border and seek asylum. Like many other Mauritanians, Mohamed Lemine had been able to obtain a visa to fly to Nicaragua via a long series of flights, and then transited northward by bus, a route that bypasses the horrors of the Darién Gap but can still be treacherous and sometimes deadly. Mohamed Lemine's journey to New York City had taken over two weeks. He said that the Mexican leg of the trip was particularly difficult due to dangers from both organized crime groups and the authorities. "Gangsters are better than police, because gangsters will take your money and let you leave," he said. "Police will take your money, beat you, and bring you back." 
Over the past year, New York City has become a common destination for Mauritanian asylum seekers like Mohamed Lemine, though the Mayor's Office didn't reply to my question about how many Mauritanians have arrived or are housed in the City's care. Even among other asylum seekers, Mauritanians are especially vulnerable—few Americans understand the complexities of what is driving their migration to the U.S., and there are fewer services available for a less familiar immigrant group. As the federal government ignores long-standing calls to protect Mauritanians from deportation and the City government begins to bypass its legal obligation to provide shelter, their path forward is uncertain.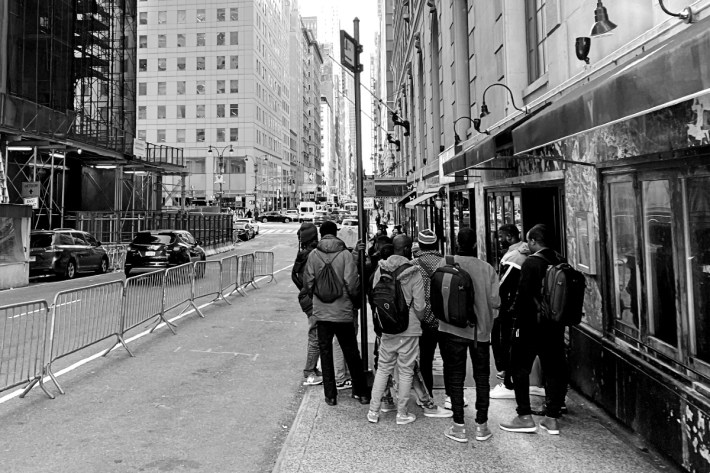 The reasons why Mauritanians have been traveling to New York and other cities in the U.S. in larger numbers recently are varied—unlike, say, in Venezuela, there is no singular precipitating crisis in the country. Many migrants, activists, and scholars all said entrenched and escalating problems in Mauritania are leading people to search for any way out. 
"Black Mauritanians in general are facing discrimination, arbitrary arrest, statelessness, not being able to get drivers' licenses, IDs," said Houleye Thiam, the president of the advocacy group Mauritanian Network for Human Rights in the U.S. Afro-Mauritanians also face state-sanctioned land grabbing by investors and elites. "That's the only thing they really have left, and that's being taken away as well," said Thiam. "At nighttime there are police checks—they will round people up, take them to jail. It's nonsense. It's a failed country." 
"Obviously, there's a bunch of different things going on," said Hassan Ould Moctar, a fellow in International Development at the London School of Economics who researches Mauritania, in a response to my question about why people might be migrating now. He pointed to possible economic impacts of the pandemic, increasing crackdowns by European countries on migration (including Spanish security forces deployed in Nouadhibou, a major port city, to prevent people from attempting to reach the Canary Islands), police violence and resulting protests, energy blackouts, and unprecedented water shortages, among other political tensions. 
Ould Moctar acknowledges that the increase in migration to New York City might be driven in part by social media influencers encouraging people to come to the U.S., as well as word of mouth from other migrants themselves, but it's far from the only factor. "I wouldn't dismiss it outright," he said, "but I don't think people would be taking those risks if the economic and political situation wasn't what it is."
In September, I visited a community garden on Stockton Street in Bushwick that had opened its doors to become a recreational space for migrants, many of whom are Mauritanian, who were staying next door in a respite center in an unfinished Blink gym. "It's not easy to live in the shelter because it's overcrowded with people of different temperaments, and there's no privacy," Moustapha, a recent Mauritanian migrant who asked that his name be changed because of his immigration status, said in French. "Sometimes, security workers lack respect for us. There is a total lack of consideration, just because we are immigrants." But despite difficult conditions, a community had formed there, and the garden became an organizing hub for migrant advocacy groups like the recently formed Black and Arab Migrant Solidarity Alliance, or BAMSA. Diane Enobabor, BAMSA's cofounder, said that Mauritanian migrants have a dire need for translation services and case management, but the City does not adequately support existing organizations that work with African immigrants. "The work I've been doing as BAMSA has been to fill some of the gaps of direct service support, but only due to the fact that these organizations are truly underfunded," she said. 
I was generously offered a bowl of chicken and rice from a communal meal that the men had cooked. Some people there had managed to find work, in bodegas or as delivery drivers or doing temporary construction jobs, but others felt stuck without work permits. Between looking for jobs, they passed the time in the garden, out of the crowded shelter: keeping in touch with family members on the phone, reading, studying English, watching videos, or just waiting. Volunteers at the garden expressed fear about the coming winter, and the clothing drives that would need to be organized.
I spoke to several Mauritanian men outside the garden, sitting on an electrical box on the sidewalk. Other people approached, eager to talk about the Mauritanian government's crimes. One man, Ahmed, emphatically pointed at his skin and made throat-slitting gestures to communicate the prevalence of police violence against Black people.
"It's getting worse every day," said Khalid, another asylum seeker (his name and Ahmed's have both been changed), speaking in French through an interpreter about racism and repression in the country. "Our kids can't go to school, our salaries aren't guaranteed, family members get assassinated and tortured."
At a nearby park, I spoke to another asylum seeker, Oumar, while he was sitting on the sidelines of a soccer game organized by volunteers at the garden. Oumar, who declined to give his last name due to fear of reprisals, said through an interpreter that he had been abducted by the police after participating in a peaceful protest in 2019 against a law that restricted the age of people who could attend university. Others injured by police were taken to a hospital, but he believed he had been singled out for prison because he is Black. "That's how it is in Mauritania," Oumar said. While imprisoned, he said, "They tortured me with electricity. There were lots of people there being hurt. They were causing me so much pain I was losing consciousness. All of this because I was defending my right to go to school." 
After weeks of protests, the law was overturned. Oumar enrolled in university, but while he was preparing for his final exams, the police abducted him again, falsely accusing him of being part of another protest. He was held in prison and tortured for another two weeks. He said that what hurt him most was the knowledge he wouldn't be able to take his tests and graduate. When he got out, he began to plan to leave the country. 
Oumar said that being tortured by the police is common, and many Mauritanian migrants he had met here had had similar experiences. "The country doesn't have laws," he said. "They do whatever they want."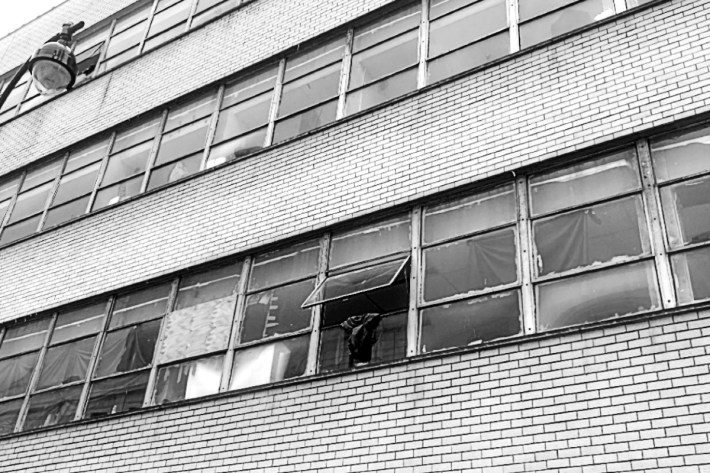 All of the people I spoke to brought up police killings when discussing why they had left the country: a student in the Naval Academy killed last October by a officer, with few consequences; the human rights activist Soufi Ould al-Chine, who was strangled in a police station earlier this year; and most often, Oumar Diop, an Afro-Mauritanian whose death in police custody in late July set off a wave of riots. Diop's death seemed to be felt particularly keenly by men in New York because he was a prospective migrant—it was rumored that he had sold his car to raise funds to travel to America, but the police tried to take the money, and arrested and executed him when he resisted. 
For centuries, the Bidan enslaved the Haratin, and the practice persists, especially in rural areas—slavery was only criminalized in 2007. Based on the most recent figures, the Global Slavery Index estimates that 149,000 Mauritanians currently live in conditions of modern slavery, the third highest per capita rate in the world. Despite publicly claiming to be working on eradicating slavery, Ghazouani's government has regularly arrested anti-slavery activists.
However, Haddy Gassama, the policy and advocacy director of the UndocuBlack Network, a grassroots organization made up of and supporting Black immigrants in the U.S., says that journalists can focus sensationally on modern slavery when it's not the only issue. "Apart from slavery, there's a lot of civil unrest going on," Gassama said. "Even the would-be oppressors are now having issues with the new government. People are talking about how if you're not from the same tribe as the government you can face persecution."
Given the dangerous conditions in the country, there had been a de facto policy during the Bush and Obama administrations of not deporting Mauritanians who had been denied asylum, often years before. "Once Trump came into office, that completely changed," said Gassama. "There wasn't even an actual mechanism to deport them, because the country deemed Black Mauritanians as not Mauritanians, and they didn't have travel documents to return."
Under the influence of hardliner Stephen Miller, the Trump administration expended considerable effort in deporting a relatively small number of people from "recalcitrant" nations, including Mauritania, whose governments were refusing to accept the return of their former residents. Trump had removed trade benefits to Mauritania in 2018, citing the country's failure to combat hereditary slavery, but in the second half of his term, he nonetheless deported 164 people, many of whom had been in the country for years and had sometimes had children here, a move that was condemned by then-Senator Kamala Harris, among others. 
People who returned to the country reported being detained, beaten, and being told that the temporary travel permits (or "laissez-passers") that the Mauritanian embassy had issued them in order to allow them to return were considered worthless and did not entitle them to citizenship rights. Many had to again flee the country. The Mauritanian Network for Human Rights in the U.S. was formed in response to these deportations. "People went to check in [with ICE] and never came out," said Thiam. "There was a lot of fear in the community." 
The Mauritanian Network for Human Rights has led a large coalition of immigrants rights groups campaigning for the federal government to grant Temporary Protected Status (TPS) to Mauritanians, which would protect them from deportation for a designated period of time, in addition to allowing them to apply for legal work authorization without the six-month waiting period that newly arrived asylum seekers have to face. TPS, a humanitarian program intended to assist migrants from countries where extreme circumstances make it dangerous to return, currently applies to sixteen countries, including Afghanistan, Cameroon, El Salvador, Nepal, and Ukraine.
The Biden administration recently extended TPS designation for Venezuela, hoping to expedite work authorization for the largest group of asylum seekers currently coming to the U.S. and in particular New York City. It's a move that seems to be partially in response to Mayor Eric Adams's frantic calls for assistance in helping move people out of the City's shelters. Applying for TPS and receiving work authorization can still be a lengthy process, but it removes at least one major bureaucratic hurdle. But the Mauritanian campaign, which has been supported in previous years by Senator Sherrod Brown as well as the Ohio Republican Congressman Mike Carey, hasn't yet achieved its goal.
"It's not normal for a TPS campaign to run this long," said Gassama, whose organization UndocuBlack has also been involved from the beginning. "We're talking several years at this point, and we juxtapose that campaign to, say, TPS designation for a country like Ukraine that got it within eight days of the conflict starting."
"The longevity of this campaign has been rooted in anti-Blackness," said Carolyn Tran, co-director of Communities United for Status and Protection, a coalition of grassroots immigrant community organizations. Complicating matters is the fact that the State Department views Mauritania's authoritarian government as a partner in counterterrorism efforts. "Mauritania is seen as an ally to the U.S. Designating a country as TPS doesn't harm the country in any way, but it can be seen as going against the government's wishes," Tran said. The Biden administration has continued to deport Mauritanians, and when we spoke in late September, Tran said that according to calls from individuals that CUSP's member organizations have received, there were people being detained in Pennsylvania, Texas, Arizona, and California.
At the same time, Gassama said she had gotten word of 400 Mauritanian men being detained in Texas, without access to legal counsel or interpreters. "There are all these folks stuck in an absolute violation of their due process," she said. "We think a TPS designation would help alleviate a lot of that stress and confusion." 
A lack of translation services is a particular issue facing Mauritanians. In New York City, men told me that workers at the shelters where they were staying didn't speak French or Arabic, much less any of the other languages commonly spoken in Mauritania, like Wolof, Pulaar or Soninke. When men at the Bushwick shelter were informed they were about to be transferred to a new tent shelter on Randall's Island, part of Mayor Eric Adams's stipulation that stays in shelters will be limited to 60 days before they have to reapply to seek shelter elsewhere, they were given a single-sided printout one evening that simply said in English, "TRANSFERRING TO RANDALLS ISLAND TOMORROW MORNING," with a black and white photograph of a bus.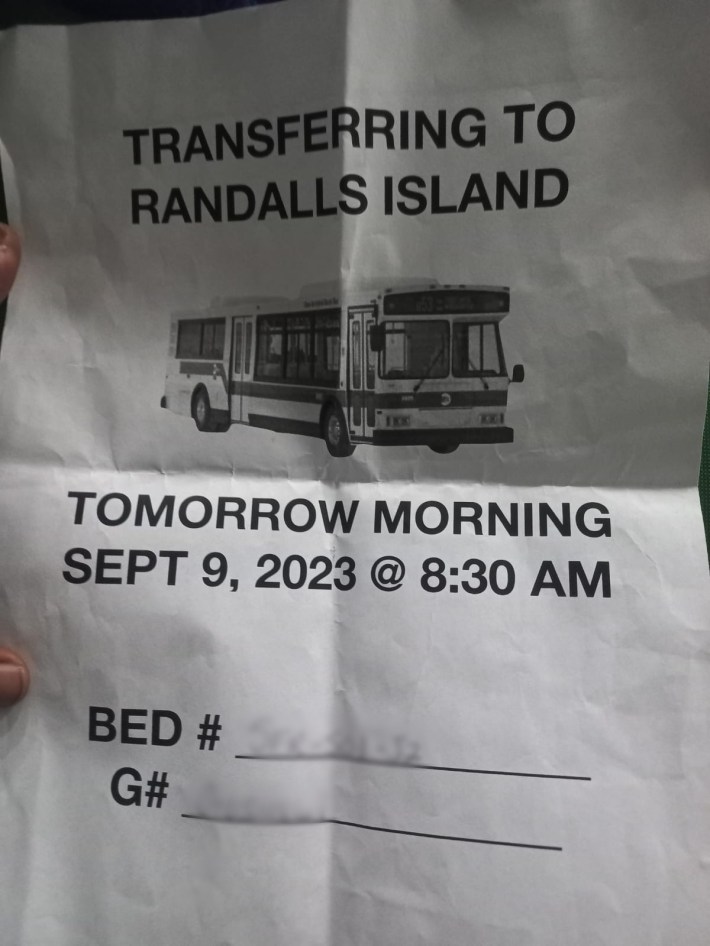 BAMSA's Enobabor suggested that the problem of a lack of translators could be remedied by immigrant advocacy organizations being given funding to hire recently arrived asylum seekers. Some of this work is already happening on a volunteer-basis. BAMSA began organizing ESL classes, which I participated in, with a multilingual group of facilitators, and some men who were there to learn English themselves would translate instructions given in French into Pulaar or other languages. 
In August, I visited Afrikana, a community center in Harlem founded last year by the immigrant rights advocate and organizer Adama Bah. The center, which was operating out of an unmarked storefront filled with folding tables and chairs, was serving a high volume of people on a shoestring budget, helping them apply for SNAP benefits and NYC ID cards. A group of African migrants waited outside for their names to be called by a Wolof-speaking volunteer—himself a recent migrant—who was efficiently managing the flow of visitors.
"[These groups] have a large base of asylum seekers who have been here now since 2022 and could benefit greatly from stipend-based opportunities that would allow them to give back to their community by helping with interpretation," Enobabor said. "The Mauritanian community is building a new foundation in New York and should be recognized as new, and needing additional support."
In late September, Adams slashed the 60-day limit for single adults to 30 days. According to several asylum seekers I spoke with, this policy was disruptive to people just familiarizing themselves with an unknown place, and especially to those who have managed to find work near where they are staying. (In mid-October, Adams instituted a similar 60-day limit for migrant families with children.) Several people said they had been working in Bushwick as delivery drivers, but weren't able to charge their e-bikes at Randall's Island or find work nearby. Some were coming back to sleep outdoors near the Bushwick shelter rather than stay in the Randall's Island tent, away from the resources and community they had become connected with.
But quickly, even these bad options began to be snatched away. Earlier this year, the Adams administration began attempting to overturn the City's right-to-shelter mandate, which guarantees a bed to anyone that needs it. While the rule still stands, they have given up on meeting its provisions. At the end of October, Adams all but stated that migrants would soon have to sleep outdoors, and the FDNY, citing safety concerns, shut down several shelters, including two in Staten Island, where there had been prolonged anti-migrant protests, and Touro College in Midtown. Those evicted from shelters have found there is no guarantee of a new place to sleep. Migrants are now being sent to a location in the East Village, lugging all their belongings to what they are told is a respite site, only to learn it is a "reticketing center," where they are being offered a one-way ticket to anywhere other than New York. 
Those who still ask for shelter are being sent to sites in the Bronx, purgatorial waiting rooms where people have to sleep on blankets on the floor. Some men from the Stockton shelter were also recently sent to the Bronx, to an open room with beds but no bathrooms, food, or water, and stayed there for around three or four days before being placed in another respite center. Men who were able to understand what was going on and advocate for themselves, or had gotten connected with activists, were generally able to find another spot. But given the City's lack of clear communication, even in English, after being bounced between various sites and being told there was no space for them, many left and slept on the streets.
Enobabor had heard rumors that the City was planning on revoking shelter for single men entirely, and that the Stockton site would close sometime in November, and she had started to urge people to leave New York for elsewhere in the country. "My fear is mass detention and deportation," she said. "A majority of these men have yet to have their asylum cases filed."
When I walked by the Stockton shelter on a recent rainy afternoon, I could see a row of ellipticals and treadmills through the lit-up window, as if it might soon be a Blink gym again.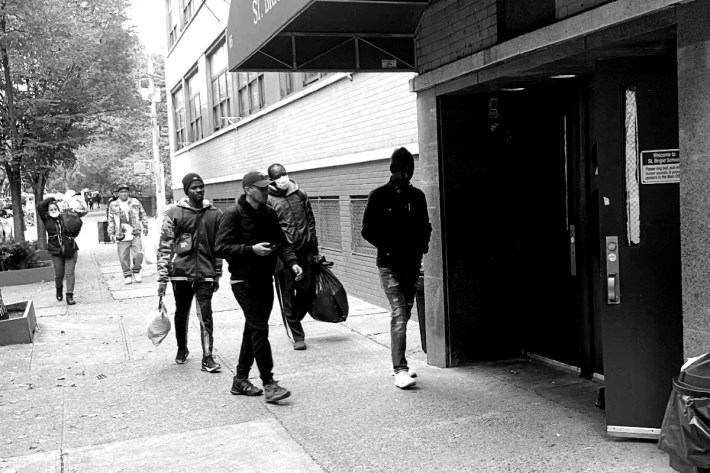 Immigration benefits the aging and labor shortage-stricken United States, and in a country with a better-functioning immigration system, it wouldn't be necessary to demand that migrants fit the narrow set of experiences that make someone eligible for asylum. But in a time when there are increasingly mainstream calls to entirely suspend the admission of asylum seekers, including from Mayor Adams's top aide, it's important to remember that many people are fleeing genuinely unlivable circumstances. 
"I've seen some articles that refer to economic reasons as the main reason to travel," said Gassama. "I can assure you that the folks we've talked to in detention are terrified for their lives. One young man under deportation outright said that if you're going to deport me, send me literally anywhere else other than Mauritania. That's how dire the situation is. People aren't coming for jobs or the American dream—it's a life or death situation."
Mohamed Lemine was enthusiastic about life in the United States, and wasn't yet willing to give up on the promise, known around the world, that New York City was a place where immigrants could build a life. "I'm ready to be in the Army to protect America," he said. "In America, you have freedom of speech."
"I hope things can change [in Mauritania]. But it's been sixty years, and nothing changes," he said. "Mauritania, it's a hell."
When I asked Ahmed, at the garden, how his time in New York had been, he said "so-so," and spoke about the difficulty of getting jobs and work permits. Moustapha also emphasized the importance of work permits: "Then people will be able to go look for work, go rent apartments, take charge of their lives without relying on the state of New York or relying on anyone. I think that would be the best solution."
"We're not looking for a lot," Ahmed said in French. "We would be happy to share a single room between four or five people, get by, begin a path."
He switched to English: "I just want to live."
Mars McDonaugh contributed French-language reporting. 
Stay in touch
Sign up for our free newsletter