The State of New York
Madison Square Garden and Hudson Yards: Match Made in Hell or So Crazy It Just Might Work?
What would it cost to undo one of the city's great historical mistakes? And is it even worth it?
1:10 PM EDT on August 8, 2022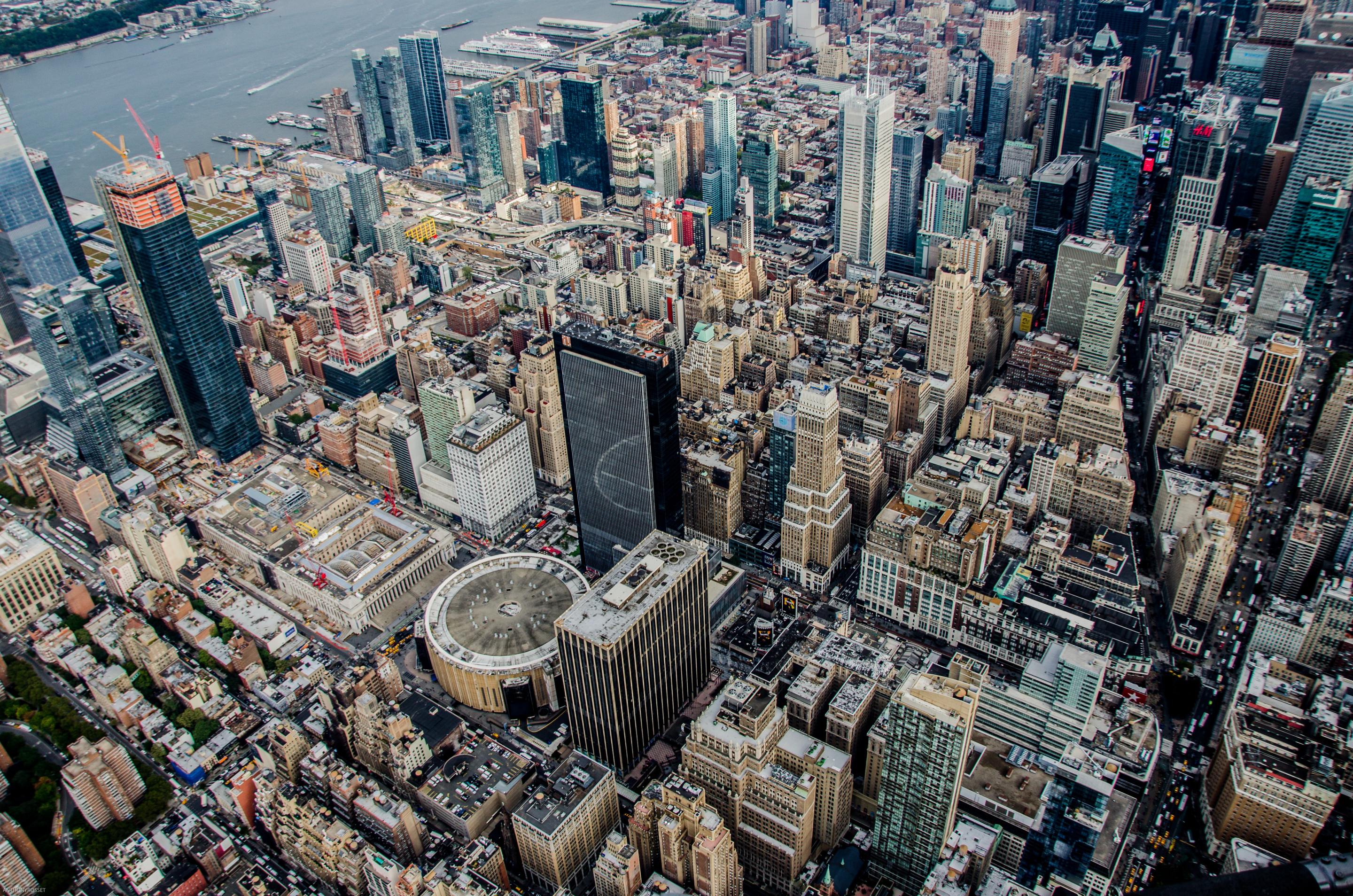 If you haven't been closely following New York state's plans for a major redevelopment of Penn Station and the area around it, suffice to say, they are a lot. Initially proposed by then-Governor Andrew Cuomo as a vision for allowing real estate megabaron Vornado to build ten supertall buildings in Midtown and use the proceeds to redo everyone's least favorite train station, it was subsequently downsized by current Governor Kathy Hochul into a slightly less grandiose set of still-ginormous buildings. This would require demolishing much of the area, as well as billions of dollars in spending by the Empire State Development agency, money Hochul pledged New York would make back in new tax revenues. (More on this claim later.)
Hovering over all of this, almost literally, is Madison Square Garden. When the old Penn Station building, much-mourned by public space advocates and architecture stans, was razed in the 1960s in anticipation of a glorious train-free, car-based future, it was to make way for the fourth iteration of the home of the Knicks and Rangers. (Versions I and II had been located across Manhattan in the East 20s, lending the Garden its now-geographically incorrect name; version III is now the site of Worldwide Plaza.) 
For more than half a century since, many have dreamed of moving the Garden somewhere, anywhere, to free up the space above Penn Station so that commuters no longer have to scuttle quite so much like rats in the darkness.
Recently, there's been a glimmer of light for advocates of moving MSG. The Garden itself is owned by James Dolan, the former head of Cablevision and current sports micromanager and horrific roots-rock frontman, who bought the arena and its teams from Viacom in the '90s. The land underneath it is owned by Amtrak, which inherited it when Penn Central, the private railroad giant with roots going back to the 1840s, succumbed to bankruptcy in 1974. Dolan also holds a special "operating permit" that the City requires for all public venues with more than 2,500 seats.
That operating permit, most recently renewed by the city council in 2013, is set to expire next July 31. If the council allows it to lapse, the City would theoretically be empowered to padlock MSG's gates if seating isn't reduced to below 2,500 capacity. And this has led a whole lot of people to dream about what could be if the Garden were moved somewhere, somehow.
"We used to have a magnificent Pennsylvania Station, and in 1964 it was actually not demolished but decapitated," architect Alexandros Washburn of the Grand Penn Community Alliance told NY1's Inside City Hall last month. Removing the Garden, he and other advocates argue, would allow for anything from expansive skylights atop the current underground warren to reconstructing the original McKim, Mead & White edifice, undoing one of the city's greatest historical mistakes. 
"If this piece of the puzzle could move, as it's done several times before, now our options for Penn Station are huge," said Washburn. "We can rebuild the late, great Penn Station—every foundation is still there—or we can come up with things that are more 21st-century."
All of which sounds lovely, but it comes with a couple of catches. In a city that is already full to the brim, where could space be found for a multiblock behemoth like a pro sports arena? And perhaps even more important: Who would pay the cost of erecting an MSG V in an era when arena prices start at upwards of a billion dollars?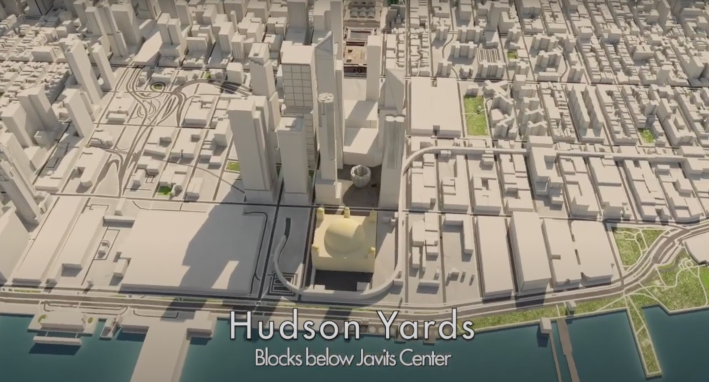 ​​"You've got to figure out where you can move it, and that's no easy feat, since the Dolans do have a say in this, and they're certainly going to want to be in Manhattan," Samuel Turvey, head of ReThink Penn Station, told Hell Gate. (The movement to rebuild Penn Station—which encompasses an unholy amalgam of preservationists, transit advocates, Midtown business leaders, and people who just hate James Dolan—has operated under almost as many banners as MSG itself; the former Rebuild Penn Station was renamed recently when it was subsumed into the planning advocacy group ReThink NYC.) 
ReThink has proposed several sites for a new MSG, including: the old Gimbels department store site across 34th Street from Macy's, now home to the running-on-fumes Manhattan Mall; the site of the Port Authority bus terminal ramps, which would theoretically no longer be needed if expanded Penn Station train service meant fewer bus commuters from New Jersey; and the still-undeveloped open rail yards on the western edge of Hudson Yards between 11th Avenue and the river. The Hudson Yards site, Turvey said, is now "favored" by his group. And this is where the plot substantially thickens.
Hudson Yards, the post-apocalyptic set of skyscrapers that is still rising atop the rail tracks west of Penn Station, has a history almost as long and convoluted as that of the train station itself. Once targeted by Rudy Giuliani as a site for a new Yankees stadium, and later by Michael Bloomberg as the new home of the Jets (and the 2012 Olympics), it eventually ended up in the hands of another megadeveloper, Stephen Ross of Related Companies. Hudson Yards was made possible by a funding scheme very similar to the one now being proposed for the Penn Station redo: exempt all development from property taxes, slice off some tax breaks for developers, impose any remaining tax obligations as payments in lieu of property taxes (aka PILOTs), and use the proceeds to offset the cost to the public in underwriting the whole development. According to a 2018 analysis by New School researchers Bridget Fisher and Flávia Leite, after all the money is finished being shuffled around, the City will be left $5.6 billion in the hole.
Fisher and Leite, it so happens, are the same researchers who were hired by the good-government group Reinvent Albany to look into the ultimate cost to the state of the Penn Station plan. Their conclusion: The state can expect to take at least a $3 billion loss on Hochul's project.
"I would call the Penn Station proposal more risky," Fisher told Hell Gate, "because there are some differences between Penn Station and Hudson Yards." First and foremost, while Hudson Yards includes some additional funding schemes, Hochul's Penn Station plan relies entirely on property taxes from the new skyscrapers. And since ESD, the state's quasi-private corporate arm, has released so few hard numbers, there are still huge unknowns: The projection of $3 billion in projected public losses, Fisher said, represents "the most optimistic scenario where everything goes right for the state."
A spokesperson for Hochul rejected Fisher and Leite's findings, saying that "nothing is being 'lost'" by the state because the duo's study did not take into account additional sources of revenue, such as $10 billion in unspecified federal funding that the governor plans to ask for. But the latest version of Hochul's own funding plan contains an estimated $7 billion in state costs alone—which according to Fisher and Leite's numbers would still result in taxpayers holding the bag for $2.9 billion in spending.
Adding the cost of relocating Madison Square Garden wouldn't make the sea of red ink any smaller. At a behind-closed-doors meeting of a Penn redevelopment working group in June of 2021, ESD issued a PowerPoint, later uncovered and released by Reinvent Albany, that estimated the total cost of moving MSG at a staggering $8 billion. And while that number was a bit fluffed up—it included $2 billion for rebuilding the original Penn Station, for one thing, as well as $3 billion just to acquire land—it still estimated a price tag of $2 billion for an arena alone, based on what Dolan is spending to build his new Las Vegas enormodome.
And there are other knotty questions as well. For one, what would be in it for Related's Ross (not to be confused with Vornado CEO Steven Roth; scorecards are available on the concessions concourse) to allow Dolan to plunk down an arena in his personal office-and-residential wonderland? Though Crain's New York reported recently that Related had pitched Dolan on the 11th Avenue rail yards site, it didn't provide details of who would pay for what, and noted that an unnamed City official claimed Hochul had "put a kibosh on the talks" because "she didn't want squabbling within New York's business community" to get in the way of speedy approval of her Penn Station plan. (Related did not reply to multiple requests for comment.) In that Crain's article, MSG also issued a statement threatening that if its operating permit isn't renewed, it "would be permitted to raze the Garden and build another structure above Penn Station on an as-of-right basis." (MSG did not answer questions about its plans by publication time for this article.)
Hochul's spokesperson declined to comment on the Crain's report. He said that while the governor's Penn Station plans "do not preclude moving MSG in the future when its useful life has expired," there are "other more pressing priorities," and moving the Garden wouldn't result in significant benefits for commuters.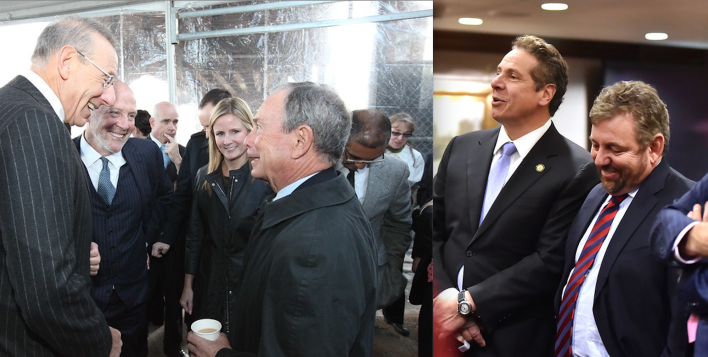 At this point, the best conspiracy theory for an MSG-to-Hudson-Yards move probably goes like this: Related, recognizing that the work-from-home revolution may doom its plan to expand the new district's sea of office towers, offers up the 11th Avenue site. City Hall, which would have to overhaul Hudson Yards's financing scheme to account for a use of the rail yards that would generate less in taxes, figures an arena in the hand is better than two empty commercial skyscrapers in the bush, and gives its blessing. Hochul, wanting to placate the Beaux Arts fans and fearful that Dolan could muck up her plans, throws some future tax money toward MSG relocation costs to grease the skids.
That's an awful lot of wishcasting, and still leaves a number of unanswered questions. Who would pay off the City's Hudson Yards bonds if Related dispensed with the office towers that are supposed to generate PILOTs? Would Dolan get to take with him the perpetual tax break that Ed Koch swore he accidentally gave the Garden in the 1980s, which has by now amounted to more than $600 million in City cash transfers? Could a sports and concert venue even work on top of an active rail yard, given that one complaint about the current MSG is that its arena floor is three stories above ground level, forcing stage sets to be loaded into elevators before they can be put in place?
"I think there needs to be some leadership and real pencil sharpening," said Turvey. "People need to be grownups, and there needs to be give and take on all sides." Though he said he doesn't trust the ESD's $8 billion projection for a relocated MSG, he readily admitted that "it's going to be expensive for virtually all the parties no matter what happens. But that is a true investment in New York City, because we're hopefully giving the public realm of Penn Station back to the people."
The clock is ticking, but no one quite seems to know how much time is left. When the state's Public Authority Control Board approved Hochul's Penn Station plan late last month, it rubber-stamped the overall idea but left unspecified most of the financial details, which will need to be worked out over the coming months or possibly years. And even that July 2023 date for renewing MSG's operating permit isn't a real deadline deadline: The Garden's last operating permit expired in January 2013, after all, but the council didn't get around to renewing it until the following summer, and the then first-place Knicks were allowed to quietly bow out of the NBA playoffs without facing padlocks. 
Asked about plans for the operating permit, a City Council spokesperson told Hell Gate, "There is currently no proposal before the Council, but we will carefully review an application when details are made available and will pay close attention to feedback provided during the public review process (ULURP)." As ULURP is a seven-month process at minimum, that makes it exceedingly unlikely that anything will really be resolved by next summer. 
The upshot: The City and state have effectively partnered with two huge developers to build a shit-ton of office buildings in Midtown, at a time when no one seems sure what "office buildings" or "Midtown" or "capitalism" will look like in our post-pandemic, pre-climate apocalypse future. The only certainty is that moving the Garden would add at least a couple of billion dollars to an already ten-figure public price tag for Hudson Yards and Penn Station—meaning unless the council, Dolan, or somebody else with clout decides to make MSG the elephant in the room, the World's Most Poorly Sited Arena is likely to be with us for a while longer.

Neil deMause has written for the Village Voice, Gothamist, City Limits, Defector, and a cast of thousands. He once testified before Congress on stadium subsidies, for which he even tied his own tie.
Stay in touch
Sign up for our free newsletter