Power
Lucy Sante Surveys the Wreckage of NYC's Unquenchable Thirst
"I was haunted by the idea of entire villages being erased. That just struck something deep in me."
4:00 PM EDT on August 24, 2022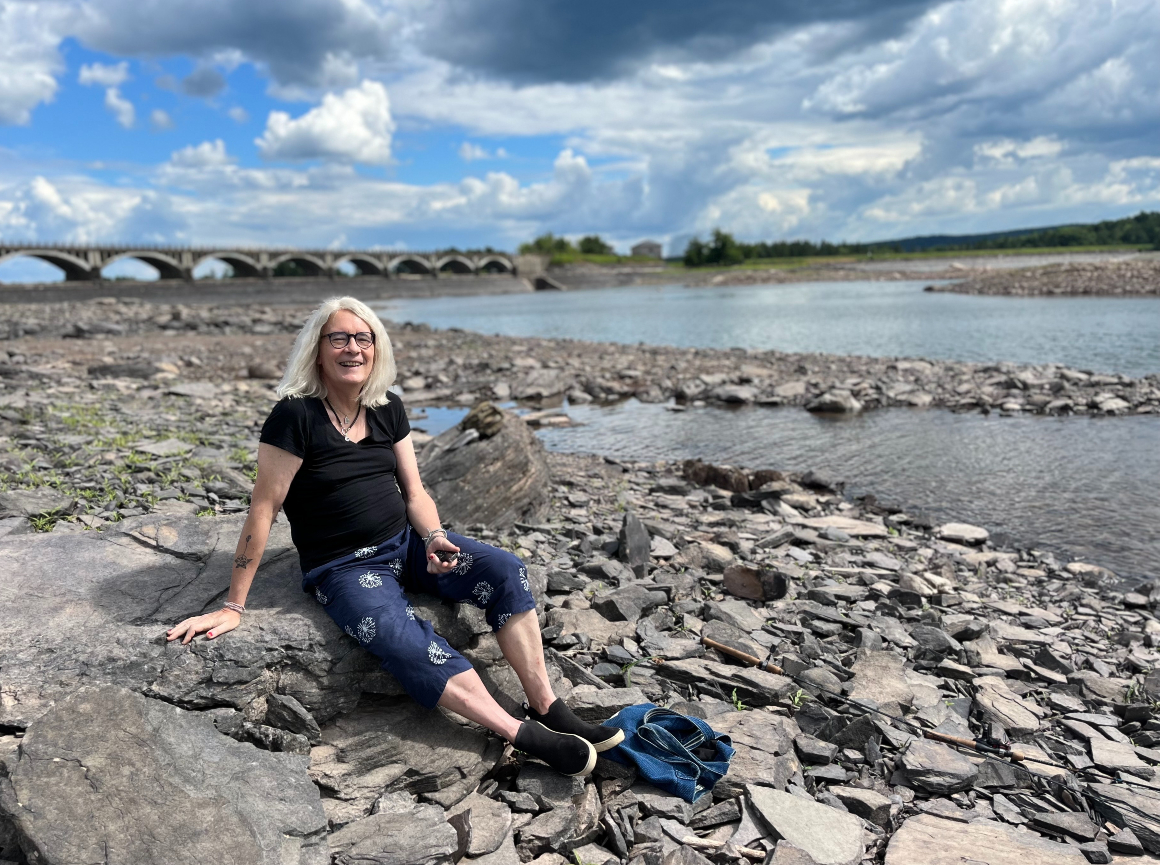 "I was haunted by the idea of entire villages being erased. That just struck something deep in me," Lucy Sante told me. We were vaping and sitting on the shore of the Ashokan Reservoir, a 20-minute drive from the Kingston neighborhood where Sante has lived for more than a decade. At the bottom of the reservoir sit eleven former villages, all flooded by New York City in the 1910s in order to provide the growing metropolis with pristine upstate water. I had cast a fishing pole I brought into the Ashokan's calm waters, curious to see what could be caught from the shore. (As a concession to anglers who complained that the building of the reservoirs would impact the region's famed trout streams, the City had allowed them to be stocked with a variety of fish.) Sante demurred to join me. "I don't have the patience to fish," she said.
"Nineteen Reservoirs," Sante's recently published book, describes in minute detail the creation of the vast upstate reservoir system that supplies New York City with its water, a process in which the City imposed its will on unwilling communities. A famed chronicler of urban life, most notably in her 1991 book "Low Life," Sante has made a career of excavating the marginal and the lost, arguing for their central relevance to the present. So it's no surprise she decided to turn her keen eye to the reservoirs. 
In the first half of the twentieth century, its local water supply increasingly contaminated and depleted and nearby reservoirs strained, the thirsty City looked north to water-rich upstate communities. City officials decided ultimately to submerge 26 upstate villages and forcibly displace thousands of people, the building of each subsequent reservoir leading to a wave of evictions. "The city decreed and mobilized and condemned properties for seizure without asking residents' permission, found all sorts of legal subterfuges for denying the value of their fields and homesteads as established by expert witnesses, lowballed every estimate, treated them with distant contempt," Sante writes. Graveyards had to be moved as well—in each instance, residents ended up paying out of their own pocket to move the remains of their loved ones. 
Is it any wonder, then, that Sante describes this relationship as a colonial one? It was, she writes, "at best an imposition and at worst an imperial pillage of the landscape." 
What Sante calls her "small obsession" with the sprawling reservoir system began in the '90s, while she and her then-wife were splitting their time between Park Slope ("It was already like, competitive strollers") and a home in Delaware County, near the Pepacton Reservoir. In New York City, Sante, like most residents, rarely thought of where her water came from. But she quickly realized that in her new home, resentments still lingered. To many people, there was, Sante told me, a "sense of New York City as an occupying power." (As one woman said of the City in 2005, with what I imagine was no small amount of bitterness: "They drowned us.") "There were lots of survivors around, from the early '50s. I'm sure they're mostly dead now," Sante recalled of her time in Delaware County. "But there were always these meetings of survivors, or they'd show up at the farmers market with self-published books, shows, films." She added, "It just filled me with a certain kind of primal horror. I don't know how to explain it really, the idea that a village would just disappear, just like that."
In 2019, I had also become fixated on the ghosts of the reservoirs after I became, with no small amount of embarrassment, the owner of a small cabin in the Catskills. One of the cabin's selling points? The property taxes were minimal, due to its proximity to the Neversink Reservoir, just a few miles down the road; under a long-standing if at times contested agreement, New York City paid a large portion of the local taxes. In Brooklyn, I enjoyed the spoils of these drowned towns every time I turned on the tap; here I was, yet again, benefitting.
The reservoir was a draw all on its own. Ringed by hemlocks and stocked with fish, it was almost suspiciously perfect, a man-made selfie background. But every time I drove by it, a small sign reminded me of one of the towns that was wiped off the map to create this simulacrum of nature. Another sort of marker—the reservoir cove where I regularly fished had been named, a bit ghoulishly, after Theodore Gordon, the famed Catskills fly-fisher (Gordon is often described as the "father of American fly-fishing"); the home where Gordon had died had been flooded when the City built the reservoir, its foundation—all that remained of the house—now deep underwater. 
Sante chronicles how displaced residents didn't just meekly accept their fate—lawsuits were filed, arguing the City was devaluing their land (and thus, their lives), and in one town, Gilboa, many residents put up a "fierce if ineffectual resistance," refusing to move when the City decreed their valley would be flooded to build the Schoharie Reservoir. Workers building the Schoharie resorted to tearing the roofs off of still-occupied homes; in her book, Sante singles out one woman, Mary Brooks, whom she writes "stood firm until she had to leave for a minute to confer with a neighbor, whereupon workers set her house on fire."
Hearings could be contentious. In Albany, Ulster County representative Samuel D. Coykendall gave a Braveheart-esque speech: "If our mountain valleys are ever taken by New York City, it will not be with the consent of our people, but because it is forced upon us by the representatives of the other counties in the state. And please remember, gentlemen, you who represent interior counties, if Ulster County is sacrificed your turn may come next." (Stirring fighting words from a millionaire railroad tycoon who perhaps wanted to reserve the right to shape the landscape for the local elite; at one point, Coykendall himself built a private lake in the Catskills, complete with a sprawling summer home.) 
The story of the reservoirs extends into the present. As Sante writes, "The polarization between city and country is an old story, but now it is entrenched in upstate communities." "They're still extremely high-handed," Sante said of City officials and agencies. Today, the NYC Department of Environmental Protection's 119-page document details the rules and regulations watershed communities must follow on land near the reservoirs, from the building of impervious surfaces like roads to sewage systems. The reservoirs are still patrolled by New York City police officers, members of the law enforcement wing of the Department of Environmental Protection, a direct descendant, as Sante pointed out, of the "original police force they put in when they were building, to keep the workers in line."
"All the roads around here are owned by the City and they have their own police, their own speed limits. Everything is controlled by the City because of the reservoir," she said.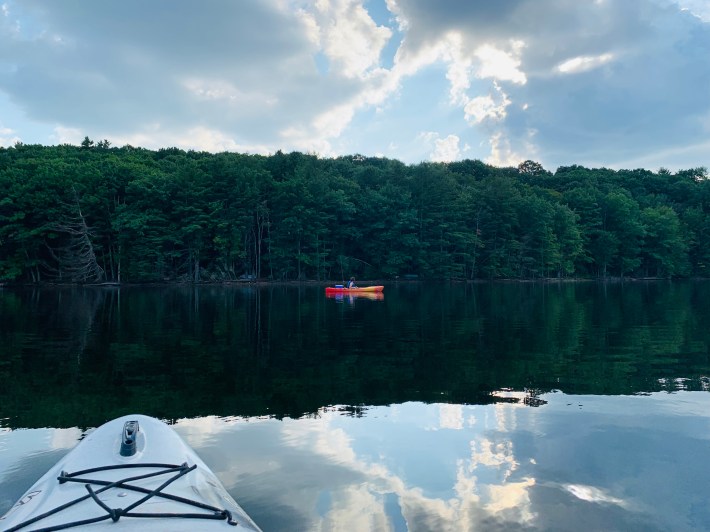 If city residents rarely think about the reservoirs except as scenic backdrops for a weekend trip upstate, they continue to be fiercely contested in upstate communities, even as by many accounts, the acrimony has lessened over time, partly the result of a landmark 1997 agreement that has helped to usher in a sort of detente. Still, in recent decades, fishers have battled the City, filing lawsuits claiming that the reservoirs are damaging trout habitats; other residents have also sued the City, arguing that reservoir (mis)management has played a role in catastrophic flooding. Today, Catskills residents are grumbling, again, about the City's practice of periodically releasing hundreds of millions of gallons of water downstream into the Esopus Creek. ("These people can afford to offer New York City cheap, clean, beautiful water by destroying ours," a Saugerties resident, Michael Vallarella, told the Associated Press.) Meanwhile, two upstate counties earlier this year demanded that the City stop buying land around the reservoirs, a supposedly more equitable practice initiated as part of the 1997 agreement meant to replace the seizing of property through eminent domain. To many local officials, the City's purchase of land has, as one put it, "devastated" the economy of watershed communities, preventing much-needed development and driving up housing costs, a charge City officials dispute. But it's that very lack of development that has drawn increasing numbers of New York City residents, myself included, to those very same watershed communities.
On the day that Sante and I visited the Ashokan, metal jon boats dotted the shoreline, or what used to be the shoreline—a region-wide drought had lowered the levels of the reservoir, exposing what looked like a roadbed. "You're starting to see details of the infrastructure that don't normally appear," Sante said, pointing to a clearly visible berm jutting out from the water. "We're facing our own drought shortage because right now they're also repairing the Cooper Lake Dam, which is our reservoir," she told me; a week before we met, Kingston had issued mandatory water restrictions. 
Sante hasn't lived in New York City for more than two decades, but in a strange way, she still remains. "We are not in Ulster County. Right now, we are in New York City," Sante said, before we trudged back to the road. "This is New York City property."

Prior to Hell Gate, Esther was a senior politics reporter at Jezebel and a columnist for the New Republic.
Stay in touch
Sign up for our free newsletter