Fresh Hell
Central Park's Other Penguins Face Extinction
Swimming programs in the city face an uncertain future. What does a community lose with them?
12:10 PM EDT on July 22, 2022
Tucked into the lush and leafy northeast corner of Central Park, splashing water, whistles, and happy chatter once filled Lasker Rink and Pool. Lasker was one of only two recreation centers in the city that served as an outdoor pool in the summer and ice-skating rink in the winter. It's where generations of children learned how to swim and adults churned out laps. It was unusually shaped for an Olympic-sized pool—an oval instead of a large rectangle. The curved shape and slippery metal lining made flip turns an exercise in resiliency for the ankles. Misjudge where you pushed off, and you could be heading in the wrong direction. 
It was a pool for unique people, and it didn't look like any other pool in the city. 
"Being in the park, it's like swimming in a lake. I don't see all of the urbanity, all the architectural reminders of being in a big city. It's incredibly rejuvenating because of that," Saul Robbins told me. He's a fine art photographer and professor—and has been swimming at Lasker for over a decade.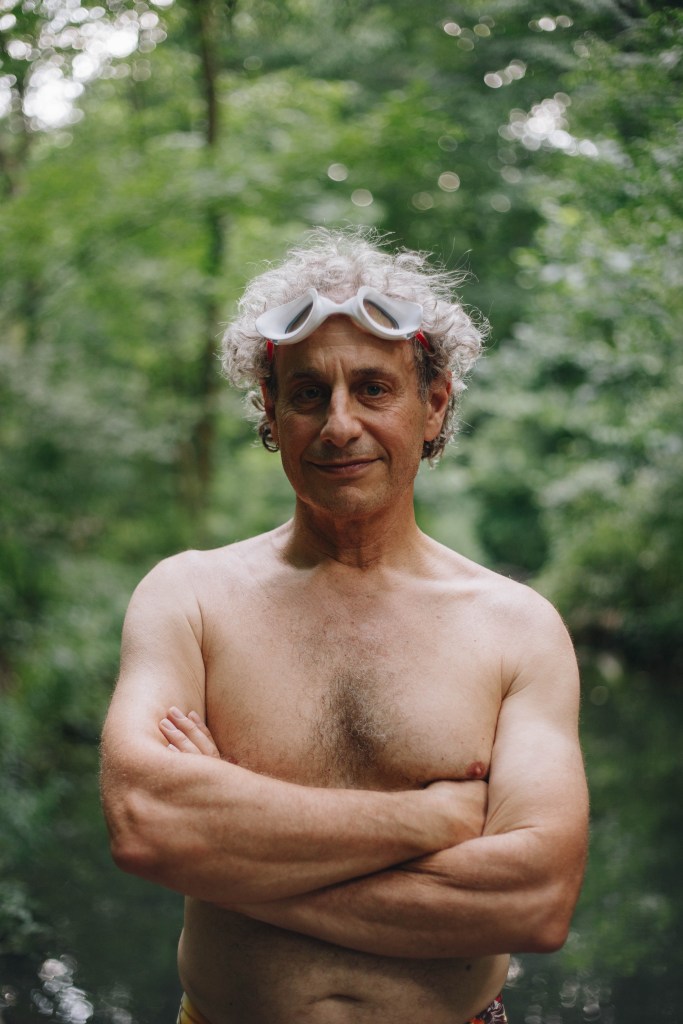 Since 1982, adults from all five boroughs have had the opportunity to swim laps in the City's outdoor public pools every weekday from early July through Labor Day. Grouped into the Early Birds (7 to 8:30 a.m.) and the Night Owls (7 to 8:30 p.m.), swimmers of all abilities and backgrounds could exercise outside, meet other water enthusiasts, and beat the heat—all without paying a cent. While adults can swim laps at one of the City's indoor recreation centers, those pools require a paid membership. They also lack the magic of swimming outdoors with the sun rising over Harlem Meer or setting in the Narrows. 
As with many other parts of life in the city, adult lap swim stopped in 2020 when the outdoor pools didn't open on schedule. Fifteen of the City's public pools did eventually reopen in the first pandemic summer of 2020, but without aquatics programs like adult lap swim and swimming lessons for kids. 
But Lasker, the unique oval-shaped pool, didn't welcome swimmers back into the water at all in 2020. That's because the pool has been demolished to make way for the new Harlem Meer Center. The rebuilt ice rink and pool isn't scheduled to open until summer 2024. 
Regulars knew the end was near, even before the pandemic. Lasker Pool was leaking.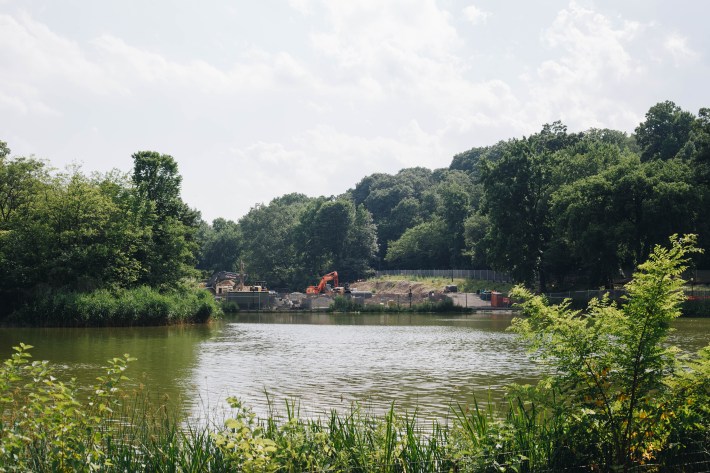 "I think one of the things that made Lasker so special was that knew we were on borrowed time, for at least a couple of years there," said Catherine Fredman, a ghostwriter from the Upper West Side.
If you've logged even one lap at Lasker, there's a good chance you've met Fredman. She's a fixture at the pool, attending renovation meetings with the Central Park Conservancy and hosting popular picnics in the park. On my first morning swimming at Lasker in July 2014, she immediately took down my email and asked how many laps I had completed that day. 
Fredman has evolved into the leader of the "Lasker Penguins." The pool's water-retention issues gave the Penguins their name. 
"In 2018, Lasker sprang a leak. In order to make sure that there was enough water in the pool, they just ran a garden hose off a faucet into the pool. The water never had a chance to warm up because it was just freezing cold water getting flushed into the pool 24 hours a day," Fredman explained. 
Artist and professor Elise Engler is credited for dubbing the swimmers "the Penguins." She's an artist who went to Antarctica through the National Science Foundation and spent three months creating art at the bottom of the world.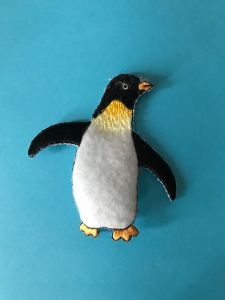 "After Antarctica, people always gave me penguins, so I have a bit of a penguin collection," laughed Engler. Swimming through the frigid waters of Lasker, she felt back among the penguins.
Fredman distributed some penguin-themed patches that swimmers sewed onto towels or swimsuits. Composed of financiers, teachers, and geologists who care to swim early in the morning, the Penguins also gathered for picnics in the warm evenings of summer. The gatherings started as a way to extend short locker-room conversations and get to know one another. 
When I first plunged into Lasker's clean and cold water in 2014, I was really only looking for a way to change up my indoor pool routine and swim enough miles to get a trophy. I swam laps my whole life, and the opportunity to do it in a beautiful outdoor setting appealed to me. But I also found a community unlike any other that I've ever experienced. A picnic became a restaurant gathering and that became a group trip to a Broadway show. I found more than swimming; I found my people.    
"There's a special sense of community and an openness and commitment to invite everyone," said musician Melanie Baker, who has been swimming in NYC's public pools for over three decades. "At picnics, I'm listening to someone who's a journalist and someone who's a physicist who was a photographer, and they're all talking about their work or what they experienced. The camaraderie allows that to happen and builds on itself." 
The Penguins are also the most boisterous group at the Parks Department's lap swim award night. The event, held just before the outdoor pools perform their annual disappearing act, commemorates everyone who swam 25 miles over the summer. They receive a coveted T-shirt. (Try to find them online, you can't! They're so in demand.) And the three men and three women who swam the most miles are awarded trophies. (I am not above saying that I've received one.) At the event, representatives from each pool's Early Bird and Night Owl sessions compete in a splash-and-dash 200-meter relay. "Oh, it's the best day of the year," said Stacey Carter, a children's book author and winner of multiple distance trophies. The Penguins would show up with noise makers, kazoos, and in-water cheerleaders (the awards ceremony is held at a pool) to support their team. 
The social events eventually moved beyond picnics, awards night, and locker room chatter. Penguins have attended each other's gallery openings, promoted one another's books, and even watched a few swimmers take the stage. During the first summer without the cohesion of daily lap swim, Fredman began an unofficial email newsletter with updates on where everyone was swimming or who was starting a master's degree or who started a new job. Carter even created a Google doc for everyone to log their laps to continue the counting and competition experience without Lasker.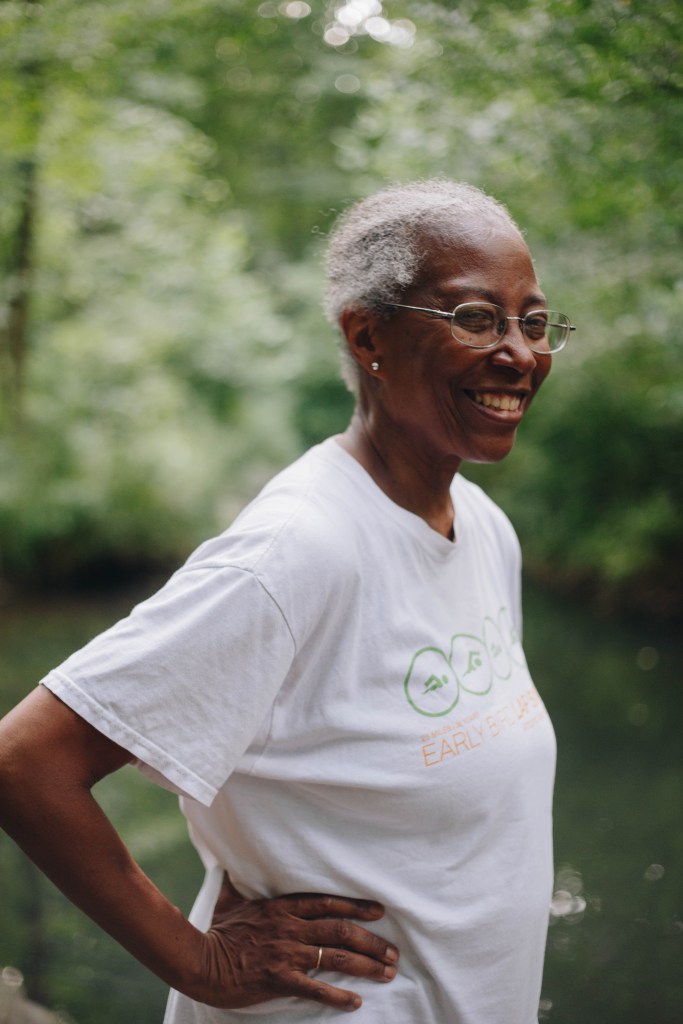 The group has also grieved together. When dance photographer and Lasker Penguin Nan Melville passed away in the spring, several swimmers gathered to mourn the loss of one of the group's shining lights. "The tragedy of Nan's death brought us together. There was this sort of sense that Nan would have loved us being together again," said clinical psychiatrist and professor Michael Myers.
The Penguins knew that they'd be without their pool until at least 2024, but the idea that adult lap swim might not be waiting for them when Harlem Meer Center opens is even more distressing. In June, Hell Gate broke the story on the citywide cancellation of adult lap swim and learn-to-swim programs due to a lifeguard shortage. 
"It's a public health issue. It's not just a recreation issue," said Fredman.
Beyond the glaring safety issue of not having free and readily available swimming lessons, the community-building opportunity presented by Lasker and other pools is at risk of permanently disappearing without these programs. "It's sort of where New York City feels like a small town. It's for Harlem kids. It's for adults. It's for the Upper West Side. It's for the Upper East Side. The pools are a great way to cool off and are one of those things that makes quality of life better," added artist and swimmer Elise Engler.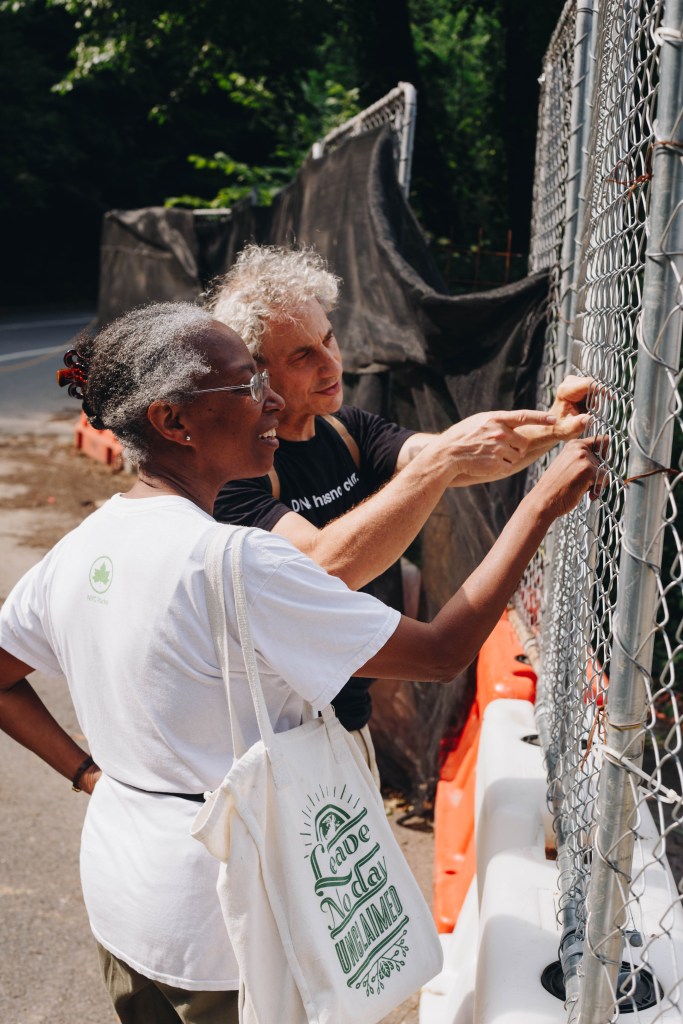 The recent announcement that the City will increase the base pay for lifeguards to $19.46 per hour and offer a $1,000 retention bonus for those who guard the entire 2022 season provides a glimmer of hope for the future of aquatics programming. As of July 18, the City has 852 certified lifeguards, according to the Parks Department, far fewer than the 1,500 lifeguards who normally patrol the City's pools and beaches. 
Without the camaraderie of dedicated lap swimming every summer, newcomers to the city (like I once was) and those who simply didn't know about this chance for free pool time will miss out on the physical health benefits and opportunity to build communities like the Penguins. 
It's this type of community that can make life in a large city a little bit easier. 
"A community needs a beating heart," Fredman told me. "And Lasker was the heart."
Laura Baisas is a science journalist and writer from Morningside Heights, by way of the Jersey Shore. She spent almost a decade at NBC News as a writer/producer and has a master's degree from Columbia University Graduate School of Journalism. A life-long swimmer, Laura has completed many open water swims, including around the Statue of Liberty, from Battery Park to Sandy Hook, NJ (17 miles), and around Manhattan Island (28.5 miles). Swimming near the actual Hell Gate lived up to the name.
Stay in touch
Sign up for our free newsletter