Q&A
'This is a False Choice': Kristin Richardson Jordan Isn't Sorry She Killed the One45 Development
The Harlem councilmember spoke about her opposition to the truck depot, and what would have to happen for a new housing development to get her approval.
6:36 PM EST on January 5, 2023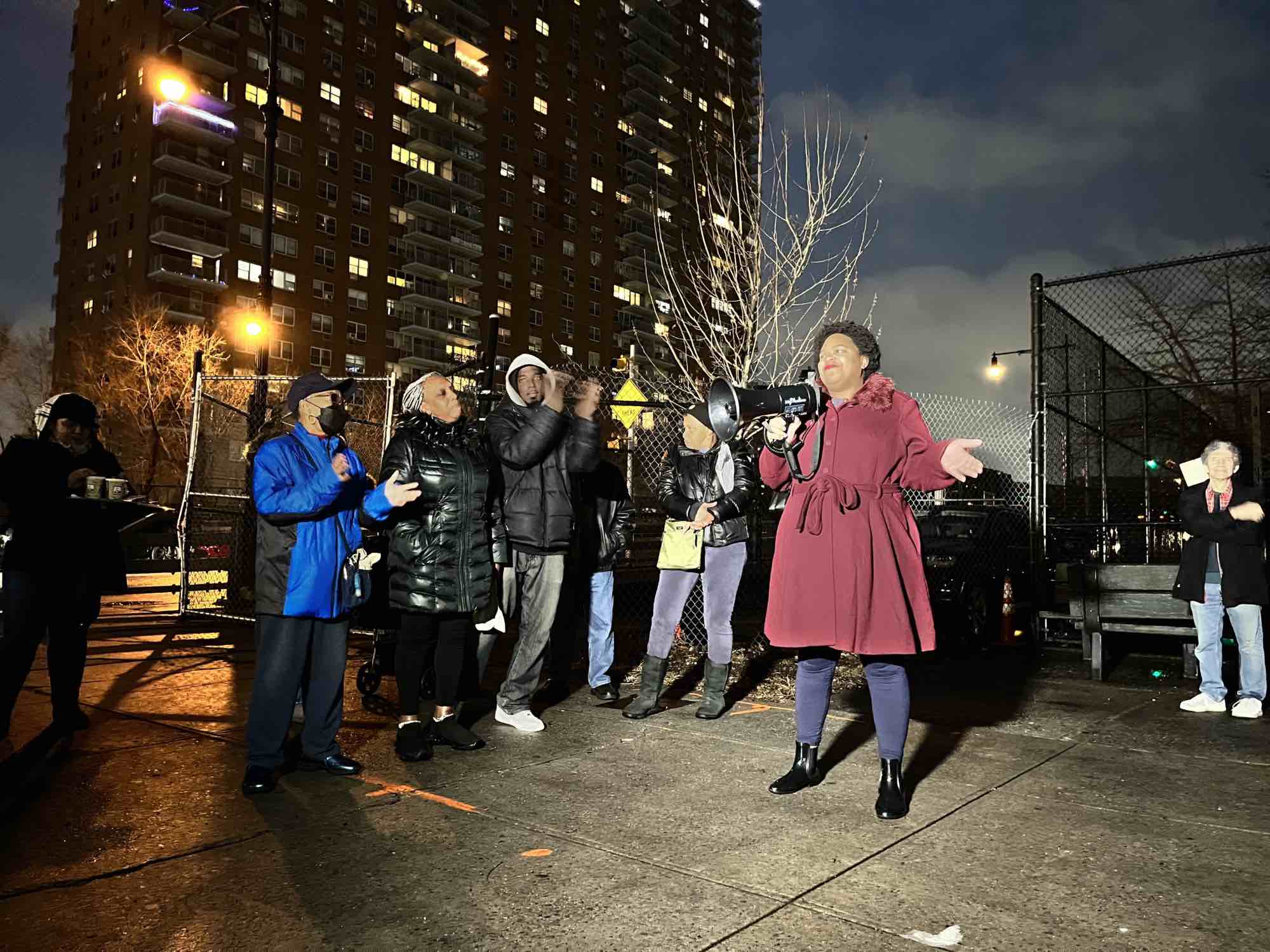 Bring up One45, the 900-unit Harlem development proposed by Rudy Giuliani's former chief of staff-turned-real estate developer Bruce Teitelbaum that was unceremoniously yanked last year after opposition from the local councilmember, and you're likely to get one of two responses. One45 is either a glaring example of the failures of lefty NIMBYism, in a city desperate for more housing, or it's a bittersweet win in the fight to preserve Black Harlem. 
If you haven't been following the One45 story, one of the toughest-fought battles over affordable housing in recent memory, and certainly one of the most dispiriting, here are the salient facts. In 2021, Teitelbaum petitioned for a rezoning of a plot of land he owned on West 145th Street in Harlem, with the goal of turning the L-shaped site into two residential towers, retail space, and initially, a civil rights museum helmed by Al Sharpton. At the time, the project included only the minimum in below-market rate housing required by such a rezoning, prompting opposition from the local community board, from Manhattan Borough President Mark Levine, and most notably, from newly elected Councilmember Kristin Richardson Jordan, a self-avowed socialist. Jordan and other local leaders pushed for more low-income housing on the site, which led Teitelbaum to pledge to increase the number of below-market rate units to about 50 percent of the total (112 units at 30 percent of the area median income, 255 at 50 percent AMI, and 91 apartments at 125 percent AMI, out of a total of 915 apartments). 
Jordan still wasn't satisfied, arguing that most of the "affordable" housing wasn't affordable to Harlem residents, not to mention the market-rate units. Because official AMI calculations sample from a large area, she argued, the developer was working off of an area median income of $93,400, where the median income in the immediate neighborhood was actually $36,804. (There was also the pesky issue that the City hadn't yet committed to funding some of the below-market rate units Teitelbaum promised.) Last May, facing the prospect of the City Council deferring to Jordan's position and voting down his rezoning, Teitelbaum withdrew his application. 
While the application has been pulled, the One45 saga isn't over yet. In September, Teitelbaum announced that there would be a truck depot on part of the site. It's a use allowed by the current zoning, albeit one that certainly feels like a slap in the face to many residents of Harlem, alarmed that an increase in pollution could worsen already-high asthma rates, as well as a not so subtle "fuck you" to Jordan. (In an interview with Streetsblog, Teitelbaum said he agreed with concerns over the truck depot expressed by neighborhood groups, though he also described their comments as "amusing.")
On Tuesday, Jordan and her office held a rally protesting the not-quite-opened truck depot. Before and after the rally, which was attended by several dozen residents, Jordan agreed to answer a few of our questions.
With the One45 site as our backdrop, we talked about why she pressed for more low-income housing on the site, her thoughts about Teitelbaum and the truck depot, why she supported other rezonings like InnovationQNS, and what she still hopes for the future of the site. We also reached out to Teitelbaum for comment, and included his responses at the end. 
This interview has been lightly edited and condensed for clarity.
Hell Gate: What's been going on? I've only been reading what's in the news, so I would love to hear your side of things. 
Kristin Richardson Jordan: I just feel like, big picture politically, we focus on almost all the things except actually serving people. And in terms of press, media, it's all about the controversy again, instead of actually serving people.
What do you wish we were focusing on instead? 
I wish we were talking very transparently about the dollars, the dollars and the cents and the money. Because what we're talking about here, with this site, is you're talking about, there's an investment of over $10 million to acquire the land, then we're talking about what is basically an upzoning, which we basically only see in our majority Black and brown neighborhoods, our low-income neighborhoods. And what happens with upzonings is we have the huge displacement of the local community, in service to big real estate. 
And really, the only leverage I have as a local councilwoman is the land use process. And that negotiation of well, if you're going to upzone and build up, you're going to need to put in affordable units. And the fact that we're not actually talking about the money, is the part that I have found the most frustrating, because here's the deal—we put forward as a community, not me personally, we, the community of Harlem, put forward a housing rubric that was worked on in our housing task force, it was open forums with the community. And it had to do with AMI levels that are reflective of census data. 
So again, it's not personal opinion, it was input from all community, and it had to do with numbers and the census data. So we were saying, okay, we're looking at an area, in this part of the district, you're in a census tract where the median income is about $35,000 a year. So you can't, in an area where we have that as median income, put in huge whopping amounts of market rate housing. The initial proposal of this had less than 10 percent of the units at a price that the community could actually live in. Then over time, and with push and everything, we got to under 20 percent of units that again, this community could actually live in. That was unacceptable to me. 
So when I hear mainstream media going around, saying that there was some magical offer of 50 percent affordability that people are literally pulling out of their butts—because it's not real, counting 120 percent AMI, literally counting six-figure incomes as affordable in this so-called quote 50 percent affordability—that's when I shake my head and I get concerned that media isn't doing their job of really informing the public about the true facts of the matter, because it's not 50 percent.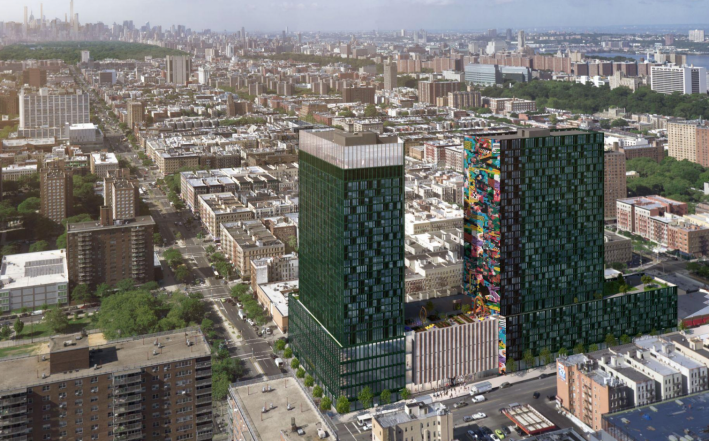 And those numbers also included units that would have depended on City money. 
Oh yes, let's also bring in the fact that this is with City subsidy. So this is not talking about what the developer themselves is bringing to the table. Because this is my question, if you are teeing yourself up for a potential windfall of millions, if not billions of dollars, what are you going to bring to the table? And yes, there's financing and building, and there is a cost to build. But that is made back multiple times over in this development, and still the developer refused to give any, any give to the community. It's really greed. It's really greed. And I am a socialist. And I do believe in housing as a human right. And I do believe in socialized housing. But frankly, you don't have to be a socialist, to see just the unfettered greed of building such a complex in a community like this.
Correct me if I'm wrong, but the last-minute offer where the affordable units were bumped up, there was never any commitment from the City to fund those additional units?
No, we did not have an inviting and we did not have full committal. And furthermore, to the administration's credit, there was actually a meeting set up for this developer to go and talk about City subsidy. And they did not show up, the developer did not show up to the meeting. 
So there really were no efforts. I had, from when I initially met with them, said that what they were proposing did not meet the affordability rates of our rubric, did not meet what we as a community were advocating for, that they needed to talk with HPD, that they needed to put in some more of their own resources and get it to a viable place. And this developer refused to do that. And I think he really felt that he had it in the pocket. 
It is my belief that because it was done on the cusp of my being elected, that it had been promised to him, and he simply didn't think he would have to shift. And it's not acceptable.
If there had been an agreement with the City, do you think your position would have changed, in terms of support for the project?
Yes, my position is the people's position. And it has to do with a couple of different factors, but biggest factor, affordability. So if we had reached the right affordability, that would have helped. I will point out there were other issues with the project as well. Major issue, we are a community of over 60 percent families that are going to need two or more bedrooms—this project had over 60 percent studio and one-bedrooms, which shows you who this was actually being built for right there. 
You've seen a lot of the criticism, I saw that it looks like you got rid of your Twitter account. What do you think about the criticism that now the neighborhood is getting a truck depot instead of much-needed housing. What's your response to that?
Well, this is why we're here today, because we shouldn't have luxury housing, and we should not have a truck depot. We should not have either one. If we were a whiter, richer community, we would not be looking at either one, this is a false choice. 
Now the truck depot is being proposed in an area that New York state has already designated as environmentally protected. So my message to the state is, protect us then, if you as the New York state have designated this as environmentally protected, then protect us. There is no reason that this truck stop should be getting licensed, as every business has to get licensed by the state. There's no reason to be giving a state license to an environmentally hazardous business in an area that the state has already marked as environmentally protected. So we actually are calling upon the state legislature to stop the truck stop. 
I honestly questioned whether it is even in fact legal. And if it is legal, my whole point and the point of our petition is then let's close whatever loophole that is, because that should not be legal.
And the Twitter thing is just, I ran to represent Harlem and District Nine. And I didn't want to get swept up in talking to entitled white people from various parts of the country who are not in our community and are not my focus. 
The developer has been painting himself as, "I wanted to do right by the neighborhood."
No, he didn't. No, he didn't. When we went into the land use project process, there was the proposal for the One45 development with unaffordable units. And then there was, as is required, an alternative as of right proposal. And the alternative as of right proposal put forward was not a truck stop. It was as of right housing. 
So I would argue that he's already been totally disingenuous with what he put forward versus what he's actually choosing to do now. And I think the fact that he's choosing to do a truck stop makes it very clear where his loyalties really lie, which is to his pocket and to his investors' pockets.
As far as I know, Councilmember Charles Barron was the only councilmember to vote against the Innovation QNS project that recently passed. Was that something that you supported?
So I have come to have a real reverence for councilmember deference. And that is something that I totally understand gets sticky, with different people having different opinions. But here's my take. My take is that it is so important to know the detailed intricacies of a development, to know it inside and out, to be from the community, to know the community, to interact with multiple people in the community, to talk to community board members, to talk to the public. And it is simply impossible as a councilmember in a different district to do the level of investigation that you really need to do, to hard and fast decide for another community. 
I also do see it as imperialist. I have strong anti-imperialist views. And I feel like someone dictating to Harlem, what should happen in Harlem, when you're not from this community is pretty atrocious. So I have shifted to a space of not wanting to do that myself. So I look at where the community boards voted and where the councilmember votes. And I am happy to stand in solidarity with any councilmember that stands up against development. In fact, I stood with Julie Won when she was having a protest at City Hall. And I think, you know, the community has to decide. People who live there have to decide.
You mentioned that you would be open to opening up conversations with the developer. What would he have to bring to the table?
So let's be clear, he literally has everything on his table. We laid out our rubric for affordability, which was based on census data and what we needed in affordability levels. We laid out a list of the critiques from the community around the last proposal, the latest proposal, of what we would need, not just around affordability, but around height concerns, around the size of unit concerns. All of that is written out and laid out for him. 
In fact, I actually sent that in an email to the whole council. So actually, that's laid out for everybody. So it's very clear what's on the table. And it's very clear what he would need to do and address to make it a proposal that we as a community would support. And it's very doable to do that, to make make and meet those standards, and frankly, still make money. So what we're looking at is greed, really. There's no reason not to engage with what we've put forward.
***
In an email, Teitelbaum told us he expects to open the truck depot sometime next week, and that while he didn't attend that May 27 meeting with members of the Adams administration, members of his staff did. He insisted that Jordan was "plain wrong" about the lack of affordability at One45, and pointed out that hundreds of units would have gone to people earning 30 percent AMI, or $36,030 for a family of three. 
"But to be fair, I also guess it depends on one's definition of affordable. We are using standards that are set in law and are applied to every discretionary project," Teitelbaum said. "Perhaps her argument is not with me and she should change the law. After all, she is a lawmaker." 
As for whether he'd ever consider another large-scale housing development in Harlem again, Teitelbaum replied, "I have consistently and repeatedly said both publicly and privately that I will not close the door and say never."

Prior to Hell Gate, Esther was a senior politics reporter at Jezebel and a columnist for the New Republic.
Stay in touch
Sign up for our free newsletter