Locked Up
Manhattan Arraignment Court, April 4, 2023
Hell Gate puts you at the heart of the action inside New York Criminal Court.
4:12 PM EDT on April 4, 2023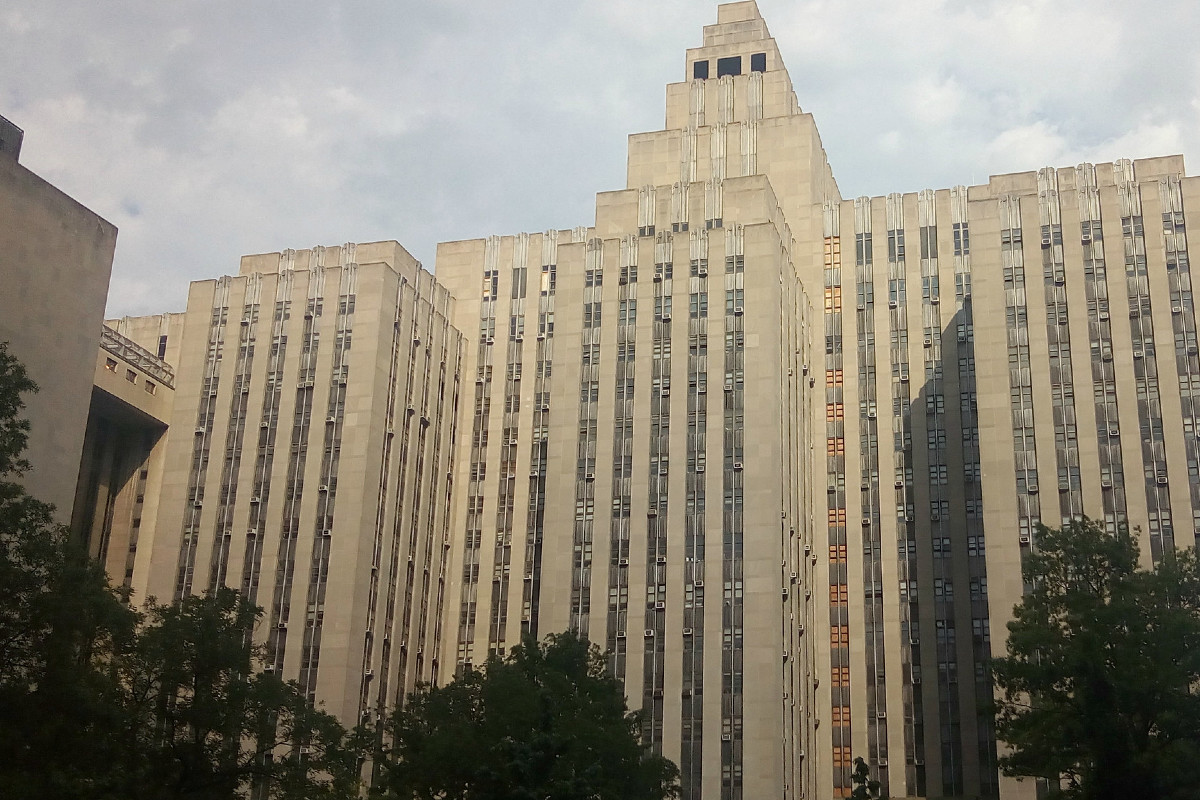 The hallways of the Manhattan Criminal Court building at 100 Centre Street overflowed on Tuesday morning, filled to the brim with reporters, photographers, cameramen, and producers. All of them were there for one reason: to prepare for the arraignment of Donald J. Trump.
Around the corner from the steady din of journalists talking shop, phoning in to their editors, and worrying over their access to the coming event, was Manhattan Arraignment Part 1, where the machinery of the criminal legal apparatus churned forward at the same methodical pace that it keeps every day, where people who have been arrested are first presented before a judge, provided with a lawyer, and charged with a criminal offense.
Presiding was Judge Michael Ryan, who served as a Brooklyn prosecutor before being appointed to the criminal court last year. Before him and below his bench milled all the functionaries of an arraignment court: assistant district attorneys from the Manhattan District Attorney's office, public defenders from Neighborhood Defender Services, New York County Defender Services and the New York Legal Aid Society, case managers and social workers from rehab organizations and the supervised release program, clerks pushing file carts, kevlar-vested court officers, New York City police officers, and, of course, defendants. Behind a low barrier, in the gallery, family members and a couple reporters sat in well-worn wooden pews.
One by one, as their names and docket numbers were called, the defendants shuffled out from a doorway in the back of the courtroom in shoes from which the laces had been removed, the door briefly swinging wide enough to offer a glimpse of the holding pens where they'd spent the morning, after being transferred from the lock-up at whatever precinct had taken them into custody. 
One man was facing charges of assault in the second degree based on allegations that he punched an elderly security guard in the face. Prosecutors asked the judge to set bail at $10,000, noting that he'd failed to appear in court nine times previously, has had his parole revoked twice, and has an open felony case. The defense counsel asked for bail to be set instead at $5,000. "He is a man of very little means," the man's public defender told the judge.
The judge considered this for a moment, before telling the defendant he's setting bail at $7,500, an amount he clearly can't afford. The implication was obvious: He'd be heading to jail on Rikers Island in short order.
"Shut the fuck up," the defendant spit at the judge over the surgical mask pulled down below his face. "Shut the fuck up and suck my dick." The court officers weren't having any of that, and came to take him back, away from the judge, back to the pens. "Oh, you gonna hit me again?" he asked the officer reaching for him. Back through the doorway in handcuffs, out of sight.
Next up was a slight man with a short ponytail and wearing a mint-colored hoodie and snow boots, who was charged with assault in the third degree over a workplace dispute. The ADA told the judge he'd hit someone across the face with pliers, sending him to the hospital. Not so, corrected the public defender: There were cross-charges here, and it was actually this guy who was hit with the pliers; this man was charged with hitting the other guy with his fist. In any case, prosecutors consented to releasing this man on his own recognizance, with a protective order keeping him away from his fight partner. He stepped out around the rope gate that separates the work floor of the court from the gallery's four rows of benches and sat, waiting for his final paperwork. A public defender employee came by and gave him a MetroCard to get home. His lawyer, finally free for a moment, came over and explained what just happened, a Spanish interpreter translating in real-time. He nodded, got his court papers, and stepped out into the hallway full of reporters.
More defendants shuffled through. A man in white jeans and platform Crocs pleaded out, and pleaded guilty to disorderly behavior in exchange for a sentence of time already served. The court officer unlocked his cuffs and he stretched his arms awkwardly above his head, the bracelets still dangling from one arm. 
A 20-year-old who looked 15, wearing yellow Jordans and a puffer, came up on possession of a controlled substance in the seventh degree because a cop on 125th Street asked him what he was smoking and he answered, "It's K." He was set free on supervised release.
A tiny woman in a mauve acrylic sweater was brought out. She has been living in a shelter with her partner and child, but now she was being charged with endangering that child. Fulfilling his legal obligation to promptly turn over material that may be favorable to the defense, the prosecutor conceded that an EMT told the police that "he didn't believe the bleeding of the child was trauma-related."
Another woman emerged to face charges of criminal mischief after she got in an argument with her partner and allegedly broke a living room window. The judge let her walk, but imposed a protective order, directing her to stay away from her partner, with whom she has a child. Her lawyer asked for an access order so she could get some of her stuff from the apartment she's now barred from, which the judge granted. She went out into the hallway, away from the journalists in a little corner near the window where bail is paid, and wept.
More criminal mischief charges, these against a man in a Hard Rock Cafe jean jacket, accused of grabbing a jar full of pre-rolled joints from a weed store. With no prior record, he was released on his own recognizance. 
A man sentenced to 20 years to life in 2000 was back in court for the latest of several recent arrests. His family was worried about him and his mental health, his lawyer told the judge. His sister was in the courtroom, ready to take him home and make sure he got the services he needed. That didn't happen: Applying the "harm on harm" analysis inserted into one of the recent rollbacks to bail reform in New York, the judge determined that the man had now twice been arrested on crimes that hurt someone. He set bail at $15,000. His lawyer asked the judge to please make sure that his file shows that he needs medical and mental health care as soon as he arrived at Rikers.
Things began to slow down. Court staff huddled around a cellphone, watching footage of the crowds outside on Centre Street. A balding man, in a gray sweatshirt, "presently undomiciled," was marched out to face charges of petty larceny. The translator spoke to him in Spanish: They were saying he tried to take "a shirt and backpack and food items" from Target. His lawyer told the judge he knows he has substance abuse issues, and would like to take part in a program. The judge said he could do it voluntarily, because he had already washed out of a program once, and conditioning his release on participating in a program would be setting him up to fail. 
Back out in the hallway, the mood was even more full of electric expectancy. Soon the Secret Service would close the building in anticipation of the celebrity arraignment. The media swarms schemed how to maximize their chance of getting into the special courtroom. Out on the street, police had already shut down the block. Protesters and gawkers thronged the Collect Pond Park across the street, tripping on snarls of cameras and broadcast rigs. Talking heads stood on milk crates to opine about the imminent arraignment of an American president. The big moment had almost arrived.

Nick Pinto served two tours as staff writer at the Village Voice. His reporting has appeared in The New York Times Magazine, Gothamist, The New Republic, Rolling Stone, The Intercept, and elsewhere.
Stay in touch
Sign up for our free newsletter