Power
Inside the Fight Over an Unlicensed Market in Sunset Park
While market organizers have resisted getting a permit, a local council member believes their approach has been "very aggressive."
1:54 PM EDT on April 18, 2023
It's a lovely Sunday morning in Sunset Park and Brian Garita is sitting on the ground in front of two middle-aged men on a bench, speaking to them in Spanish, trying to convince them to sign a petition.
Garita is one of the organizers behind Mexicanos Unidos, the group that has organized "Plaza Tonatiuh," an unlicensed market that first sprang up in Sunset Park during the pandemic, and had grown to include dozens of vendors each Sunday. That is, until a few weeks ago, when the NYPD and Parks Department began enforcing vending laws in the park after the market returned from a winter hiatus. Today, the vendors are nowhere to be seen.
Garita and other volunteers are insistent that the community supports the market, and are trying to gather the signatures to prove it. 
The two men are complaining about the trash they've seen in the park, while Garita insists that vendors clean up after themselves. They leave unconvinced.
"They're telling me that they don't support the market because the ice cream lady is stealing jobs from the ice cream shop," Garita explained. "That's backwards in our opinion, because this all started as a survival program for women."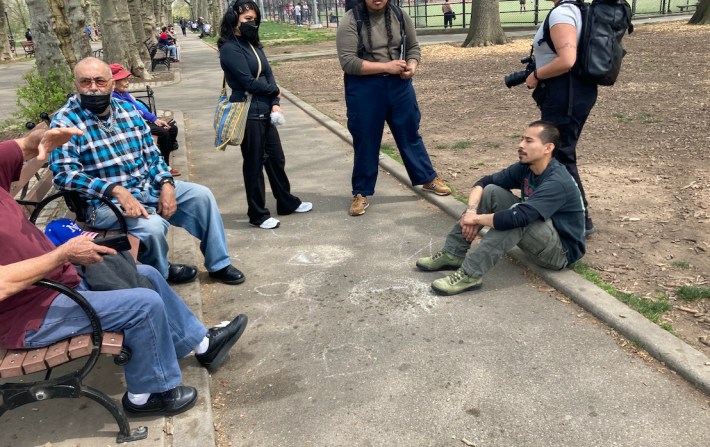 Formed during the uprisings around racial justice in the summer of 2020, Mexicanos Unidos brought young Mexican people in Sunset Park together to protest and organize around equity and policing in the neighborhood. By May 2021, their efforts had focused on the formation of Plaza Tonatiuh, a market where vendors could earn some money, share cultural practices, and give the community a place to come together during a harrowing 2020. The market started with just a few vendors, but by the end of last fall, had exploded to more than 80.
"During the pandemic we saw a lot of people becoming street vendors, selling housewares on their stoops, selling from Instagram, so we tried to organize that," Garita said. "Sundays were a good day for people to get supplemental income."
By the fall of 2022, the Parks Department told Hell Gate, complaints had begun to roll in from neighbors that the market had grown too large, and was taking up too much space in the park. 
The joint enforcement by the NYPD and Parks Department was being done because of "neighborhood complaints that the activity prevents park patrons from using the park on Sundays," according to a Parks Department spokesperson. The NYPD says its enforcement was "in response to community complaints."
A vendor from Ecuador, who didn't want to use her name because of fear of law enforcement, said she hoped the City would allow the market to continue.  
"Let us work, that's all we're asking, but they won't leave us in peace," the vendor told Hell Gate in Spanish. She had been vending clothes in the market for a year. Two days a week she cleaned houses, and on Sunday, she sold her clothes at the market to support her family. "I was hoping for better news. The park is a park, we respect it. There's people who dance, it's a community space. People come here to play music, cumbia. We're just asking for one day, nothing more."
After the market returned to its corner of Sunset Park in early April, NYPD and Parks Department officers arrived in force and blocked people from selling goods. When organizers with Mexicanos Unidos and vendors returned the next weekend, Easter Sunday, to hold a cultural event instead of a market, enforcement was just as tight, with some vendors saying they were shoved by NYPD and Parks Department officers. The NYPD says no fines for vending have been issued, and two arrests of non-vendors were made of people who, according to the police, were refusing to leave the park after being ordered to.
"They wouldn't let us set up a tent, they were on top of our every move," Garita said. "We did live music instead, we did what we could."
Garita, who goes by the name "Leo" at the market, admits that the lack of permits are a result of both the bureaucratic crawl vendors must go through to get licenses in the city, and as a statement of who has a right to this public space. 
The City Council raised the cap on the number of vending licenses in the city in 2021, but the licenses are just barely trickling out, as enforcement skyrockets. 
City Councilmember Alexa Avilés, who represents the area, believes that the organizers behind the market are putting the community in a tough spot—by insisting on being unlicensed, and growing tremendously in their first full year of operation, she says they're monopolizing a part of the park that should be shared by the entire community. 
"The organizers had a very aggressive approach in commandeering space in the park," Avilés told Hell Gate. "We all want to have a market that reflects us, we don't want Smorgasburg, but it's going to be challenging to navigate city bureaucracy. This organization, Mexicanos Unidos, did not want permitting. It was a political position that they just wanted to commandeer public space and they were very resistant to engaging in conversation." 
Vendor Daniel Flores, who sold leather goods, believes that the market gave people an important opportunity to work during the pandemic, to feel useful. He said it was wrong for the City to shut it down so abruptly. 
"There was nothing negative about this space," he told me in Spanish. "The response was a really brutal repression by the police. This was something we did for the community."
Avilés believes that the only way forward for the space is dialogue—and eventually, some form of permitting from the City. 
"I understand where the sentiment to do this without permitting comes from, these systems are not designed for working-class people, but it's not a sentiment that in the long haul will work," Avilés said. "We need to change the system." 
Meanwhile, Garita and other members of Mexicanos Unidos are pressing for a return of the market as soon as possible. 
"We know that a permit or policing as a whole won't keep us safe," Garita said. "The people are the ones that need to look out for each other and to the police, the community empowerment is a no-no." 
Max Rivlin-Nadler is a co-publisher of Hell Gate. He's reported for Gothamist, The New York Times, Village Voice and NPR. You can find him walking his dog, Stiva, or surfing in the Rockaways.
Stay in touch
Sign up for our free newsletter