Locked Up
She Spoke Out Against Mistreatment in a NY Jail. Then ICE Put Her Back Inside
After an asylum seeker spoke out about conditions in an ICE-contracted jail in New York, the agency seemingly retaliated against her.
10:45 AM EDT on April 27, 2023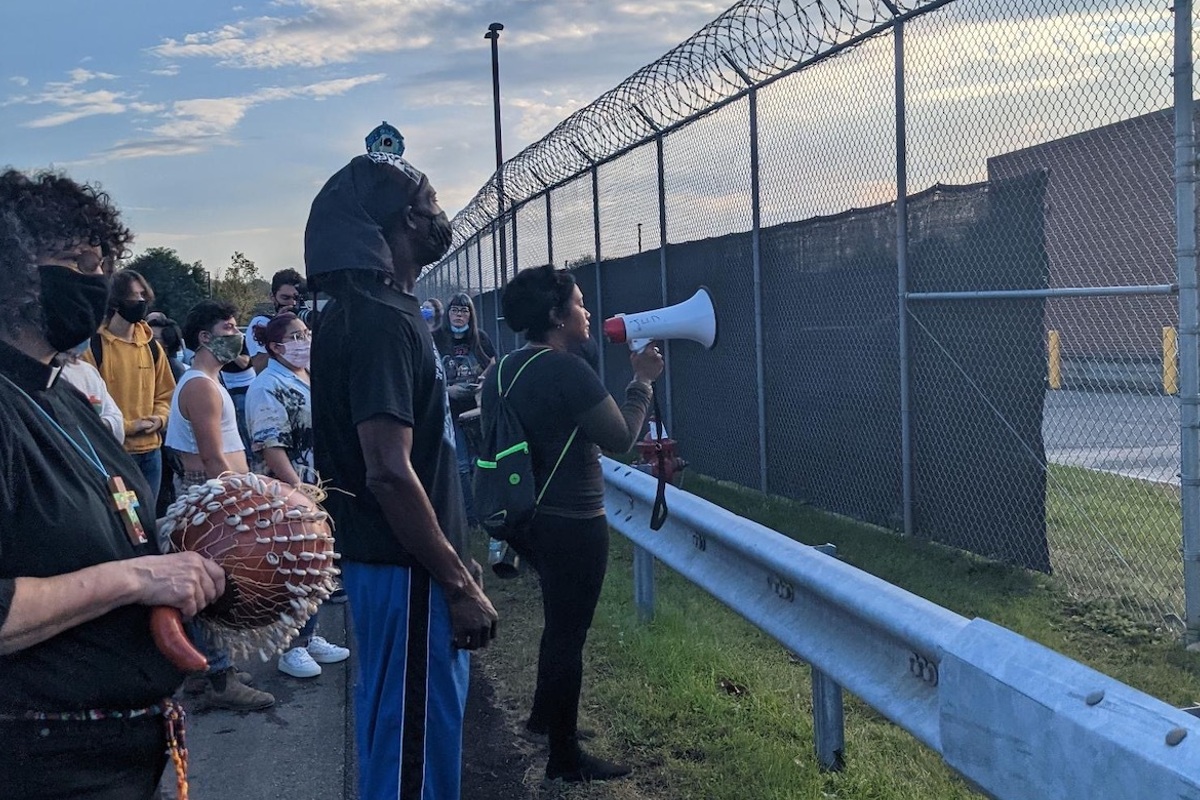 In 2022, an asylum seeker using the name Ms. Q testified at two legislative hearings about conditions at the Rensselaer County jail, which she had recently been released from. She described terrible conditions, including medical neglect. The jail in Troy, New York, currently contracts with ICE to detain immigrants. (Ms. Q is not publishing her legal name both to prevent further reprisals from ICE but also to avoid being identified and found by the adult men from her home country in South America who sexually abused her. In all court documents, she is only identified as "M.Q.")
Her willingness to speak out came with a price. In December 2022, after those legislative hearings, Ms. Q appeared at her monthly immigration check-in. Her partner accompanied her, waiting outside. But this time, Ms. Q was handcuffed, arrested, and sent to the Orange County Correctional Facility in Goshen, where she remained until mid-March. 
"I kept asking why," Ms. Q recalled. "I followed every rule. I did everything they [immigration officers] had told me to do." But she was never given an explanation. 
Her ordeal through the immigration detention system began in 2021. 
When she first arrived at the Rensselaer County jail that August, with her hands cuffed and her ankles shackled, the ICE officer led her over a grate instead of the jail's paved walkway. When her ankle shackle became stuck on the grate, the officer tugged her, causing her to fall. Handcuffed and unable to catch herself, she fell on her head. Her ankle was swollen for three weeks. Ms. Q charges that the jail denied her adequate medical care throughout her stay. She continues to be in pain from that injury, she told Hell Gate. 
Hers is not the only complaint about the jail's conditions. In September 2021, Catholic Charities Community Services, the Brooklyn Community Bail Fund, and Justice for Migrant Families filed a civil rights complaint against ICE and the jail calling for an investigation of what they called the jail's "egregious living and medical conditions," including medical neglect of other women previously detained there, as well as the immediate release of all immigrant women within the jail.
These conditions have led local activists to call for both an end to ICE's contract with the jail and the jail's closure. In October 2021, they rallied outside the jail with a third demand—that Ms. Q be immediately released from detention. 
Ms. Q was, at first, unaware that she had become a rallying point for the campaign to close the jail. She said staff tried to keep her in a news blackout—turning the television off when the news began or keeping her locked in her cell. 
Then, her girlfriend told her about these efforts. "There was a point I was ready to give up," Ms. Q told Hell Gate. "But then, hearing that people are out there fighting for me and having all this support from people I don't even know...That gave me the strength to keep fighting."
In December 2021, after an MRI revealed that her ankle had been fractured, Ms. Q was released from the jail, although she continued to face deportation. 
But Ms. Q couldn't forget her time in detention. "With all the support I had, I can do something," she told her lawyers. In 2022, she testified at two legislative hearings about conditions at the jail—and to advocate for the New York Dignity Not Detention Act.
Introduced by State Senator Julia Salazar and Assemblymember Karines Reyes, the bill would prohibit any New York government entity, including local jails, from contracting or renewing immigrant detention contracts. It also would prohibit any individual or business from going into the immigrant detention business, closing the possibility that private prison contractors can set up shop within the state.
In 2021, New Jersey lawmakers passed a similar act. That encouraged organizers with Abolish ICE New York/New Jersey to set their sights on enacting similar protections in New York. 
"When a jail ends a contract [with ICE], less people are picked up in the surrounding area because the beds don't exist," Tania Mattos of Abolish ICE New York/New Jersey told Hell Gate. She said that after New Jersey passed its law, a number of people held in detention were released, while at least 130 people were transferred elsewhere.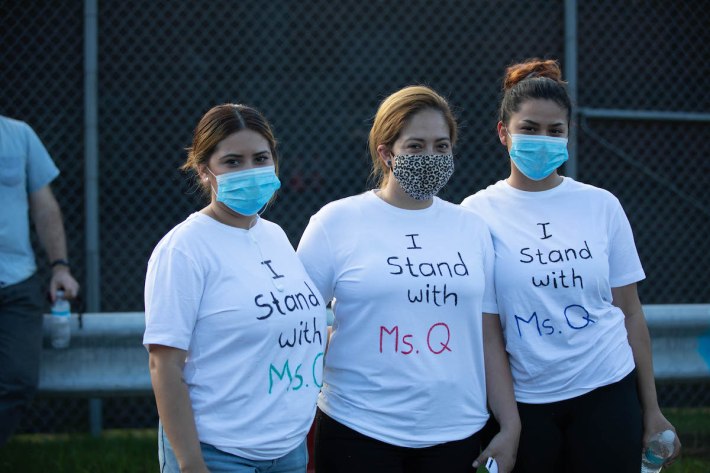 Furthermore, she noted that if the law existed in New York, there would not have been an ICE-contracted unit in which to detain Ms. Q. "ICE would be less likely to spend the money to transfer her far away," Mattos said.
In New York, however, both versions of Dignity Not Detention remain in committee.
This past January, a judge ordered a stay of deportation, pending a judicial review of Ms. Q's asylum claim. In February, the Board of Immigration Appeals granted her motion to reopen her case. The next day, ICE issued its decision to keep her in detention, a decision that Ms. Q, her attorneys, and advocates argue is retaliation for her outspokenness. 
In a brief filed by the U.S. attorney's office, government attorneys have argued against this assertion. Contradicting their argument, they have also argued that even if her detention had been retaliatory, the court lacks the authority to consider Ms. Q's constitutional claims. 
This is not the only time in recent months that ICE has detained and threatened to deport immigrants who have spoken out against the agency's abuses. In 2018, ICE detained Jean Montrevil and Ravi Ragbir, founding members of the New Sanctuary Coalition and vocal advocates for immigrant rights. The agency had placed the coalition under surveillance and had planned to deport both men. ICE deported Montrevil, who then filed suit against the U.S. arguing that he had been deported because of his activism. He was allowed to return to the United States in October 2021 and shortly after, as part of the lawsuit's settlement agreement, was granted three years of protection from deportation. 
Before the agency could deport Ragbir, he too filed suit charging that deportation attempts were part of the agency's targeting of immigrants who exercised their First Amendment right to political speech. He too won a three-year reprieve from deportation. By December 2020, Immigrant Rights Voices, a joint project of the NYU Immigrants Rights Clinic and the New Sanctuary Coalition, recorded 323 instances in which ICE retaliated against immigrants by placing them in detention or removal proceedings. 
In September 2021, one month before Ms. Q was released from the Rensselaer County jail, the Department of Homeland Security issued a memorandum stating that a non-citizen's "exercise of their First Amendment rights also should never be a factor in deciding to take enforcement action." 
On March 16, an immigration court judge ordered ICE to release Ms. Q on a $10,000 immigration bond. She is now at home with her family. But those months inside have cost her. 
During her four-month detention, she lost her job at a local deli. Upon her release, she told her boss about her situation and, while her position had been filled, he said he would find another position for her. She is now back at her job in a position that necessitates standing on her feet (and her fractured ankle) for hours at a time.
Even more, she fears that ICE can and will once again snatch her away from her family and community. "Are they gonna do something to me like they did before? It's like a fear they put in me," she said. 
The press offices for ICE, the Rensselaer County jail, and the Orange County jail did not return requests for comment.
"The retaliation that Ms. Q has faced is emblematic of how ICE uses the immigration detention system to silence and punish those who speak out about their mistreatment," said Alina Das, who began representing Ms. Q after she was re-detained. (Das was also Ragbir and Montrevil's attorney.) "We honor the bravery of people like Ms. Q when we work to end immigration detention so no one has to go through what she went through."
Ms. Q is determined to continue speaking out. "I'm going to keep fighting and keep advocating for people that need the help," she said. "I received the help that I needed so I feel like I need to pay that back by helping others. Hopefully I win my asylum case and get to stay here forever. I have a lot to fight for. I'm not going to stop now, no matter what."

Victoria Law is a freelance journalist and author. Her books include Resistance Behind Bars: The Struggles of Incarcerated Women (PM Press 2009), Prison By Any Other Name:The Harmful Consequences of Popular Reform (New Press 2020), and "Prisons Make Us Safer" and 20 Other Myths About Mass Incarceration (Beacon Press 2021). She frequently writes about the intersections between mass incarceration, gender and resistance.
Stay in touch
Sign up for our free newsletter