Going Places
The Hudson River Greenway Needs to Eat Some of the West Side Highway to Thrive
Elected officials are asking the state DOT to turn a lane of traffic on the West Side Highway into a two-way protected bike lane.
11:53 AM EDT on August 2, 2022
Should the most popular and successful bikeway in America be modestly expanded to improve access and safety? While the answer to this question might seem obvious, this is New York City, where it's seemingly 100 degrees every day and people use the threat of litigation to stop children from playing on the street and diners from eating outdoors. And so a group of elected officials and advocates are once again asking that a group of more powerful elected officials enact a sensible piece of public policy that would be considered uncontroversial and perfunctory in many other parts of the world.
Hudson River Park gets 17 million visits every year, and to access the green, all those runners, walkers, dancers, skaters, dog walkers, kayakers, rollerbladers, sailers, nappers, picnickers, stroller-pushers, tourists, cruise ship rubes, and day-drinkers have to cross the bikeway—which is often filled with casual cyclists, commuters, delivery workers, people in spandex and expensive helmets, Tom Brady, and first-time Citi Bike riders. 
If you've crossed it during the morning or evening rush hours, or pretty much any time during a pleasant weekend, you understand that the status quo is untenable. 
The crowding is made worse by the concrete bollards installed after a man drove a van down the path and killed eight people and injured 12 others in 2017, in what officials described as a terrorist attack.
Luckily, there is more space to be found just to the east of the greenway in the form of State Route 9A, aka 12th Avenue, aka the West Side Highway, a six-to-eight lane corridor of heat and steel and frustration. 
On Tuesday, Manhattan Borough President Mark Levine—along with two city councilmembers, two community boards, and safe streets and bicycle advocacy groups—sent the state Department of Transportation a letter. It asked them to repurpose one of those highway lanes and make it a four-mile, two-way protected bike lane from 57th Street down to Chambers Street, thus freeing up space on the current greenway. (The results of a feasibility study should determine whether the new bike lane should be the westernmost lane that is closest to the greenway, or the easternmost lane that is currently used for parking.)
Creating a separate protected bike lane would also address the prohibition on e-bikes and e-vehicles on the greenway. Currently, Citi Bike e-bike users and delivery workers are expected to ride on the West Side Highway, or face fines for staying on the path.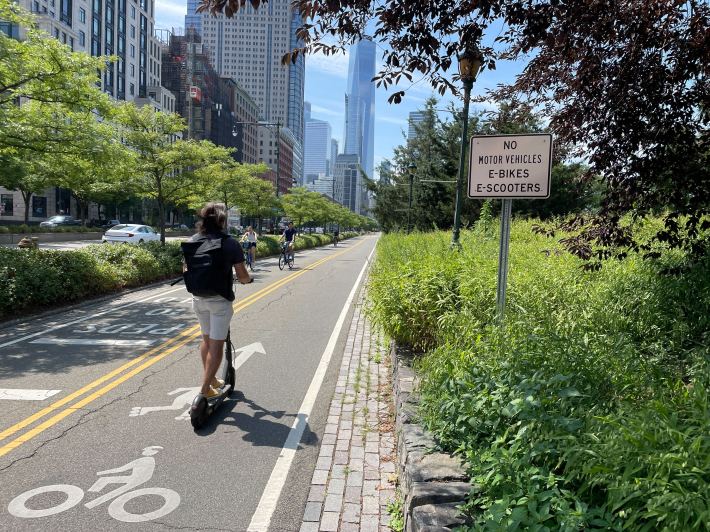 "The best solution [for e-bike riders] is giving a safe option that won't conflict with pedestrians," Levine told reporters at a press conference on Tuesday. "That's what we're talking about here, and that is our focus."
This idea has been proposed before, but Cuomo's DOT was dismissive, citing "concerns" about removing a lane of traffic. 
"We had a different governor then. And we have a new governor now. And it's a new day in Albany, and it's time to try this again," Levine said, noting that the immensely popular Brooklyn Bridge bike lane was installed without any real effect on vehicular traffic. (It takes Manhattan-bound drivers an extra 55 seconds, extra time that may be shaved off once congestion pricing kicks in).
"I have every reason to believe this will get a welcome reception in the state government," Levine said. "And we're gonna find out but we believe we have the policy, and the facts, and the politics on our side."
Governor Kathy Hochul's press shop has not yet returned our question about whether she supports this idea. Hochul spent Tuesday morning with Mayor Eric Adams shooting hoops and talking about how they were investing in new heat pumps for NYCHA buildings. The governor was trailed by a climate activist.
It's unclear if the mayor supports a new bike lane on the west side, though in a list of 100 ideas he released during his mayoral campaign last year, Adams said he wanted to "get creative about creating safe byways for bikes," and create "bicycle superhighways."
A City DOT spokesperson said they are reviewing the proposal, and the Mayor's Office pointed us to this review when asked about Adams's position on the idea.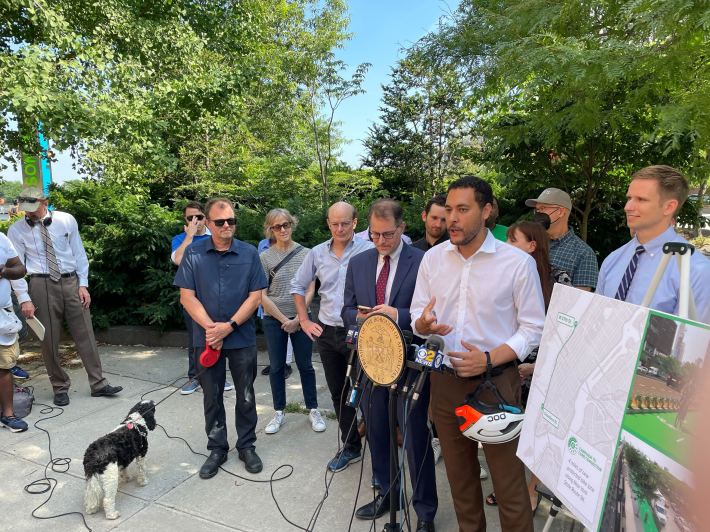 It being a Tuesday morning around 11 a.m., the greenway was busy but not overwhelming. Nannies pushed their charges around the park while they made calls on their AirPods; cargo bike riders huffed and puffed in the heat.
Jennifer Mazzotta said she brings her dog Wilfie to Hudson River Park from their apartment on West 4th Street at least two or three times a day. "I literally almost die, like several times a day. If you're not paying attention, especially walking the dog, those bikes come so fast," Mazzotta told me. She said she would support taking a lane of traffic for a bike lane, so long as traffic wasn't affected—she drives, too. "Sometimes it gets very clogged up," Mazzotta said. "There's so many lights so people can cross."
Reid Bartolomei estimated that he's on the greenway "300 of the 365 days of the year" biking the five and a quarter miles to work downtown from the Upper West Side. 
"If I leave [work] between the hours of like, five and seven, it's really bad, typically the pedestrian traffic at all the spots," Bartolomei said. "If there was a dedicated bike lane, I could see that being better."
Bartolomei sounded hesitant about putting a new bike lane right next to speeding cars on a highway. Last February, he was walking on 8th Avenue when a driver ran a red light. Two cars collided, and one of them barrelled towards him. "Luckily, I saw it just in time and sprinted maybe two or three steps out of the way of getting hit head on, and the side of the car hit me and threw me eight feet into a wall." Bartolomei suffered a herniated disk that he's now just fully recovering from. 
"One little part of my commute does go on Eighth Avenue," he said, "But I try to avoid it because I think it's horrible."
Chris is an editor at Hell Gate. He spent nearly a decade working for Gothamist, and his work appears in New York Magazine and Streetsblog NYC.
Stay in touch
Sign up for our free newsletter