Going Places
How the McGuinness Boulevard Redesign Compromise Got Compromised
After opponents of the plan met with Mayor Adams's chief advisor, Ingrid Lewis-Martin, the DOT was directed to walk-back a compromised redesign.
2:23 PM EDT on September 13, 2023
After two years of planning and a sustained backlash from powerful business interests, it finally appeared that a compromise had been reached on the redesign of Greenpoint's deadly McGuinness Boulevard.
But then opponents of the redesign, including the Teamsters union, once again appealed to Mayor Eric Adams's chief advisor, Ingrid Lewis-Martin—and shortly after, the compromise got compromised.
According to two sources in City government familiar with the project, in late August, representatives for the Teamsters union met with members of the Adams administration, including Lewis-Martin, to voice their objections to the road diet on McGuinness. In Greenpoint, the Teamsters's work is intertwined with the film industry and the dozens of soundstages across the neighborhood that are owned by the family behind Keep McGuiness Moving, the group that is spearheading the opposition to the safety improvements.
After the meeting, the Department of Transportation was directed to scale back the plans and conduct a new "study" of McGuinness south of Calyer. On that stretch of the boulevard, the compromise plan called for removing a lane of traffic to create a protected bike lane, as well as loading zones and other traffic calming measures. Now, weeks after the mayor himself signed off on this compromise, the administration refuses to say whether any of this will actually happen.
"At the end of the day, the mayor and Ingrid do not like these projects," one administration source said, who asked to remain anonymous out of fear of retribution. Of Lewis-Martin, the source said, "She can do whatever she wants. She outranks everyone except for the mayor."
"It's not fair to the public, who can no longer feel that our word means anything," another source added. "It's already hard enough to get everyone on board for these projects."
This is the third time the administration has tweaked its plans to fix McGuinness in as many months, reflecting a trend in the Adams administration: Business interests and their political allies can use their clout to kill or alter long-planned, DOT-approved street redesign projects and Lewis-Martin will help them do it. Whether it's a small portion of a bike lane in Brooklyn or bus lanes that carry 85,000 daily riders in the Bronx, the mayor's top advisor is willing to help cut through the bureaucracy for a certain select constituency.
Brooklyn City Councilmember Lincoln Restler, who represents Greenpoint and has consistently lobbied for a redesign of McGuinness, laid out this dynamic during a council hearing to discuss the DOT's street safety enhancements on Tuesday afternoon.
"The playbook has been written: If you don't like a project—a bus lane or a bike lane or whatever it might be—call Ingrid and she'll kill it," Restler said. "It's happening time and again, and it's a problem. And it has to stop."
The Adams administration has previously brushed off the notion that Lewis-Martin is the grim reaper of street safety improvements. City Hall responded to a list of questions sent by Hell Gate by referring them to the DOT. When we approached a rep from the Teamsters at a Keep McGuinness Moving rally on Tuesday afternoon in Greenpoint, they referred us to a press contact, who hasn't responded to our emails or phone calls. 
Lyn Pinezich, a representative for Keep McGuinness Moving, called the Adams administration's new position "a good thing."
"The mayor has, you know, listened," Pinezich told Hell Gate at Tuesday's rally. "And we appreciate that."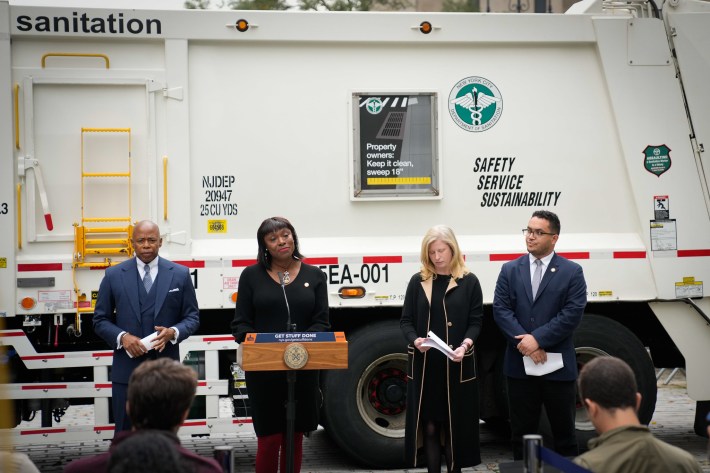 What's happening on McGuinness is perhaps the most glaring example of how and why the Adams administration is failing to meet its legal obligations under Local Law 195, also known as the Streets Plan. Passed in 2019, the law requires the City to implement a variety of street improvements to prevent deaths and injuries, reduce pollution, and reduce commuting minutes. In the words of Adams's DOT Commissioner Ydanis Rodriguez, who co-sponsored the 2019 legislation, the plan is meant to "dramatically transform our streets…to be safe, fair, sustainable, and enjoyable."
By law, the DOT has to install an average of 30 miles of protected bus lanes, 50 miles of protected bike lanes, 1,000 pedestrian signal upgrades, and other improvements, every year from 2022 through 2026.
In 2022, Adams's first year in office, the DOT fell far short of these mandates. In 2023, it seems that the DOT isn't doing much better. At Tuesday's City Council hearing, the DOT refused to provide any numbers on their progress—or lack of progress—this year so far.
"We're not ready to give you the numbers today," Commissioner Rodriguez testified. 
"My concern, though, commissioner, is that we have sent several letters, and we have not gotten a clear answer from DOT," City Council Transportation chair Selvena Brooks-Powers responded. "DOT is aware that we had this hearing, they were aware of what the topic was, and to come unprepared to be able to answer and give any kind of number, I think is unacceptable."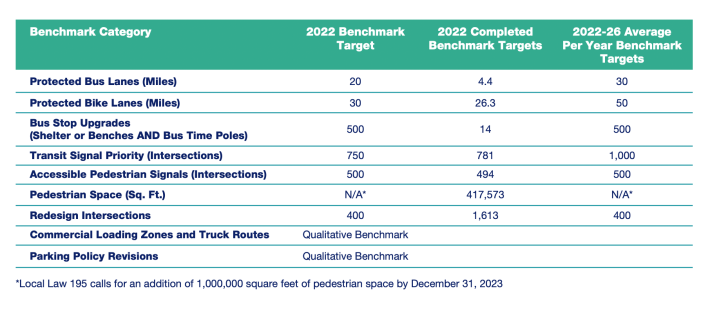 While the City Council has the right to be upset with the DOT for not sharing basic Streets Plan numbers during a public oversight hearing, elected officials themselves bear plenty of responsibility for the DOT's failure to meet those targets, because some of them are trying to put a stop to bus and bike lane projects in their districts. Brooks-Powers, who represents eastern Queens, has herself suggested that unelected community boards—who are often whiter and wealthier than the communities they represent—should be able to block the DOT's street redesigns. 
Minutes after Brooks-Powers chastised the DOT for not coming to the hearing prepared, Brooklyn City Councilmember Farah Louis railed at the DOT for installing bike lanes next to single-family homes and "interfering with people's driveways."
"Within the bike lanes that have to be installed, has DOT figured out a way to redesign and avoid private driveways for people's private homes?" Louis asked. "Add in your design to avoid private homes in Council Districts 45 and 46," Louis told the members of the DOT. "You don't want the protests in front of your office and your home."
But even when the local elected officials support a redesign, as in the case of McGuinness Boulevard, backroom politics intervene and negate the work of the City's planners, engineers, and outreach workers. On Tuesday, when Councilmember Restler asked Commissioner Rodriguez point blank if the DOT would remove one of the lanes of traffic on McGuinness south of Calyer, as laid out in the compromise previously agreed to by the mayor, Rodriguez punted.
"I just want to say how disappointed I am by the dysfunction of this administration, that you all can't make a decision and stick to it," Restler said. 
The DOT has not yet responded to our list of questions about the McGuinness redesign and yesterday's hearing.
As the DOT, City Hall, and the council fight over bus and bike lanes, New York City's streets remain appallingly dangerous. A recent analysis by Transportation Alternatives showed that eight people are seriously injured in car crashes across town every single day, and residents living in the 10 council districts with the highest poverty rates are nearly 25 percent more likely to be injured by traffic violence compared to the average district.
If the most recent walkback by the Adams administration is a victory for Keep McGuinness Moving, the organization isn't resting on its laurels. Late Tuesday afternoon, well over 100 people gathered in the Key Food parking lot on McGuinness to chant slogans like, "Hey hey, ho ho, DOT has got to go!"
Interspersed in the crowd of McGuinness redesign opponents were members of Make McGuinness Safe, a group that supports the changes. They held up signs bearing the names of people who have been killed on the boulevard, including 58-year-old Matthew Jensen, who was a teacher at PS 110 in Greenpoint when he was struck by a hit-and-run driver on McGuinness in 2021.
Bronwyn Breitner, a Greenpoint resident of 18 years whose children attend PS 110, said she helped create Make McGuinness Safe after Jensen's death, and fought to get the de Blasio administration to commit $40 million to implement the design changes. 
Breitner said that the Adams administration's latest pivot was another violation of the two years of democratic process that had produced the street redesign plan, and that McGuinness will now be "more dangerous" because of it.
"They've been fearmongering with disinformation," Breitner said of Keep McGuinness Moving.
"It's difficult when people have been lied to, to have them believe something else."
Before Keep McGuinness Moving protesters marched on McGuinness to the office of State Assemblymember Emily Gallagher, who supports the redesign, Christine Holowacz, who identified herself as a "immigrant, resident, homeowner, and environmental activist," took the mic.
"This is about more than just bike lanes and shrinking the road. This is about our community's well-being. This is about forces that want to change our community forever," Holowacz said. After every sentence, the crowd began to cheer louder and louder.
She continued: "This is about forces that want to change the village-like neighborhood into Manhattan. And we won't allow it. We are not the leftovers. We belong here! We built this neighborhood! No way they can take us out! Let's prioritize our neighborhood over private agendas!"
Chris is an editor at Hell Gate. He spent a decade working for Gothamist, and his work appears in New York Magazine and Streetsblog NYC.
Stay in touch
Sign up for our free newsletter