Critters of New York
How Feral Turkeys Took Staten Island
The turkeys have now outlasted three term-limited Council members, the Staten Island borough president, one governor, one mayor, one assemblymember, and two members of Congress involved with their removal. 
2:08 PM EST on November 23, 2022
New York City is home to a biblical ark's worth of wildlife, including bald eagles, great white sharks, coyotes, and horseshoe crabs, but the sight of two dozen wild turkeys strutting down the sidewalk like miniature velociraptors outside a Hylan Boulevard Pakistani restaurant can be a little jarring.
Once seen as a curiosity and occasionally viewed as a nuisance, Staten Island's turkey population has firmly established itself after a quarter century trotting and foraging across the Rock. And why not? These birds, which can live between three to five years and weigh up to 18 pounds, have access to a plentiful supply of insects, berries, and nut-bearing trees. They roost in ample wooded areas and shrubs. They have no natural predators and certainly don't fear their equally boisterous human neighbors.
That nonchalant attitude has captured the public's attention and delight. The borough's local news outlet, the Staten Island Advance, has meticulously covered the turkeys' whereabouts—not that they're that hard to find. 
On the Saturday morning before Thanksgiving, Hell Gate encountered several packs of 20 feathered fauna slurping water from puddles on Mason Avenue near Ocean Breeze Park, sauntering up Seaview Avenue, cruising over Laconia Avenue lawns, and turning over leaf litter for bugs at the South Beach Psychiatric Center.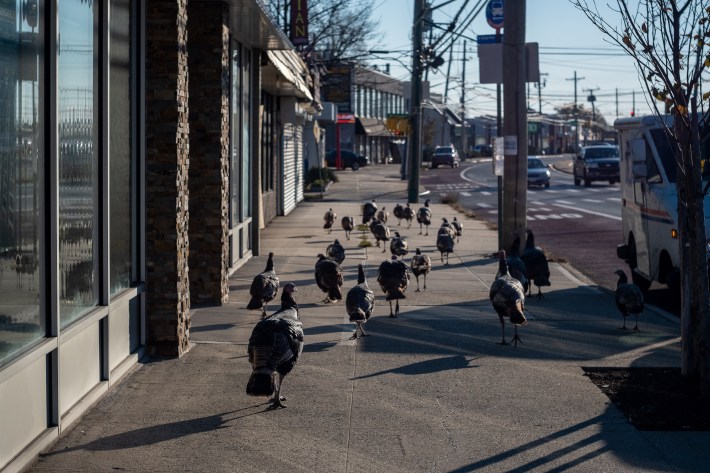 "They're fun to watch," Mirsade Vukovic, a Dongan Hills resident, said. "They fly. They sleep in trees. They even know how to wait for traffic. They stop and use the crosswalk. They really are smart birds." (Hell Gate was unable to independently verify that the Staten Island turkeys use crosswalks.)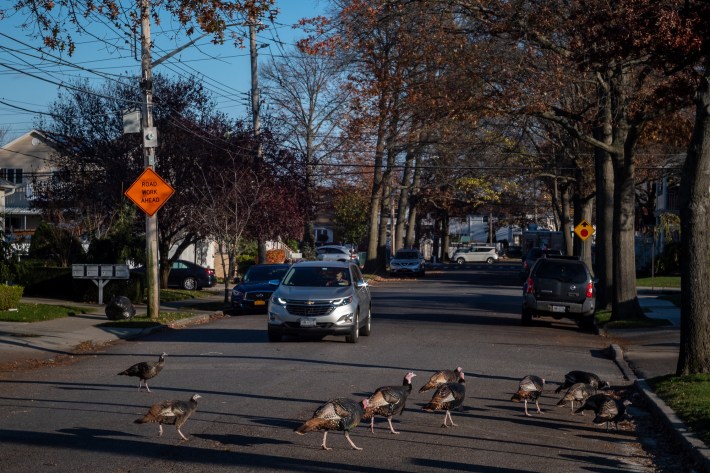 No one is sure exactly when the turkeys arrived in Staten Island. Nearly 10 million turkeys roamed the United States before colonists and early Americans nearly hunted them out of existence by the 1850s. State game commissions began restocking wild turkeys in Virginia and Pennsylvania in the 1930s and the country's turkey population ballooned. 
By 1994, there were 4.2 million turkeys in the United States and Canada. That's when a handful of wild turkeys, likely originating from New Jersey and New York game farms, began appearing on Staten Island, according to College of Staten Island biology professor Richard Veit. But the seminal moment in Richmond County turkey history was when a Mid-Island resident dumped nine pet birds onto the grounds of the South Beach Psychiatric Center in 1999. Those birds eventually crossbred with the other turkey population, according to state environmental officials, as they romped between Ocean Breeze Park and the Staten Island University Hospital, where patients sometimes fed the birds on the property. 
Their numbers have grown considerably since then. State officials don't have a current estimate for how many turkeys are on the island, but Audubon Society volunteers counted 143 turkeys in December 2021 (other environmentalists estimate there are several hundred). They have also fanned well beyond the hospital. Staten Islanders have reported sightings in Clove Lakes Park, Todt Hill, West Brighton, Grasmere, Silver Lake, Mariners Harbor, Forest Avenue, Fort Wadsworth, and even the Staten Island Expressway.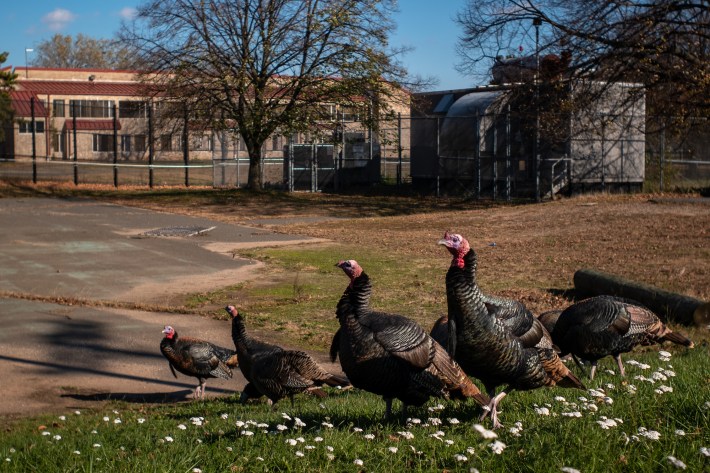 "Staten Islanders seem to have gotten used to them. They're everywhere now," State Senator Diana Savino said. "They were on my block a couple weeks ago and on Election Day one walked right up to my car and looked at me. Occasionally you'll see people post pictures of them in the ferry terminal. One or two of them got on the boat. I don't know what happened to them after that."
For some, the novelty of encountering a wild turkey has worn off. Some residents of Dongan Hills and Old Town, Mid-Island neighborhoods that have the highest concentration of turkeys, have grown exasperated seeing turkeys climb on top of their cars, cleaning droppings in their driveways, and stopping short for gaggles meandering through local streets.
"They're always here," said Alex, a Dongan Hills homeowner who didn't give her last name, presumably for fear of riling up the turkeys. "They poop all over the place. People walk their dogs which bark at them. They sleep in giant trees. It would be great if they were gone completely."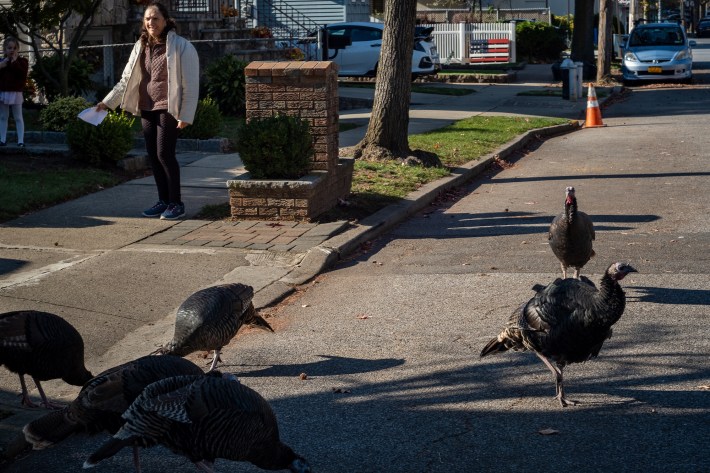 John Pedulla, a contractor and math teacher at Susan Wagner H.S., prays the turkeys' reign is coming to an end. When a turkey stalled traffic on Victory Boulevard a quarter mile from Medulla's house seven months ago, he vented, "Get the fuck out of here," in an Instagram clip that garnered nearly 225,000 likes. He wants the population culled before the turkeys multiply any more.
"They don't seem to have a place on Staten Island," Pedulla said. "They just scrounge and pick food where they can. They just eat whatever is in the garbage. It would be wise to dispatch them without much public discourse. Nobody would be sad to see them go."
Previous strategies to contain the turkeys have been half-baked. After South Beach Psychiatric Center staff complained about too much turkey feces on their property in August 2013, the state contracted U.S. Department of Agriculture officials who rounded up about 50 turkeys with air cannon nets, slaughtered them, and processed the meat for nearby food pantries. 
The move prompted an outcry from wildlife advocates who started a campaign to save the remaining birds. Borough officials reached an agreement in 2016 with the state Department of Environmental Conservation (DEC), the USDA, and the hospital to capture and move turkeys from the hospital campus to a rescue animal sanctuary upstate. Councilman Steve Matteo carved out $200,000 for the turkey relocation plan and by 2018, about 180 turkeys were shipped to the And-Hof Sanctuary in Catskill, NY. But the turkey drive slowed the following year when state officials grew concerned that wily Staten Island turkeys were escaping from their enclosures in New York and into the surrounding forest. 
And-Hof founder Kurt Andernach said the disagreement grew because his volunteers couldn't clip turkey wings fast enough for the volume of birds that were arriving. 
"It's absolutely cost-prohibitive that we can catch 180 turkeys once or twice a year and clip their wings," he said. "We would need to have an army of trained professionals who know how to catch and clip wings safely."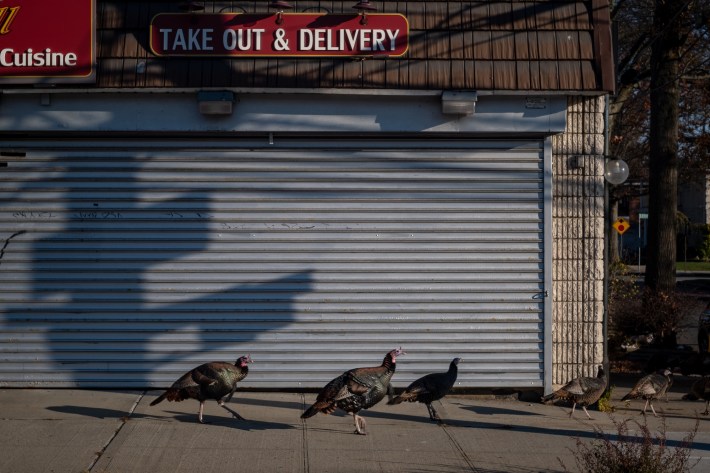 Officials began to point feathers at each other over the slowness of the relocation. And once the pandemic occurred, turkey funding dried up and the population slowly rebounded. The turkeys have now outlasted three term-limited Council members, the Staten Island borough president, one governor, one mayor, one assembly member, and two members of Congress involved with their removal. 
Mid-Island Councilman David Carr, who helped secure turkey funding from the Council as Matteo's chief of staff, is now spearheading efforts to regulate the population. But state environmental officials no longer believe that capturing and transferring wild turkeys to other locations is a long-term strategy. There's also a technique that works with geese called "addling," in which the birds' eggs are coated in corn oil, which prevents them from hatching. This also proved ineffective. "Nesting turkeys are very secretive and nests are hard to find, as was the case when this was attempted several years ago," DEC spokesperson John Salka said. "Being able to find and oil a sufficient number of nests to control turkey numbers would be a significant challenge."
Salka added that the DEC encourages more "sustainable solutions" to manage the turkeys, and that whenever a decision is made, they'll provide support for it.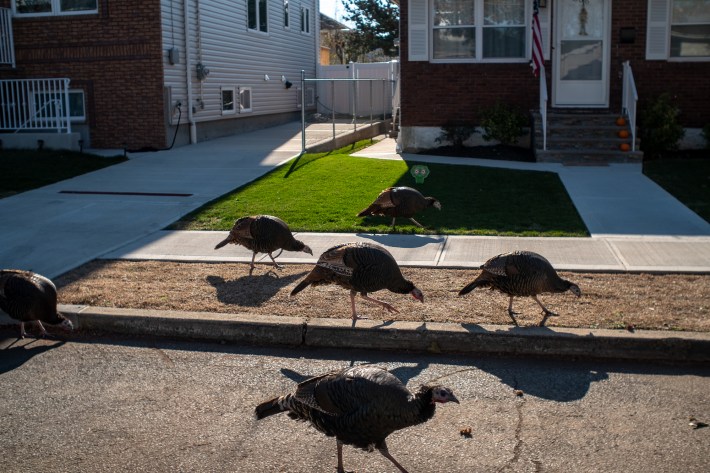 Meanwhile the public remains divided over what to do with the turkeys. Mario Ariemma, owner of Ariemma's Italian Deli in Dongan Hills, sells day-old Italian loaves for 50 cents, which his customers buy to feed turkeys. Sometimes the turkeys cross Hylan Boulevard on their own to get a nibble. 
"When I see them, I feed them day-old bread. Sometimes I open up a can of corn and feed them that," Ariemma said. "I wouldn't want to kill them. I wouldn't want to eat one of them either. I consider them pets."
His son Santo would prefer they were relocated or culled. He drives in from New Jersey to make delicious heroes like The Witchcraft (Boar's Head honey turkey, Swiss lorraine, lettuce, tomato, and thousand island dressing for $11.99) but the turkeys often block traffic on side streets around the deli.
"They come out at night by the hundreds," he said. "They stand right in the middle of the street."
Wildlife advocates say Staten Islanders should stop complaining about the turkeys and learn to co-exist with them.
"They're icons of New York City. They should be glorified," David Karopkin, an attorney and licensed wildlife rehabilitator, said. "They're not here to harm you or your property. This is a big city. You have to have neighbors. I really have to wonder, can't we deal with this?"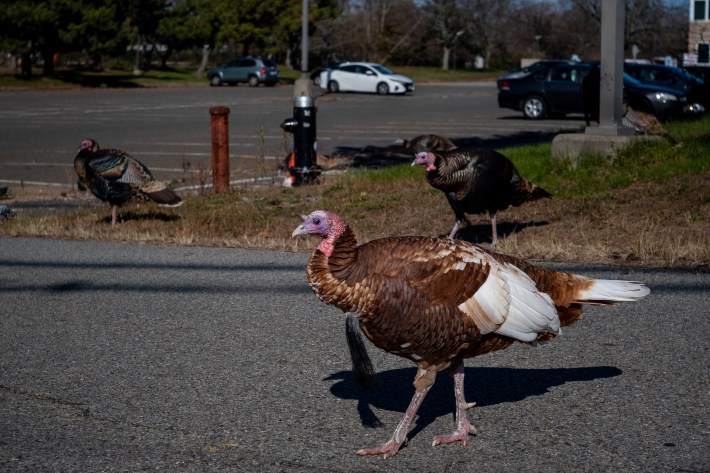 Aaron Short is a Brooklyn-based journalist whose work has been featured in Intelligencer, Grub Street, Curbed, Insider, the Daily Beast, the New York Post, New York Daily News, Commercial Observer, and City & State.
Stay in touch
Sign up for our free newsletter