The State of New York
Governor Hochul's 'Groundbreaking' 10-Year Housing Plan Mysteriously Lacks Any New Tenant Protections
And other observations from the 2023 State of the State address.
5:50 PM EST on January 10, 2023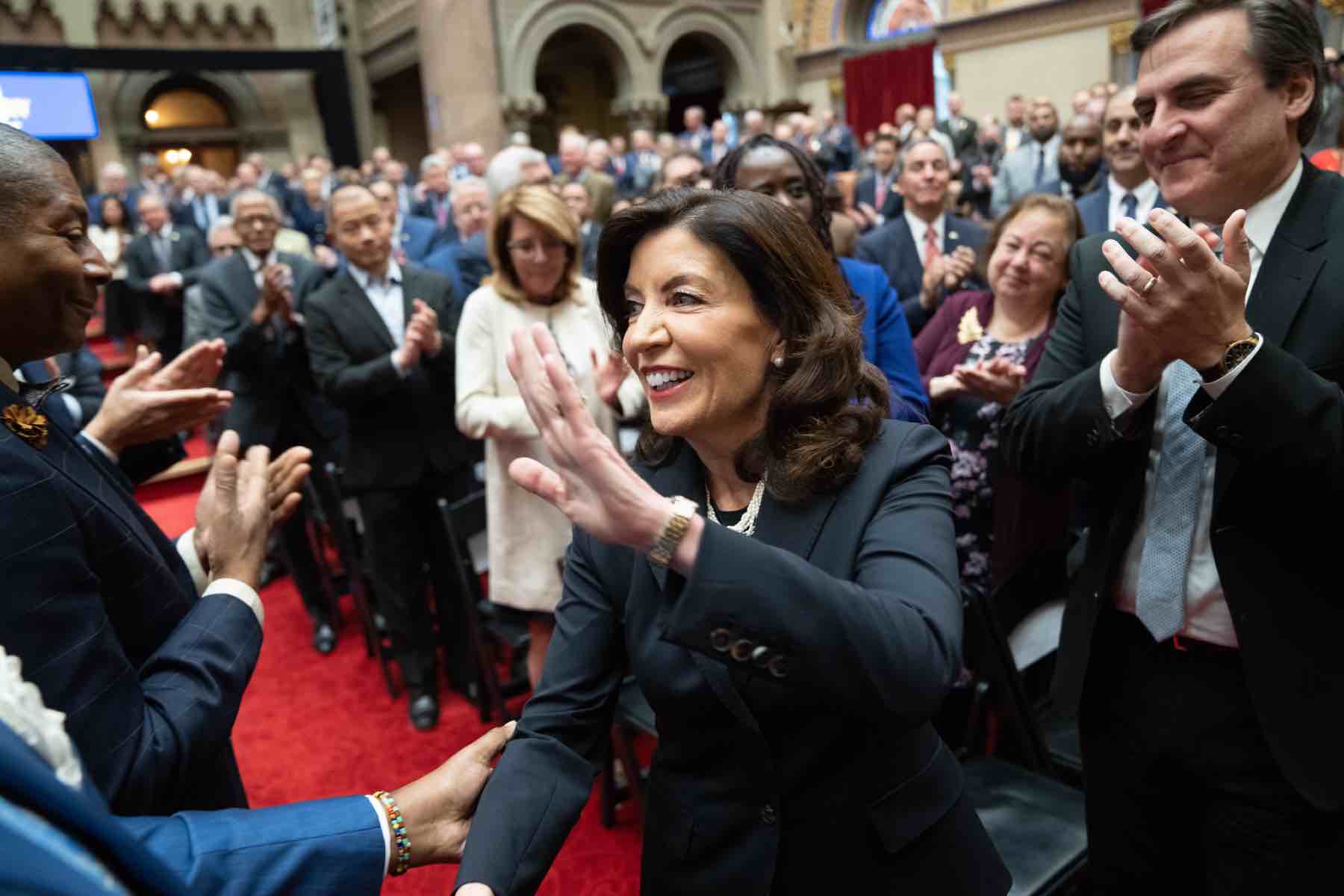 On Tuesday, Governor Kathy Hochul gave her second State of the State address, the first since earning a narrow electoral victory in November. The speech—and accompanying "book" chock full of more details—laid out the governor's priorities, or as Hochul put it, "what we are all about." After the governor predicted a Buffalo Bills championship ("I think a Super Bowl's ahead. But…good luck to the Giants too.") she drove right in, and so shall we.
Build, Baby, Build
Hochul had hinted for weeks that housing would be her biggest priority this year, and this came in the form of a "housing compact" to build 800,000 new units of housing across the state over the next decade. To accomplish this goal, the governor's plan outlines a series of incentives for localities and developers—$250 million for improved infrastructure, a vow to revive a form of the expired 421-a developer tax break that fueled New York City's luxury boom to the tune of $1 billion a year and added a sprinkling of affordable housing—and benchmarks for stubborn counties who have resisted density. Hochul specifically name-checked Nassau, Suffolk, Westchester, and Putnam Counties, because they have failed miserably to facilitate more housing, especially near their commuter rail stations built with state taxpayer money.
Within three years, localities will have to increase their housing stock by three percent, or else the state (and the developers) will take the wheel. "Doing nothing is an abdication of our responsibility to act in times of crisis," Hochul said. Also included in this "groundbreaking" plan is legalizing basement apartments in New York City (some of which are dangerously flood-prone) and facilitating the construction of accessory dwelling units, again through tax incentives.
"Housing is a human right," Hochul said to applause, "and ensuring enough housing is built is how we protect that right."
There's No "Build" in "Good Cause" 
Building housing is just one piece of addressing the affordability crisis. Many people concerned with this issue, from YIMBYs to the scores of advocacy groups who have been fighting for stronger rent protections for years, agree that more housing must be paired with strong laws that help keep tenants in their homes— strong laws like Good Cause Eviction, which died on the legislative vine last summer and would make it tougher for landlords to evict their tenants, or raise their rent more than three percent or 150 percent of the consumer price index, whichever is higher.
Hochul's speech did not mention tenant protections at all. The book has a paltry reference to "expanding the Tenant Protection Unit" of the state, with no reference to how much money or manpower that expansion would entail. 
"It was extremely bold that she said 'housing is a human right' without a single policy mentioned that would really prioritize tenants right now," said Jaslin Kaur, a rep from Invest in Our New York, a coalition that is lobbying the state to raise taxes on the ultrawealthy to expand social programs.
Cea Weaver, the campaign coordinator for Housing Justice for All, told Hell Gate that while it was "great" to see Hochul repeatedly acknowledge that tenants were suffering, her plan is "approaching the problem with a lack of urgency."
"Even if we took everything that she said at face value, and this isn't a plan that enriches private developers, that this is going to be fine, it's still a program that will start producing lower rents in 10 years, maybe," Weaver said. "And so much other stuff can happen in the next 10 years."
Even Open New York, the pro-development group that put out a list of proposals that closely resemble the governor's, while also throwing their support behind Good Cause Eviction, gently chided her in a statement for leaving regulations out of her solutions. An "all-of-the-above approach," the group said, "means complementing efforts to increase housing supply with tenant protections" in addition to incentivizing development.
How many of those 800,000 units will actually be affordable? And affordable for whom? The book doesn't say.
"There's a lot of things that zoning codes are for, everything from incentivizing mandatory inclusionary housing, ensuring that as the city grows, it's growing with equity in mind," Weaver added. "All of that is just completely nonexistent in the state of the state."
Inflate the Minimum Wage
One of Hochul's biggest applause lines came when she threw her support behind pegging the minimum wage to inflation, a move that would help some 900,000 wage laborers across the state. Kaur called it "one of the rare glimmers that I think we saw in her address today." A complementary bill from Queens State Senator Jessica Ramos would bump it up to $21.75 in New York City by 2026.
Roll Back Bail Reforms (Again)
But Democratic lawmakers were much quieter when Governor Hochul suggested that the bail reform laws of 2019 needed to be changed yet again. Reminder: The laws were revised in 2020, and were tweaked again just this past April. These amendments have not satisfied critics like the New York Post, or New York City Mayor Eric Adams, who has been using bail reform as a boogeyman and scapegoat since before he took office, and who was in attendance during today's speech.
Current bail laws require that judges consider a defendant's risk of not showing up to court and set the "least restrictive" conditions for them to make sure that they do. Hochul wants to remove this "least restrictive" provision, and she wants to do it during the budget process, when she has the most leverage. In a statement, the Legal Aid Society said this "accomplishes nothing of value and is in tension with well-established United States Supreme Court precedent protecting the presumption of innocence."
$1 Billion for More Mental Health Care
Hochul's proposal, which would increase the number of psychiatric hospital beds by 1,000 and build 3,500 new units of supportive housing, was leaked early to the Times, where it got mixed reviews from mental health advocates. The need is severe, thanks to years of disinvestment from previous administrations.
No New Taxes (for Billionaires or Anyone Else)...
How will Hochul pay for her priorities? We'll have to wait for the actual executive budget to come out, but we know this: It won't include new income taxes on New York's obscenely wealthy, or anybody else. 
The Invest in Our New York coalition, comprised of lawmakers and groups that successfully raised taxes on the wealthy in 2021, is again asking for a slew of new taxes on multimillionaires and billionaires to raise some $40 billion to pay for things like housing the homeless, child care, and a rent voucher system that would alleviate the affordability crisis that the governor is clearly concerned about.
Kaur said the group will continue to hammer these points in Albany.
"We are going to have to fight tooth and nail to ensure that we actually raise some revenue," Kaur said. "Because everyone always wants to ask, 'How are you going to pay for these programs?' And we know exactly how to pay for them, and it's to tax the rich."
…But Tuition Hikes for CUNY and SUNY Students
Unmentioned in Hochul's speech was a proposal to "Provide for Reasonable Tuition Flexibility Throughout CUNY and SUNY," as the book puts it, or more plainly: raise CUNY and SUNY tuition by as much as three percent. 
The MTA Will Get Light Rail, But What About Real Funding?
Aside from talking about New Yorkers fearing their mentally ill neighbors on the subway, or fearing crime on the subway, the MTA got one quick shoutout in the speech, when Governor Hochul said, "We'll continue to invest in the MTA's long-term fiscal health," and referred to the MTA as the "lifeblood" of the region. (You can read some more of her proposals here.)
Does this mean that Hochul will push for the tens of billions the transit agency needs to avoid a fare increase this year, and ideally, improve service to encourage more ridership? Or…something else?
"It's good that securing the MTA's future is the top thing, but we need to see more specifics," Danny Pearlstein of the Riders Alliance told us. "This was a speech without numbers, but the executive budget is where the steel meets the rails."
Hochul did announce that she was giving a green light for the MTA to build the Interborough Express (or IBX), which would connect northern Queens to south Brooklyn via light rail. But this is a massive, shiny capital project, and the MTA has more immediate concerns.
"Riders elected her. She won her narrow margin on several transit-dependent neighborhoods," Pearlstein said. "We will hold her accountable."
Hochul Wants NYC to Be Able To Set Its Own Speed Limit
See page 227 of the book. This is important! Both for safety and self-governance.
Zero Mention of Jump-Starting Life-Saving Harm Reduction Facilities
All while overdose deaths related to opioids continue to rise in New York. 
Contraception, Over-the-Counter
The governor also wants to propose legislation that would allow pharmacists to prescribe birth control, which would essentially make it an OTC drug (see page 193).
What's Next?
In the coming weeks, Governor Hochul will have to issue the official executive budget, complete with the actual numbers connected to these proposals (the first one to be issued without longtime budget director Robert Mujica in years). The legislature will respond, and the dance begins.

Chris is an editor at Hell Gate. He spent a decade working for Gothamist, and his work appears in New York Magazine and Streetsblog NYC.
Stay in touch
Sign up for our free newsletter