The State of New York
Governor Hochul's Backroom Stadium Deal Happened Because New York Sucks At Democracy
New York's lack of any voter referendum tools makes it easy for politicians to shovel public money on megarich NFL owners.
4:05 PM EDT on May 10, 2022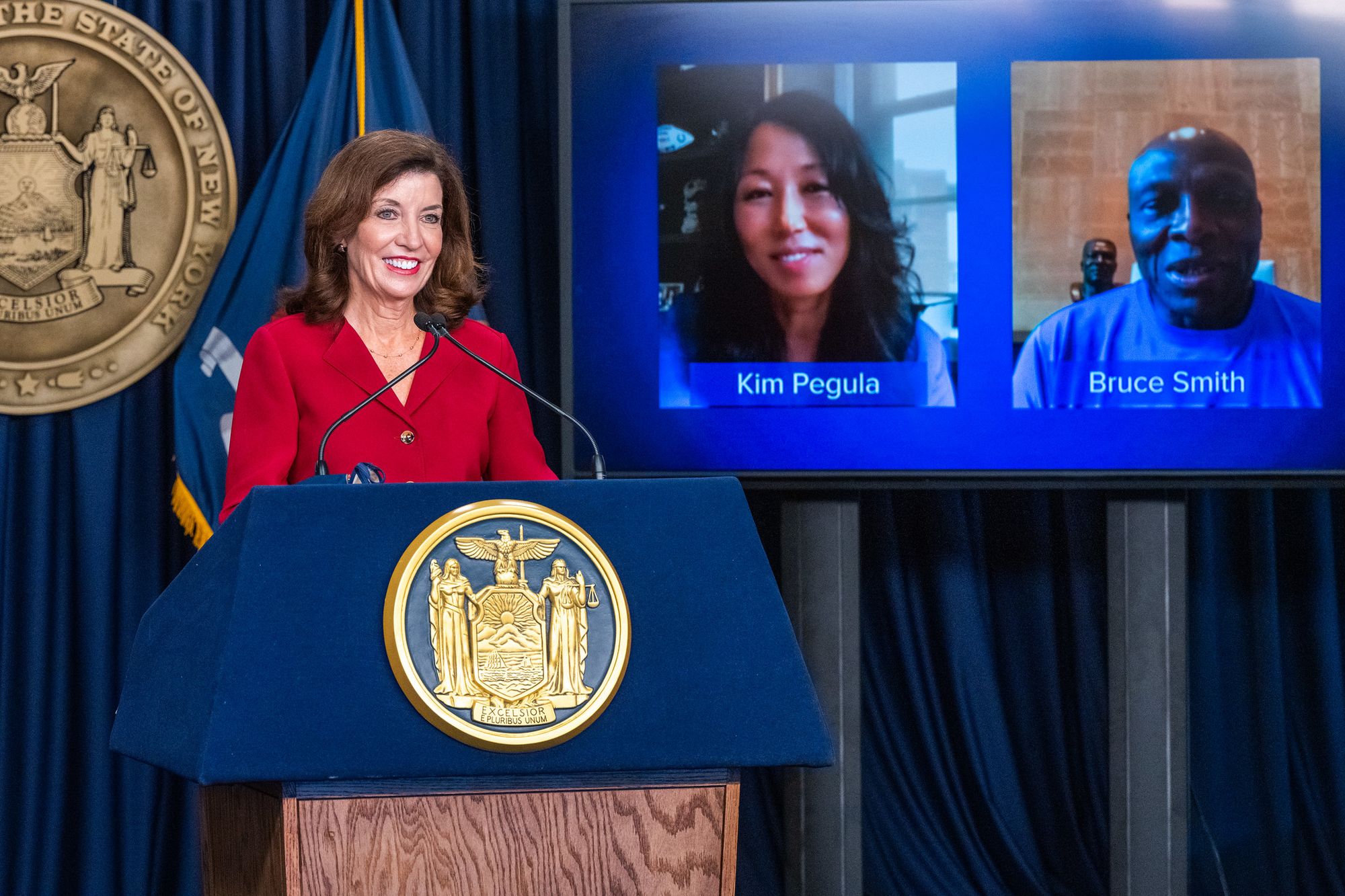 Even for Albany, the endgame went fast. For the better part of three months, Governor Kathy Hochul had kept her plan to throw public money at a new stadium for the Buffalo Bills under wraps as the state budget progressed, all the while insisting that reports of a potential record-breaking $1 billion giveaway were inaccurate.
When Hochul finally announced her long-promised plan on March 28, the final tally turned out to be just that—over $1 billion, including $600 million in up-front state cash, $160 million worth of tax money for future maintenance and upgrades, and $250 million from Erie County. In exchange for this windfall of taxpayer dollars, Terry and Kim Pegula, the fracking billionaires who own the Bills, will promise to keep their team in Buffalo, right where they've consistently said they wanted to stay all along, and continue to collect all ticket, concessions, parking, and naming-rights revenue for themselves.
The response was, unsurprisingly in a state whose western end is separated from New York City by more than 300 miles and the soda/pop line, not positive. Senator Liz Krueger, chair of the senate's finance committee, called it "a terrible way to use the taxpayers' money"; Assemblymember Ron Kim tweeted in response to the New York Times saying state officials had reached a deal on a Bills stadium, "I don't recall reaching any fucking deal to give the 8th richest NFL owners $850 million of taxpayer $$." (Hochul replied, in part, that upstaters complain when she spends money on the New York City subways, and isn't that really the same thing?)
The deal was no more popular among the public. A subsequent poll of registered New York state voters found that they opposed Hochul's stadium spending plan by a more than 2-to-1 margin across all demographics. Democrats, Republicans, independents, upstaters, downstaters—even those polled in the counties right around Buffalo gave the subsidy a resounding thumbs down.
And yet, just 12 days after Hochul first announced it, the Bills subsidy became law, passed as part of the state's omnibus budget bill. This year's version of the annual "Big Ugly" bill was approved by overwhelming margins in both the Assembly and Senate, as legislators held their noses for the parts they didn't like in exchange for provisions they were in favor of.
How did this happen? One simple answer: It's Albany. New York state's political culture has long been viewed as singularly undemocratic—NYU's Brennan Center for Justice once formally awarded New York's legislature the title of "most dysfunctional" in the nation—with a long tradition of arranging deals behind closed doors by "three men in a room" (the governor and the heads of the State Senate and Assembly), who then instruct the rest of the legislature how to vote. After all, the last time a New York sports team got close to a billion dollars in public money for a new stadium—the New York Yankees in 2005—Albany leaders approved the state's portion by literally dropping a bill on legislators' desks the same day they were expected to vote on it. ("I embarrassingly admit I did not read this bill," Krueger admitted at the time.)
Before Hochul's Buffalo Billion dropped, there was a growing belief across the country that large-scale sports subsidies were on the wane, as pundits pointed to recent stadiums and arenas that had been built largely with private money. The Golden State Warriors owners spent $1.4 billion on a new arena in San Francisco. Steve Ballmer devoted $1.2 billion to a new home for his Los Angeles Clippers. The owners of the NHL's Seattle Kraken poured $1.2 billion into a wholesale reconstruction of their arena. And in the most eye-opening number of all, St. Louis Rams owner and Walmart heir by marriage Stan Kroenke spent more than $5 billion out of his own pocket on a new stadium in Los Angeles so he could move his team there—then paid another $790 million to settle a lawsuit over having skipped town in Missouri without following NFL relocation rules.
Geographically savvy readers may have noticed something about all of the above private-money deals—they're all on the West Coast. And that's no coincidence, because residents of those states have something that all of us on this side of the country are largely lacking: a greater ability to subject massive public spending projects to a public vote.
"There's more ways to finagle your ways around referenda laws in New York and other parts of the country," says Geoffrey Propheter, a University of Colorado Denver public affairs professor who worked as a tax analyst with the New York City Independent Budget Office from ​​2014 to 2017. California, in contrast, "has a much broader, more blanket approach to the sorts of policy initiatives that can be challenged by citizen-led initiatives and referendums."
This geographic divide is, in large part, a function of which states were most influenced by the early 20th-century Progressive movement. In addition to creating food safety laws and breaking up monopolies like the Rockefellers' Standard Oil, that era's reformers pushed for "direct democracy" measures to allow citizens to vote directly on public policy via referendums (which are put on the ballot by elected officials, then voted on by the masses) or initiatives (which can be placed before voters by gathering enough signatures). As a result, under the California constitution, any local government that wants to impose a new tax or extend an existing one needs to get the approval of voters before doing so.
"Most of the direct democracy mechanisms were put together in the first quarter of the 20th century," says Ted Lascher, a voting expert who teaches public policy at California State University, Sacramento. "And it was, not perfectly, but heavily correlated with being out west." This set the stage, he says, for an upsurge in voter balloting in those states starting in the 1970s: "Over the last 40 years, the initiative industry has really developed in California."
And while the history of direct voting on state policy is mixed—California's infamous Prop 13, which has starved public programs to provide tax breaks for mostly well-off homeowners, was enacted by a public vote—prohibiting cities from levying new taxes without voter approval has historically proven to be a check on unpopular giveaways of public money. The San Francisco Giants owners failed to win stadium subsidies via four separate public ballots in the 1980s and '90s, ultimately agreeing to a scaled-back construction plan that they largely funded out of their own pocket after that was approved via a fifth public vote. San Diego Mayor Kevin Faulconer was dead-set on a $1.1 billion spending plan for a new Chargers football stadium, until it turned out that the tax hike to fund it would require not just voter approval, but two-thirds approval—at which point the plan was unceremoniously shelved.
In a 2014 paper, Propheter surveyed 125 proposed sports subsidies from 1982 to 2013. Among those that went up for public votes, 58 percent were approved; among those that went straight to city councils or other legislative bodies, the winning percentage was 96 percent.
"Your chances of success, if you're a team owner, decrease considerably if the deal has to go before the voters," says Propheter.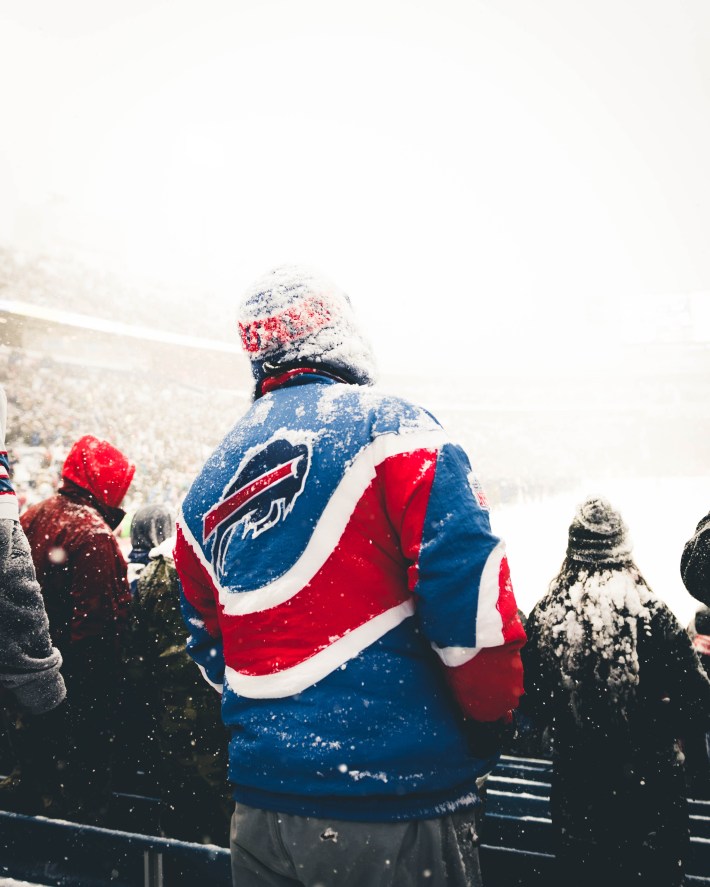 So it should come as no surprise that the sudden flood of high-priced sports subsidy proposals that have emerged in the wake of the Bills deal—$1.2 billion for a new Tennessee Titans stadium in Nashville, $1.8 billion for a bunch of new and renovated stadiums across Maryland—are clustered in the east, where there's less concern over having to go before fickle voters in order to earn your public boodle.
Not that California-style referendum laws would have directly blocked, say, the Bills stadium deal. Because Hochul used state money, it wouldn't have been subject to vote requirements for government spending by cities or counties. But West Coast residents can use the initiative process in other ways as well. Just look to Seattle, where voters in 2006 passed an initiative that required that any public spending on sports facilities be repaid with interest—which helped pave the way for the Kraken's privately funded arena.
In New York state, voter referendum laws never got much support even during Progressive times, with one 1909 report noting that a direct democracy bill "seems to have been taken as a joke" by the legislature. The closest an initiative law ever got to passage may have been when Governor George Pataki proposed a constitutional amendment to allow one in 1994, and again in 2002, largely as a sop to the Conservative and Independence parties, which were seeking a way to push through policies without going through the state legislature. The most notable citizen-led law change in recent years was the imposition of term limits in New York City, which succeeded only after billionaire Estée Lauder heir and one-time Republican mayoral candidate Ron Lauder spent $4 million putting it on the ballot, ultimately requiring three separate public votes over a decade and a half.
As Lascher is quick to point out, the susceptibility of ballot measures to the power of the purse is one reason direct democracy is an imperfect solution to the problem of rich people's control over the policymaking process. Even in California, getting a measure on the ballot can require spending millions of dollars to hire petition gatherers and run ad campaigns. And in any case, team owners seeking taxpayer giveaways can often find ways around ballot requirements. After Minneapolis and St. Louis passed ballot measures requiring public votes on any city stadium subsidies, legislators there simply found ways to use public money that didn't come from city coffers; in Cleveland, a referendum drive to force a public vote on giving hotel-tax money to Cavaliers owner Dan Gilbert for arena renovations was abruptly withdrawn when the county agreed to fund a pair of mental health crisis centers that the referendum campaigners were seeking.
Still, it's a bigger stick for regular folks than indirect democracy, which requires punishing elected officials by voting them out of office—which is tough when the New York legislators who voted for the Bills subsidy can point out they were also voting for such budget items as more money for education and hospitals and child care.
As for Hochul herself, while her popularity may have taken a slight hit from the Bills giveaway, it seems unlikely to swing the June primary, especially as public focus shifts to other issues, such as her removal of the indicted Brian Benjamin as her running mate and the notion of making New York a "safe harbor" for abortion. That's doubly so given that most of her opponents have avoided criticizing the Bills deal; only U.S. Representative Tom Suozzi has made it a campaign issue.
For New Yorkers angry about Hochul's last-second billion-dollar gift to billionaires, then, at least the faint chance of overruling the governor by casting ballots might be better than what they have now. Still, the most effective means of getting your voice heard in the halls of power, on either coast, remains hiring a fleet of lobbyists, preferably including a direct relative of one of the three men in a room. Next time one of these deals is proposed—and so long as billions of dollars of free money are at stake, it's only a matter of time—it's something to keep in mind. Maybe someone can launch a GoFundMe?

Neil deMause has written for the Village Voice, Gothamist, City Limits, Defector, and a cast of thousands. He once testified before Congress on stadium subsidies, for which he even tied his own tie.
Stay in touch
Sign up for our free newsletter