Going Places
Here's Why You're Seeing Gross Viral Recipes on Your Subway Commute
Whether you can actually execute any of these creations is beside the point.
3:10 PM EDT on April 11, 2023
If you've taken the subway recently, you may have noticed there's a new food trend in town: clickbait cuisine. Recipe videos for "brieghetti pie," an engorged egg-in-a-hole "baked brunch boat," and an omelet cooked in a plastic bag are just some of the offerings being beamed out to the MTA's millions of daily subway riders on nearly 10,000 digital advertising screens throughout the system. 
These screens—a rare sign of new investment amidst the otherwise crumbling infrastructure of the MTA—are paid for by the advertising company Outfront, which has chosen to make their ad spaces more attractive to buyers by interspersing them with content designed to draw the eye, rather than to be particularly informative or, in the case of some of the recipes, edible. 
The food videos are all done in the top down, quick-cut style of most shareable social media content. They give the appearance of being quick and easy, often involving transforming pre-made items (pouring French toast batter onto a sheet pan of store-bought donuts) but are sometimes casually labor intensive (making tiny cowboy hats out of chocolate-dipped marshmallows and potato chips). There is something just off-putting enough about most of them to warrant a second look. Wait, peanut butter, chocolate, and marshmallows rolled up in a tortilla? And then grilled?
Outfront, which made $1.7 billion in revenue last year, is a real estate investment trust that owns and manages physical ad space like billboards—we have them to thank for a significant portion of the twitchy migraine that is Times Square. In 2017, Outfront signed a ten-year contract with the MTA (extended to thirteen years in 2021) to install and maintain digital screens in and above stations and on trains. Outfront paid for the screens and is recouping the cost through ad revenue, some of which goes to the MTA. The transit agency is also allowed to use 20 percent of the signage for service announcements and other rider information. 
By the end of 2022, Outfront had already spent $536 million on the digital screens, and installed 89 percent of the 5,433 bigger digital screens on platforms and entrances required by their contract.
In marketing materials, Outfront describes the benefits of this kind of "out-of-home" advertising (billboards, signs, and posters encountered in the public sphere) as the ability to corner an audience that suffers from "digital fatigue" and is accustomed to slack-jawedly scrolling past ads. "From an advertising point of view for our tenants—you can't turn the page, you can't turn the channel, you can't avoid us by watching the programming on an ad-free platform," CEO Jeremy Male said in a 2018 interview. "We have enormous reach." 
The recipe videos aren't ads, per se, but are "engaging content" designed to drive "eyeballs," as Outfront charmingly likes to refer to us humans, so that when we are served advertisements for things that are actually being sold, we can't look away. Outfront sources these videos from a company called First Media, which creates them as part of a cooking brand called So Yummy. (First Media did not respond to our requests for comment.) First Media also owns Blossom, a DIY craft and "life hack" channel, whose videos also play on Outfront's screens. For anyone who has ever wondered if you might be able to glue pistachio shells together into a small flower to liven up a terrarium or chop up pool noodles to protect your picture frames—you can!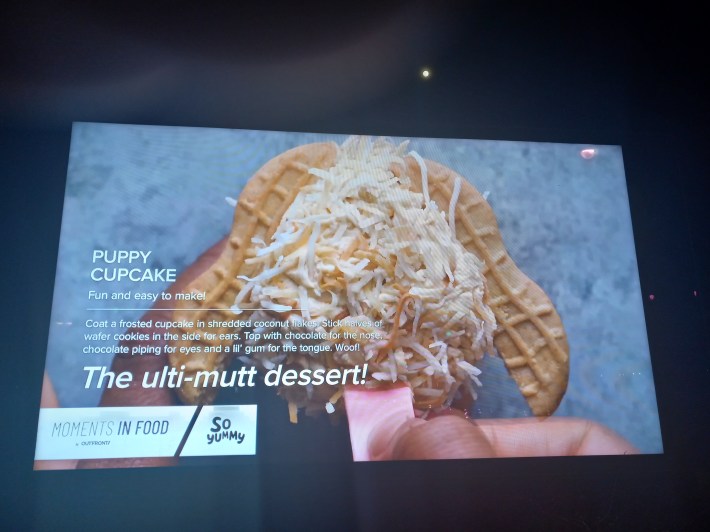 Blossom and So Yummy are successful businesses in their own right, content farms churning out a high volume of material that is popular across a variety of social media platforms. First Media claims that the two brand's Facebook pages at one point had the highest views per post on the social media platform, and they both have millions of Instagram followers. However, it might be more accurate to call them "widely viewed" rather than popular—a representative sample of comments from the most recent So Yummy Instagram post at the time of writing, which was "Gouda Times Await: 5 Recipes That Will Have You Craving More Cheese," include: "Why do you like destroying food! Shut this account down," "This is not food," and "Nice cancer." 
Whether you can actually execute any of these creations is beside the point. Ann Reardon, an Australian YouTuber and food scientist, has tried out numerous So Yummy and Blossom videos and found them to be unreplicable, like whipping a frosting out of melted ice cream or reviving wilted roses with Sprite. 
"The whole point of these businesses is to get clicks," Elizabeth Downey, an associate professor at Mississippi State University who teaches information literacy, told Hell Gate. "The intent of these videos isn't really to teach you a skill. It's kind of like multisensory ASMR."
First Media has pursued partnerships with mainstream brands like Fresh Direct and Walmart, and the videos feel somewhat more legitimate than other truly wacko DIY content farms, like 5 Minute Crafts (one representative video: "egg is bigger than before"). 
Still, these videos have no purpose other than to distract and monetize that distraction. They are being beamed out into public space, next to public service messaging that riders are supposed to trust.
The MTA has strict guidelines for what can be shown on subway advertisements: It bans cigarette and alcohol ads, political ads, and, after a number of scandals, an amusingly detailed list of "sexually oriented products or services." It also forbids advertising that is "false, misleading, or deceptive"—but apparently, that doesn't include content that is designed to turn riders' brains into pliable mush.
"Both the MTA's contracted outside marketing vendor Outfront and the MTA work to maximize revenue potential. All advertising is revenue generating and 100 percent of the revenue we receive supports mass transit operating costs," MTA spokesperson Joana Flores wrote to me over email. While the MTA needs all the money it can get, advertising is always a small percentage of the MTA's budget; last year, ad sales made up less than four percent of the agency's revenue. 
Outfront's 2017 contract stipulates that they have to pay the MTA either 55 percent of their advertising revenue (the percentage increases once Outfront has recouped installation costs and if revenue exceeds $209 million, adjusting for inflation) or a minimum annual sum of $115 million, whichever is larger. Outfront paid the minimum sum in 2021 and 2022 (and deferred payment in 2020, the height of the pandemic). In their Q4 2022 earnings call, Outfront's CFO said that they expected 2023 revenue to improve as ridership increases—but again, not enough to clear the minimum payment threshold, which is now $135 million with inflation. 
Outfront stopped responding to my queries after I sent them a list of questions, which included, "I've heard some commentators argue that So Yummy recipes can be difficult to recreate. Were the recipes tested?"
When I asked the MTA's Flores about what the agency sees as the purpose of the videos, she responded, "Enjoyable content such as art, food, and sports enhances the rider experience." 
"It's one of those things that are funny at first, and like, ew," said Renan Machado, a 30-year-old graphic designer who expressed dismay about the videos on Twitter, where reactions are almost universally negative. "But the more you think about it, it's so fucked up. We're in these fucked up subways, it's so nasty and dirty and not taken care of, and you see these high-tech screens with the weirdest, most indulgent recipes. The economic dynamics of it are so weird and twisted. There's like, a cruelty to them."
While the company is lagging on getting their smaller digital screens on trains—only 32 percent of the 15,896 total have been put in—Outfront is installing the remaining screens on a rolling basis, meaning that our commutes will soon look even more like one of those immersive Van Gogh experiences, but with Grubhub ads.
Want to read more investigations like this one? Subscribe to Hell Gate and support worker-owned journalism!
Stay in touch
Sign up for our free newsletter