Regarding Our Involvement in Hell Apes
A memo sent to Hell Gate staff earlier today.
4:26 PM EST on December 7, 2022
As many of you know, and as has been drawing increasing comment in the press as a result of the events of recent weeks, Hell Gate has close financial ties with the Hell Apes™ crypto-collectible platform. 
From the beginning, we have believed this close association has been mutually beneficial to both organizations, and that the relationship constituted a revolution in funding models for local journalism. With one Hell Ape minted for every Hell Gate story published, investors could support local journalism while simultaneously speculating on a non-fungible image of a unique Hell Ape, drawn on a bar napkin and corresponding to a unique string of code on the blockchain. The value was self-evident, the more so because Hell Apes could be traded on the open market of the proprietary Hell Ape Exchange (HAX), an innovative post-financial architecture that structured autonomous accumulation modalities while serving the historically unbanked and advancing global human rights.
Things seemed to be going well. Those of you who attended our blowout launch gala at the Museum of Natural History with Mayor Eric Adams, Tucker Carlson, New York Nico, Snoop Dogg, and Cara Delevigne will remember how well things seemed to be going. (I'm talking here about the giant ice luge and the koala-fondling tank, not the superspreader event, which we regret.)
To be sure, there were hiccups along the way. Social media scolds were quick to pile on last summer when it was reported that Hell Ape #88 bore a striking resemblance to former German Fuhrer und Reichskanzler Adolf Hitler. Hell Gate's partners at Hell Apes did not help matters with their dismissive response, arguing that the Hell Ape's appearance was the result of a napkin-art generating AI, so attributing sinister intent to its appearance betrayed a fundamental misunderstanding of technology, and that Hell Ape 88, like his siblings, is written indelibly into the blockchain, and so cannot be, as many were demanding, recalled, erased, or destroyed. When the Hell Ape Exchange tweeted this rebuttal, along with a "deal with it" GIF, the response was generally unfavorable. In retrospect, it is evident that this controversy measurably depressed demand for Hell Apes. 
There was also, of course, the problem that, despite repeated requests to desist, people kept screenshotting Hell Apes, diminishing the perceived value of actual authentic Hell Apes. The reluctance of the New York Police Department to engage with Hell Apes's requests for meaningful enforcement on this front contributed to an uncertain regulatory landscape that cautious investors may have found uninviting.
And then, in a surprise setback, earlier this year the Hell Ape Exchange lost its bid to construct a climate-change-solution-lab / event-venue / NASCAR-gambling complex in the middle of the Hammock Grove on Governors Island.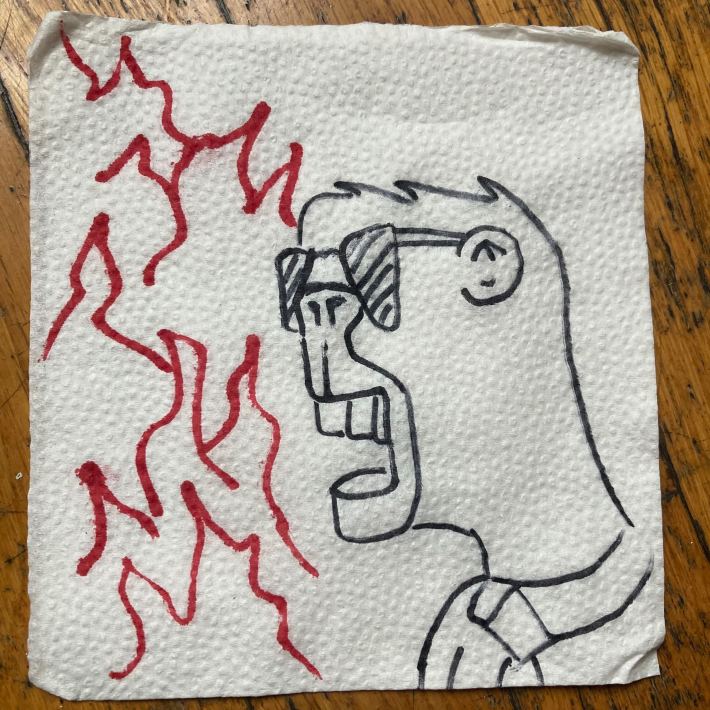 We believe that Hell Apes would ultimately have overcome these early headwinds, but the entirely unforeseeable developments of the past two weeks, which we hardly need to get into here, are causing us to reconsider our confidence in this assumption. 
While Hell Apes are mined in upstate New York in recommissioned power plants burning sustainably reclaimed brown coal, the Hell Ape/HAX corporate structure is not registered in the United States, or, indeed, in any nation. C-suite leadership make their offices on an abandoned oil rig in the Barents Sea, in international waters several hundred miles from Murmansk. While this arrangement was originally presented to Hell Gate as a prudent strategy for maximizing the potential of Hell Apes to grow and thrive in a sort of terra nova, outside the suffocating dictates of the dying regulatory state, it has complicated our efforts to make contact with our business partners as the current Hell Ape crisis (which again, needs no further explication here) has unfolded.
Hell Gate editorial stands by our decision to accept financial support from Hell Apes and HAX. The HAX sponsorship of our Savvy Bullet Points newsletter did not and does not affect our editorial process. Questions posed in those pages, including, "Should Pension Funds Put It All In Hell Apes?" and "Should I Take a Job at a Law Firm Exploiting Millions of People in Order to Fund Research on Cryo-Immortality That Could Benefit Billions of Future Interplanetary Colonists?" remain urgent and thought-provoking.
There will be time enough for a thorough reckoning of how we have come to this place, and who, if anyone, bears responsibility. That time is not now, and we will not dishonor the valued colleagues we are laying off today by politicizing this moment with some sort of witch hunt.
Remaining Hell Gate staff, we are pleased to announce today, will be receiving Hell Apes as part or all of their compensation package. (Staff-class Apes may be subject to a hold period before they can be sold.)
In the meantime, we are also exploring other, more experimental funding models, such as asking readers to subscribe, funding incisive local journalism directly, with money. Maybe with special holiday discounts. And gift subscriptions.
Nick Pinto served two tours as staff writer at the Village Voice. His reporting has appeared in The New York Times Magazine, Gothamist, The New Republic, Rolling Stone, The Intercept, and elsewhere.
Stay in touch
Sign up for our free newsletter