Fresh Hell
New York's Delivery Class Is Just Trying to Stay Cool
The city's delivery workers are braving deadly weather conditions, again .
1:13 PM EDT on August 9, 2022
Just a few weeks after New York City experienced one of its longest heatwaves in a decade, temperatures are once again expected to feel as high as 105 degrees. According to the National Weather Service, it'll be dangerously hot through late Tuesday; residents are advised to hydrate and, if possible, remain in the shade. Through all of this, New York's massive delivery apparatus will keep working, even as similar conditions killed a worker in California last month.  
During the increasing number of heatwaves like these, the sole outdoor dining shed in my Brooklyn neighborhood houses delivery workers taking a break from the heat. It's a bar, so there are no workers to chase uninvited guests during the day, and on a given afternoon I'll see as many as a dozen people sprawled next to their e-bikes in the structure's shade, clutching water bottles and those little hand-held electronic fans. In Bed-Stuy, at least, the shed isn't an eyesore sheltering horny teens and lowering that perpetually nebulous metric of residential quality-of-life, as a spate of recent lawsuits would suggest. With nearly half of New York City's cooling centers closed during the worst of July's heat, and with delivery workers of all sorts being in particular demand during extreme weather events, the bar's outdoor dining structure is a temporary respite for the people who regularly brave climate events to ensure New Yorkers who can afford it don't have to go outside. 
"It's difficult to spend many hours in the street," said Gustavo Ajche, an organizer with Los Deliveristas Unidos, a collective of app-based delivery workers in New York City. He told Hell Gate the only way he gets to cool off is when he runs into an air-conditioned restaurant to grab food, but it's not like he can really loiter there—it wasn't until last year that the right to use a facility's bathroom was even enshrined. When we spoke late last week, Ajche said he had two delivery-worker friends who were "barely recovering" from fevers he attributed to a few recent days of extreme heat. On breaks in Manhattan, he and other delivery guys often sit next to the palm trees at 60 Wall Street, the opulent '80s-style atrium recently profiled in the New York Times. But, as the paper also reported, the rare extravagant (and air-conditioned) chunk of public space may soon be demolished. "If they close it we will have to see where to take refuge," Ajche said. There just aren't that many places for New York's delivery workers to stay cool. 
There are an estimated 65,000 food delivery workers in New York City; 21,000 postal delivery professionals across the state; and more than 30,000 New Yorkers working for an hourly wage at Amazon—which doesn't include the drivers working with Amazon Flex, a canny way for the corporation to rebrand independent contractors as hustlers working towards their "personal goals." As of 2020, there were nearly 7,000 UPS drivers in the city, as well—meaning that a conservative estimate might put New York City's delivery class at hundreds of thousands strong. 
In historic heat like this, they're the ones braving the elements, often working the same punishing schedule as the heat index reaches 105. According to Local 804, a union that represents around 8,000 of New York's UPS drivers, six delivery drivers around the city experienced an illness related to the heat during July. "They're going out there, completely exhausted, and some are being hospitalized," said Anthony Rosario, a former UPS driver and organizer with Local 108.
The local protested recently, asking their employer to guarantee fans or air conditioning units in delivery vehicles. Organizers say they heard the company plans to place fans in every vehicle by October, which is a nice gesture but certainly doesn't help with the conditions this week. So in the absence of corporate action or legislative movement—a 2021 bill to establish standards around employer response to extreme heat did not pass—the workers who allow New Yorkers to take shelter are trading tips on how to stay cool.
Rosario was a delivery driver for two decades until he moved into one of the warehouses a few years ago. (In the warehouse, he said, it's also hot: He brings his own fan.) When he was younger, he learned how to manage extreme heat from veteran drivers. But there aren't as many of those lifetime delivery workers around now, he said, and these days his colleagues feel the pressure of a job wholly transformed by the pandemic. When he started driving around 2002, he wouldn't have more than 80 or 90 stops over the course of a day. "Now in 2022," he said, "guys are doing 200…the workloads are tremendous." And when it gets hot, that rapid churn doesn't stop. 
Knowing how to manage the heat during the summer is a "survival tactic" for drivers, he said. He's "lucky"; his typical route is on Ocean Parkway where he sometimes is able to park in the shade. Still, he used to bring a cooler full of ice and a few rags out on summer days, keeping cold towels around so he could wipe his neck. Recently, as part of a campaign to get UPS—a company that recorded record profits in 2021—to provide air-conditioning and fans for their workers, Rosario asked drivers to submit temperature readings from their trucks. In some states, the heat reached 150 degrees. And still, "all I hear is stay hydrated" from management, he said.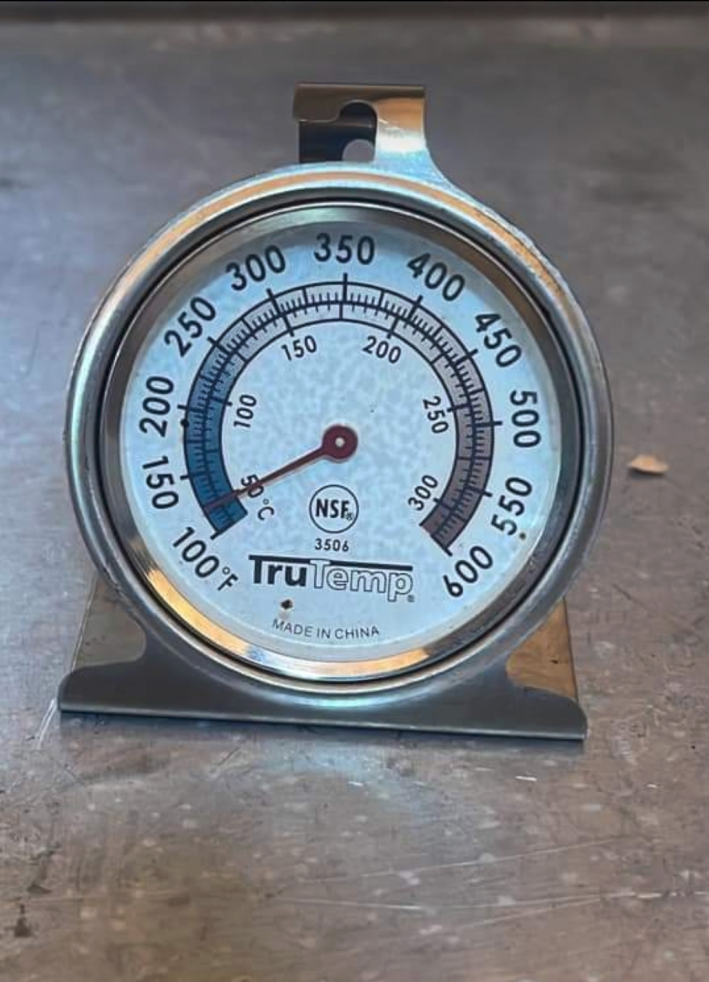 Dusan Metro is one of the New York drivers who submitted a photo from inside his truck; he used an oven thermometer lent to him by his wife and clocked temperatures higher around 100 degrees a few weeks ago. Metro likens working delivery during a heatwave to an athletic endurance event. "I'm an active hiker," he said, "and I'm very knowledgeable about hydration. I try to teach the younger and older members about it." He tells them to ditch Pedialyte and Gatorade for electrolyte tablets, and cautions them to stop what they're doing if they get dizzy. During a heatwave, he'll fill up a gallon-bottle of ice at home in the morning—there are only two ice machines in the warehouse where he works, and at the beginning of a shift there's always a long line. He estimates there's been 20 percent more work over the last few years. Even under ideal circumstances, he said, the workload coupled with the heat "takes a toll on the body."  
During some kinds of natural disasters—a hurricane, a flood—workers like Ajche and Metro will appear in viral videos, braving the elements to deliver what is almost undoubtedly a frivolous good. Images of workers ferrying a package or a burrito through the worst of conditions is an accessible and endlessly replicable metaphor for the routine exploitations of urban life: In one particularly notable event, an entire online ecosystem mobilized to find a man pushing an e-bike through Hurricane Ida's floodwaters when the person who caught him on camera wanted to give him the money he'd earned from capturing the event. During our increasing bouts of uninhabitable heat, as the city's delivery apparatus ensures the rice bowls and groceries and diapers arrive on time, the signs are a little more muted: A UPS driver with a fan stuck on the dashboard, an Amazon delivery guy with a wet towel around his neck, the dozens of delivery workers sitting in that shed in my neighborhood in Bed-Stuy, sweating and fanning themselves with their hands. 
Molly is a writer and occasional editor covering crime, labor, and the American health care system.
Stay in touch
Sign up for our free newsletter