Fresh Hell
Fathers Fail to Buy Sons the Flatiron Building
Jacob Garlick, sadly, was nowhere to be found.
7:05 PM EDT on May 23, 2023
On Tuesday, for the second time in two months, auctioneers, real estate moguls, and a group of journalists gathered in a cool and shady corner of the portico of the New York County Courthouse in Lower Manhattan for the auction of the Flatiron Building.
Jacob Garlick, the enigmatic and roguish real estate developer who had made the previous auction headline news through sheer Main Character Energy, was nowhere to be found. The first time around, Garlick had "outbid" the conglomerate of three real estate companies who already own 75 percent of the Flatiron Building and were trying to buy out their fourth partner, then failed to cough up the $19 million deposit.
Jeffrey Gural, representing the conglomerate, told a cloud of microphones before the auction that he felt sorry for Garlick, whom he is suing for the $19 million deposit, 10 percent of his winning bid, and "damages." (Gural said he heard that when the Flatiron Building replaced its windows, Garlick had bought the old copper-clad ones and put them in his house.)
At 2:30 p.m., the auction was set to begin. The auctioneer explained the rules dryly, emphasizing the consequences of flaking on your bid, and the requirement to immediately produce a $100,000 check, and then the 10 percent deposit in two days, and then asked that if anyone who did not have a bidding panel wished to place a bid, that they raise their hands.
I held my breath and craned my neck to look around. This was the perfect moment for a dramatic entrance by Mr. Garlick, for the whole crowd to turn at once to watch him march into the sale as his rivals glowered in indignation and outrage. That did not happen.
Instead, the bidding began at $50 million. Someone without a paddle tried to jump in, but the auctioneer refused his bid, scolding the person I couldn't see, because he had literally just asked if anyone without a paddle would like to join.
Gural, paddle number 25, traded bids in $2 million increments with paddle number one, which belonged to a father and son duo, Izek and Jimmy Shomof from Los Angeles. Izek was wearing a tight shirt checkered with what looked like a more expensive version of the Louis Vuitton pattern; Jimmy's Instagram shows the pair bonding over a red Ferrari—stealth wealth was not the vibe. 
As the bidding neared $100 million, another father-son team jumped in—a tall, baby-faced young man in a baby blue suit and suede loafers, who was there with a bald man, nearly as tall, wearing sunglasses and a dark grey suit jacket and dark wash jeans. Leon Horvath and his dad Lajos, conspiring together in Hungarian.
The Horvaths operate in New York and Florida, they told reporters. The Flatiron would be the beginning of the son's company, the father told the gaggle, "Flatiron Building LLC." I later discovered the son Leon to be something of a real estate influencer, twenty years old and already working with Corcoran's Milan Team trading team and flicking it up in Ferraris for the 'gram. ("How did my Great Gatsby party go?" he says in his most recent TikTok, answering himself with a series of pictures in a double-breasted suit with friends.) Leon's LinkedIn says he also "owned and operated my own used vehicle dealership and established a successful non-profit in which we supplied in-house hand sanitizer to those in need during the early stages of the pandemic." 
As the bidding intensified, Leon would look plaintively to his dad to push his paddle up. I shocked myself by rooting for them, somehow finding protagonists in this crowd of casual real estate barons. Up and up it went, as paddles one, 25, five, three, and six jockeyed for the lead. The elder Horvath would scratch his bald head uncomfortably, and then wordlessly raise his paddle.
After the bidding increments had been halved and halved again to $500,000, the auctioneer allowed for two 60-second recesses. In the second, bidder number six, a quiet, small man in a dark suit with a ring of skin shining through his short black hair, ducked away to make a phone call. He came back in when they resumed, and stayed silent, until his colleague called to him from behind, giving him the okay to bid $159.5 million. 
But in the end, neither this mysterious dark horse nor the two daddy-son pairs could contest the people who already owned most of the Flatiron Building: Gural closed it out at $161 million.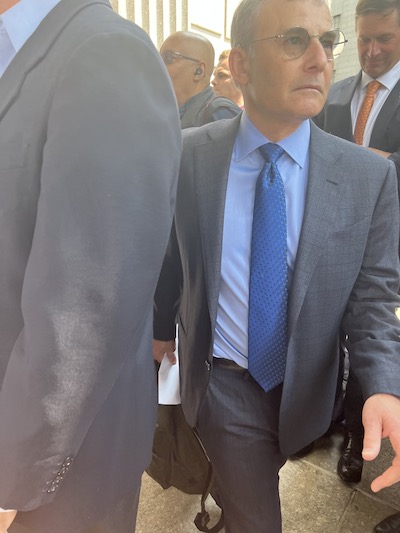 It all seemed like the most boring possible ending until someone started shouting. A short gray-haired man I thought was Anthony Fauci for a second was roaring at Gural: "Get ready for the fucking lawsuits!" 
This man identified himself as Paul Gottsegen, of 184 Broadway Equities LLC, and he was upset that his bid had been refused earlier. "He's not a fucking registered bidder! He doesn't have a check!" he accused of Gural, pointing at him with an envelope that one can only assume housed his own $100,000 certified check. Gural just ignored him. 
"Was that Jacob Garlick?" someone wisecracked. Gottsegen stormed off, promising to see them in court.
Adlan has written for The New York Times Magazine, The New Yorker, Pitchfork, Study Hall and more.
Stay in touch
Sign up for our free newsletter