Staying Alive
East Village's Beloved Essex Card Shop Reopens After Devastating Fire
The store, like its owners, has shown serious resiliency.
4:32 PM EDT on September 15, 2022
As Rite Aid and CVS continue their hostile, now decades-long takeover of New York City's retail corridors, a lonely few stationery stores soldier on. You know the type—overflowing with notebooks, glue sticks, large cardboard paper stock, outdated atlases, and even model skeletons in bell jars. They are the refuge of a last-minute school project, where all you need is some glitter, a painty pen, and two-sided tape to really make it look like this presentation on Charlemagne has been in the works for a while. This is where you go when you remember a thing exists but cannot properly describe it and it's exactly what you need—a thumb tack, but really big? Also not shaped quite like a thumb tack? Also, it's a magnet. The corridors in these stores are somehow both finite and labyrinthine—compressed into small city plots, you can almost always find what you're looking for, possibly caked in a fine layer of dust, in a part of the store you thought you'd already explored. Also, they'll take your passport photo and notarize your lease, no problem. 
The East Village's Essex Card Shop was one of the few remaining classic stationery stores downtown—a place where regulars (including myself) and people running a stray errand in the neighborhood could find exactly what they were looking for, even if it wasn't exactly what they were looking for. I say it was one of the remaining stationrery stores because in January, a fire ripped through the venerable institution.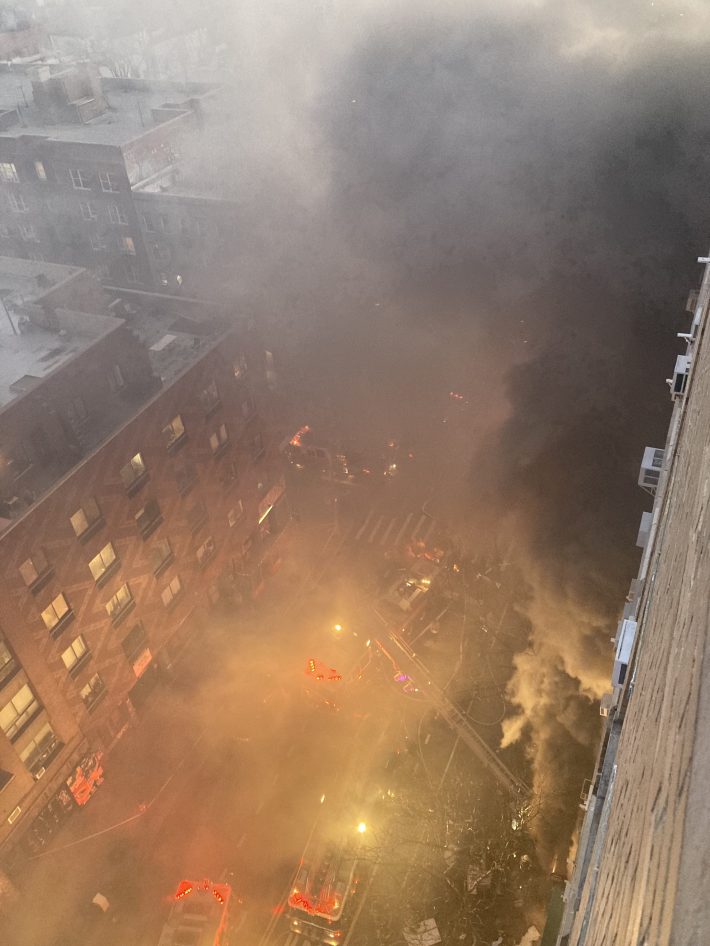 This week, shop owner Muhammad Aslam talked to me about the moments shortly after 4 p.m. on January 10 on Avenue A, when a blaze quickly grew to engulf thousands of dollars of extremely flammable wares—greeting cards, Moleskine notebooks, an expensive photocopier, and countless knick-knacks accumulated throughout the years.
The entire store was a loss. "The fire is a lot," he said, shaking his head. He estimates he lost over $300,000 in merchandise, most of which insurance didn't cover. The source of the blaze was determined to be a teenager who had set a fire in the back area of the store. "He had problems," Aslam said.
That day, I watched the massive FDNY response from my roof above Avenue A. (I rent in the building that also houses Essex Card Shop). The other storefronts on the west side of Avenue A between Fourth and Fifth Streets, aside from some minor smoke and water damage, were spared—but the interior of Essex Card Shop was a charred and soaked wreck. This was devastating to see. As eulogized as the East Village's small business community is, it still very much exists. There are stores that have things you don't need but suddenly want, sold by people who don't care whether you buy or don't (that's beneath them). But Essex Card Shop was a place filled with nice people. Jayant Patel, the incredibly amiable manager of the store's day-to-day operations, worked with you to figure out what you needed, even if you couldn't properly describe it. If a hardware store is utilitarian, then a proper stationery store borders on frivolity—you don't need a new folder for the official-looking paperwork you printed out, but wouldn't you feel important if you did?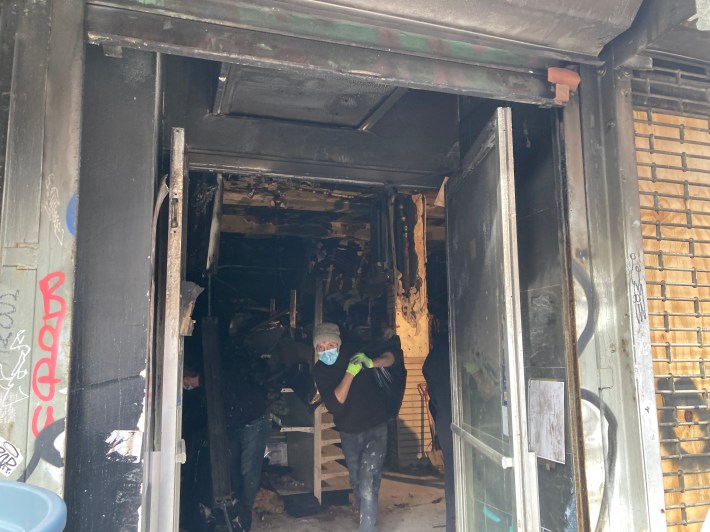 I was unable to find an exact age of the store known as Essex Card Shop, which has existed at at least three separate locations. Aslam said it's over a hundred years old, where the first record I found of it was at least the 1960s.
The fire could have easily been the end of the line for the storied institution, which can trace its lineage back to Essex Street (of course), but also through a series of neighborhood transformations that predate the name "East Village." At the time of the fire, Aslam, who immigrated to New York City from Pakistan in the early 1990s, had been running or helping run stationary stores for thirty years. His business partner, Patel, was 80 years old.
But Aslam felt he had no choice but to reopen—the store had supported the neighborhood during the pandemic, and now the neighborhood was supporting his business right back. A GoFundMe set up by his daughter quickly raised over $50,000; well-wishers from the neighborhood began adorning the shutters of the store with notes, begging the store to return.
"We love you Jay. We are with you," said one sign.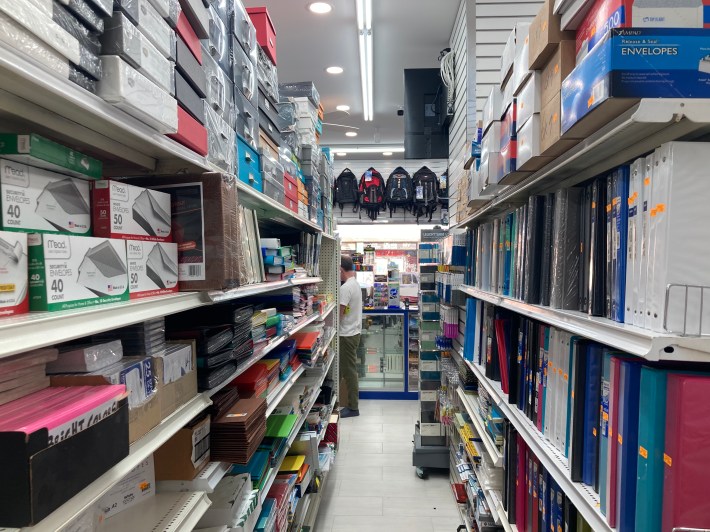 "I feel what we have with the customers, they love us," Aslam reflected. "And before them, I had nothing."
When Aslam arrived in New York City in 1991, he didn't know a single person, he said. All he had to go on was the name of a distant family friend, whose address on Fort Hamilton Avenue was written on a piece of paper, he tells me. When he got to the address, no one was home, but he quickly found other Pakistani immigrants in the same building. After desperately trying (and failing) to find work, one of his roommates suggested that Aslam work with him at a stationery store near Columbia University. The manager there was Jayant Patel—since then, they've worked together at a series of stores. Patel bought Essex Card Shop in 2000. He handed over the business to Aslam a few years later, when he returned to his native India.  
Patel used the store's photocopier to plaster the store with philosophical quotes and well-wishes for customers on plain white paper, in big bold letters. "Personal happiness is the biggest donation to the world," read one. Aslam says Patel's returned to India several times while they've been in business together—but he's always returned. Aslam thinks he might not come back this time, however. He left for India shortly before the reopening. But Aslam says he's saved some of his partner's writing, and will soon once again post some of it inside the store.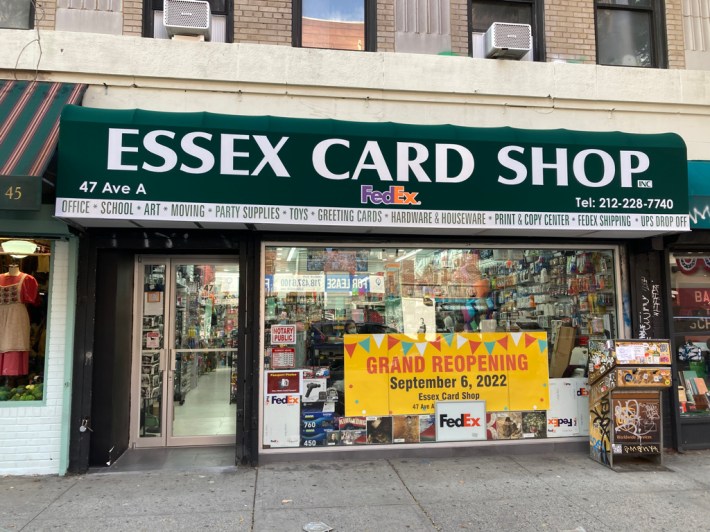 This summer, Aslam raced to reopen.
"Each day I'm not open, I'm losing customers," he said. Shortly after the fire, workers gutted the store. Within a few weeks, the renovation of the space was on. It's a bit smaller now, as the walls have expanded a bit, but the lighting is better—and the pleasing clutter of a well-stocked stationery store remains. As part of the reopening, Aslam has expanded his inventory: It now includes an improved toy section and some more upscale luggage options.
Aslam tells me the fire, the gutting, the renovation, and the reopening were a lot for him to deal with. The store now opens later each day than before the fire, and it will no longer be open on Sundays. "My goal is to work each day, but you know, I'm tired, so I must find the next generation to take over," he told me.  
His daughter Mehnad has been helping at the register during the reopening weeks.
While we're chatting on this weekday afternoon, Aslam has been peppered with questions and well-wishes from customers. Party supplies? Right aisle. Headphones? Behind the counter.
"We're so, so happy to have you back," one longtime customer tells him. "Now, would you be able to do a full-color photocopy of these passports? Would you mind holding on to them? I just need to pick up my kid from school really quickly."
Essex Card Shop, as it has been for decades, is doing business.

Max Rivlin-Nadler is a co-publisher of Hell Gate. He's reported for Gothamist, The New York Times, Village Voice and NPR. You can find him walking his dog, Stiva, or surfing in the Rockaways.
Stay in touch
Sign up for our free newsletter