Eric Adams
One Big Winner of Eric Adams's Rare Mayoral Veto: the Owner of Zero Bond
With his veto, Mayor Adams eliminated an enforcement mechanism designed to target wealthy, non-artist residents who are flouting City rules by living in spacious downtown artist lofts.
1:16 PM EDT on September 14, 2022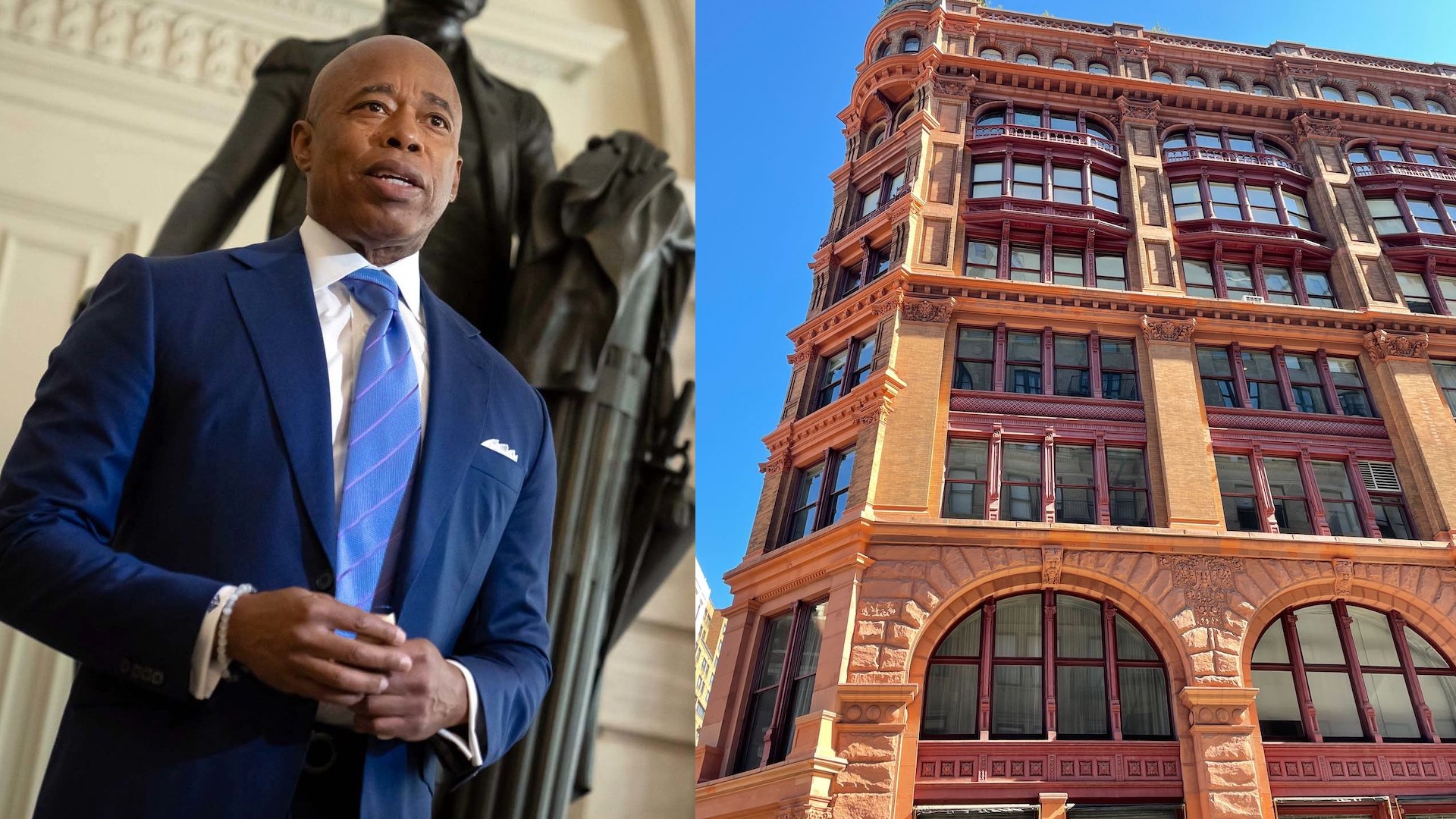 Last January, during his first two weeks in office, Mayor Eric Adams vetoed a piece of legislation aimed at enforcing zoning laws in some of Manhattan's most expensive neighborhoods.
In explaining the rare mayoral veto—the first in eight years—Adams noted that it was a "small piece of legislation" related to a much bigger and important package of laws, the SoHo/NoHo rezoning, which he supported. "We've been hearing concerns about that specific legislation, and are going to make sure that we can productively work together to improve it over the coming months," Adams said in a statement. 
One notable person who likely benefited from this veto: Scott Sartiano, the owner of Zero Bond, the members-only nightclub where our mayor regularly holds court. 
This past March, Sartiano and his wife, the model Allie Rizzo, closed on a three-bedroom, three-bath artist loft on Broadway in NoHo for $3.45 million. According to records from the Department of Buildings, it's exactly the kind of property that the vetoed bill was meant to target. If the mayor hadn't interceded, Sartiano could have faced a $15,000 fine for being a non-artist resident living in a space designated for artists. 
Not only that, Sartiano would have had to register his artist loft with the City and convert it to a normal residence, a process that requires a contribution of $100 per square foot to an artist fund. At 2,900 square feet, Sartiano's conversion would cost $290,000.
But Mayor Adams did intervene, and with his veto, eliminated an enforcement mechanism designed to help ensure that Sartiano and other wealthy, non-artist residents who are flouting City rules by living in spacious downtown artist lofts contribute back to the local arts scene. 
According to Streeteasy, Sartiano's new apartment with "abundant light throughout the day" and "Romanesque and Queen Anne Revival architectural styles" was in contract last October, after Mayor Adams had won the Democratic nomination, and before the SoHo/NoHo rezoning package passed the City Council in December. 
The Mayor's Office told Hell Gate that Adams and Sartiano have never discussed the rezoning plan. Sartiano's views on the SoHo/NoHo rezoning were no secret, though. As a member of Community Board 2, he had voted against the plan in the summer of 2021. 
"Mayor Adams made clear, at the time, that he vetoed that legislation to give the administration time to work on the issue with the City Council, since it was members of the City Council and members of the community who asked for the veto," Fabien Levy, a spokesperson for Adams, wrote to Hell Gate in an email. "In the months since, we have and continue to work with the Council to address our city's housing needs. Making any other poorly researched accusations is simple click bait aimed at distorting the truth."
A press contact for Zero Bond has not responded to our emails. A message left at Sartiano's apartment by a Hell Gate reporter has not been returned, and no one answered the buzzer when we rang.
"He's a pretty private person, I don't know anything about his personal life," a Zero Bond receptionist told us when we called. The receptionist declined to put us in touch with Sartiano.
Like every other land use battle in New York City, the fight to rezone SoHo/NoHo in the waning days of the de Blasio administration was explosive. One particularly thorny issue: what to do about the roughly 1,600 joint living-work quarters for artists (JLWQAs) downtown. 
As SoHo gradually changed from an industrial hub into a residential one in the 1970s and '80s, the City's creation of JLWQAs recognized the need for artists to stay in these converted homes, so long as they were certified by the Department of Cultural Affairs. JLWQAs are a very common form of residential use in the neighborhood, where the median price for an apartment is $3.45 million, the third-highest amount in the city.
In a nod to the neighborhood's bohemian history, and to try and redirect some of the real estate money toward the arts, the rezoning created the SoHo/NoHo Arts Fund. Owners of JLWQAs are supposed to pay a one-time, $100 per square foot fee to convert their artist loft into a residence so that non-artists can live there, or so they can sell it to a non-artist and include the fee in the sale price. The proceeds go into the fund.
"They're basically saying, if you're a non-artist who moved into artist housing, now you're going to pay to help support the artists who do continue to live here as the neighborhood has become more and more expensive," said Sam Stein, a housing policy analyst at the Community Service Society, which supported the SoHo/NoHo plan.
But the City described this conversion process as "a voluntary non-discretionary pathway." The bill that Mayor Adams vetoed, sponsored by outgoing Councilmember Margaret Chin, was essentially a method for enforcing it, by creating a system that tracked JLWQAs and instituted fines for ignoring the law—from $1,250 to $15,000 for a first offense, plus $1,000 for each month it wasn't cured, and $25,000 for "each subsequent offense."
Chin's bill faced opposition from numerous preservationist groups and residents, who argued that non-artists who had been living in JLWQAs should not be penalized for years of City inaction, that the process to register as a certified artist was opaque and flawed (15 people have applied this year, according to Cultural Affairs), and that some JLWQA residents wouldn't be able to afford to pay the $15,000 fine, let alone a $100/square foot conversion fee.
Enforcement of who is actually living in the JLWQAs is squishy at best. And as City Limits noted, Chin's law would have relied on "residents reporting their non-artist neighbors." A spokesperson for the DOB, Andrew Rudansky, told Hell Gate that complaints about non-artists living in artist lofts arise from 311 calls, but that the department does not track them separately from other miscellaneous violations. "Anecdotally, DOB receives very few JLWQA complaints, and as a result, violations issued by the Department for issue are rare," Rudansky wrote in an email. (In any event, non-artist residents of JLWQAs before the rezoning vote are exempted from these fines, thanks to a law passed this spring in the state legislature.)
The DOB could not say how many non-artist residents of JLWQAs have voluntarily applied to convert them, but it does not appear that Sartiano is one of them.
According to DOB records, Sartiano's apartment is currently permitted for $25,000 in interior renovations, but there is so far no application to convert the artist loft into a regular residence. There are no recent JLWQA violations on file in the building either.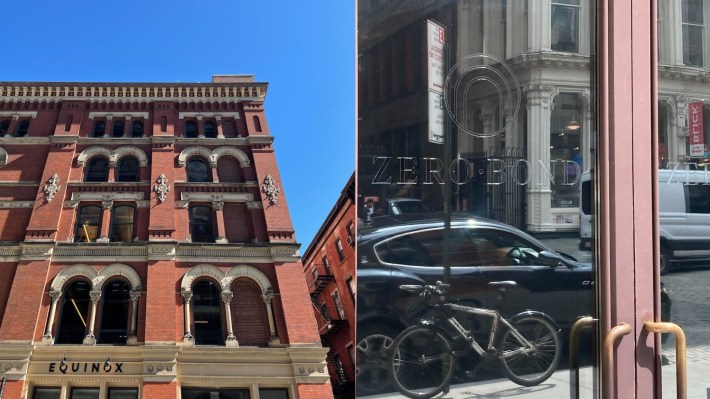 Councilmember Christopher Marte, who replaced Chin in the council, was a strident opponent of her bill. He told Hell Gate that the mayor's veto arose from a collective effort to stop a piece of legislation he called "vindictive."
"I think it was a combination of organizing, putting pressure, and also educating, because a lot of [the mayor's] staffers were new and they didn't know the ins and outs of the rezoning or this legislation per se," Marte said. "I've never spoken to the Zero Bond owner and so I don't know how he played a part in this," Marte added. "Never really heard of him help in this organizing effort." 
Marte, who opposed the rezoning effort before he took his seat on the council, couldn't say whether someone like Sartiano should pay the conversion fee. 
"Maybe in the same building that he's in, there's an artist who has lived there for decades and who's a senior on a fixed income, and I think that's the reality of a lot of these buildings. And so you have the super-rich but then you have people who aren't making an income anymore," Marte said. "And so do you penalize one and not the other even though they're living in the same building?" 
As for the SoHo/NoHo artist fund, Marte said he doesn't like the idea. "I don't trust the artist fund. They don't really clarify how the money is going to be dispersed, who it's going to be used for."
A group known as the Coalition for Fairness in SoHo and NoHo seems to agree with Marte. They raised nearly $250,000 and sued the City earlier this year to stop the rezoning plan, calling it and the $100/square foot fee "oppressive, burdensome and legally unsustainable." The suit is still being litigated. 
Chin, a 12-year councilmember who was term-limited out of office this year, did not respond to our message. A spokesperson for Carlina Rivera, the other councilmember who represented parts of SoHo and NoHo in the rezoning process, declined to comment.
In his veto statement, Adams said he was committed to finding a "legal pathway" for non-artists living in artist lofts downtown, "and to make sure windfall profits of those sales get invested back into the artistic legacy for SoHo and NoHo in perpetuity via the SoHo/NoHo Arts Fund."
Asked about progress on that goal this week, the Mayor's Office said the fund does not yet exist, but is in the process of being set up and will be operational in the coming months. A spokesperson for the Mayor's Office insisted that the administration was identifying real estate transactions which required the $100/square foot contribution, but did not specifically state how many have occurred, or how much money they would net.
Sartiano or his wife could avoid the conversion fee by applying to the City's Department of Cultural affairs for status as a certified artist. In May, Adams appointed Sartiano to the board of the Metropolitan Museum of Art.
With reporting from Max Rivlin-Nadler.

Chris is an editor at Hell Gate. He spent a decade working for Gothamist, and his work appears in New York Magazine and Streetsblog NYC.
Stay in touch
Sign up for our free newsletter