Eric Adams
A Cancer Diagnosis is Not Enough to Work From Home in the Adams Administration
While NYC's private sector has largely embraced a hybrid work schedule, the mayor has taken an increasingly hard line on getting municipal workers back into the office.
8:21 AM EDT on August 11, 2022
In 2020, Alex was one of the many New York City employees ordered to work from home at the beginning of the pandemic. Their job had always required sitting at a desk in front of a computer and making phone calls, and they found working at home to be a welcome change of pace. "I think I was more efficient working virtually because I wasted less time, quite frankly," Alex told Hell Gate.
Later that year, Alex received a cancer diagnosis, and took some leave to have surgeries and receive radiation treatment. They kept working from home, as first Mayor Bill de Blasio's and then Mayor Eric Adams's return-to-work plans were slowed by a string of highly transmissible COVID variants. Alex's cancer diagnosis means they are susceptible to getting extremely sick from the virus, according to the CDC. "I don't feel safe going back into the office," they said.
Last fall, Alex, who asked that we withhold their real name out of fear of reprisal, filed requests for a "reasonable accommodation" to work from home, in accordance with the law. They later enclosed a letter from their oncologist, detailing Alex's heightened risk of severe COVID. 
But their request and their subsequent appeal were denied, on the grounds that working from home would "not allow you to perform all the essential job duties." No other explanation was given. They must report to the office towards the end of this month, or risk being fired. When Alex received this news, they were upset, especially given that they had been working from home for more than a year without an issue. "To be told that my employer is not prioritizing my health, it's prioritizing a seemingly arbitrary decision that everyone must be in an office?" Alex said.
They added, "You shouldn't have to have cancer to be able to work remotely. And certainly if you have cancer, you should be able to work remotely. It's really as simple as that."
Alex is one of a small handful of the 280,000 municipal employees who are finding themselves in a novel dilemma spurred by the pandemic: If I have an illness that puts me at risk of severe COVID, can my boss order me back into the office at a time when the virus continues to spread aggressively?
For many white-collar workers in New York, this isn't much of a concern. A May 2020 survey of 160 of the city's major employers found that 78 percent would allow their employees to work remotely some or all of the work week; less than half are expected to have workers back in the office in September on any given work day. Even the MTA, which is experiencing persistently low ridership because of the work-from-home boom, has instituted a program to let their 5,000 office workers stay home one day a week.
But Mayor Adams has insisted that the City's office workers set an example for the private sector to follow. "I'm telling J.P. Morgan, Goldman Sachs, I'm telling all of them, listen, I need your people back into office so we can build the ecosystem," Adams told reporters in June. "How does that look, that City employees are home while I'm telling everyone else it's time to get back to work?"
Another City employee, Sam (also a pseudonym), said their cancer diagnosis came after they were exposed to carcinogens at Ground Zero, in the aftermath of the September 11 terrorist attacks. Despite being able to do their job at home without incident during the pandemic, they were ordered back to the office earlier this summer; their request for a work-from-home accomodation was denied. Sam said they were particularly upset that the Adams administration did not explain why they were rejecting their reasonable accommodation request.
"Are they denying me arbitrarily, without any reasoning? Is it just a political decision that one man says, or one woman says, you have to go back to work without basing it on anything?" Sam told Hell Gate. "Is somebody basically playing Russian roulette with someone else's life? I find that to be really scary."
Sam said they are pursuing a complaint with the City's Human Rights Administration through their union, the Civil Service Bar Association, which also represents Alex. New York State's Division of Human Rights declined to comment on these cases, because they might come before the agency. 
Saul Fishman, the president of the CSBA, said the Adams administration's position was "beyond ridiculous" and potentially unlawful. "The whole idea of people being ordered, in effect, to either risk their lives or go on unpaid leave is cruel and extremely short-sighted and morale-lowering, if morale can even be lowered at this point."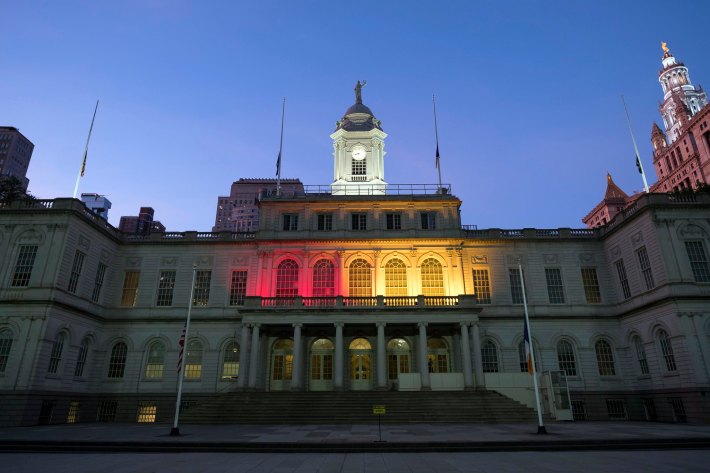 The case law surrounding these kinds of COVID-related employment questions is still being argued in the courts. Reasonable accommodation requests are made under the Americans with Disabilities Act, and potential violations are reviewed by the Equal Employment Opportunity Commission, which has received more than 6,000 COVID-related complaints from workers around the country through the end of 2021. According to Bloomberg News, the EEOC has filed at least three lawsuits against employers relating to reasonable accommodations, including one that involved a Georgia worker with a heart condition who was denied a request to work remotely several days a week, even while others were allowed to work remotely. That case is still pending. The EEOC did not respond to our request for comment.
The Mayor's Office said that they do not keep any data on how many reasonable accommodation requests have been approved, and cited privacy reasons; nor do they keep data on how many workers have returned to the office, and how many are working from home. They also insisted that every accommodation request is reviewed on an individual basis, as the law requires, and that they try to grant alternatives when available.  
"The administration recognizes that there are some circumstances where city employees may need to work from home for medical reasons, and we continue to evaluate those requests on a case-by-case basis," a City Hall spokesperson wrote in an email. "At the same time, we continue to maintain that returning to in-person work has been shown to improve employee productivity, allow for a greater cross-pollination of ideas, boost mental health, and improve the delivery of services to New York City residents—and the city is leading by example while encouraging private sector employers to bring their workers back to the office as well."
The Adams administration's refusal to allow a more flexible work-from-home schedule has been cited by many departing City employees as a major reason why they are, as the New York Times recently put it in a headline, "quitting in droves." 
"There's a woman on my team who quit a couple weeks ago because of the lack of flexibility," another City employee told Hell Gate. This worker noted that while everyone is expected to come into the office, they still meet over videoconference because "people are still wary of COVID and want to minimize in-person, indoor interactions if possible."
They said they had another colleague with an immunocompromised family member, who was recently denied a reasonable accommodation request to work remotely several days of the week. "Everyone's feeling really frustrated, morale is really low agency-wide," they said. 
Public Advocate Jumaane Williams told us he hears from City workers about the administration's return-to-work policy "a lot."
"This city right now should be putting together a hybrid model," Williams said. That's what his office will have once people start coming back in a few weeks; the Public Advocate's office has been working remotely since the pandemic began, and staff will be expected to come in three days a week with staggered schedules, depending on the COVID numbers, Williams said. "It's mind-boggling that instead of leading here, the administration seems to want to dig their heels into what's quickly becoming an archaic way of thinking about work."
As for Alex, they're unsure what they're going to do about their return-to-work date, but they want to avoid litigation if possible. "I am comparatively fortunate. I'm not totally housebound. I'm not at death's door, thank goodness. But I have a very serious illness," they said, adding that they would have at least appreciated an option to work remotely. Their immediate bosses seemed understanding of the situation, but were helpless to do anything about it. "My supervisor?" they noted ruefully. "They just got COVID."
Know something about the City and want to share it with us? Drop us a line: hellgatenyc@proton.me
Chris is an editor at Hell Gate. He spent nearly a decade working for Gothamist, and his work appears in New York Magazine and Streetsblog NYC.
Stay in touch
Sign up for our free newsletter