Going Places
Drama at the MTA
Covering the Metropolitan Transportation Authority is never dull, but this week was a doozy.
6:15 PM EDT on July 27, 2022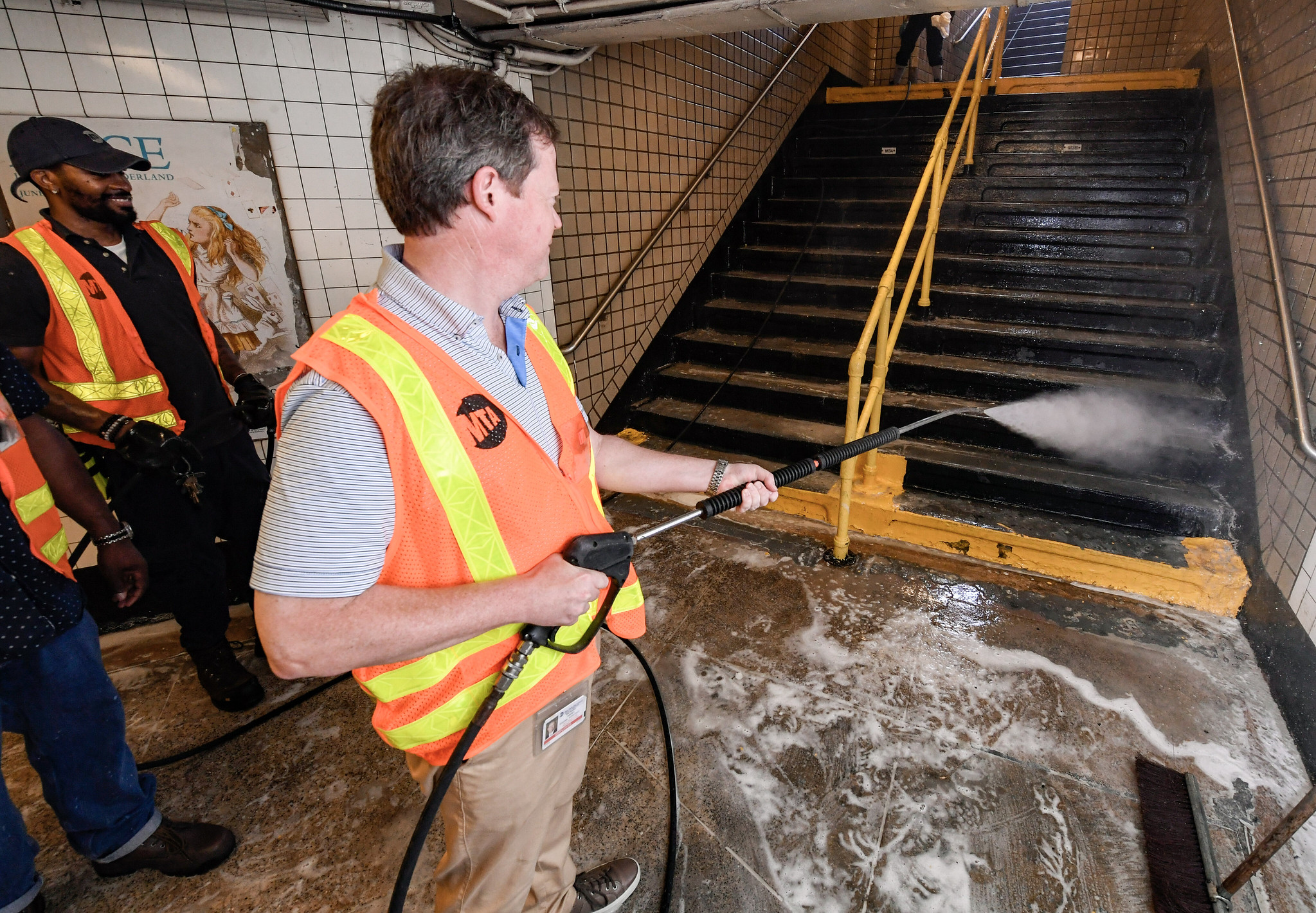 An "existential" crisis. A board member flipping off the CEO before threatening to torpedo $15 billion in desperately needed funding. The CEO mocking the former COO. Underground Wi-Fi. Congestion pricing Gods.
Covering the Metropolitan Transportation Authority is never dull, but this week was a doozy. Remember the Summer of Hell, when the MTA's main problem was that too many people were riding it and its operating expenses were running out (and the guy in charge of it pretended to not be in charge of it)? 
Five very long years later the MTA has a much more terrifying dilemma: there's still no money for operating expenses, but not enough people are riding, and the business model of get a ton of people to and from work in Midtown Manhattan, Monday through Friday, has been obliterated, maybe for good.
Let's begin at the beginning. On Tuesday, the MTA's finance committee discussed a set of extremely grim projections made by the consulting firm McKinsey & Company. Back in 2020, McKinsey predicted that by 2023, ridership would come back to roughly 86 percent of what it was before the pandemic—concerning, for sure, but not fatal. Federal relief money would hold out, and the MTA would figure out how to twist the knobs in a work-from-home world.
Then Omicron hit, as did the cold truth that office workers do not need to sit in frigid beige cubes in some of the priciest real estate in the world every day of their lives. Now McKinsey predicts that ridership may reach 80 percent of pre-pandemic levels in 2026, and that's not even the worst-case projection, as seen in these charts that cost the MTA $690,000. (MTA CEO and chair Janno Lieber insisted that McKinsey underbid the next cheapest consultant by $500,000.)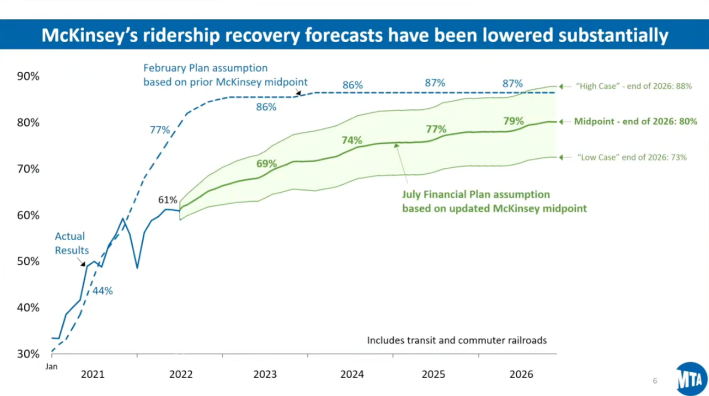 This massive slump in ridership will create an unanticipated $4 billion deficit in farebox revenue. The previously allocated federal relief money to address the "fiscal tsunami" that the first year of the pandemic created can't make it up. And cutting costs and service will not only harm the essential workers (remember them?) who never stopped taking mass transit, but will discourage other riders from using it, kicking off the dreaded "death spiral" that experts have warned against for years. 
"The MTA's revenue model is not going to work anymore, because it has been dependent on 40 percent of its revenue coming from fares and tolls. And with ridership at 60 percent and stagnating and continuing for years to come…The riders are not gonna be able to make up the difference," Rachael Fauss, a senior research analyst with the watchdog group Reinvent Albany told us. 
"The only real answer is the state, who owns the MTA and controls the MTA, coming in and giving the MTA not just one shot of revenue, but recurring new dedicated funding streams," Fauss added. 
(If you ask Fauss whether New York State has the money to fund the MTA this way given "the economy" or whatever other objection a lawmaker might make next year, Fauss is quick to point out that the state government found money to fund other priorities, like, say, a football stadium in Buffalo. "The state decided to divert $10 billion to green chip tax credits at the end of June with no notice to the public," Fauss said. "And the state also did a gas tax holiday and made a decision to take hundreds of millions of dollars and give it to drivers rather than, you know, the MTA. So there is money.")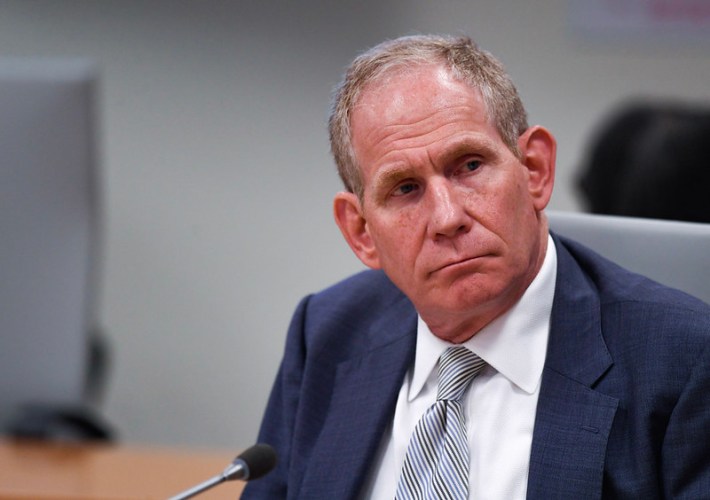 At a press conference on Wednesday, Lieber said he understood that the MTA's troubles cannot be solved with austerity: "It will be counterproductive if we suddenly lay a bunch of people off or cut service or god forbid, [have] fare hikes. That's why we are raising this now and saying to people, we need a discussion."
If the MTA must find ways to get people to take non-work trips on the subway, what if they actually used state money to…improve service?
For instance, the City Comptroller's office has noted that running subway trains and buses every six minutes from 5 a.m. to 10 p.m. every day would cost a few hundred million dollars, not much for an agency with an operating budget in the tens of billions. 
"The subway service is this service that is designed around a vanishing office commute, and that needs to be reimagined for essential workers, and students, and tourists, and people who use transit for non-work purposes," Riders Alliance policy director Danny Pearlstein told us. 
Hell Gate asked Lieber if better overall service was something that the MTA studied as a way to get more butts back in seats, and if he'd ask for money to implement it when they went to the state before the next legislative session in 2023. 
"Where we study is what's happened so far, and what has driven customer behavior so far, what your ask is, what might change that customer behavior and we are going to study all of the things," Lieber responded, touting the new OMNY discounts as one way the MTA is trying to entice people back. He later added that "the perception of safety" is one of the paramount concerns that riders have, in addition to "better service" and "better weekend service."
"Politicians and the media are talking about safety every single day, and it's not surprising to see that reflected in poll results," Pearstein noted. "What they're never talking about is the fact that the level of transit service we have is not a given. It's a policy choice, we can invest and change it."
While the MTA's operating budget projections may be dire, its capital budget is looking brighter thanks to some movement on the congestion pricing front—and here is where we get into some hot goss.
Congestion pricing has been delayed for years for reasons both political and bureaucratic, but on Wednesday, the MTA announced that they had appointed the group of bigwigs whose job it will be to decide how much the tolls are, and who will be exempt from them. The group, called the Traffic Mobility Review Board, is oddly heavy on real estate, including the former head of the Real Estate Board of New York as well as the developer and former MTA board member Scott Rechler. 
The MTA also announced that it had hoped to get a final decision on the environmental review from the U.S. Department of Transportation by the end of 2023. (Asked when drivers will actually begin seeing the tolls, and Lieber initially said "sometimes toward the end of 2023 or the early part of 2024," then later hedged to "probably early 2024.")
This is good news, since the MTA needs the $15 billion in capital funding that congestion pricing must raise every year, by law—unless of course you are 81-year-old MTA board member David Mack.
Mack, one of two board members from Long Island, has fallen asleep during MTA meetings and was recently busted for using an expired parking placard. Last month he had a contretemps with Lieber. Take it away, Newsday: 
Moments before the June 29 board meeting, Mack went to Lieber's office, bursting in on a meeting and demanding to talk to Lieber. In a confrontation shortly after, outside Lieber's office, witnessed by multiple people, Mack demanded an MTA police placard for his car. Mack previously had such a placard, but after a recent controversy involving an MTA executive using an expired placard, the authority reviewed its policies and discontinued the use of placards among board members.

Mack objected to being denied a placard, showing his own police identification cards. And then he raised additional issues, including the notion that Lieber passed over his choice for a new MTA police chief — and that Lieber chose Suffolk County representative Sammy Chu as the new co-chairman of the board's committee that oversees the Long Island Rail Road and Metro-North Railroad. Then, Mack gave Lieber "a warning," raised his middle finger, and "stormed out," one witness said.

"I would describe him as being unhinged and the demands inappropriate," the witness said of Mack.
At Wednesday's board meeting, Mack suggested that the agency didn't need congestion pricing or its $15 billion.
Lieber diplomatically heard him out, and the moment passed.
Then, at a press conference following the board meeting, Lieber's patience was tested again, when he was asked about these tweets from former MTA COO Mario Peloquin:
[Note: After the publication of this story, Peloquin apparently deleted the tweets, which were summarized by a Streetsblog reporter at the press conference: "[T]hat there was some kind of plan that was going to decrease the MTA's costs and really kind of change things around here but people didn't have the backbone or the resilience to make it happen."]
"I'm unaware about that," Lieber said of the alleged "secret" plan to revolutionize the MTA. "And given how much the MTA paid Peloquin for his short stint at the MTA I think he should tell us what that secret plan is that we're unaware of." (That would be $411,000. Plus a $181K golden parachute, for a little over one year's service.)
As to how the MTA could cut costs, Lieber insisted that the agency would be looking for efficiencies, but tread carefully around the suggestion that there should be one crewmember operating subway trains instead of two. The transit workers unions have long insisted that the two-person crew is a safety measure, while critics say that it's unnecessary and wasteful. Some shorter subway trains, like the G and the shuttle, currently operate with one crewmember. "There's no question that, especially in light of the safety issues that we're experiencing, that conductors on longer trains, which we rely on for capacity, especially in the peaks, are of real value," Lieber said. 
One change the MTA was keen to discuss this week was the 5G Wi-Fi expansion to all 418 miles of subway tunnels, as well as the 191 above-ground subway stations and 21 Staten Island Railway stations. These tweaks will take the better part of a decade, so riders still have plenty of time to claim "going through a tunnel sorry" as an excuse to exit an unwanted phone call or text exchange. 
The tunnel Wi-Fi will cost $600 million to install, paid for by Transit Wireless, and the MTA says it will see an upside of $400 million once all the telecom licensing fees are factored in.

Chris is an editor at Hell Gate. He spent a decade working for Gothamist, and his work appears in New York Magazine and Streetsblog NYC.
Read More:
Stay in touch
Sign up for our free newsletter