Morning Spew
It's Thursday and Real New Yorkers Don't Cross a Picket Line to Read the NY Times
A NYT staffer talks about the historic walkout, and some scab-free links to start your day.
9:32 AM EST on December 8, 2022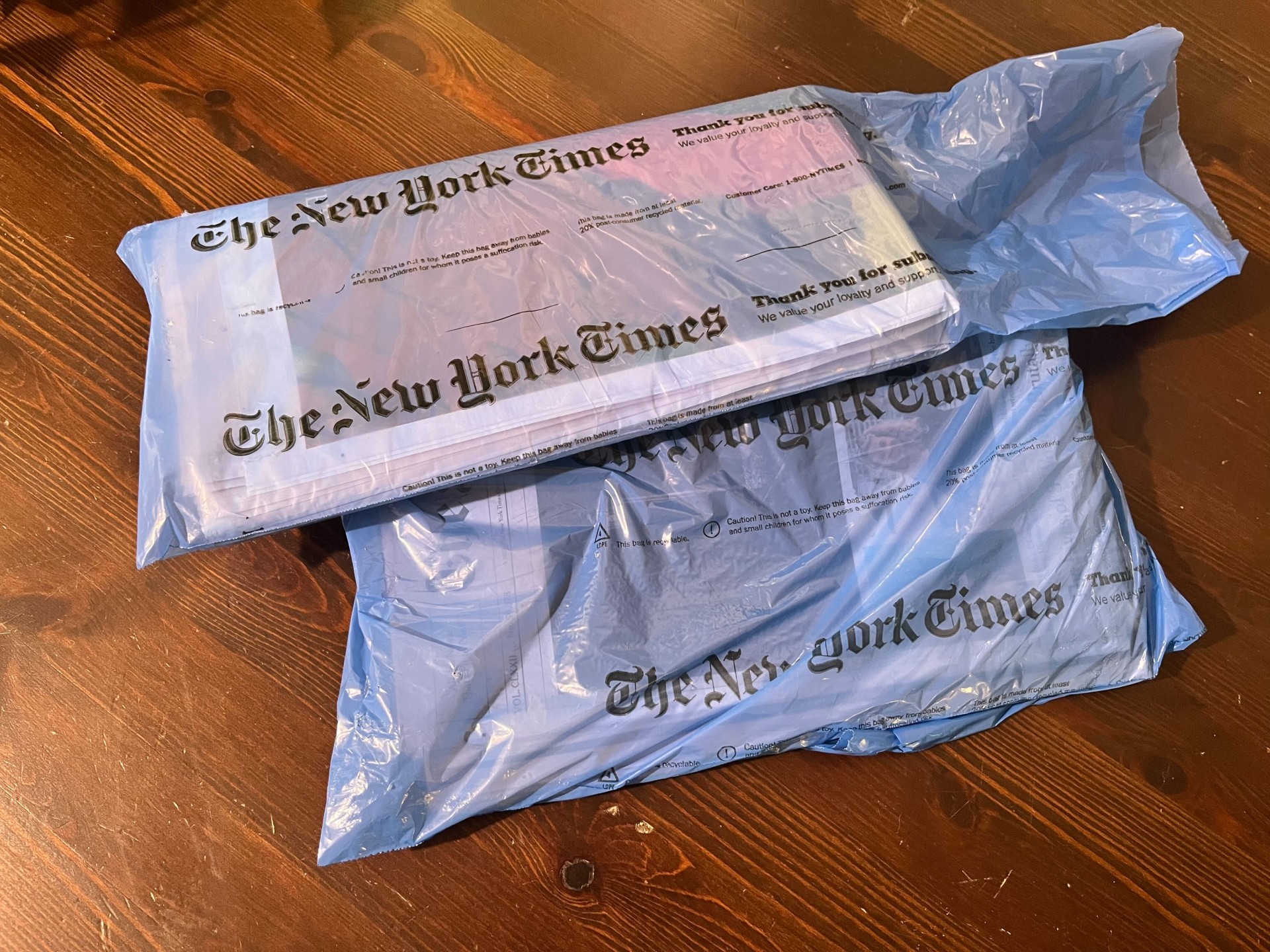 More than 1,000 New York Times employees are staging a one-day walkout today, after contract negotiations between management and the staff union—which have dragged on for more than a year—broke down over management's refusal to meet the union's demands on issues like increasing the salary floor and raising wages to match inflation. As a show of solidarity, the New York Times Guild is calling on people to stage a one-day boycott of all Times products (that includes Wordle, everyone!).
What's led to this point? On Thursday morning, we spoke with the Times reporter Nicholas Bogel-Burroughs about why negotiations broke down and the reality of working at the Gray Lady.
Hell Gate: How did the New York Times union and management get to this point where staff are staging a walkout? What's been happening in the contract negotiations? 
Nicholas Bogel-Burroughs: For a long time, the company has just not been willing to make enough progress on a range of proposals, from wages to healthcare to retirement, and has been putting out company-wide emails that I think are very misleading at times. And I think members have just gotten increasingly frustrated working without a contract for a long time now. 
We're all very lucky to work at the New York Times, I feel incredibly lucky, but seeing people in our company making millions of dollars off of what we're doing, and that the company seems to be doing great, and then feeling like you're getting nickeled and dimed by the company's union negotiators, or lawyers, is just incredibly frustrating. 
I was really proud that a huge percentage of my guild colleagues thought that this was the right thing to do, and thought that we needed to send a message to management. My ideal, and I think almost probably everyone's ideal, was that we'd announce this one-day strike and management would be pissed about it. And then they would also try really hard to reach a deal over the last few days. I was really shocked that there wasn't as much negotiating as I'd expect, and that management wasn't willing to meet earlier than the scheduled negotiation earlier this week. And then they called off negotiations last evening, despite my colleagues being down to keep going.
All that just to say, the ideal is, we would have reached a deal and called this off, because I love my job. And I would love to be reporting today. But that was just so frustrating, that that didn't happen. 
I think a lot of people, especially those who are not in the news media, probably have a sense that working at the New York Times is a cushy gig. What is the reality, though, for you and some of your fellow colleagues, when it comes to things like pay and benefits? 
I'm happy making what I'm making. I literally never expected to make this much money in journalism, period. But when I look at the negotiations, the things that matter to me the most are, we're asking for a salary floor for all New York Times employees, of $65,000. Which, in New York, is still not the easiest amount to make life work on. People in the company are making way, way less than that right now. It's not reporters, but it's employees. And it's been so frustrating for me to watch negotiations and get updates and see management not willing to get up to that $65,000 number. I mean, when the CEO is making more than $5 million a year, I don't personally understand how you could know that you're running a company where people are struggling to make do on a $50,000 salary or less. To me, it's actually incomprehensible how you could run a company, make millions of dollars, and know that you are putting people in that position. That, to me, is absolutely the number one issue over everything else, and certainly more than over my own wage or anything like that.
I've always loved the New York Times to some extent, but it's the kind of thing that just makes you so demoralized, to work for a place that does that. 
You mentioned earlier that management has issued misleading communications. Can you give an example of one?
So for example, when we've been negotiating back and forth on raises, management will send an email, company wide, that says that they've offered a certain percentage raise. And it'll be hard to understand that the percentage is over three years, they'll phrase it in a way that makes it sound like you're getting a huge percentage raise the next year, or every year, and it's actually a percentage that you'd end up making more over the next five years or three years.
Or even worse, in my opinion, they would include in the wage increase discretionary bonuses that you just might not get. So it's like, "We're offering this to all employees, you'd make this much more, why isn't the union accepting this deal?"
They also just leave out a lot of context that's not beneficial to them, like the fact that we've been working without a contract for two years. 
The Times is such an interesting media company. There's the joke, fair or not, that the Times is a cooking and games company with some journalism thrown in these days. 
Does it feel like the current negotiations and the union battle are a part of that larger struggle in the company about its future, and what it will focus on? 
I think what I would say to that is, yeah, you have the company branching out into all of these areas like cooking and games that are incredibly popular, that sell a lot of subscriptions, that they always are kind of shouting about. And then when it comes time to help the people who are actually creating these things, and are really building all the things that the company is always bragging about? Then the company starts saying, "Oh, you know, we're not really sure about how the next few years are gonna go, the company's kind of in a precarious position." And it's like, well, wait a second, weren't you just bragging about making millions of dollars in profit last quarter? It's just telling two different stories. When it benefits them, the company is doing awesome, we're the lone media company doing great. And then when it comes time to actually give the rewards of that success back to the people who created it, they pretend the company's in a dire situation. 
I saw that Nikole Hannah-Jones is speaking at y'all's rally later this afternoon. She is part of the union. I'm curious about people like Michael Barbaro, or some of the other splashy names at the Times that they like to lift up and promote. What's their role been in the union? [Ed. note: Barbaro is not in the guild anymore. Huh!]
Yeah, no, I just can't go there. That's a good one. I actually genuinely don't know.
To be honest, that is pretty precarious, to get into that kind of stuff. 
I had to ask. 
Of course. I laughed when you started asking that, but I mean, that was a good one. 
Let's say management refuses to budge. Has the union talked about ways to keep the pressure up?
I think the guild will absolutely keep the pressure up. What we realized earlier this week, disappointingly, was that management felt they could just kind of eat this one day loss, that they could just work editors who are not in the guild, and the few writers who are not in the guild, really hard today and make their lives hell and get through today. What I had, maybe naively, thought they would do is come to the table and work really hard to make a deal until midnight last night. And they didn't do that. 
I think the biggest message that's been sent here is, it's not just a few people in the guild who are really active, who are wanting to get this message across. It's the vast majority of guild members who are pissed and are willing to not work for a day, and also not get paid, to send this message to management. And I bet it's a big wake up call for management, of "oh, who has the newsroom?" It's not management, it's the guild, 100 percent. They probably are realizing that more than ever. 
—Esther Wang
Here are some links to keep you from crossing a picket line:
Harlem, specifically 248 West 125th Street, will be the site of New York's first legal retail cannabis dispensary. The state continues to drag its ass and will almost certainly not reach their goal of opening 20 dispensaries before 2023.
Speaking of the machinations of the state legislature: this year's legislative session is set to end on June 8, weeks before it has traditionally ended. Nice work if you can get it.
Attorney General Letitia James went on NY1 to answer allegations that she slow-walked and shielded an investigation into her longtime chief of staff for sexual harassment, who has since resigned. "I understand the appearance...Rarely do we comment on an investigation. We won't want to compromise the investigation," James said. Sofia Quintanar, the staffer who accused Ibrahim Khan of sticking his tongue down her throat outside a bar in Brooklyn last this year, told the Times it was "appalling to see how the office handled this publicly." To that, James replied, "I believe the individual in question. I took her allegation very seriously."
Professional basketball star Brittney Griner, whose imprisonment in Russia was part of the fallout of the war in Ukraine, is coming home in exchange for Russian arms dealer Viktor Bout, "the merchant of death."
Rep. Ritchie Torres no longer living that HODL life???
Congratulations to the New West Village News!
Councilmember Tiffany Cabán has introduced a bill that would prevent many employers from firing employees without just cause.
On Thursday, Mayor Eric Adams will release a proposal to make 111 (???) housing reforms that will largely benefit developers by "cutting red tape," etc. Some of them will need City Council approval.
Yes, buses should be free! SET THE BUSES FREE! (But first: get those fucking assholes out of the motherfucking bus lanes!)

Lastly, you really have to hand it to Ginni Thomas. All those Facebook posts are finally paying off:
Stay in touch
Sign up for our free newsletter