Fresh Hell
What Do Chinatown Residents Think of 'Dimes Square'?
There's one essential component missing from the recent coverage of NYC's hottest neighborhood.
1:01 PM EDT on May 26, 2022
Do you know where Dimes Square is? Do you even care? For a long time, I didn't, until I belatedly realized that Dimes Square, which—physically, at least, is a modest, somewhat shabby concrete triangle at Canal and Division—is in Chinatown.
You might not know that though if you read some of the breathless writing about the characters that populate this new micro-neighborhood. Former New York Times columnist Ben Smith and Interview magazine referred to the area as "Lower Manhattan." GQ called it the "Lower East Side." A recent story in Curbed nods to some of the Chinese-owned stores in the neighborhood, but neglects to mention the word "Chinatown" even once.
But even the pieces that note that Dimes Square is in a neighborhood full of Chinese immigrants, like this exhausting Baffler screed that kicked off the latest round of handwringing over the existence and meaning of Dimes Square, fail to actually ask any of those residents what they make of this strange convergence of capital and cheese plates and ennui that people can't stop talking about, often against their will.
So recently when I found myself in Chinatown eating a sesame pancake with beef, mere steps away from Dimes Square, I decided to ask some of the Chinese immigrants who own businesses in the area what they've observed in recent years. Dimes Square? (Or "Ten Cent Plaza," as I clumsily translated it into Mandarin?) Never heard of it! But, they told me, the vibes have definitely shifted.
The interviews have been translated from Mandarin and lightly edited and condensed for clarity.
Ms. Tan, the owner, along with her husband, of Star Hair Salon on Canal Street, right next to Dimes:
I know that next door is called Dimes restaurant. But I've never heard of "Dimes Square," or maybe I have heard it in English, but not in Chinese. But Dimes, it used to be a Chinese store. Dimes was the first non-Chinese store that opened close by. I know business has been good, a lot of young, non-Chinese people come here, and then there's more and more bars. I guess it uses their name.
It's changed a lot during the pandemic. It does seem that non-Chinese young people really like it here. I feel like it's gentrification. Poor people don't have anywhere to go. I opened this store about 15 years ago. The pandemic has really impacted business, but we're old. We're not going to be open for that much longer. We're going to retire soon, so I don't feel too strongly about it.
On Saturdays, Sundays, the street closes at noon. During the week, it closes at 4 p.m. It's probably good for the bars, but for businesses like ours, the impact is bigger, because people driving from other places can't get in.
Public safety keeps on getting worse. The business next door, they've been robbed twice recently. It's really terrible. I think they don't want to stay open anymore. I feel a little scared now, so I keep the door locked. The environment isn't good for everyday people's businesses anymore.
Out with the old, in with the new. Richer people have moved in because they can afford it. For us common people, our rent is always going up, there's a lot of pressure. But the character of the street has changed. I bet once we close, it'll be a non-Chinese person who opens up here. This will continue to happen, there's nothing to be done. This is how the wheel of this era is turning, right?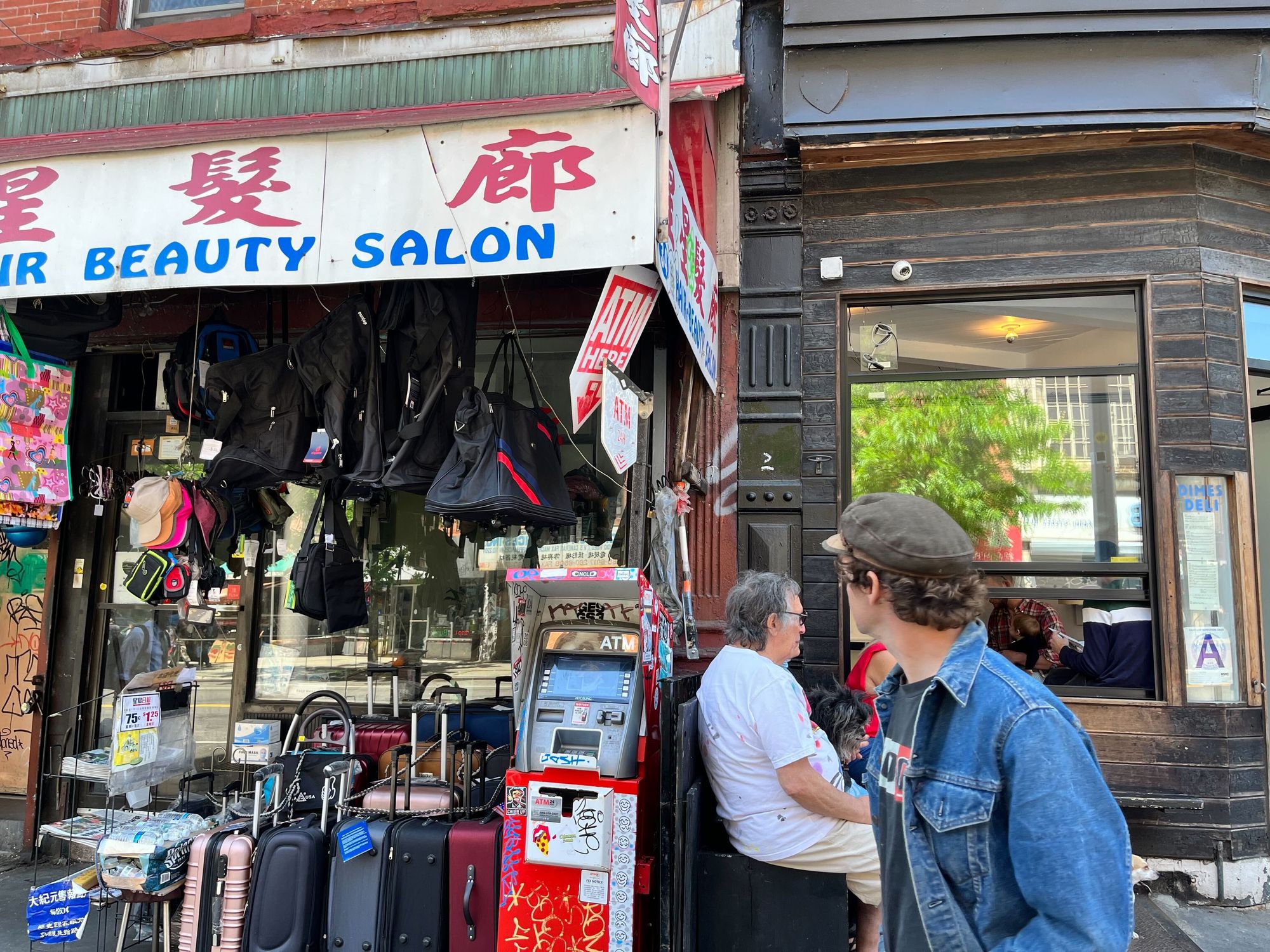 Sharon Lin, the owner of Wedding Banquet Liquor Store:
On the street, there's a lot more white and non-Chinese young people. This has been good for stores like ours. We have more customers who are young, who look like they have jobs. But it hasn't changed too much. There are more liquor stores in the neighborhood now, so there's more competition.
I've never heard of that [Dimes Square]. We've been here since 1999. Before, there wasn't this little park. Before, there were more Chinese-owned stores, but they've mostly left, and non-Chinese stores came in. This has impacted our rent, which has become more expensive. Our rent has gone up every year. I think other stores left because their rent went up.
[We were interrupted by the woman who recently opened the fancy bar next door, wearing big earrings shaped like bananas, who asked for the key to the building to find some Amazon packages.]
But in the past two years, public safety hasn't been that good and we're more nervous. We used to call the police when we had customers make trouble and they used to come immediately. Now, we call the police and we have to wait a long time, and when they come, it's not that helpful. I think after the Black Lives Matter movement, people don't really respect the police.
[We were interrupted by a scenester customer wearing a black cowboy hat who bought two small bottles of Fireball cinnamon whiskey.]
We have seen more of those stylish young people. But we still have customers who are homeless, or poorer.
Helen Chen, the owner of Shan Fu grocery store at Canal and Essex (yes, the one with the enormous snowman every winter):
I've never heard of it [Dimes Square]. I've seen more bars open. Right now, the area has changed a lot. This part of Canal Street, Essex Street, it's now all white people, non-Asian people. Chinese people have moved out so many of the Chinese stores have closed. The new stores are all bars, non-Asian coffee shops and bakeries, filling up the street. So this part of the neighborhood is all like that now.
It's been good for our business, because our store sells a lot of products that white people, non-Chinese people, like, like certain beverages.
On the weekends, there are a lot of people drinking. It's really busy during the weekends. It didn't used to be so busy. I don't see too many drunk people, but I definitely hear stories about people making trouble.

Prior to Hell Gate, Esther was a senior politics reporter at Jezebel and a columnist for the New Republic.
Stay in touch
Sign up for our free newsletter