City of Immigrants
Corona Plaza Vendors Still Can't Work Weeks After Sweep, But Help Might Be on the Way
A long-simmering DOT plan to legalize the market might not come for months, leaving unlicensed vendors in limbo.
3:23 PM EDT on August 18, 2023
On a hot August day earlier this week, a small group of street vendors lingered in the shade of a tree's canopy in Corona Plaza, clutching clipboards and pens and handing out flyers. For three weeks, the vendors had been unable and afraid to return to work, after a Department of Sanitation sweep, first reported on by Hell Gate, cleared the Queens plaza of the dozens of vendors who had been working informally without permits at the plaza for years. 
The vendors were camped out in the shade to gather signatures from community members to call for the immediate return of the full market and the end of enforcement sweeps. During the COVID-19 pandemic, the plaza had become a space for people to make some money to support their families, and an inexpensive place for the community to do shopping. On top of that, the plaza had become a world-class dining destination, drawing the attention of the global food scene. But the market had also become a point of contention—with critics saying it was dirty and became unruly at night. 
Flor Caballero, who immigrated to the United States from Mexico eight years ago, was one of the vendors itching to get back to work selling clothing, but she was wary of the possibility of yet another crackdown. "Before the pandemic, I was working legally, but sadly, once the pandemic hit, I was then looking for work to survive. Restaurants were closed, I looked for a place to vend, to help my family, and I've been here for three years," Caballero said, who had been unable to vend for 21 days when we spoke.
Even before the raid, vendors like Caballero worried how long the situation was meant to last—the local councilmember, Francisco Moya, had been antagonistic toward the market, claiming it drew business away from local, licensed businesses, and contributed to trash issues in the area. Meanwhile, vendors had for years been decrying how the City's long-stalled plans to open up more licenses to food vendors left them operating illegally with no ability to go legit.
"We're not asking for much beyond just the respect that we're owed. We keep this place clean, we work hard," Caballero told Hell Gate in Spanish, while collecting signatures on Corona Plaza. "They're telling us there's no licenses for us, we're not allowed to vend. How are we supposed to work? You tell us! You give us licenses, we're ready to work, pay taxes, no problem." 
The unexpected and sudden sweep, which occurred shortly after Mayor Adams visited the area in response to complaints and promised to "respond to the community and rectify the issues," came at a time when the Department of Transportation, which has jurisdiction over Corona Plaza, had already been working for months with vendors, community members, and local nonprofits to come up with a plan to formalize the market without the need for a massive sweep. In recent months, vendors had formed an alliance, the Asociación de Vendedores Ambulantes de Corona Plaza, to help address issues at the plaza. 
The resulting idea, based on the successful Bronx Night Market in Fordham Plaza, would be to issue a request for proposals to allow a local for-profit or nonprofit group to start managing the market, who would then work with vendors to sell in the plaza, without having to get a vending permit from the City. Vendors would have to abide by certain rules and pass health training courses, which many vendors at the plaza have already done in preparation to apply for legal vending licenses. 
The process, which was started before the Sanitation Department sweep, would take months, but it would be a way for people who desperately need the work, to finally get back on the plaza without the constant threat of an enforcement sweep. According to a DOT spokesperson, the agency is still planning to issue an RFP for the management of the market either later this summer or in the fall. 
But as a result of the sweep, the DOT and local officials who support the vendors have found themselves in a tough spot—they want to help provide relief to affected vendors—but that process might take months. At the same time, the sweep has broken trust with some vendors, and heightened tensions surrounding the plaza.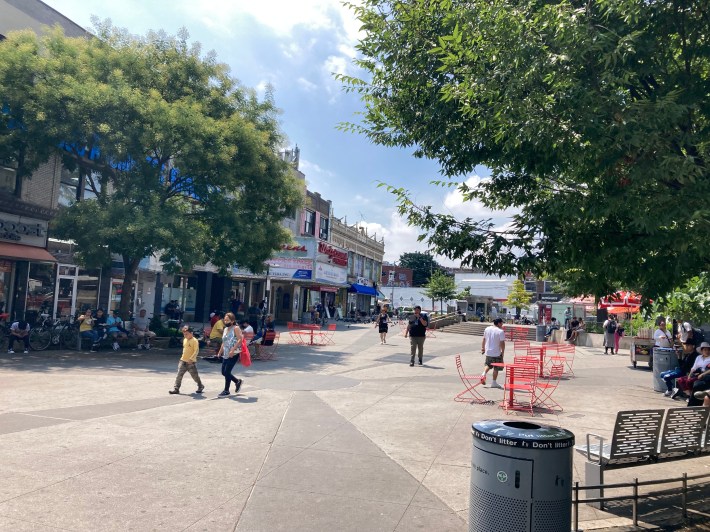 It's unclear if and when vendors will be able to return to Corona Plaza. But in conversations with Hell Gate, many of the neighborhood's elected officials are clear on who to blame, pointing  the finger at Coucilmember Moya as the driving force behind the sweep, and saying he has worked to inflame tensions against the unlicensed vendors.
"Instead of figuring out how we address a problem that has been building for literally decades, they swept up people's dreams, livelihoods, and now we have a dire situation," said Corona Assemblymember Catalina Cruz. "The local councilmember has done such a fantastic job of raising hell with neighbors who don't like these vendors, that it's become a xenophobic, hateful issue. People telling vendors, 'Why don't you wait in line?' Where else have you heard that?"
Moya did not respond to a request for comment from Hell Gate. 
Cruz said she has personally been the target of hateful rhetoric from people opposed to the vendors. 
"They have created division in a community that for a very long time was united," Cruz told Hell Gate. "These are the same vendors who were providing food to the few workers who still had jobs during the pandemic. Back then, they were heroes. But now that we need a solution for them? We're turning our back on them. This councilmember, who has been in elected office for over a decade, has done nothing besides raise a complaint, call the mayor, and have the mayor sweep. Where were the solutions?"
Earlier this month, advocacy groups alleged that an NYPD officer helped coordinate a post-sweep protest against the unlicensed vendors, with the goal of disrupting a food giveaway planned by the vendors. Many of those anti-vendor protestors had been at a rally held by Moya after the sweep. 
This week, local politicians (excluding Moya) held a meeting with Queens Borough President Donovan Richards and representatives from City Hall, to help navigate a path forward for vendors. 
"We've had several meetings and the last one with the Adams administration has been very productive," Cruz told Hell Gate. "The Adams administration has been willing to have serious conversations about how to resolve this and that there will be a prompt resolution." 
Whether that's the issuing of the DOT's RFP, or something else, for now, vendors like Caballero are still unable to work. To Caballero, the sweep was misdirected, given that it targeted people who were just trying to help the community get through a difficult time. 
"I want the mayor to listen to me," she told Hell Gate. "Are the street vendors to blame for beers on tables? For women on the street? No! How could we be? We're asking for permission. This is a sad moment, but we're going to fight together, for our rights. We want to be able to sell." 
Max Rivlin-Nadler is a co-publisher of Hell Gate. He's reported for Gothamist, The New York Times, Village Voice and NPR. You can find him walking his dog, Stiva, or surfing in the Rockaways.
Stay in touch
Sign up for our free newsletter