What's Your Deal
NYC's New 5G Monolith Is 'Bridging the Digital Divide' With Free Wi-Fi For Exactly One Bronx Block
"The mayor is gonna come out here and say oh, we're giving you Wi-Fi? You walk away half a block and it's gone."
12:31 PM EDT on July 27, 2022
New York City's inaugural Link5G tower, located in the Bronx, is one of those incongruous pieces of infrastructure that looks like an architectural rendering even when you're standing in front of it and contemplating it from up close: A gleaming, space-age looking thing, its bulbous head rises 32 feet in the air, far exceeding the height of the Bravo supermarket and bodega in front of which it was plopped. 
The result of a new public-private partnership (Link5G) that is distinct but related to a previous disaster of a public-private partnership (LinkNYC), this flagship tower will soon be replicated across the city, according to officials; 2,000 will be built across the five boroughs by 2026, with 90 percent in the outer boroughs and above 96th Street to avoid the bad optics associated with the previous program. 
Despite its promise to bring free digital resources to low-income New Yorkers, LinkNYC mostly bled money, building a series of advertising kiosks in tourism-heavy areas or places where Manhattanites hang out. This program, by contrast, will ostensibly usher low-income neighborhoods out of the dark ages with free phone calls and charging ports, along with 5G and fiber networks through which corporate telecoms companies will offer their services for a fee. The biggest promise, however, is "free, super-fast Wi-Fi."
Earlier this month, Mayor Eric Adams held a press conference in front of "this amazing tower" to officially launch the program. Link5G, said Matthew Fraser, the City's chief technology officer, had the "potential to lift the entire neighborhood and communities that have languished in digital desserts"; elected officials spoke about how the "largest public free Wi-Fi system in the United States" could have alleviated the burdens of New Yorkers who, through the pandemic, were unable to complete school assignments or visit a doctor online. 
"These digital oases have existed for far too long, and we need to zero in and be intentional as we focus to get the equity that we need. Long-range plan, that is what we want to accomplish," Adams said at the unveiling of the tower. (Presumably, Adams meant "digital deserts.") "And when it comes to digital services, we know that too many are left behind and this administration is committed to ensuring that all New Yorkers have access."
Gesturing to the bodega in front of the tower, the CEO of wireless technologies at CityBridge, the consortium of private companies that manage the Link programs, said, "If you're here at the New Andrews Deli Grocery," or "in any of these apartments overlooking us here today, you're going to be able to get free Wi-Fi." 
On a recent mercifully cool afternoon, I traveled from Brooklyn to test New York's frictionless technological future. The guy working the counter at New Andrews shrugged and said it was a "nice thing for people if they want it" but it's not like he's using it, as he has Wi-Fi already installed. A man named Eddie who lives on the block was a little less charitable. "The mayor is gonna come out here and say, 'Oh, we're giving you Wi-Fi?' You walk away half a block and it's gone."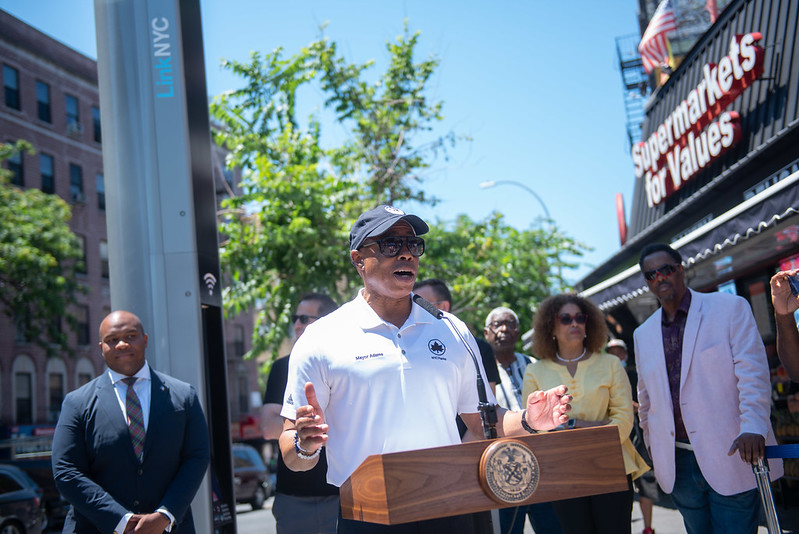 The mission to convert New York City's pay phones into beacons of a connected future is now in its third mayoral administration; originally a Bloomberg-era initiative, the Link program has pivoted endlessly as the City has attempted to turn a rather dystopic "smart cities" prototype into anything but a money pit. The original concept, backed by investment from Google's Sidewalk Labs and a shifting consortium of advertising, technology, and design firms operating under the name CityBridge, was the kind of panoptical ad-supported platform favored by technologists who hawk data gluttony as a civic good.
The original LinkNYC kiosks, described by WNYC as looking like "fancy mall directories," rolled out in 2016. They planned to hoover up "anonymized and aggregated" browsing data from Wi-Fi users to support targeted ads; they also, as one researcher found, contained code that would allow the slabs to track New Yorkers' movements—which makes sense, considering that internal documents from Sidewalk Labs later proposed selling versions of the kiosks that monitored traffic, listened to street noise, and used the slab's built-in cameras to identify abandoned packages. 
But the loftiest parts of the techno-utopian smart cities initiative were scrapped or never deployed; privacy advocates successfully challenged some of LinkNYC's data-collection policies, and a program described by Bill de Blasio as a way to level the digital playing field ended up providing free internet to about ten percent of the city's streets. The vast majority of the 1,800 LinkNYC kiosks were built in Manhattan. Shortly after the program's launch, LinkNYC even removed the option to browse the web on the tablets—in an entirely foreseeable turn of events, New Yorkers were using them to watch porn. 
Now, eight years into the program, the kiosks are being rebooted, essentially, as monolithic 5G towers capable of calling the cops and surveilling city streets. (Recently, the City's chief technology officer helpfully clarified the cameras in the new towers are active "periodically … not on 24/7.") It's an odd turn of events considering the fantastic failure of the program's first iteration. Thanks to either mismanagement or plummeting ad revenues once LinkNYC promised not to track users' browsing history—or possibly, a combination of both—the program went broke. Just short of 2,000 kiosks were built out of the 4,500 promised by mid-2019; nearly 50 were installed and never turned on. A 2021 audit by the state comptroller found officials had failed to collect nearly $70 million in revenues they'd been promised through the franchise agreement with CityBridge. Just weeks before the pandemic shut New York down, then-Department of Information Technology and Telecommunications head Jessica Tisch told the New York City Council she had "no patience" for CityBridge; the City's general council weighed taking legal action based on how flagrantly the consortium had defaulted on its original deal.
Despite all this, the City signed an amended contract with CityBridge last year, which promised a much smaller payout of $3 million. ZenFi, a digital infrastructure company, invested $200 million and partnered with CityBridge to design the monolithic new poles. Additional revenue is projected to come from renting the 5G towers to providers like Verizon and AT&T. One way to look at all of this is that the connectivity issues of the pandemic spurred officials to save the program; another, less charitable theory, is that the second LinkNYC started ripping out pay phones and replacing them with Wi-Fi hotspots spouting cheery facts about New York, it was too late to go back. With thousands of kiosks across the city in various states of functionality, there's an obvious incentive to let LinkNYC fail forever up.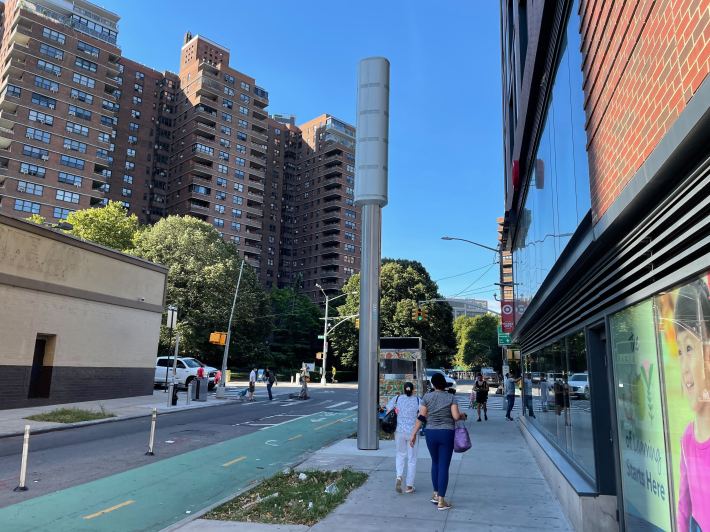 When I visited the tower in the Bronx, an engineer from ComTek, one of the companies manufacturing the unseemly poles, was running what he said were diagnostic tests. The Wi-Fi provided by the towers, he told me, would be available for "a few blocks." Residents of all the buildings surrounding the tower, he said, could access the free public internet; so could the public school across the street. I did a few speed tests around the tower. Outside the school, the Wi-Fi was rated as "fast," downloading at 13.1 megabits per second, albeit in direct sight of the tower; across the street from the monolith, on a restaurant patio, it was also quite good. 
But the radius of the free Wi-Fi proposed as part of the solution to New York City's digital divide certainly didn't span a few blocks. Around halfway down the next block, it petered out. The true use for the towers is the 5G connectivity and fiber infrastructure for which New Yorkers will have to pay—the AT&T contracts that will get them 5G on their phones, or the fiber internet they'll be able to buy with the new infrastructure Link5G provides. And, one would imagine, the towers will also be used to comply with the NYPD's information requests. (In an emailed statement, a spokesperson for City Hall said Mayor Adams was "proud of the crucial services LinkNYC is providing," writing that 11.5 million people had used the program's Wi-Fi at "no cost to taxpayers" and reiterating the promise to build 90 percent of the new kiosks in under-served areas.)*
Eddie, who lives on the block where the tower was built, has been in the Bronx since the '70s. On the afternoon I made my pilgrimage to the only functional Link5G in New York, he was hanging outside his apartment with his pet turtle, placed in a clear plastic tub so the turtle could watch passersby. (The turtle, which did not have a name, kept attempting to escape Eddie's basement apartment; he assumed it would be happier if it got some sun.) Eddie was dismissive of the silver spindle that had gone up in his neighborhood. He's still paying for internet, obviously, so it didn't help him out much. Eddie works as a super for four buildings and lives in this one so he "doesn't have to pay, you know, $2,000 in rent." He gave me a laundry list of things he wanted more than a 5G tower in his neighborhood: cheaper places to live, less expensive food, a living wage. 
*This post has been updated with a comment from City Hall.
Molly is a writer and occasional editor covering crime, labor, and the American health care system.
Stay in touch
Sign up for our free newsletter