Correct Opinions
Citi Bike Is Amazing. Citibank Should Pay For Every New Yorker's Membership
If our beloved bike share program is going to double as wildly successful bank advertising, we should make that bank pay what it's actually worth.
12:13 PM EDT on April 26, 2023
Early last year, after moving back to New York from London, I got a Citi Bike membership. It was supposed to be a temporary thing while I waited for my own bike to be shipped over with the rest of my stuff. Instead, I fell in love. The manner in which the Citi Bikes helped me stitch over the holes in my public transport commutes was revelatory. Their sturdy frames meant that rolling over semi-flattened rat carcasses was a breeze. And when I rode over the Manhattan Bridge at dusk on one of the powerful new gray e-bikes, I could almost imagine I was in a future, better New York.
I'm not alone. Citi Bike ridership spiked during the pandemic, making the world's most successful bike share program even more popular. The system saw 30.5 million rides in 2022, which Streetsblog pointed out is "more than the public transit systems of many American cities." So far in 2023, per Curbed, the program has seen "a 33 percent year-over-year increase in ridership." 
Currently, a year-long Citi Bike membership with unlimited rides costs $205, though residents of New York City public housing are eligible for a discount to $60. Not bad. 
But what I would like to suggest instead, is that every New York City resident should get an annual Citi Bike membership for zero dollars, and that Citibank should pay for it. 
Why? Because they can afford it, and because it will make the city much better. If our beloved bike share program is going to double as wildly successful bank advertising, we should make that bank cough up what it's actually worth.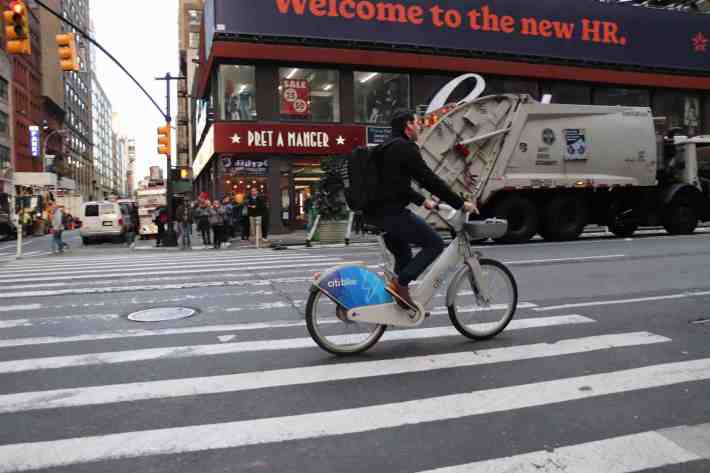 While Citi Bike is operated by the ride sharing company Lyft, Citibank has been the title sponsor since its inception in 2013, investing an initial outlay of $41 million for the first five years. At the time, the bank was still widely loathed for its part in the 2008 banking crisis, a role for which it would eventually pay out billions to settle widespread financial fraud investigations. The bank needed some good press right when Mayor Bloomberg was announcing the launch of the program. They got much more.
In his 2017 book "The End Of Advertising," the former big-time ad man Andrew Essex calls Citi Bike "perhaps the greatest advertising campaign of all time." And by letting Citibank gloat about it, Essex got some rare insight into the efficacy of the program. 
Michelle Peluso was the bank's chief marketing officer when the sponsorship began. "Some people decided it was low-brow," Peluso told Essex. "After all, we were an aspirational brand and biking is, you know, not." But soon after debuting thousands of bikes with Citibank's Pantone 286C blue, the bank realized it had stumbled into a marketing coup. According to Citibank's internal data, the years after the launch of the Citi Bike program directly correlated with a spike in favorable impressions of the bank. Citibank exec Edward Skyler called the bikes "roaming billboards" and bragged that "not only did we get brand uplift in New York, we got it globally. Municipalities all over the world studied it."
Along with the initial $41 million, Citibank has committed "up to" an additional $70.5 million through 2024. That comes out to a little over $111 million, or roughly $10 million a year over the program's existence. For comparison, Citi pays $20 million a year for the rights to Citi Field, and that's just regular signage on a stadium where men play the world's most boring sport. In February 2023, Citi Bike riders took ​​over 1.5 million trips covering over two million miles. All those billboards, roaming constantly, for just $10 million! They've also literally inserted a bank's name into the mouths and lives of countless New Yorkers and tourists. It's in the lexicon! How much is that worth? Citibank is getting an incredible deal, and surely they know it. 
Citibank still has many sins to atone for, from your basic gouging customers with fees all the way up to convincing the U.S. to invade Haiti. Public Advocate Jumaane Williams has recently called for Citi Field to drop the bank's name in protest over Citibank's role in the climate crisis. In a press release, Williams noted that Citibank has invested $285 billion in fossil fuels between 2016 and 2021 and "is the biggest coal funder outside of China" and "the biggest investor in fossil fuel projects in the Amazon." With every ride we take, we help them sweep away all the ugly truths.
So how much would it cost Citibank to pay for annual memberships for New Yorkers? Per Citi Bike's March 2023 operating report, there are about 141,000 annual members. Assuming those are all members paying $205 a year, that's about $29 million a year. It's easy to imagine a scenario where that number doubles to a future 300,000 riders, which would net about $61.5 million. That's a lot of money, in the normal sense of the word "money." But Citibank's 2023 first-quarter earnings were $4.6 billion—a "bumper profit" tied to industry-wide chaos.
And while it's true that more memberships would put more wear and tear on Citi Bike's already-strained system, a massive explosion in new users could nudge the City to help Lyft install more docks outside of Manhattan and Brooklyn, and finally force Eric Adams to live up to his broken campaign promise to provide municipal funding for Citi Bike. A world where Citi Bike doubles or triples its membership is a world with fewer car trips, safer streets, and cleaner air.
Citi Bike is a real success, a true public good. It's also a bank propaganda program. With Lyft in financial trouble, and Citibank's sponsorship deal up for renewal in 2024, now's the perfect time to squeeze a little more out of one of the world's most powerful financial institutions. To my friends at Citibank: If we're going to be biking around helping you whitewash your ill-gotten gains, the least you can do is pay for the fucking bikes. 
(Top photo credit: Danny Kim / Flickr)
Stay in touch
Sign up for our free newsletter