Going Places
Citi Bike Randomly Bans Rider For Life, Blames 'Glitch'
The rider was left with no way to appeal the ban, which the company told him was "final."
1:16 PM EDT on May 17, 2023
Michael DeGeorge isn't a hardcore Citi Bike rider, but the 32-year-old Astoria resident finds it helpful to get around town on beautiful days—and especially during the (frequent) weekends when the N train isn't running into Manhattan. 
On a bucolic Saturday earlier this month, DeGeorge was planning to take a ride to see his friend on the Upper East Side, and with the train not really running, it seemed like the perfect time to pedal over the Queensboro Bridge. 
"I was sort of fantasizing about this lovely ride I'd have with the wind blowing in my hair and everything," DeGeorge said. 
But when he went to take out a bike, his Citi Bike app said that his account "was on hold." 
"I just assumed it was some sort of mistake or something," he told Hell Gate. 
After DeGeorge reached out to Citi Bike, which is run by the company Lyft, he was told that his account was no longer on hold—it was now terminated.
"And after a bit of back and forth, they told me in this, like, really resolute tone that my account had been 'permanently deactivated,' and they just made reference to a vague violation of the terms of service," he said. "They told me this decision was final, but they still hadn't even said what this alleged violation was."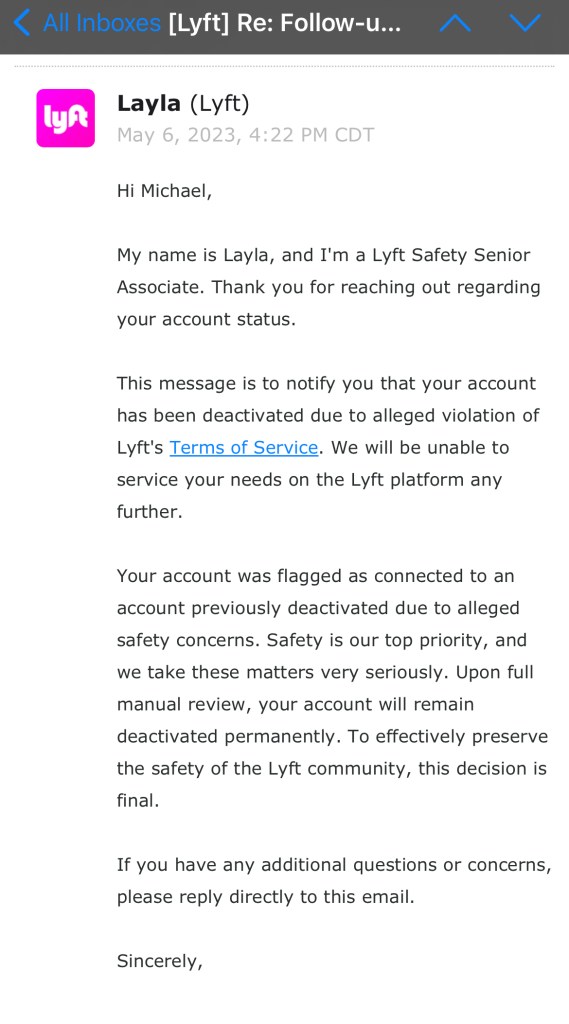 And so began DeGeorge's journey to try to get his Citi Bike access restored.
First, DeGeorge contacted the office of his councilmember, Tiffany Cabán. A staff member offered to look into the issue, he said, but ultimately concluded there wasn't much they could do: As Citi Bike is a private company, the council doesn't have oversight over how it is managed.
"He explained that while of course Citi Bike has a relationship with the City, and the Department of Transportation is able to dictate where Citi Bike can set up bike racks and that sort of thing, they don't have any jurisdiction over how Citi Bike runs its app and how it manages memberships," DeGeorge said. 
Eventually, after Cabán's office reached out to Lyft, the company got back in touch with DeGeorge. It was permanently deactivating his account, because of an "alleged assault."
"The original account was deactivated due to alleged physical assault," a Lyft employee wrote. "This decision is final. I can imagine this must be extremely frustrating and disappointing news. I'm so sorry, Michael."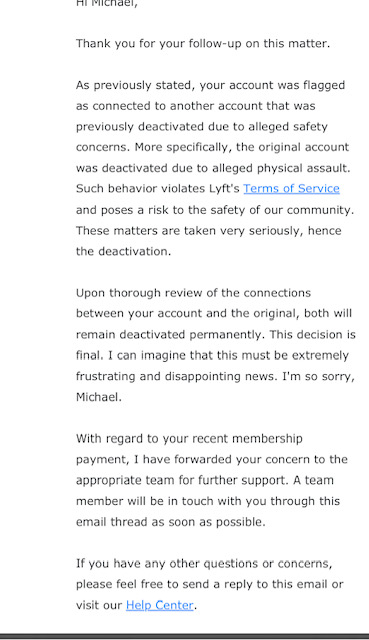 DeGeorge was confused. 
"To try and give you a sense of how untrue it is, I'll just say that I'm a gay guy whose top track on Spotify right now is a lesser-known Peggy Lee song," he told Hell Gate. "I am also pathologically conflict-averse. I have never been in a physical altercation in my life."
On Tuesday evening, without any notification from Lyft, DeGeorge found that his Citi Bike membership was active once again, after Cabán's office inquired further with Lyft about the deactivation. 
In response to an inquiry from Hell Gate, Lyft told us on Wednesday morning that the deactivation was caused by a "glitch," one that they don't believe has impacted any other Citi Bike users. 
"We strive to provide our Citi Bike riders with a world-class, frictionless end-to-end experience, and have a team dedicated to customer service. Mr. DeGeorge's account was affected by a hard to identify glitch in our back end," said Jordan Levine, a spokesperson for Citi Bike at Lyft. "As soon as our review figured out the problem, we immediately restored his account and have extended his membership by two months to account for our delay in resolving the matter."
While deactivations for Citi Bike riders may be rare (and Hell Gate is unaware of any other rider this has happened to), deactivations for Lyft's rideshare business have been a recurring complaint by drivers. 
Citi Bike's future in New York City, and the oversight of its service, is currently a matter of contention, as the bike-share system slowly expands into the outerboroughs and continues to break ridership records. At the same time, its operator, Lyft, is facing economic headwinds—with investors blaming Lyft's expansion into the bike-share market as a drag on its profitability. 
"Citi Bike is a safe, reasonably affordable way for New Yorkers to get around," said Brooklyn Councilmember Lincoln Restler, who's taken more than 3,500 trips on Citi Bikes, and sits on the City Council's Transportation Committee. "That being said, there's a need for greater oversight and accountability for the way that Lyft operates. I hope there's some committee meetings in the future about how to make Citi Bike a better partner for the city of New York."
Restler thinks a more formal appeal process for membership disputes would help bike riders navigate a system that's supposed to be open to all members of the public. 
"Citi Bike is not an independent actor, they operate with the permission of the Department of Transportation that provides them with a monopoly on bike share in the city. As a result, there needs to be fair and transparent rules that govern the use of Citi Bike, allowing for people to appeal issues like this as they arise," Restler said. "And users are not forced to go to their elected officials like this."
This year, Citi Bike raised fees for riders to help fund its expansion into more neighborhoods; meanwhile, Mayor Eric Adams has yet to follow through on a campaign promise to start publicly funding the program, which, outside of resources like curb or sidewalk space, receives no public funding. (Meanwhile, NYC Ferry has gotten hundreds of millions of public dollars since its inception, even with a much smaller ridership.) Restler said the City would have to receive certain conditions in exchange from Citi Bike, like more oversight, to consider beginning to fund the program. 
While DeGeorge's account has been restored, he's still disturbed by his interaction with Lyft, and how many hoops he had to jump through just to get riding again. 
He told Hell Gate, "The idea that they can do this unilaterally when Citi Bike, at least at this point, feels like an essential part of the public transit infrastructure in the city, further solidifies this idea I had even before this happened to me, that Citi Bike should be run by the City in some capacity."
Max Rivlin-Nadler is a co-publisher of Hell Gate. He's reported for Gothamist, The New York Times, Village Voice and NPR. You can find him walking his dog, Stiva, or surfing in the Rockaways.
Stay in touch
Sign up for our free newsletter