Going Places
Will the City Finally Take Over Citi Bike?
Lyft is probably getting rid of Citi Bike—so what happens now?
3:14 PM EDT on July 26, 2023
The warning signs for Citi Bike have been there for a while, if you looked hard enough. In March, Lyft, which has been operating Citi Bike since 2018, abruptly shuttered its popular bike program in Minneapolis, around the same time that a new CEO took over the company, one who described himself as being "really good at doing more with less." And despite rolling out the bike-share program further into the outer boroughs this year, it's clear that Lyft has either been unable or unwilling to properly maintain the Citi Bike system as it becomes even more popular—bikes have been going unrepaired and e-bikes uncharged, and customer service seems unable to keep up with glitches in Lyft's own system. 
This week, the Wall Street Journal reported that Lyft is actively seeking a suitor for its bike-share business, raising even more uncertainty about the future of our beloved, but increasingly decrepit, bike-share system. According to a blog post on Lyft's website, the company is "listen[ing] to credible proposals and explor[ing] strategic partners and options" for its bike-share business, which means that Citi Bike is now possibly heading for a sale, a spin-off into a smaller company, or a bailout by an investor.
"I think this is a juncture, given the changeover in leadership at Lyft, and the fact that they've already shed the Minneapolis system," said Jon Orcutt, who was director of policy for the City's Department of Transportation from 2007 to 2014, while Citi Bike was rolled out. "It's a company that just hasn't figured out a new business line, which is why I can't see this as a negotiating tactic for more money." 
The actual first phase of New York City's bike-share experiment, one where private capital spurred innovation and expansion and made Citi Bike a vital part of the city's infrastructure, is seemingly nearing its end. But private funding can only take vital public services so far, a reality that Mayor Eric Adams seemed to recognize when he promised to expand Citi Bike "well beyond more affluent communities by committing City funding" while campaigning for mayor. 
So what should come next for Citi Bike? To advocates like Orcutt, now with Bike New York, the current uncertainty around the future of Citi Bike means that now is the time for the City to come up with a plan to shore up the enormously popular bike-share program—and that could mean anything from finding the right company to run the system to buying the system outright to finally dedicating municipal funding to a new owner. 
"Does the City even have a plan B right now?" asked Orcutt. "The real question, I guess, is if New York is finally ready to pay for this."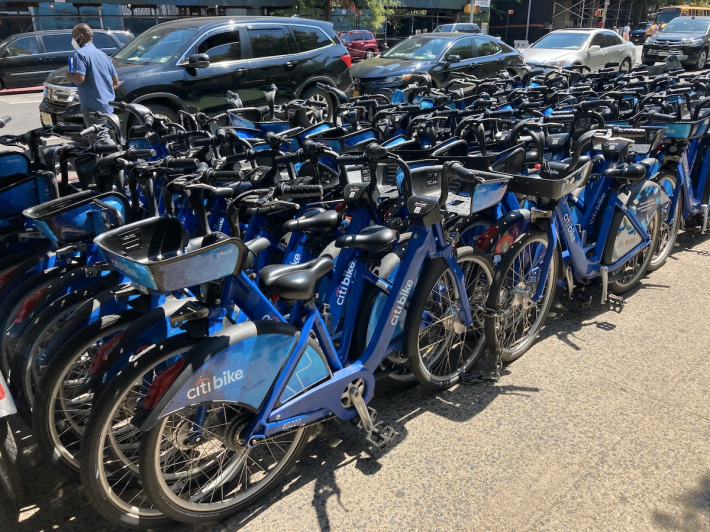 Lyft owns the entirety of Citi Bike—in 2018, it bought the company Motivate, which was formed by Bloomberg administration-connected billionaires during the early rollout of Citi Bike after its original owner and operator faltered. If Motivate helped stabilize the bike-share program, the promise of the Lyft purchase was that it could leverage its huge valuation and venture funding to help Citi Bike expand and grow—and to that end, it absolutely has. 
But now, that era has clearly ended. Lyft wants to see more bang for its buck from the system. The company, perhaps buoyed by promises of public investment from the incoming mayor, had held out hope that such subsidies and regulatory changes were on their way (even sending a former City Council speaker to lobby on their behalf). But after two Eric Adams austerity budget cycles, it was probably clear nothing was in the works. Even an infusion of cash from main sponsor Citigroup didn't change the equation.
That's because for the rest of Lyft, things are looking grim. Instead of pivoting from just exploiting drivers to also exploiting delivery workers like its rival Uber, Lyft went big on micromobility—a bet that didn't pay off for investors looking for Lyft to finally start making a profit. While Lyft operates a few other bike-share systems, New York City's Citi Bike system represents the lion's share—with over 3.4 million Citi Bike rides in June alone.
So what could come next? A municipal buyout, which would mean the system is wholly owned and operated by the City itself (like the Staten Island Ferry)? Another VC-funded mobility company swooping in? A third option wherein the City forms a new corporate entity, hires an operator, and showers it with public money, in line with our much less-used (but lavishly funded) ferry system?  
Before any of that, the City needs to find some things out—namely, just how much money Citi Bike makes or loses, data that is surprisingly hard to come by. 
From its most recent monthly report, Lyft reported over $52 million in revenue for the first six months of the year. Given that ridership increases during the warmer months, the bike-share company should expect to generate more than $100 million in revenue over the full year. But how much does the bike-share program cost to operate? Lyft has never shared this information.
"While there's a comprehensive memorandum of understanding between Lyft and the DOT that governs this program, there is far too little information in the public arena about how the operations of this program work," said Brooklyn Councilmember Lincoln Restler, a member of the City Council's Transportation Committee. Restler told Hell Gate he has reached out to Lyft for a meeting about this week's announcement, to get clarification on Lyft's timeline and plans. 
With hundreds of Lyft employees and contractors cruising through the city each day to fix bikes, replace e-bike batteries, and troubleshoot broken docking stations, it's not hard to imagine that the system loses money. But at the end of the day, the City just doesn't know. 
"Considering the precarious moment in our bike-share program, we need way more transparency and oversight to intervene most effectively to protect Citi Bike and keep it around long term," Restler said. "And once we know more about the business, we can move on from there."
Once the City is able to figure out what kind of annual subsidy is needed (of which Citigroup has already committed to at least paying part of, in exchange for naming rights), it can figure out what makes the most sense for the system. 
Orcutt believes that a wholly municipally owned and operated network wouldn't make the most sense, given the current staffing crisis at the City. The Department of Transportation told Hell Gate that it's "focused on ensuring New Yorkers continue to have access to affordable, convenient bike share." But the department is currently riddled with open positions, including that of its general counsel, who would be responsible for digging through Citi Bike and Lyft's legal entanglement. 
A scenario where the City, or a kindly billionaire on its behalf (maybe one who has a personal stake in Citi Bike's success), was to buy Lyft out of its fleet and docks, and then hire an outside operator to run the system, would do the trick. (Lyft, in comparison, bought Motivate for $250 million in 2018.) D.C.'s Capital Bikeshare owns its bikes and has an outside operator (which, currently, is Lyft). By owning the equipment, the City would cut down on the uncertainty that has seen Citi Bike shift between three separate owners in its decade of existence. 
If Lyft were to spin off Citi Bike to yet another company, there would be no promises that it would fare any better in the bike-share game, and service could immediately suffer. As Orcutt pointed out, Lyft could, theoretically, do that at any time. 
"If you're the City, you should be really worried that Lyft is just going to vanish at some point," Orcutt said, pointing to the example of Uber quickly exiting its own bike-share business, leaving cities in the lurch.
Amid all this uncertainty, what is clear is that the City needs a plan, and quick. 
Max Rivlin-Nadler is a co-publisher of Hell Gate. He's reported for Gothamist, The New York Times, Village Voice and NPR. You can find him walking his dog, Stiva, or surfing in the Rockaways.
Stay in touch
Sign up for our free newsletter