Fresh Hell
Bruce Springsteen's Diehard Fans Feel Betrayed by 'Mortgage Payment' Ticket Prices: 'I Feel Like I Lost a Family Member'
The Boss is a working class hero. What happens when the working class can no longer afford to see him play?
6:45 AM EDT on March 19, 2023
Julie Chazanoff remembers the moment she became a Bruce Springsteen fan. It was 1978. At a high school toga party, she heard "Prove It All Night" blaring from a stereo speaker. She was instantly mesmerized.  
Since then, much of Chazanoff's life has revolved around her Springsteen obsession. She's seen the Boss live approximately 200 times. She even met her husband, Howie, a fellow fanatic, at an all-Bruce covers set by Southside Johnny and the Asbury Jukes. 
Last July, when tickets went on sale for Springsteen's first tour in seven years, she snapped into action. Chazanoff, who lives in Mount Kisco, decided to get tickets to the February 1 tour opener in Tampa, Florida. She logged onto Ticketmaster at the appointed hour—having already registered as a "Verified Fan"—and began frantically clicking on seats. She found two tickets. But when she tried to check out, the prices suddenly doubled—and then tripled. She was bewildered.
"Then Howie called and said, 'I don't know what to do. These tickets are insane. I'm holding some in my basket and they're absolutely a mortgage payment,'" Chazanoff recalls. "I was almost crying at that point."  
The couple decided to bite the bullet for Tampa, but skip the other Florida shows. Chazanoff felt nauseous when she saw the final cost: over $1,000 apiece after fees. "It was like a gut punch," Chazanoff says. "In the back of my mind, I'm saying, 'OK, something's going wrong here and Bruce is gonna fix it.' Because that's what Bruce does." 
But Springsteen didn't fix it. The Boss's loyal followers were disturbed to realize that those exorbitant tickets—as high as $1,000, $2,000, sometimes even $5,000 a pop—were a feature, not a bug. They were a result of "dynamic pricing," a comically sinister system introduced by Ticketmaster, which uses an algorithm to fluctuate prices in real time according to supply and demand. Essentially, Ticketmaster is now muscling out the scalpers of yore—by gouging fans itself. Come on up for the rising, indeed. 
Springsteen's longtime manager Jon Landau defended the ticketing practices, shrugging off those four-figure price tags as outliers and claiming the average ticket price "has been in the mid-$200 range," a "fair price" to see such a universally beloved performer. (A publicist for Springsteen did not respond to my request for further comment.) Yet a sense of deep disillusionment rippled through corners of the Boss's fandom, making some diehards feel like someone took a knife, edgy and dull, and cut a six-inch valley through the middle of their skull. 
"I did go through some very personal processing of this experience," says Donna Gray, a longtime fan in northwest Connecticut. "I had him in my mind as an uncle sort. A mentor type. Someone whose catalog of music I use as a blueprint for my emotions, my life situations, celebrations, and sorrow. I even tied a song to my mother's passing. Everything about Bruce's music has a deep emotional tie to me. So when something happens that didn't seem characteristic of the four decades of what he'd been singing about, it felt like a sucker punch."
As Springsteen's tour zigzags up and down the country, hitting New York in early April, some of his longest-serving devotees are staying home. Their heartbreak is real. Some can't afford the inflated cost, while others simply can't reconcile their hero's long-earned reputation as a working-class icon with the uneasy sense that he's become an entertainer for the rich. 
"It's just so out of character for what he was. He was supposed to be the guy who writes about Youngstown and writes about the working-class guy and gives money to food banks," says Kevin Farrell, a diehard fan in Sea Girt, New Jersey. "Now, with this ticket pricing, he seems to be either unaware or doesn't care that people are left behind. To me, and other people like me—we feel betrayed."
Farrell is a former E Street Radio host and Springsteen memorabilia collector who's seen hundreds of shows dating back to the Born to Run tour. In 47 years, he's never spent more than $250 for a Springsteen show. Now $250 won't even get you in the door at Madison Square Garden or Barclays Center. (It will get you a nosebleed seat at MetLife Stadium in September, though the premium tickets are in the low thousands.)  
When tickets went on sale last summer, Farrell spent hours analyzing the offerings, frustrated by Ticketmaster's lack of transparency in distinguishing between dynamically priced tickets, "verified resale" tickets, and face-value. Although he can afford it, "I was so disgusted by the entire process that I said, 'I'm not buying a ticket. This is just wrong,'" he says.  
At first, he believed Springsteen and his organization were not involved in the pricing. "But they are complicit. They are absolutely complicit in this," Farrell says. "That has changed my entire attitude towards him."
At one point, Farrell even called up the director of the Bruce Springsteen Archives and offered to donate his memorabilia. He didn't want to look at it anymore. 
"He's just taking advantage—and I'm not saying it in a negative way—of demand. What airlines do, he did. He's not owned by the public. But the public feels like they own him."
If Bruce fandom is a religion—and it is—then what's happening now is "a crisis of faith," as Backstreets Magazine, the long-running Springsteen fanzine, put it last summer. 
Six months later, in February, Backstreets announced it was shutting down after 43 years. "As difficult as it is to call this the end, it's even harder to imagine continuing without my whole heart in it," wrote the magazine's publisher and editor-in-chief, Christopher Phillips, in a widely circulated editorial. Phillips described the mood within the magazine as "dispirited, downhearted, and, yes, disillusioned" following the ticket sales heartbreak.
That mood was exacerbated by remarks Springsteen made to Rolling Stone in November, his first public comments on the ticket fracas. Springsteen said he had kept his tickets "under market value" for most of his career; this time, he told the powers that be: "Hey, we're 73 years old. The guys are there. I want to do what everybody else is doing, my peers."
Fans who had been holding out hope for the Boss to apologize were sorely disappointed. "All he had to do was come out and say, 'I made a mistake, we violated the trust of our fans.' And everybody would forgive him tomorrow!" says David Stollmack, a Charlotte-based fan who recently traveled to Atlanta for a show. (He paid $180 for a seat behind the stage—"all the good lower-level seats were $500 to $3,000.")
On a base level, Springsteen's justification is sound. He is doing what his peers are doing, if you define his peers as stadium-filling superstars like Beyoncé and Taylor Swift, whose fans have also endured psychological torment trying to secure affordable tickets. (Swift's face-value tickets were reportedly capped at $449, to her credit, but the botched roll-out was so agonizing it led to a Senate Judiciary hearing and apoplectic fans.) The problem is bigger than Springsteen, and the scourge of dynamic pricing is a symptom of Ticketmaster's "monopoly" over the music industry. (Ticketmaster did not respond to our request for comment on the Springsteen situation.)
Some fans defend Springsteen for operating the way any enterprising capitalist would. "He's not a public utility. He's a private company. He's not electricity," says businessman Gary Green, who owns several Minor League Baseball teams and has been a huge Springsteen fan since 1980. "He's just taking advantage—and I'm not saying it in a negative way—of demand. What airlines do, he did. He's not owned by the public. But the public feels like they own him."
Still, Springsteen hardly needs the money. The rocker recently sold his song catalog to Sony Music Entertainment in a deal valued around $550 million; his last tour grossed $268 million globally. 
And much of Springsteen's fanbase is old enough to recall an era when major acts actually fought to keep their tickets affordable. In the mid-'90s, Pearl Jam famously filed a memo against Ticketmaster with the Justice Department's Anti-Trust Division and refused to perform in venues that had contracts with the company. On the independent side, Fugazi made a point of charging $5 a ticket. As recently as 2002, Tom Petty bemoaned the greed of promoters who urged him to up his concert tickets to $150: "My top price is about $65, and I turn a very healthy profit on that," Petty said. "I see no reason to bring the price up." In 2023, The Cure's Robert Smith seems to be the lone superstar willing to stand up to the Ticketmaster machine, though the goth icon has been stymied by Ticketmaster's hidden fees.
To many fans, the Springsteen Is Just Doing What Other Pop Stars Do defense doesn't sit right because, to their mind, Springsteen has never been like other pop stars. "He had a connection with his fans that went beyond anything any other artist has," says Farrell. Springsteen is the guy who has made a career out of writing gritty songs about slaving away in a factory and struggling to afford the rising cost of Bruce Springsteen tickets. Isn't this the guy who made Darkness on the Edge of Town? Isn't this the guy who wrote about the struggles of factory workers and jobless veterans and laid off auto workers and the death of the American dream? Solidarity with the working class is as threaded in the fabric of his art as loving weed is in Snoop Dogg's. What happens when the working class can no longer afford to see him play?
These are questions that have been haunting Chris Collins, a New Jersey-based television producer who's been obsessed with Springsteen since he used his Confirmation money to catch the Tunnel of Love tour in eighth grade.
"The way my uncles and aunts would all describe me is, 'Oh, he's the Springsteen nut. He's that guy.' I've gone to Europe to see shows," Collins says. 
But something has now shifted. Collins feels disillusioned. "The commerce has affected the art for me," he says. "To me, Springsteen's art is tied in with commerce. It's about essentially how America has tilted the landscape away from someone who works for a living. I feel that this is a betrayal of that work."
In Collins's view, the shift became palpable in the mid-2010s, around the time Springsteen was doing his Broadway residency and chilling on yachts with the Obamas. "There was a growing sense in me that this is no longer the person who even existed on the Rising tour in 2003. There's no way you can be exclusively hanging out with former presidents and doing podcasts with him and maintaining the solidarity with your roots. There's too much dissonance there."
Collins adds, "I have nothing against people's success. I really don't. But if your empathy is your artistic muscle, I've watched that empathy vanish over the years. He maintained that empathy and connection long past you'd expect. I would even venture the 2016 election. Right before that is when it started to feel funny to me. I was like, 'That guy is not the guy I've been following my whole life.'"
Collins plans to catch the Baltimore show next month because a loved one bought him tickets. But his heart isn't in it. He hasn't listened to Springsteen's music in months. "It's sad," he says. "I feel like I lost a family member."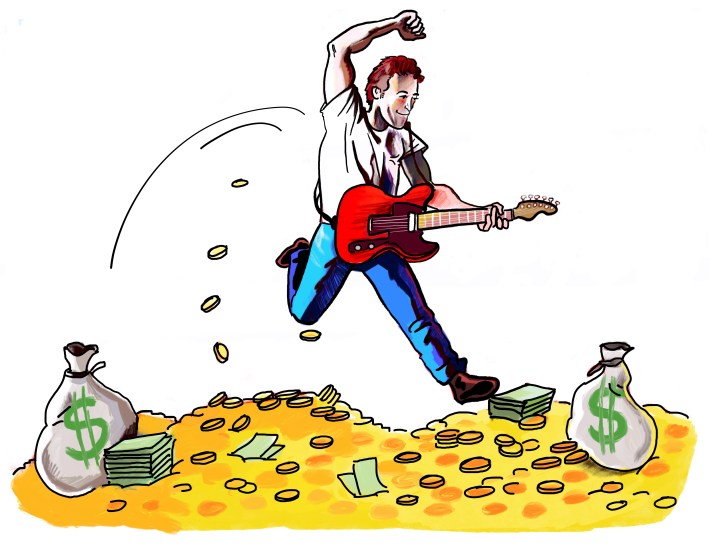 When rifts occur in any fan community, the fallout gets ugly. Since last summer, Springsteen fans have squabbled bitterly over the ticket fracas. Much of the arguing spilled over into the "Spring-Nuts" Facebook group, a vibrant, 14,500-person fan community founded by diehard fan and Brooklyn native Howie "Chaz" Chazanoff—Julie Chazanoff's husband—in 2015. 
Howie affectionately refers to the group as "the asylum." At times last year, he had to step in and urge angry fans to take their negativity elsewhere. "When you have 14,000 characters on Facebook that have all different opinions, that's a civil war," he says.
"People have lost friendships over this, that they think it's OK that Bruce is doing this and how dare you question it," says Julie. "People are in one camp or the other, and it's ugly. And some of our group stopped talking to each other for a while. It's ridiculous."    
For years, Spring-Nuts has served as a locus for generosity within the Bruce fandom. The group is home to a network of fans known as "ticket angels," good Samaritans who spend tour season trying to get other fans tickets they could not otherwise find or afford. "Sometimes we'll give tickets away, if we have them. Usually people just pay for them face-value," says veteran ticket angel Charlie Pierson, who lives in south Jersey. 
The eye-popping prices have interfered with this mission. "It more or less shut it down, honestly," Pierson says. "When prices were fairly regular, a lot of us would buy extra tickets, and take someone to a show or help someone that needs a ticket. With the prices for this tour, for most people, it made it impossible for them to buy extra tickets." 
Meanwhile, in Connecticut, Donna Gray operates a website called Bruce Funds, an online community that relies on supporters and donors to find tickets for fans, whether or not they can afford them. 
After the onsale last summer, "a lot of people canceled their pledges," Gray says. "When we learned about the pricing dynamic, they wrote to me and they said, 'I'm so sorry. I'll be lucky if I can get myself a ticket.'"
Yet Gray is carrying on with her mission. Bruce Funds has helped at least 72 people so far this tour. "The generosity of the fanbase still exists," she says. "It's just a different dynamic. It's harder."
As in a Bruce Springsteen song, the rich get richer and the poor get poorer. But the show does go on.
In early February, Howie and Julie Chazanoff made it to Springsteen's tour opener in Tampa. It was worth it. 
"I lost my mother this year, so as soon as they walked onstage, I just started hysterically crying. And that was pretty much me for the rest of the show," Julie says. "It's like seeing an old friend and you just wanna bring them up to date. But it's tainted now. It is a little tainted."
Even at 73, Springsteen is dazzling fans with his energetic, marathon-length performances. Few have gone home disappointed. 
But what about the fans who are not there?
"Bruce may be indifferent to the situation because he looks out from the stage and sees a packed arena," says Kevin Farrell. "From his perspective, everything is normal. What he doesn't see is a large number of fans outside the arena who can't get in because they have been priced out due to the ticket-selling process. In the past, they were the fans that Bruce wrote about and cared for. Now they seem to be an afterthought."
If you enjoyed this story, please subscribe to Hell Gate. We're worker-owned, and our subscriptions are currently on sale!
Zach Schonfeld is a freelance journalist and writer based in New York. He was formerly a senior writer at Newsweek. His first book, "Ghetto: Misfortune's Wealth", was published by the 33 1/3 series in 2020
Stay in touch
Sign up for our free newsletter