Power
Bad Blood in Southern Brooklyn
Ari Kagan made a "calculated" decision to become a Republican. Will it pay off?
11:04 AM EST on February 10, 2023
Zunera Ahmed was having a relaxing Sunday afternoon in early December until she got a batch of texts, asking why her former boss had changed parties. She thought she was being pranked.
"Everyone was asking me if it was real," the Brooklyn political operative told Hell Gate.
Two years ago, Ahmed managed Ari Kagan's successful city council campaign, helping him fend off three well-funded opponents in a bruising Democratic primary before defeating a Republican challenger by less than 1,000 votes. 
Now, Ahmed was receiving screenshots of a December 5 rally in which the Coney Island Democrat would renounce his party and become a Republican. The news soon broke on Twitter, and Ahmed reached out to friends in Brooklyn politics to tell her what was happening. 
Kagan had called several elected officials earlier that weekend and informed them that not only was he becoming a Republican, he would be challenging Bay Ridge Democratic Councilmember Justin Brannan in 2023.
"I was very shocked. I genuinely thought it was a joke," Ahmed said. "Never would I ever imagine him switching parties. He had a long record of being a strong Democrat."
The following morning, Kagan and four Republican city councilmembers gathered outside City Hall for his announcement. "[The] Democratic Party in New York began moving to the left with such a speed that I could not even keep up," he said. "It's not me leaving the Democratic Party. The Democratic Party very quickly started to leave me."
Brannan wasn't surprised Kagan would run against him, since they both represented portions of the new district, but he didn't understand why Kagan became a Republican to do so.
"I don't know why he did this. I don't know what he's thinking. I don't know where he thinks these voters are going to be," Brannan said in an interview with Hell Gate. "He let someone sell him a bill of goods."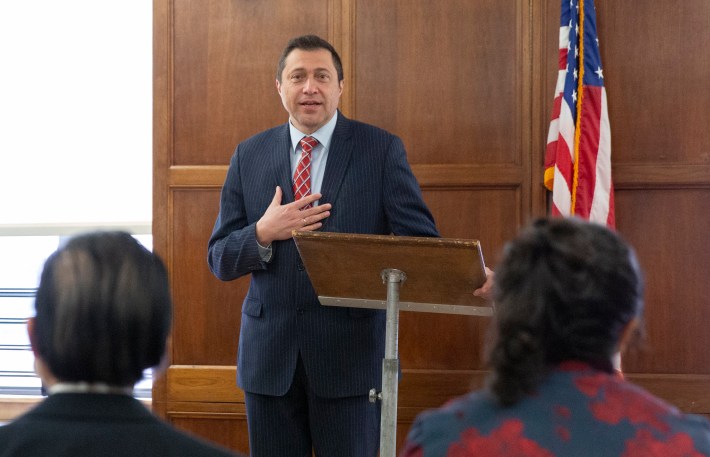 Kagan switched sides a few weeks after Republicans made gains in a red wave that crashed over the state from the Hamptons to the Catskills. 
Republican gubernatorial candidate Lee Zeldin came within single digits of Kathy Hochul, thanks to his sustained emphasis on violent crime. Heavy turnout among Republicans and a lack of interest among Democrats helped the GOP capture six open congressional seats and flip another, giving them 12 members in the state's 26-member delegation. (Also helping to fuel the Republican surge: congressional maps redrawn last year by a court-appointed special master after the Court of Appeals ripped up New York Democrats' gerrymandered first draft.)
Democratic casualties continued further down the ballot, particularly in southern Brooklyn. Manhattan Beach Assemblymember Steven Cymbrowitz, a 22-year incumbent, suffered a 21-point defeat to a first-time Republican candidate who raised $33,500 for his race according to state filings. Bay Ridge Assemblymember Peter Abbate, a 36-year veteran of the state legislature, was beaten by Republican Lester Chang (who voted in Manhattan in 2021 and was likely living there at the time). And two-term Coney Island Assemblymember Mathylde Frontus lost to Alec Brook-Krasny, a former assemblymember who attempted a political comeback after beating bribery and conspiracy charges.
The losses are partly a result of the bitter polarization that has fractured national politics, seeping into local races. Ticket-splitting had been common in southern Brooklyn, but Republicans began to vote straight down the party line in the Trump era. 
Brannan encountered that shift firsthand while campaigning for reelection two years ago. "When I worked with my predecessor, Vinnie Gentile, people would say, 'You're the only Democrat I vote for.' Now I'm more likely to have someone come up to me and list the things I've done for them and their family, and say, 'You're great, you're so responsive, but you're a Democrat and I can't vote for you,'" he said.
Some of those constituents are Soviet-era Russian immigrants who are voting for Republicans for other reasons. They registered as Democrats when they fled Communist regimes a half century ago, but have been drifting toward Republican candidates for more than a decade due to the party's positions on Israel and taxes, and the way that conservative media has effectively labeled Democrats as "socialists." 
"We're talking about communities that came from dictatorships and they know how bad socialism is. Socialism is really something close to a curse word," Brook-Krasny, a former Democrat who switched parties in February 2022, said. "Candidates ran on the idea of fighting socialism and that there is a possibility we'll be living in a socialist city."
At the same time, Democratic support within the city's Asian American communities has been eroding. The de Blasio administration's efforts to diversify the city's highly competitive specialized high schools mobilized Asian American families who believed that scrapping the schools' admissions exam would penalize their children. A spate of anti-Asian attacks that have occurred since the start of the pandemic convinced some Asian American voters that Democrats, who fought to curb the NYPD's budget (with little measurable success), were overlooking their concerns.
Instead, they turned to Republicans like Zeldin and mayoral hopeful Curtis Sliwa, who promised to hire more police and stop building homeless shelters in Sunset Park, a heavily populated Chinese American neighborhood. In Sunset Park and Dyker Heights, Sliwa captured 60 percent of the vote against Adams while taking 44 percent of the vote in precincts where a majority of voters are Asian, according to NYC Board of Elections data and The CITY. Zeldin did slightly better, scoring 61 percent of the vote in the assembly district encompassing Sunset Park and Dyker Heights. Even though both candidates ultimately lost, they galvanized Republican, Russian-speaking, and Asian voters, and upended years-long allegiances.
"Two blocs of voters are reliably Democrat and we lost them. It'll take another decade to get them back. They're gone," one Brooklyn Democratic leader said. "Unless you're a Democrat who is willing to act fully like a Republican and not care, they're just not high on the Democratic Party right now and they're taking out their anger in local races."
Democratic leaders have not been able to agree on a strategy to win these voters back. Mayor Eric Adams, who has made reducing crime his administration's top priority, has continued to tack to the right, and blames dissatisfaction with his party on "woke" Democrats. 
Meanwhile the city council's progressive caucus is pressuring members to sign a pledge to shrink the NYPD budget this year and use that money to fund other social programs (Brannan and other members from purple council districts declined).
"It is our responsibility to educate voters, and remind them to beware of candidates who make empty promises," said Iwen Chu, who recently became the first Asian American woman in the state senate. Chu represents parts of Gravesend, Dyker Heights, Bay Ridge, and Sunset Park, and she was one of the only Democrats to win an open seat in November. "In southern Brooklyn, Republicans have elected candidates who were Democrats but changed parties to strip themselves of the responsibility to actually pass laws, effect policy, or help their constituencies," Chu said. "As Republicans, they are not the part of the party that governs."
The morning before Kagan's announcement, Council Speaker Adrienne Adams threatened to yank his Resiliency and Waterfronts Committee chairmanship for "joining a party that denies climate change." (Kagan gave up his leadership post two days later.) Then Brooklyn Democratic Party Executive Director Yamil Speight-Miller handed Kagan a manila folder with a letter of resignation for his district leader position, minutes after his press conference ended. "That was fast," Kagan said while smiling. "Sorry," Speight-Miller replied.
When Kagan addressed his colleagues about his switch in the council chambers later that week, one councilmember rolled her eyes. Others avoided speaking to him entirely.
But Kagan's move opened up some new opportunities, including an appearance on Fox News and an invitation to the Brooklyn GOP holiday party at Bay Ridge Manor. He joined an emboldened Republican delegation, one of the council's largest in decades, that has demanded an end to vaccine mandates for City employees and sought to stall congestion pricing. Council Minority Leader Joe Borelli attributed his party's growth to voter concern over rising crime and a backlash to far-left governance.
"Democrats have pandered to the far left and done seemingly everything in their power to push away large numbers of Jewish, Asian, and Russian-speaking voters, most of whom are simply hoping for safe streets and a prosperous city where they can thrive," Borelli told Hell Gate. "What they get from the Democratic Party is 'defund the police' and some lectures on pronouns or something."
In an interview with Hell Gate, Kagan elaborated that he changed parties largely because New York's progressive leaders supported an expansion of bail reforms and called for the NYPD to lose funding as violent crime in the city rose.
"They abandoned public safety altogether. That's one of the major reasons why I switched," he said. "Democrats were doing everything possible at every level to help criminals avoid any time of jail time or punishment and were never concerned about crime victims. They have a very lenient approach to crime."
But Kagan didn't become a Republican when those bail reforms were passed, in 2019. He waited until after the New York City Districting Commission released a second draft of city council maps in October. A first draft in July created a new seat in Bensonhurst reflecting the area's growing Asian American community, but forced Brannan into the same district as another Democratic incumbent, Alexa Avilés (the revision sparked intense speculation in the council chambers that the mayor was retaliating against Brannan for refusing to support his choice for council speaker, Francisco Moya, a year ago). The commission rejected those maps and made new ones that created a new Asian-majority seat with portions of Kagan's old district, while slicing his neighborhood into an area represented by Democratic Councilmember Kalman Yeger.
Brannan has developed a base of support in Bay Ridge, drawing more votes than Eric Adams and Bill de Blasio in his district. But he nearly lost to Republican Brian Fox in 2021, eking out a 601-vote victory only after mail-in ballots were counted. 
"From conversations I had with Ari, he looked at it and realized it probably would have been more complicated to run against Justin in a primary than as a Republican," said Diane Savino, a retiring Staten Island state senator whose district overlapped with Kagan's. "He felt the Democratic Party doesn't represent his values or the way he is thinking these days so he made a decision. It's a calculated one."
But the new district may not favor a Republican candidate going forward. Democrats make up 55 percent of the new 47th Council District, followed by 24 percent with no affiliation and 17 percent Republican, while Democrats consisted of 51 percent of Brannan's old district and 53 percent of Kagan's old district. In the 2021 mayor's race, Curtis Sliwa had a 10-point advantage over Adams in Brannan's old district and had a 17-point margin in Kagan's former district, but both contained an even share of the vote in the new 47th District, according to a CUNY Graduate Center analysis of NYC Board of Elections data.
Kagan is already behind in fundraising, but he hasn't spent anything yet. So far, Brannan has hauled in $40,628 from 276 donors and spent $30,897, while Kagan has collected $8,774 from 113 donors and spent only $92, according to campaign filings. Both candidates could face primaries. (Three other Republicans and one other Democrat have opened campaign accounts as well.)
The bitterness between Kagan and Brannan has played out online and in person, even though the election isn't until November. (Councilmembers have two-year terms this year instead of four-year terms, due to a quirk in the city charter mandating new elections corresponding to new maps of council districts reflecting the 2020 Census.)
The afternoon of Kagan's press conference, Brannan sent a text to southern Brooklyn residents telling them "Ari Kagan just sold you out" and was joining "Donald Trump and the Republican Party." Kagan tweeted that Brannan's text was "desperate." Brannan responded by tweeting a popular meme of a man (Ari) looking at another woman (selling out to the Republicans) while his girlfriend (Coney Island) looks on in disgust.
Those familiar with Kagan's campaigns are skeptical he can pull off a victory.
"To run as a Democrat in southern Brooklyn, you have to put real effort into organizing and motivating others to work with you," Zunera Ahmed, Kagan's former adviser, said. "He saw that he didn't have a base of volunteers that would stand by him. He's just choosing the lazy way out. Republicans will petition for him. He won't have to worry about that. And then what?"
But Kagan is confident that he made the right decision.
"I see Democrats much more focused on identity politics than on quality of life issues," he said. "I feel very comfortable today being a Republican. I feel happy about it. There is no way back. I'm not going back."
Aaron Short is a Brooklyn-based journalist whose work has been featured in Intelligencer, Grub Street, Curbed, Insider, the Daily Beast, the New York Post, New York Daily News, Commercial Observer, and City & State.
Stay in touch
Sign up for our free newsletter