Paying Rent
'Political Violence': Albany's Good Cause Fight Is Getting Weird
Protesters visited the home of a state lawmaker who opposes Good Cause. Strangeness ensued.
7:57 PM EDT on May 25, 2022
Sometimes, a tweet from one legislator to another catches your attention.
Like this one, sent this morning by Brooklyn Assemblymember Stefani Zinerman:
Yes, we agree: This tweet gets busy real fast, and takes some explaining. Let us try to help.
Right now, there's just over a week left in the state legislative session, and arguably the most important bill in front of legislators is "Good Cause," which would provide protections for the three million non-stabilized renters in New York City who are facing unprecedented rent hikes.
Earlier, Hell Gate explored how the bill is facing steep resistance from the real estate lobby, and has so far garnered no public support from the three people needed to bring it over the finish line—Assembly Speaker Carl Heastie, Senate Majority Leader Andrea Stewart-Cousins, and Governor Kathy Hochul.
Absent those three, the bill goes nowhere. Still, tenants and their advocates have been trying to increase the pressure on hold-out legislators, in a final push to get the bill in front of the three power brokers.
That's where Assemblymember Zinerman comes in.
Last week, tenant advocates went to the state capitol, some bearing postcards addressed to NYC legislators who haven't signed on to the bill. One of those is Zinerman, who represents parts of Crown Heights and Bed-Stuy, and is finishing up her first term in office. Tenant advocates plastered Zinerman's office door with postcards from her constituents.
Zinerman, in a tweet last week, thanked those constituents, and said she'd incorporate it into a poll she was doing to gauge support for the bill in her district.

This weekend, the group Housing Organizers for People Empowerment (H.O.P.E.), a "community group fighting for housing justice in Eastern Brooklyn," along with other tenant advocacy groups, organized a protest of Zinerman, first outside her listed residence, and then later at an event where she was supposed to speak.
That's where the somewhat cordial relationship apparently soured—with Zinerman claiming harassment by the protestors.
H.O.P.E. tells Hell Gate that the residents at Zinerman's home address claimed that the assemblymember doesn't even live there.
Hell Gate reached out to Zinerman with a series of questions, including asking her to confirm her address, and after an initial response that her office would try to find a time for an interview, we haven't heard back.
"Not violence, not threatening," tenant and H.O.P.E. member Merlin Victor, who lives in Crown Heights, told Hell Gate, describing the five-minute rally outside Zinerman's listed address, which was part of a longer day of protesting. "She's saying we were violent, but protesting is about human rights," Victor said. "Maybe people tell her we were showing violence—that's not true. We were protesting saying, 'Fight for tenants' rights,' that's all."
On Monday, Zinerman posted a series of Instagram videos, explaining why she felt harassed by the protesters, and that she had never been asked by the groups who were protesting her to have a meeting about the bill.
Victor says that isn't true.
"We'd love to finally talk to this woman. We'd be happy to discuss what she'd do for tenants," she said.
(This back-and-forth about protesting outside people's homes, it should be noted, comes after 2020's knock-down, drag-out home protest battle between State Senator Jabari Brisport and then-City Council Member Laurie Cumbo).
Which brings us to this morning, when Zinerman, along with other Brooklyn legislators, met with Governor Kathy Hochul for breakfast to discuss pending issues before the legislature wraps up its session. The author of the Good Cause legislation, Brooklyn State Senator Julia Salazar, currently has COVID-19, and was unable to attend.
According to those in attendance at the meeting, Zinerman took the opportunity to tell Hochul that Good Cause would hurt Black homeowners in her district, some of whom rely on unregulated rents to stay in business.
"During the breakfast, it's a moment for legislators to raise their priorities," Salazar told Hell Gate. "Zinerman, instead of using her moment to speak about legislation she supports, used her moment to speak out against Good Cause, and that it was going to displace Black homeowners—which is really baseless."
After the meeting, Zinerman posted a photo from outside of her office in Albany. Gone were the constituent postcards, replaced instead with a series of signs alleging that Salazar, along with State Senator Jabari Brisport (another supporter of the bill) were behind "political violence" against Zinerman. And that someone had smuggled the postcards into the building, and past security.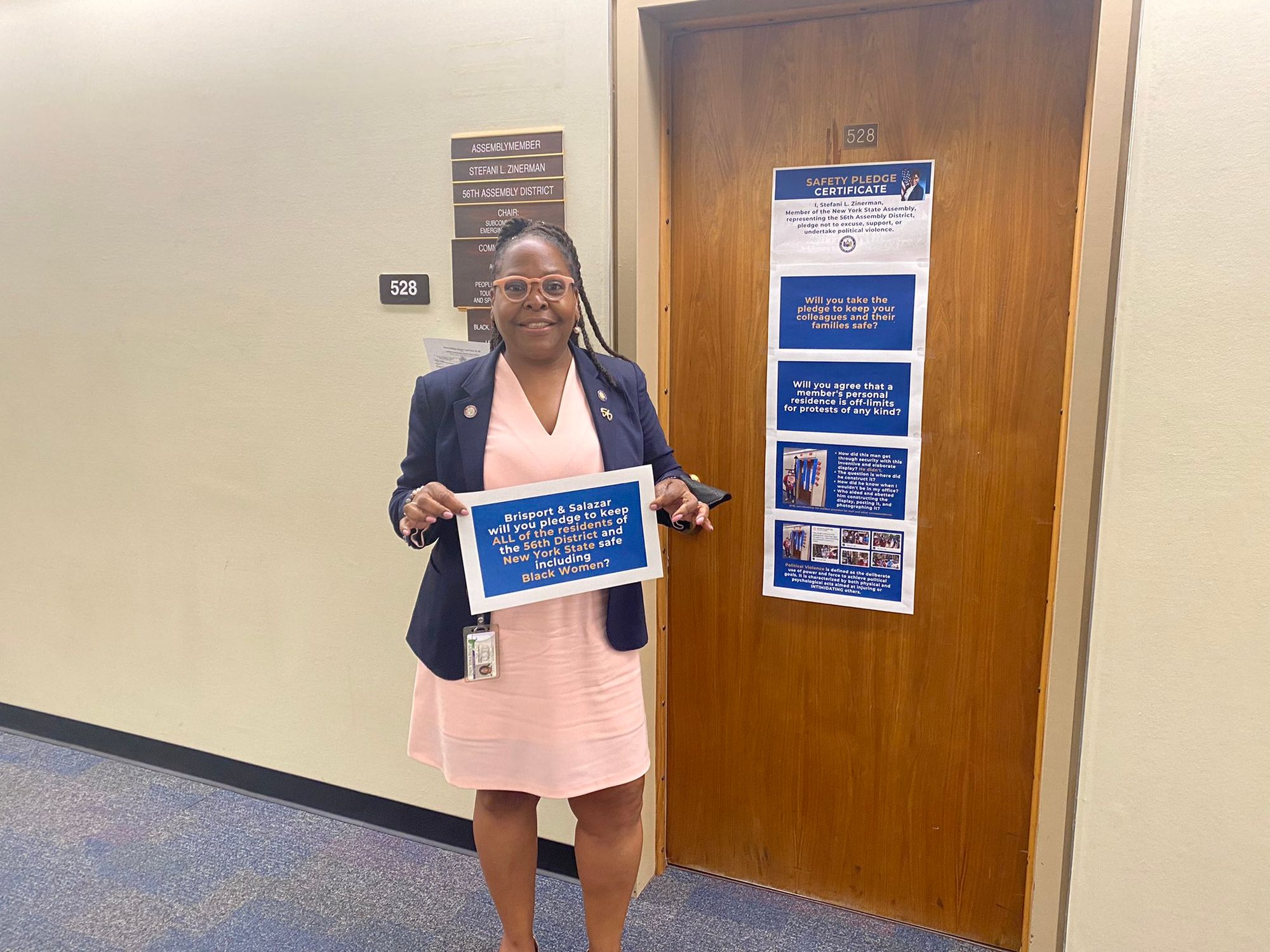 Brisport was not present at the protest outside of Zinerman's listed address.
Rather, Zinerman's tweet called Brisport out for reporting back from the meeting to Salazar. Zinerman has been responding on Twitter all day to both Salazar and her constituents, asking them if they support "political violence" against her.
Salazar said she had worked for months to schedule a community forum with Zinerman to address the legislation, and that Zinerman kept rescheduling it. Eventually, Salazar stopped trying.
Whether there's an actual compromise to be worked out here remains to be seen, but with the session winding down, it is increasingly a long shot.

Max Rivlin-Nadler is a co-publisher of Hell Gate. He's reported for Gothamist, The New York Times, Village Voice and NPR. You can find him walking his dog, Stiva, or surfing in the Rockaways.
Stay in touch
Sign up for our free newsletter