Eric Adams
Adams Curtails the Rights of Homeless New Yorkers
Fearing an influx of migrants into the City's shelter system, Adams took steps to lift laws he has long bristled at.
4:42 PM EDT on May 11, 2023
Late Wednesday night, Mayor Eric Adams signed an executive order temporarily rolling back parts of the City's longstanding "right-to-shelter" policy, which mandates that the City provide shelter to anyone who requests it. In the order, which extended the amount of time the city could hold someone at an intake center and loosened rules regarding shelters where families could be placed, the mayor said he was taking "extraordinary measures to meet the immediate needs of the asylum seekers," an influx of whom he said he was expecting over the next couple of days, as a Trump-era policy known as Title 42 expires. 
The executive order impacts three separate local laws—but keeps the City's court-ordered shelter policy in place. Instead, it impacts policies the City had to safeguard those in the shelter system.
Adams has lifted a requirement that obligates the City to find shelter for people on the night they arrive at an intake center, and has reserved the right to stretch that process out, possibly up to several days. Another change takes away a requirement that mandates that each family should have a separate kitchen, while the third strips shelter residents of their right to challenge their removal from shelters if they've been there for longer than thirty days. 
Title 42 has prevented thousands of migrants at the southwest border from declaring asylum, instead ordering their swift removal back to Mexico or their home country. Since Title 42's introduction, which was enabled by the federal government's designation of the COVID-19 pandemic as a health emergency, it has been derided by immigration advocates as having nothing to do with public health; rather, they say, it was a tool used by a restrictionist Trump administration to curtail people's legal right to asylum at the U.S. border. While the Biden administration repeatedly tried, and failed, to get rid of the restriction, Thursday marks the end of the COVID-19 health emergency, and thus the end of Title 42 as well. And in its place, the Biden administration is implementing other restrictions on border crossings—restrictions first enacted by the Trump administration. 
Still, even with the prospect of harsher restrictions that experts say will likely stem the number of migrants coming into the U.S., Adams took the opportunity late Wednesday to cut back on City laws that he believes have long hampered his administration's ability to serve asylum seekers and other people in the City's shelter system. Advocates for the homeless and other city electeds believe the rollbacks of the law do more to harm than help the city's homeless, even as the number of people in Department of Homeless Services shelters remains at record highs—with over 78,000 people now in the system. 
"No one really knows what impact of the end of Title 42 is going to have on the DHS population, but the City is clearly preparing for the worst, and they took this action very prematurely to take the pressure off themselves," said Kathryn Kliff, a staff attorney with the Legal Aid Society, a plaintiff in several of the longstanding court cases that resulted in the City's shelter policy. 
Right now, asylum seekers are split between DHS shelters and "Humanitarian Emergency Response and Relief Centers," or HERRCs, the latter of which are emergency sites like hotels and temporary spaces like the Red Hook Cruise Terminal. HERRCs are not run by the Department of Homeless Services, and not subject to many of the requirements that DHS shelters must meet.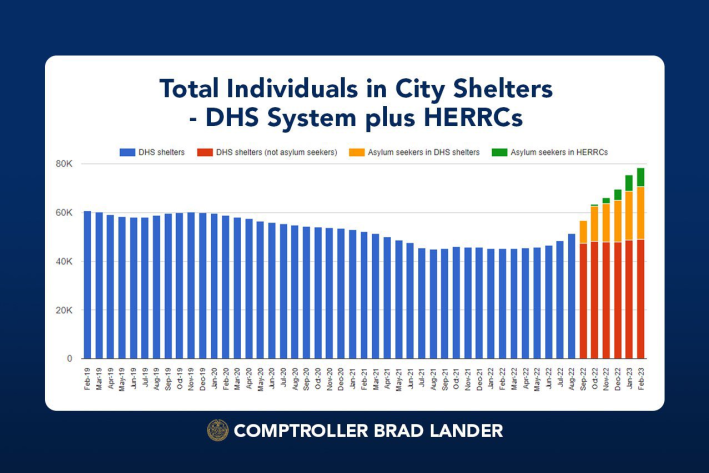 Advocates like Kliff, as well as politicians like City Comptroller Brad Lander, have called on the Adams administration to prioritize moving people out of shelters, instead of curtailing the rights of those trying to get into them, as a way to free up space in shelters for arriving migrants. According to statistics compiled by Lander's office, the number of non-asylum seekers in the DHS system has remained stubbornly steady since September of last year, even as options are available for the City to offer more housing vouchers or to more robustly invest in screening to get people into permanent housing.  
"There is no real case management for migrants, or just in general, at a lot of sites right now," said Kliff. "There's no in-depth discussion about getting people out of these shelters once they're in them and determining if they're entitled to certain benefits, and they may not know that. This isn't so simple for people to navigate, and there's little support for them." (City Hall did not respond to a request for comment about possible expansion of vouchers or efforts to move people out of shelters.)
Instead, Adams has made cuts to City agencies like the Department of Homeless Services and the Human Resources Administration that would usually help with distributing vouchers to people in shelters and screening people for possible benefits. And his proposed budget for fiscal year 2024 includes further cuts to the City's budget, which he has justified by pointing to the cost of housing migrants in the city's shelter system.
Kliff said Legal Aid is still considering possible legal action against the executive order. But in the meantime, the organization is asking City Hall to get people out of shelters, instead of making existence inside of them more difficult. 
"This is more than the system has ever had," Kliff said, "but there are still tools to move people out of it, and we haven't been using those tools that we already have."
Max Rivlin-Nadler is a co-publisher of Hell Gate. He's reported for Gothamist, The New York Times, Village Voice and NPR. You can find him walking his dog, Stiva, or surfing in the Rockaways.
Stay in touch
Sign up for our free newsletter