The Cops
A Prayer for Jeffrey Maddrey
Last Friday, a group of clergy gathered not to condemn the NYPD's chief of department, recently found to have abused his authority, but to support him.
10:58 AM EDT on April 25, 2023
On a sunny spring Friday, dozens of clergy, dressed in their Sunday finest, gathered outside of police headquarters to offer a prayer for one of the most powerful members of City government: NYPD Chief of Department Jeffrey Maddrey.
One by one, the assembled began to pray for the highest-ranking uniformed member of the NYPD. 
"We ask the Lord to come down and give Maddrey the same credit that he gave to the centurion servant," the Reverend Darryl Hobson, of the 79th Precinct Clergy Council, told the crowd. "We ask the Lord to bless him, we ask the Lord to cover him, and we ask the Lord to protect him."
"Our heavenly Father's word says that, Romans 13, all authority is established by God!" thundered a man who was introduced as Pastor Eli. "And if you resist or oppose his authorities there shall be the wrath of God!" He added, "We need to support Chief Maddrey! We need to support our police officers! And we should cover them in the precious blood of Yeshua Hamashiach! He will keep his job and not lose it! In Jesus's mighty name!"
Earlier this month, the police department's civilian oversight board determined that Maddrey abused his authority on a November night in 2021, when he went to Brownsville's 73rd Precinct and personally voided the arrest of a former cop he knew and had once worked with. That cop had been detained after he chased a group of three Black children on foot with his handgun, after the kids hit his security camera with a basketball. The ex-cop denied that he brandished his weapon, but the children independently provided accurate descriptions of his gun. Presented with clear probable cause, police on the scene arrested the man, who promptly called Maddrey, his former boss. Maddrey drove to the precinct and ordered that he be set loose. Maddrey also told the officers at the precinct that the kids should have been arrested instead.
For this, the Civilian Complaint Review Board has recommended that Maddrey lose 10 vacation days. The final decision is now up to NYPD Commissioner Keechant Sewell; Maddrey has retained a lawyer, and reportedly wants to fight the case in a departmental trial.
One might have expected the assembled leaders, charged with the pastoral care of their communities and commanded by God to pay special attention to the most vulnerable among us, to express some concern for the children who had a gun brandished at them. That was not their message last Friday.
Bishop Gerald Seabrooks, of Brooklyn's Rehoboth Cathedral, said he agreed with Maddrey: The kids should have been punished. "If you break the law, you should be arrested," Seabrooks said.
Seabrooks did not seem especially bothered about the fact that a man was chasing these children through Brownsville with a firearm. "He's an ex-police officer. Which means that, guess what, here's a guy who has served in the department, who has training, who must have felt some way that his life was involved for him to pull his weapon," Seabrooks said.
Despite the leniency of the CCRB's suggested punishment, and the fact that the NYPD often overrules the CCRB's recommendations, the clergy were most concerned that the department might fire Maddrey.
"We're okay with what the department comes up with, with what the commissioner comes up with. But we're talking absolutely, unequivocally, no removal from this position," Seabrooks declared. "The community would be outraged." 
"Outraged," echoed Jackie Rowe-Adams, president and co-founder of Harlem Mothers to Stop Another Violent End. Rowe-Adams, who has herself lost two sons to gun violence, suggested that removing Maddrey would result in more bloodshed.
"So to the community and the leaders that do not want him here, that means you want our kids dead. You want to kill our kids with these guns!" Rowe-Adams exclaimed.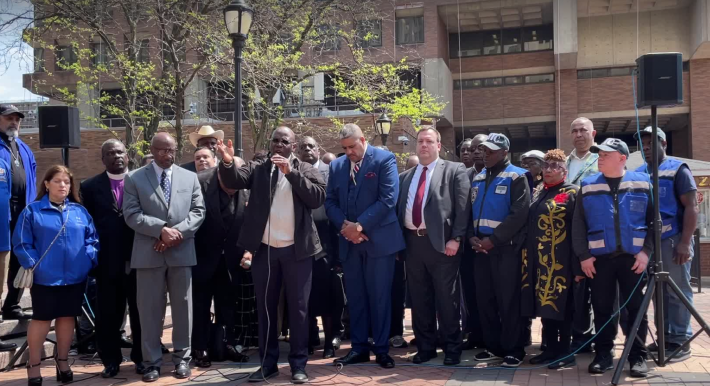 Before he became the chief of department, Maddrey spent years overseeing policing in Brooklyn communities, and speaker after speaker praised him for being an accessible leader, who made sure that people had food to eat during the pandemic, and that children had gifts every Christmas.
"Most police officers are not touchable. You can't find them unless there's trouble," explained the Bishop Albert Jamison of Pleasant Grove Baptist in Brownsville, who was impeccably dressed in sunglasses, a three-piece suit, and a matching Gucci handbag. "He's touchable. You talk to the gangs at the Brevoort projects, they know him because they call him 'big papa,'" Jamison said.
Maddrey, who is also facing a civil suit from a former subordinate alleging he both sexually harassed and physically assaulted her (a federal suit was dismissed), has the support of Mayor Eric Adams. "I'm just so proud to have him as the chief of department," Adams said last week. "And I don't think he would do something that's inappropriate, but it's up to the commissioner to do her overview."
With the mayor on Maddrey's side, and the police commissioner reporting to the mayor, who is powerful enough to get him fired? Where is this push coming from?
"There are insidious, clandestine groups that are putting things in the [commissioner's] ear, that we're privy to. There are groups that want him gone," Seabrooks told Hell Gate. "Not because he's a bad officer, but because he's an African American officer. So racism plays in here. And this is why I'm here. We need to stop the ugly racism."
The Reverend Robert Waterman, president of a group called African American Clergy and Elected Officials, suggested that the criminal justice reform advocates who have rallied behind the Black kids deserve some of the blame for what's happening to Maddrey.
"When you have activists that come in, I call them ambulance chasers, they look for opportunities when they can utilize and puppet people in situations. This is basically what is happening," Waterman told Hell Gate.
The one group on record asking for Maddrey to be fired? The children who were chased with a gun, and whose pleas for law enforcement to do something about it were ignored. The kids, who spoke to Hot 97 earlier this month, have also asked Maddrey's supporters among the clergy for an apology.
"It feels like we're by ourselves," Kyi-el, one of the kids, told the radio station. "It feels like nobody believes us."
Chris is an editor at Hell Gate. He spent a decade working for Gothamist, and his work appears in New York Magazine and Streetsblog NYC.
Stay in touch
Sign up for our free newsletter