Morning Spew
A Message for the Mayor, Where Jordan Neely Died
Activists continue to point the finger at City Hall.
9:41 AM EDT on May 17, 2023
Early Wednesday morning, New Yorkers trickling through the Broadway-Lafayette subway station's mezzanine were met with two messages splashed across a white tile wall: "JUSTICE FOR JORDAN NEELY" and "ERIC ADAMS YOU HAVE BLOOD ON YOUR HANDS," both stenciled in bright red paint. Just minutes earlier, activists had applied the stencils and tossed paint on the wall below and the floor nearby, where it pooled to grisly crime-scene effect. 
As subway riders passed by, a few people stopped to snap photos. One man with a cigarette behind his ear turned to read the wall, then shook his head as he headed down the stairs to take the train uptown. Another, mistaking this reporter for one of the painters, said, "Thank you for this." None of the thousands of cops assigned to stand around New York City's subway system were on the scene.
The train station defacement is the latest act of civil disobedience in the wake of the death of Jordan Neely, a homeless man choked to death by Daniel Penny aboard an F train that was stopped at this station on May 1. The station has been a site of protest ever since—the starting point for a number of vigils in Neely's honor, including some that resulted in violent arrests by the NYPD's notoriously brutal Strategic Response Group.
The activists also scattered flyers on the ground that elaborated on their act: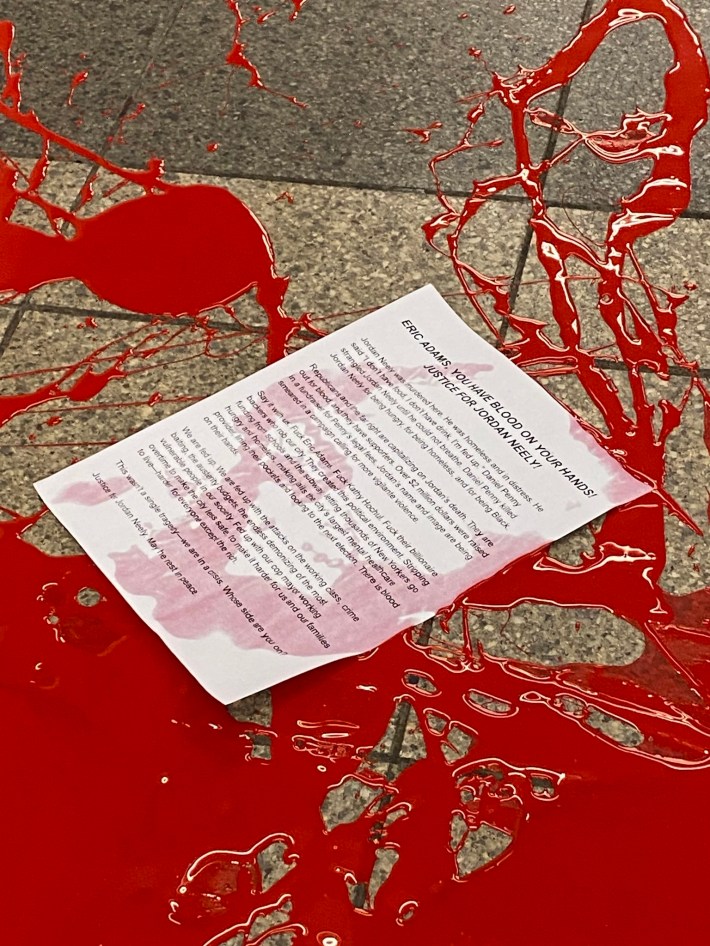 According to one of the painters, who asked to remain anonymous to avoid retaliation from law enforcement, the whole thing took less than five minutes to execute and went off without a hitch.
"New Yorkers really mind their business," they said. They explained that the clandestine nature of the action was designed to avoid police confrontation—and to inspire people to continue to resist as street protests decrying Jordan Neely's death have cooled down in the wake of last week's violent arrests, which included photojournalist Stephanie Keith and Copwatch Patrol Unit founder Jose LaSalle. 
"We were doing 2020 protesting, but because we don't have numbers, Eric Adams knows he can brutalize people," the activist said. "And the NYPD has learned that if they don't shut shit down early and make people afraid, it's gonna snowball out. So they really came down hard with this repression. Lots of people are recovering from being locked up or getting injured, there's a lot of fear. So, we wanted to do something that could keep morale up, say 'Fuck you!' to Eric Adams and the cops without them fucking us up."
The painter said their group feels it's critical to continue pointing the finger at Eric Adams, a mayor who has conducted systemic sweeps of homeless encampments, pushed for involuntary hospitalization of mentally ill people living on the streets, and continues to slash social services for all New Yorkers—even as Penny, Neely's killer, has now been charged with a crime.

"How can a man without food, shelter, thirsty and angry, screaming on a train full of people be murdered in front of all those people—how can that happen? It's not just about one incident of racism, and it's definitely not just about Jordan Neely 'having a mental episode.' This is about organized abandonment, systemic neglect," the activist said. "The people in charge of our systems and city need to be held accountable for that. If we want to change those conditions, that's a change that we need to agitate at a level above just individuals like Daniel Penny, but at the level of our City leaders, our systems, those need to be radically transformed. And some things need to be destroyed and broken down…like the NYPD."
Some more splashy links for Wednesday morning:
A new outlet owned and run by journalists covering New York City, with a mixture of blog posts, features, columns, and investigations.
Stay in touch
Sign up for our free newsletter