$20 Dinner
$20 Dinner: New "Urban Hawker" Market Brings The Flavors Of Singapore To Midtown
There are dozens of great $20 Dinner options at the sprawling new food hall. Here are five early favorites.
4:51 PM EDT on October 6, 2022
It was almost ten years ago that we first started hearing about KF Seetoh's Urban Hawker, the brand new, instantly popular food hall in Midtown that makes Singapore's legendary street food the star. 
Back then, in 2013, Anthony Bourdain was a driving force in the project, and the basic idea was to open a massive "dining experience" over at Pier 57, bringing street-food vendors from all over the world to Chelsea.       
Plans changed a bit. Bourdain died in 2018, of course, and Google, along with the James Beard Foundation, took over Pier 57. There's now a park on the roof there, a City Winery up front, and, yes, coming semi-soon, a food hall being built within, featuring a long list of NYC-based vendors that is, for now, a closely-kept secret. 
But Seetoh, who's also the founder of the World Street Food Congress, didn't give up his dream, and last week, partnering with the folks at Urbanspace, his Urban Hawker had its grand opening on West 50th Street, hard by Radio City, Rock Center, and the office towers of Sixth Avenue, for maximum exposure to both area office workers (who are, indeed, back, at least on Tuesday through Thursday) and the upcoming influx of holiday-season tourists.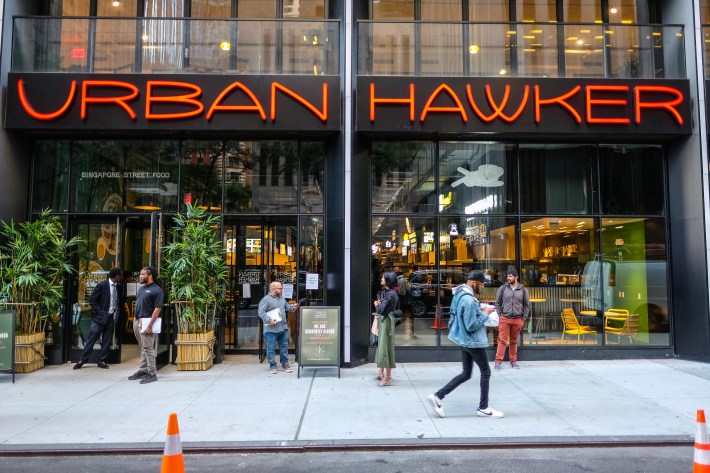 But don't let that dissuade you, if you're neither a vest-bro nor a visitor to our fair city from Holland. Urban Hawker is a blast, with a convivial, even rowdy vibe, ample seating and standing counters for eating throughout, a full bar over by the 51st Street entrance, and 17 different vendors eager to feed you. Eleven of the vendors come straight from the streets of Singapore, and all of them reflect that island nation's incredibly diverse food culture, with its strong hits of Malaysian, Chinese, Indian, Filipino, Peranakan, and Indonesian cuisines.     
"We never really thought something like this would ever happen," Urban Hawker GM Larry Reutens told Hell Gate. "I've lived here for almost 20 years and to see these hawkers cooking in New York City is unreal. To be with some of these chefs or hawkers or whatever you want to call them, these guys who cook noodles, the same noodle dish, for 12, 15, 16 hours a day in Singapore, standing in front of their wok, to hang out with them in NYC... it just blows my mind. It's like: oh my god, that's the actual guy!"  
Almost every dish at every booth is priced comfortably under $20, and the portions, in general, are entree-sized. The obvious move, though, is to come with a crew, get a bunch of different things, and share it all. Here are five suggestions to get you started—we've eaten dinner at Urban Hawker twice already, and also sampled with abandon at a preview party—but know that this is only a taste of what's being hawked here.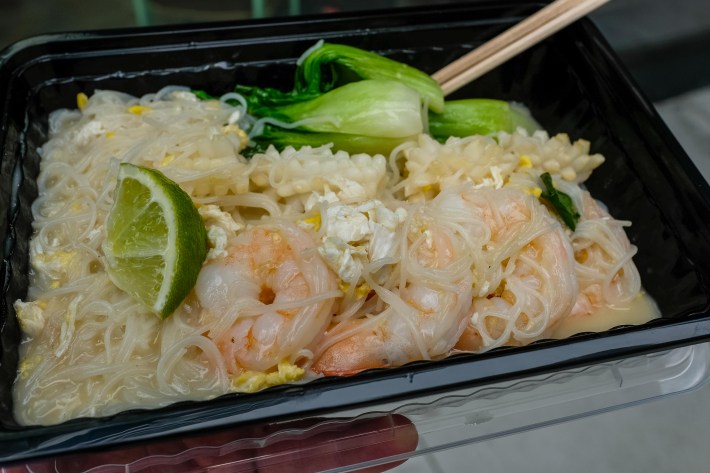 Original White Beehon at White Restaurant ($15.95) 
White is one of the many Singaporean imports, and apparently the OG chef here, Mr. Tay King Huak, invented this dish. It's incredible! Instantly soothing and deeply satisfying, it features a mess of slippery rice vermicelli (the "beehoon") all sodden in a rich, complex broth that's been burbling away for at least eight hours in the kitchen, and topped with four fat shrimp, a few thick tubes of nubby fish, and some bok choy for a bit of brightness. You can also get it with slices of pork or chicken cutlets, or vegetables and wild mushrooms, or even served Szechuan style. Make this a priority.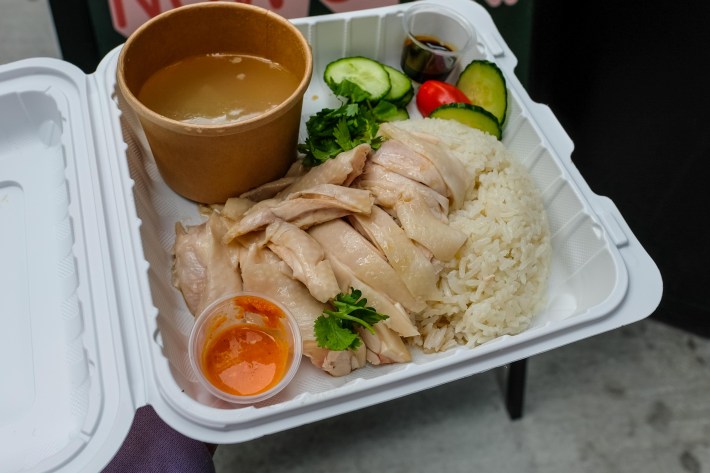 Classic Poached Chicken Rice Set at Hainan Jones ($17)  
The early winner for Urban Hawker's longest line award goes to Hainan Jones, a collaboration between Seetoh's company Makansutra and the rakishly be-hatted Raymond Kiang, whose father Joon Toh Kiang put this dish on the map back in the 1970s at Singapore's luxe Mandarin Hotel. Definitely get the poached chicken version—it's always remarkable how much flavor and juice resides in such a plain-looking piece of bird—and, if you can persuade the friendly counter person, an extra jolt of chili sauce. Don't be afraid to pick up your cup of broth and drink deeply between bites.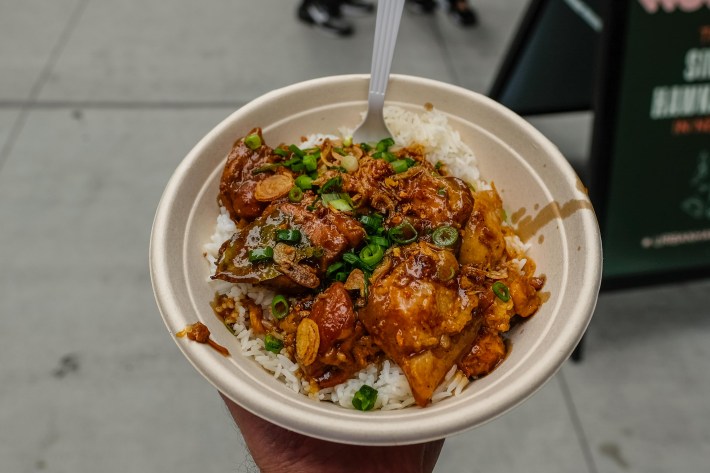 Pork Adobo at Tradisyon ($16) 
The Tradisyon crew only had to travel from Hell's Kitchen to open their Urban Hawker stall, but their Filipino comfort food should not be overlooked. The Vegan Pancit (rice noodles), Crispy Pata (pork knuckles), and Tinapa Mackerel with pineapple are all solid choices, but we can't resist that bowl of Pork Adobo, starring big, three-bite hunks of jiggly pig belly in a tart soy vinegar sauce, plus a whole hard-boiled egg, and crispy shallots and garlic strewn over the top. My cardiologist would be horrified.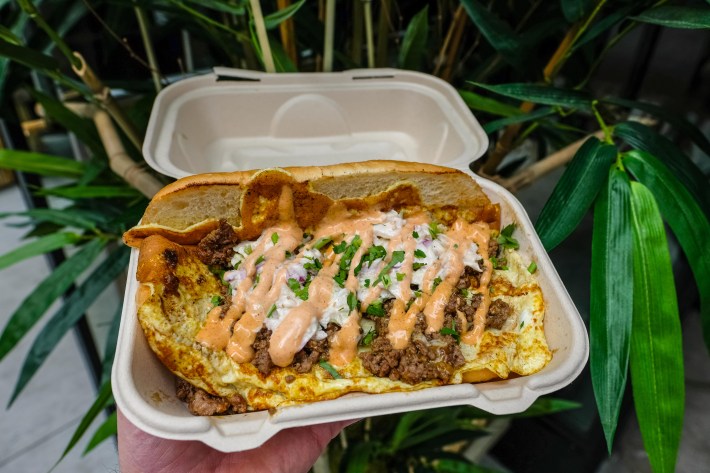 Singa Roti John at Ashes Burnnit ($11.99)
Lee Syafiq has a hit on his hands with Ashes Burnnit in Singapore—there are four of these halal burger stands on "the little red dot island," and he won Outstanding Hawker at the World Gourmet Awards last May. Here at Urban Hawker, Syafiq is slinging satay chicken burgers, smashed-style beef patties, fried fish burgers, and the crazy good Singa Roti John, a Singapore-style omelet sandwich piled high with curry ground beef, multiple cheeses, coriander, and a few squirts of a gloppy orange sauce, all set within a super soft hero roll. Do you have a hangover? Not anymore you don't.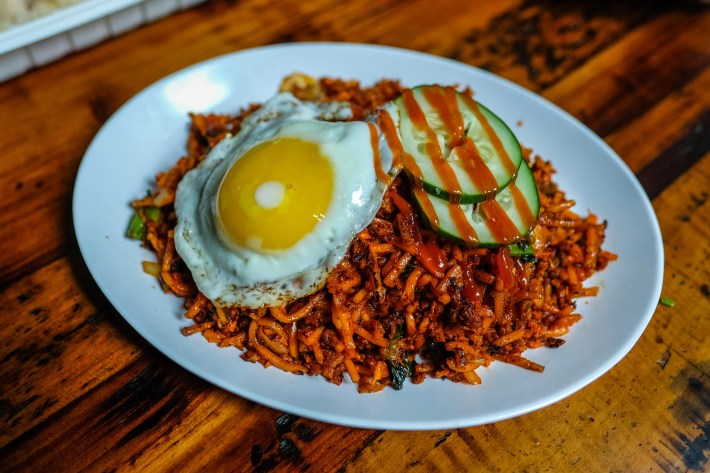 Mee Goreng Mamak at Mamak's Corner ($12.50)
This literally-in-the-corner stall from Shukor Tahir and Rajan Belani has all sort of Singapore Indian delights, from Chapati flat bread with lamb curry to thick Murtabak pancakes loaded with beef, egg, and chicken curry, and a bunch of Biryanis, either lamb, chicken, fish, or vegetable. We zeroed in on the almost neon-red Mee Goreng Mamak however, a platter of Indian-style egg noodles wok-fried with tomato sambal sauce and tossed with minced meat. Ask them to please make it spicy though. We've now had it both fiery and mild, and the former is definitely better. 
Like I said, that's just a small sampling of what you'll find here. Whenever Wok & Staple opens, an offshoot of Singapore's famous Dragon Phoenix restaurant, get their Sambal Chili Crab. The BBQ Stingray Fried Rice ($17) at Mr. Fried Rice is extremely Singaporean, the lovely Lamb Satay ($16.50) at Padi comes with an excellent peanut sauce, and Daisy's Dream Kitchen features a lively Nyonya Nasi Lemak ($14.95). And if you're feeling flush, splurge on one or several desserts from Lady Wong. The Pandan Panna Cotta ($6.50) is especially sublime.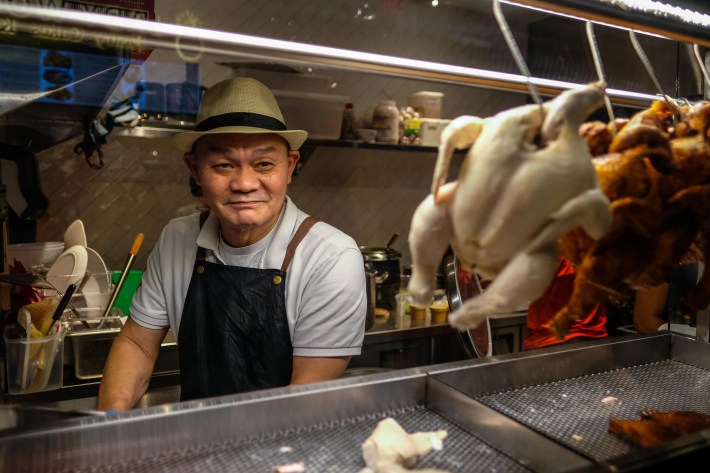 Some stalls at Urban Hawker still aren't up and running, and most close at some point during the afternoon, for an hour or three, to give the staff a break and retool for dinner. The place has been slammed at lunch mid-week, apparently, and Reutens told us that the nighttime crowd likes to linger and feast, so plan accordingly. 
"We get customers who are just overwhelmed by the experience," said Reutens. "Because even though it's New York, and even though it doesn't necessarily look like a hawker center back in Singapore, it feels like it, and it smells like it, and we're all kind of experiencing this flood of feelings, of being with friends and having the same thing we had at home, and it's truly overwhelming."   
Urban Hawker is located at 135 West 50th Street, between Sixth and Seventh Avenues (there's also an entrance on 51st), and is currently open for breakfast, lunch, drinks, and dinner. The hours for each individual stall vary.     
Scott Lynch is a freelance food writer, photojournalist, and preschool receptionist. He loves New York City.
Stay in touch
Sign up for our free newsletter