Critters of New York
One Step Behind the Coyotes of NYC
"That's how you always see them. Running away. I've seen more coyote butts than coyote faces."
12:19 PM EST on February 27, 2023
On an unseasonably warm morning in early February, Chris Nagy pulled into a small parking lot in Ferry Point Park in the Bronx, under the approach of the Whitestone Bridge. Nagy, a wildlife biologist with the Westchester nature preserve Mianus River Gorge, opened the door of his Subaru and his elkhound Ethan bounded out, immediately inhaling the salty concoction of scents emanating from the Trump Golf Links course and the East River. 
Elkhounds are well known for tracking bears and moose. But that day, Ethan's task was a little less harrowing—he was searching for coyotes.
"They're in every state in the continental United States except Hawaii," the 45-year-old Nagy said. New York City, he said, "just happens to be one of the last places they've been found."
Nagy, equipped that day with a large backpack for collecting scat specimens, has in the past decade become the city's go-to coyote expert. He modeled the population of screech owls in City parks for his CUNY Ph.D., but periodic coyote encounters intrigued him. After publishing a study examining how canids adapted to New York's ecology with conservation scientists Anne Toomey and Mark Wenckel, the trio founded the Gotham Coyote Project in 2009, with the goal of understanding how a creature from the vast American West could live in the most densely populated city in the country, as well as encourage New Yorkers to value urban wildlife.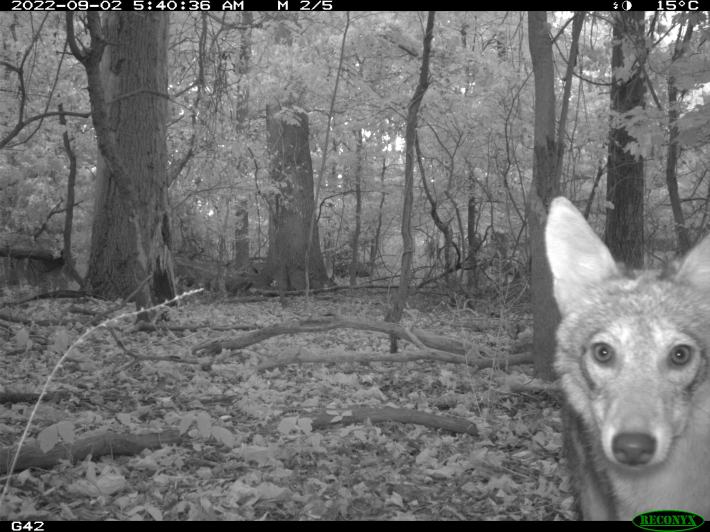 Their website has received dozens of tips, and at times, skittish New Yorkers will call Nagy directly after an encounter. During the pandemic, Woodlawn Cemetery officials reached out when they discovered one pair dug their den near a gravesite.
"It was a first-time breeding pair and they made a mistake in the middle of winter," he said, explaining that the coyotes were probably not aware the cemetery was in a well-populated area. "People ask for my advice and I say, 'Put up a rope and a sign.' If they don't like that site they will leave and they probably won't come back." The pair relocated to Van Cortlandt a few months later.
Nagy hopes the coyote sightings ultimately make New Yorkers more aware of the natural world and the consequences of human activity on the ecosystem, instead of viewing wild animals as problems or pests.
"We have a lot of problems dealing with the natural world these days, and that comes from seeing ourselves as sequestered and separate from the rest of existence," he said. "But seeing coyotes in a park shows us that we should think about how everything is connected and what kind of existence we want."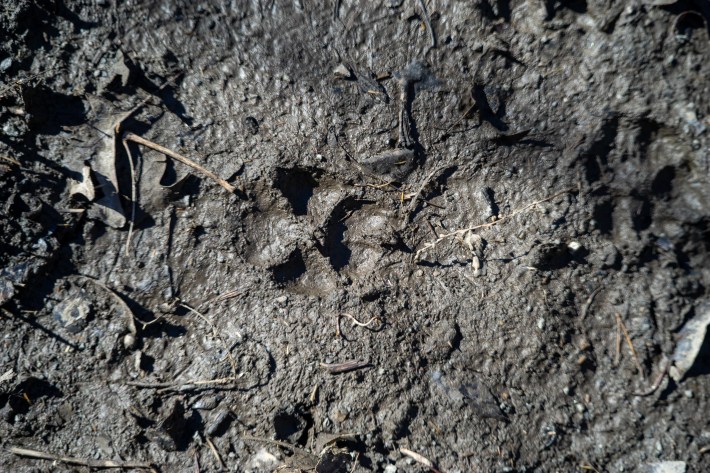 For hundreds of years, coyotes roamed the Great Plains and the American Southwest. By the 1940s, as wolves were hunted to near extinction in the northeast, coyotes began to migrate across the Great Lakes into the Adirondacks and New England (some crossbred with wolves creating an eastern coyote hybrid species). It wasn't until October 1994 when the first coyotes were spotted in New York City, exploring Woodlawn Cemetery.
Their presence in a new habitat was hardly considered auspicious. Four months later, a 29-pound female was found dead on the Major Deegan Expressway (the Parks Department had her stuffed and displayed at its headquarters and a statue memorializing her entry sits in Van Cortlandt Park). A male coyote scurrying through Central Park in 1999 caused so much alarm that it prompted a police chase involving dozens of officers and a hovering helicopter before he was tranquilized, captured, and sent upstate. 
In 2016, a coyote that wandered down the Manhattan coastline overnight before getting lost in Battery Park City at sunrise met a similar fate—police cornered him in the outdoor patio of a cafe at North Cove Marina and shot a tranquilizer dart at the animal. Parks officials dropped him off in the Bronx wilderness a few days later.
Others weren't as "lucky." In 2015, when Port Authority officials discovered a family of coyotes living in the wooded area on Elmjack Field near a LaGuardia Airport parking lot, they sought to have the coyotes trapped and euthanized. Animal rights advocates and PA employees tried to intervene, but the Port Authority had the USDA kill five of them the day before Election Day in 2016. One pup, however, escaped and was on the lam in Queens for years.
But over time, New Yorkers have learned how to co-exist with their nocturnal neighbors. When a single coyote sauntered through Central Park in January 2020, police reminded the public to not to feed it and keep their distance (the New York Times newsletter's headline read, "There's a Coyote in Central Park. Don't Panic." After Riverdale residents reported several coyote sightings last year, City parks officials said at a forum in November they would not relocate wild animals across county lines because they will just come back to the Bronx.
"If I were a coyote, why wouldn't I want to live in Riverdale? We have a beautiful and park-filled community, and I think coyotes probably avoid Midtown Manhattan for the same reasons I do," mused Bronx Assemblyman Jeffrey Dinowitz. 
Nagy often attends meetings held by City and stage agencies, to share his knowledge about coyote behavior. (In 2015, for example, he preferred the Port Authority wait to act until after the winter when the pups left their den, but the Port Authority didn't want coyotes scampering onto their runways.) "You don't want people to be buddies with them or feed them, but it's hard in the city. Sometimes we err on the side of being too lovey lovey with them," Nagy said. "Even if someone is not feeding them on purpose, they can get food and become more comfortable around people."
State environmental officials estimate there are currently 14,500 breeding pairs of coyotes in all of New York, with an untold number of juveniles. Nagy believes there are about 15 adult coyotes in the city year-round, but that population could balloon to 35 over the summer, depending how many pups the pairs produce. According to the Parks Department, there were 73 coyote sightings last year, and a total of 245 since 2016.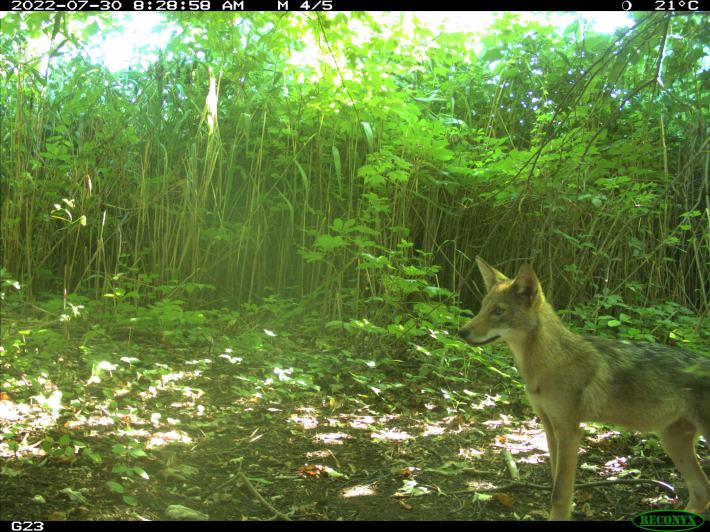 For all of the random sightings, coyotes can be hard to find—Nagy has only seen a coyote five or six times in the field over the past 15 years. "They need some little place to hide in but they are surprising everyone with how tiny that could be. It could almost be a vacant lot," Nagy said. In order to observe them, he attaches heavy Reconyx infrared cameras that are sensitive to movement to trees in a handful of City parks.
Ferry Point Park has been a fruitful location for sightings. City workers discovered one pair a decade ago during the park's construction, and Nagy has tracked the site ever since. Clubhouse officials recently observed coyotes darting across the greens, and Nagy heard of several sightings at a large apartment complex's dumpster north of the golf course.
"They have a very strong instinct to find their own spot," Nagy said. "When we put collars on them once, we saw them go north and west and they kept coming back to their den as if looking which way they should go. It's a harrowing decision for coyotes to cross highways and avoid people to find a place to live."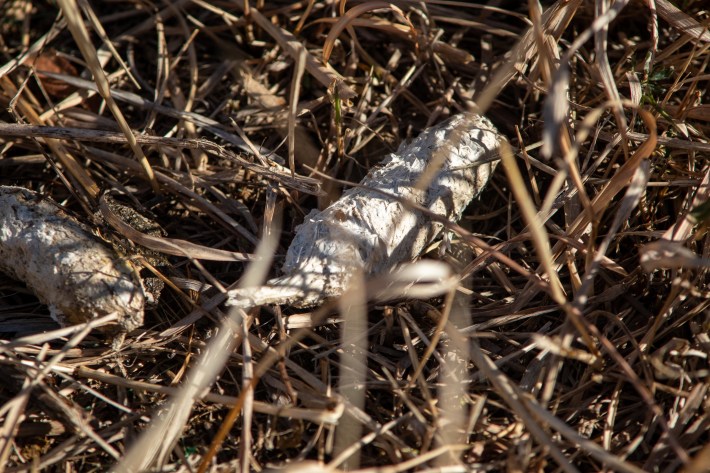 Ethan led Nagy down an undulating asphalt path along the reedy banks of the East River, stopping briefly when he encountered animal droppings. 
The park was littered with packets of Yi Pin hot sauce, empty cans of Modelo Especial, and wayward golf balls that had sunk into the soil. About half an hour into the walk, Ethan zeroed in on a mound of desiccated pellets on the edge of the path. The pellets looked like Tootsie Rolls with two ropy twists on each end, the classic shape of coyote scat due to the large amount of fur in their diet. Nagy used a twig to scoop a pellet into a brown paper bag, which a genetics lab at SUNY Purchase would later analyze to determine the coyote's diet. 
Coyotes are apex predators, omnivores who chow down on white-tailed deer, squirrels, rabbits, raccoons, voles, and seagull and goose eggs, as well as plants and berries. But Nagy has also found bits of beef, banana, wheat, and chicken bones in droppings, which seem to indicate coyotes are getting into our garbage. "They could be dumpster diving or eating litter or dog food," he suggested.
Ethan took a sharp left turn through a patch of reeds and up a mottled hill to the edge of the golf course. As he shuffled past a mound of goose droppings, a gray bushy-tailed creature—a coyote!—parted the reeds and nonchalantly crossed the path toward the river. Nagy and Ethan scurried down to the reeds, but the coyote was long gone. "That's how you always see them. Running away," Nagy said. "I've seen more coyote butts than coyote faces."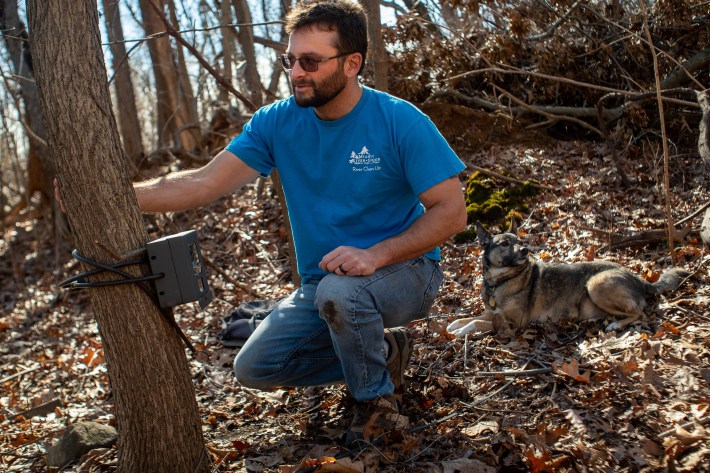 Almost twenty years after the first recorded coyote spotting in the city, they've adapted, as humans have, to urban living—their home range has shrunk and their desire to flee danger has reduced. Coyotes can roam eight to 10 square miles in the wilderness, but tend to only explore one-half to two square miles in the city, depending on the location of food sources, water, and shelter.
But when pups leave their parents to find their own territory, they can travel as long as hundreds of miles away in a one-time disbursal event, crossing bridges, swimming through rivers, and meandering up the coastline.
And like human New Yorkers, they often find dating difficult. Some city coyotes are forced to wait years for a mate of the opposite sex to arrive in their habitat. There are currently bachelors in Central Park and Alley Pond Park in Queens, although Nagy believes the Queens loner will have better luck than his Manhattan kin because he lives in a bigger park that's near the water.
But some remain single. Nagy tracked one bachelor he named "Frankie" in Gwen Ifill Park in Rochdale Village, Queens, for the better part of a decade. The first picture captured Frankie in 2009, and his last sighting was in 2019. 
"He was looking pretty old by then. Then I didn't see him anymore," Nagy said. "He'd keep looking for a mate but never found one."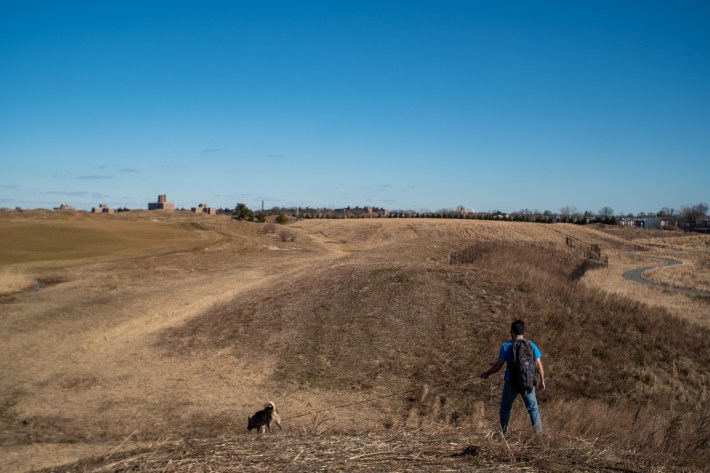 Aaron Short is a Brooklyn-based journalist whose work has been featured in Intelligencer, Grub Street, Curbed, Insider, the Daily Beast, the New York Post, New York Daily News, Commercial Observer, and City & State.
Stay in touch
Sign up for our free newsletter