Climate
NYC's Power Grid Is A Climate Disaster. That's Finally Starting to Change.
Hell Gate went to one of NYC's oldest power plants to track the transformation.
2:00 PM EDT on April 20, 2023
At the northwest end of Queens, where the Flushing Bay meets the East River and flows through the Hell Gate, is where part of New York's clean energy future lies. This is the Ravenswood Generating Plant, its red and white smokestacks have lined the waterfront near the Queensboro Bridge since the early 1960s—the noxious pollution from burning fossil fuels contributing to Astoria and nearby Queensbridge having some of the highest asthma rates in the city.
First owned by Consolidated Edison, the Ravenswood plant, which currently supplies around 20 percent of the city's power on any given day, has changed hands a few times since deregulation in the 1990s. In 2017, it was bought by Rise Light and Power, a subsidiary of LS Power, an investment group that has built fossil fuel plants, in addition to ones that run on renewable energy sources. In Ravenswood, their grand plan isn't to keep running the four massive turbines (which are powered by fuel oil and natural gas), some of which date back to the Apollo space race era, but to shut the plant down once and for all. The plan for the site is to keep the transmission lines already there, and replace all of the dirty energy generated currently at the site with offshore wind. Once that wind energy gets flowing, some of it will be stored in huge batteries on-site, for use during times when the wind isn't blowing. 
Inside the plant on a recent spring day, there's a persistent, low-grade hum, as turbines spin and fans cool. Workers in construction hats gather around fenced-off portions of the airport hanger-sized space, where both the flags of New York City and the borough of Queens hang high above. On the whole, the plant is nearly spotless, its machines gleaming and coated to exacting standards.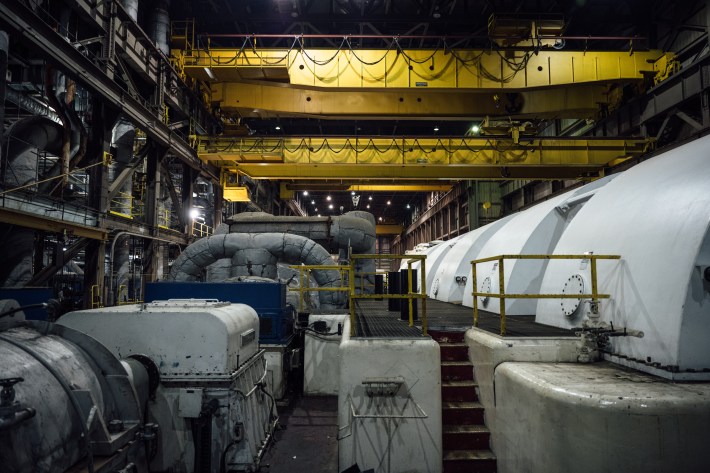 "This whole process isn't what people are against," said Jim McMenemey, the operations manager at Ravenswood, referring to the creation and transmission of energy. "It's the whole fossil fuel thing. For all modes of creating electricity, with the exception of solar, you need rotation. Wind turbines are just replacing the steam with wind, because you always have to spin a magnet inside a copper coil to create some voltage." 
Each morning, McMenemey gets on a phone call with state regulators, who discuss what amount of power is needed for New York City in the days ahead and how much energy each of the city's power plants, which are spread mostly near the waterfront (just look for the steam towers abutting brand-new condos), need to generate. On an extremely temperate March day like this one, the needs are fairly low—air conditioners have yet to really power on, and New York City still gets most of its heat from boilers housed in each building or home. On this day, just one of the plant's turbines is running, while a few of the others, including the massive Big Allis (named after its manufacturer, Allis-Chalmers), the city's largest fossil fuel generation unit, are having repair work done. 
Soon enough, however, those repairs will stop. By 2030, New York state has committed to getting 70 percent of its electricity from renewable energy sources. By 2040, it is mandated to make 100 percent of its power clean. And while the battle to get New York's leaders to commit to this target, which came in the form of the Climate Leadership and Community Protection Act (CLCPA) in 2019, has been long—the actual implementation will have to be done quite quickly.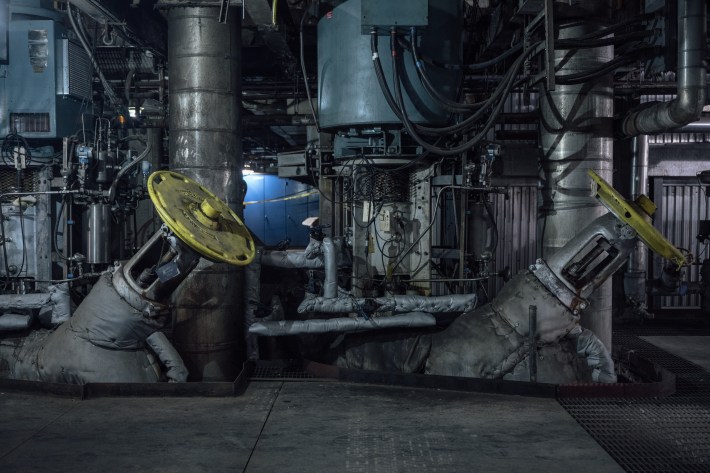 With the first major deadline coming in just over six years, New York finally has a roadmap to hit its climate goals—and in the past year, the state has taken some huge steps toward getting there. Still, right now, experts say that the state would need pretty much everything to go right for it to hit its 2030 goals, while the legislature needs to make sure to fund it in the now-delayed budget. Right now, New York gets around 30 percent of its energy from renewable resources on a given day, with the vast majority of that coming from hydropower.  
"It's looking predictably ambitious and hard to accomplish," said Daniel Zarrilli, the Special Advisor for Climate and Sustainability at Columbia University, said of the 2030 pledge. "Ambitious goals are great but ambitious actions are even better. We need the legislature and governor's office to take action, and all eyes are on the budget." 
Right now, the state is negotiating proposals like "cap-and-invest," which would tax polluters to pay for clean energy projects, and one that would mandate the state's power authority to begin building infrastructure projects again. ("Cap-and-invest" is the same process as "cap-and-trade," which was renamed post-Obama era failures). 
Zarrilli, who was the chief climate policy advisor for Mayor Bill de Blasio, says that the CLCPA, along with New York City's own climate pledge, Local Law 97, have committed the City and state to goals that have set off a wave of innovation and investment in the energy sector. This has created a pathway to a quick transition—if state legislators and regulators stay focused on actually implementing and supporting the climate plan. 
"All the pearl-clutching, all the saying, 'Ooh this is too ambitious'— no, it's not," said CUNY Law professor Rebecca Bratspies, whose work analyzes environmental law and decarbonization in New York state. "We're probably going to end up doing this faster and cheaper than the state thought possible."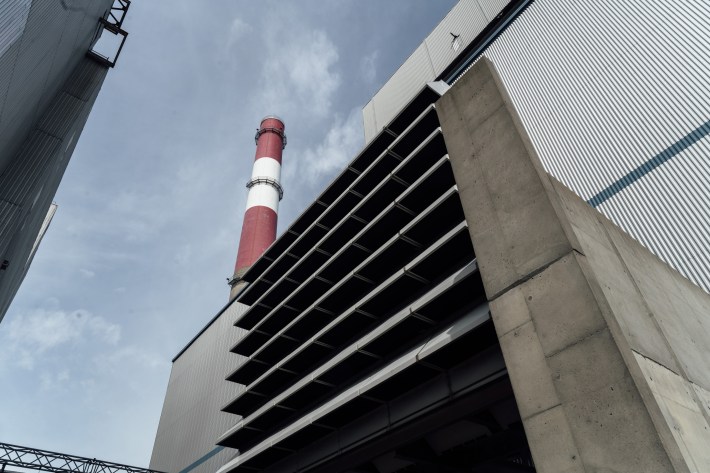 That's because New York's transition to clean energy has a few things working for it already. First, the part of the state north of the Hudson Valley already gets the vast majority of its power—91 percent—from renewables like the massive hydroelectric projects built during the Robert Moses era, which power the lives of over six million people who don't live in the city or its adjoining areas. Remaining nuclear power plants and scattered wind farms also provide help without burning fossil fuels.
New York City and its surrounding areas are a different story—since the (some say premature) closure of the Indian Point Nuclear Power Plant in 2021, the city has burned far more fossil fuels to power itself than it had previously. 
But that's about to change—the city is about to see a huge influx of renewables.
New York shares an important border—one with Quebec. Under an agreement reached last year, the state-owned Hydro-Québec will in 2026 begin shipping more electricity from its own massive dams north of the border down a new transmission line that will run underneath the Hudson to Astoria (ground was broken on the line in November). That line alone would fulfill 20 percent of New York's summer power needs, when energy use is currently highest. There's also another new transmission line being built, the ground for which was broken in December, to carry renewable energy from upstate and western New York by 2025.  
Right now, the state estimates it has already contracted out a 39 percent increase in renewable energy by 2030. Eighteen percent of that increase would come from hydroelectric power, while 11 percent from onshore wind. Another 27 percent would come from solar farms, 14 percent from "distributed solar" (think rooftops), while the rest will come from offshore wind. 
But "contracted out" does not always equal "actually built" in New York state, where projects face near-endless bureaucratic and legal hurdles. As Colin Kinniburgh wrote in New York Focus last year, to achieve all this, "New York will need to build wind, solar, and energy storage 10 times faster for the rest of this decade than it did in the last."
But New York's leaders, including the New York State Energy Research and Development Authority (NYSERDA), have recently shown a heretofore unseen seriousness in getting the projects done on time—and late last year, the state finalized a climate plan to completely decarbonize the state's economy. 
By 2030, officials are aiming for at least 15 percent of New York City's total renewable energy to come from hydroelectricity sources upstate or in Canada—when fully operational, Hydro-Québec could supply 20 percent of New York City's electricity. But it's offshore wind that will be critical for the city to wean itself off of fossil fuels.
By 2030, downstate New York is betting on receiving 24 percent of its energy from offshore wind farms located anywhere between 14 and 60 miles from shore, like those being planned by Rise Light and Power. And by 2040, downstate New York is planning on receiving over 50 percent of its power from offshore wind. 
The first of these projects will be South Fork Wind, which will power 70,000 homes on Long Island starting this year. Then things will really get going—a project called Sunrise Wind is poised to be operating by 2025 and will power about 600,000 homes. Then three more offshore wind projects are expected to become operational by 2028, powering about two million homes. The state has already opened bids on more wind farms, and environmental advocates are calling on them to push for even more aggressive permitting. 
This would be an impressive accomplishment—right now, there's only one single offshore wind farm in the United States in Rhode Island—but engineers like Rise Light and Power's McMenemey insists that it's possible.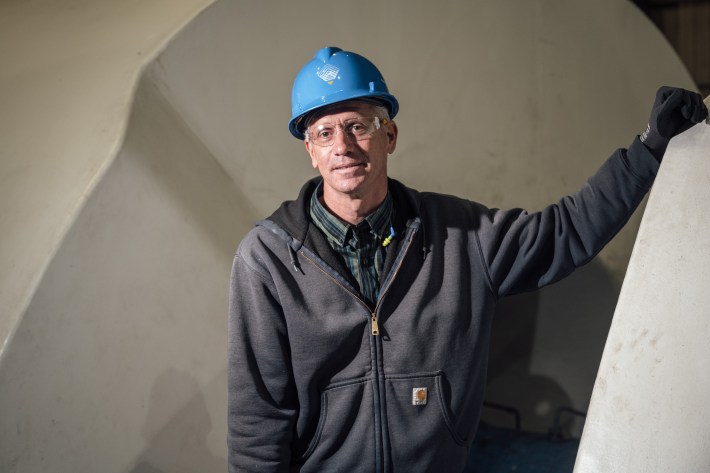 "It's technology that's being brought to this country. It's not new stuff," he explained. "Up in Northern Ireland, in Scotland, up in the North Sea, we've got plenty of windmills that are in operation around the world. And we can easily take these lessons learned and bring them to New York."
Rise Light and Power is one of several companies that are aiming to construct offshore wind turbines to supply power for New York. Their plan also includes running several miles of cable through the Hudson to Astoria. As the amount of wind power increases, they'll begin decreasing their own dependence on fossil fuels. Within a few years, they hope, they'll be able to retire their turbines, and install massive batteries to store power for times when the wind isn't blowing. 
Along with Rise Light and Power, multinational power companies like Ørsted (which is owned by the Danish government) are poised to make millions on powering New York's energy transition through wind power. None of this transition would be possible without massive state subsidies—both in financing (which is being worked out currently in the long-delayed state budget) and land use. Currently, the plan is to rely on private utilities like Con Ed and Rise Light and Power to build out the state's renewable energy grid (the investment giant Blackstone is building the Quebec to NYC transmission line), netting millions in profits for companies that themselves profited off of decades of air pollution and burning fossil fuels; LS Power alone has built or owned over a dozen fossil fuel plants across the country.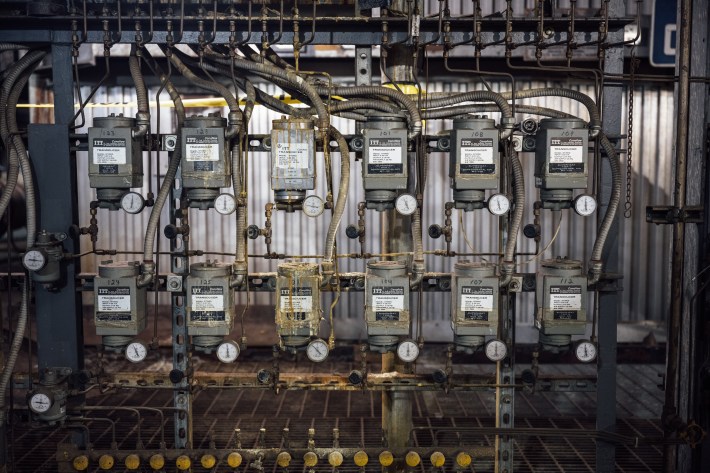 The prospect of companies that have profited from dirty energy now profiting off of renewables doesn't sit well with many advocates. Right now in Albany, progressives and climate justice advocates are once again pushing for the Build Public Renewables Act, which would give the public more say in the running of the state's public power authority, and give the authority the mandate to start building its own renewable energy projects. Advocates believe that the BPRA could help avoid a situation where New Yorkers' grid is now cleaner—but still as expensive and subject to inscrutable price swings. 
"If you look at the economic transition that accompanied the creation of the coal economy, which is what Engels was really writing about, and the emergence of the fossil fuel economy, you see ever-widening inequality each time—pure extraction of resources," said CUNY's Bratspies. "If all we do is take out the fossil fuel and replace it with renewable energy, we're not doing anything to address those profound social inequities which exist." Take the case of Hydro-Quebec's agreement with a first nations people—there, the Mohawk Council of Kahnawake worked out an agreement with the utility to own part of a transmission line that runs through their territory. (Of course, Hydro-Quebec itself is a state-owned enterprise, providing residential power at some of the lowest rates in the world.)
Bratspies and other supporters of a more profound economic transition feel that New York has a chance to change who profits from the city's power, and in turn, head off a looming social crisis—the massive retrofitting of thousands of New York City buildings and homes that must be done to eliminate fossil fuel heating—all mandated by the state's climate law. 
"We have an opportunity here to rethink what having an energy economy means and what it means to give communities real access to energy, and that the burdens don't fall disproportionately on poor people and people of color," Bratspies says.
As Ravenswood's generators begin to power down, the battle over who owns New York's energy future is flickering on. 
This story is the first in a two-part climate series. Next up: dealing with NYC's ancient, gas-thirsty buildings.
Max Rivlin-Nadler is a co-publisher of Hell Gate. He's reported for Gothamist, The New York Times, Village Voice and NPR. You can find him walking his dog, Stiva, or surfing in the Rockaways.
Stay in touch
Sign up for our free newsletter