Going Places
A Basic Privacy Guide to OMNY, the MTA's MetroCard Replacement
Welcome to the PanOMNYcon.
2:22 PM EDT on September 9, 2022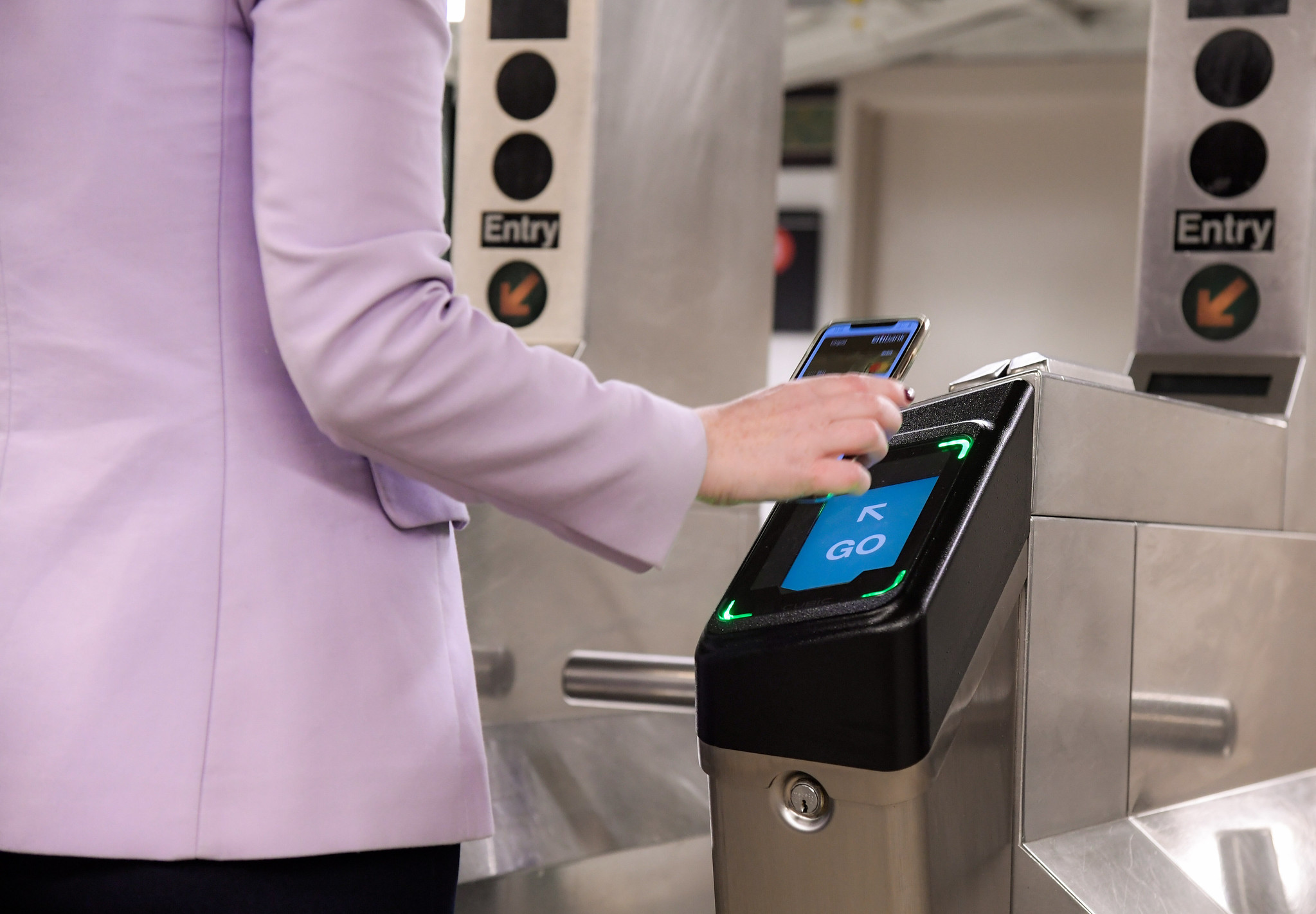 The impending demise of the MetroCard and its colorful if maddening machines has forced New Yorkers to take a closer look at the future of paying for mass transit. OMNY, the tap-to-enter system, will replace MetroCards by the end of 2023, a fact of life that you may view as more convenient, or "terrible news for privacy in NYC." 
On the one hand, the MetroCard system is 30 years old, and slower and creakier than it needs to be. According to the MTA, the OMNY tap reduces a 2.4 second MetroCard swipe to 500 milliseconds, which adds up to 18 hours of time saved every day on a bus route like the B4 in Brooklyn (though it doesn't move double parked drivers out of the bus lane). There is also an OMNY discount that the MTA is pushing: if you pay for 12 fares in a week, every other ride that week is free.
On the other hand, using the literal tracking device in your pocket to swipe into a transit system understandably makes some people nervous. 
"It's yet another way in which our city is growing more privatized and more exclusive and further marginalizing low-income New Yorkers," said Will Owen, the communications director at the Surveillance Technology Oversight Project (STOP).
OMNY debuted in 2019, but the MTA updated its privacy policy this past June. We tried to answer some of the thornier questions about the system that will soon be a part of every straphanger's commute. 
What kind of data is the MTA collecting on me if I use OMNY?
The answer to this question depends on which OMNY device you choose. 
If you use it the way the MTA's advertisements are encouraging you to—with a bank card or a smartphone/smart watch wallet, or a soon-to-be-released OMNY app—the answer is: quite a lot.
Setting up an OMNY account requires you to provide what the transit agency calls "Personal Information": your name, age, home address, email, photograph, phone number, etc. Included in this data set of Personal Information is the payment information that your credit card company already has: credit card numbers, last four digits of your social, billing address, etc. Payment data is shared with the MTA even if you don't have an OMNY account.
Then there's the standard "Online Activity" data, like cookies, IP addresses, when you log on to your OMNY account.
Then there's geolocation data—where you've tapped, over time, across the system. 
Why would you want to set up an optional OMNY account? If you use the transit system enough, it's how you're supposed to interface with the MTA: change payment methods, dispute charges, and yes, even track your own movements in the system over the last 12 months. 
Do I have to give the MTA all this stuff?
No, but that means you'll have to purchase a separate OMNY card and fill it up with cash. Currently, you must do this at convenience stores and pharmacies across the city, but the MTA says it will install 1,600 special OMNY machines in 2023.
A new OMNY card costs $5, which essentially makes it a form of "privacy tax."
"I do think that sets up a barrier for people to essentially pay for privacy, which shouldn't exist," Jerome Greco, the digital forensics supervising attorney for the Legal Aid Society, told Hell Gate.
Asked about this barrier, the MTA told us, "We are evaluating options to make the transition from MetroCard to OMNY as accessible and affordable as possible for all New Yorkers."
What about New Yorkers who get discounted fares? Will they have to submit all their personal information to switch to OMNY?
Yes, but they won't have to share any more information than they already do to receive a reduced fare, according to the MTA. Discounted and student MetroCards are supposed to roll out next year too.
Does OMNY make it easier for the police to track you?
Probably, but law enforcement already has a way into MetroCard data. In one high profile recent example, the NYPD was able to track the alleged subway shooter Frank James by looking at his MetroCard swipes and video footage, according to police sources who spoke to the Post and the Daily Beast. James apparently paid with his credit card.
"There are a lot of ways for the NYPD to get access to current MetroCard data, and they do pretty regularly," Greco told us.
When we asked what the MTA requires to turn over OMNY or MetroCard data to law enforcement, the agency replied, "The MTA cooperates with active law enforcement investigations where appropriate."
Undocumented New Yorkers are one group that could OMNY could put at particular risk: The kind of granular data OMNY collects will doubtless be tantalizing to the U.S. Immigration and Customs Enforcement agency, which has displayed a willingness to work around any government hurdle to obtain data to try and deport undocumented Americans. A recent report by the Georgetown Law Center on Privacy and Technology revealed that ICE bought up vast troves of government data from third-parties to help identify people they were targeting.
Earlier this year, the New York state legislature passed a law that prevents out-of-state jurisdictions from issuing subpoenas related to abortion-related investigations, presumably preventing those authorities from using this sort of transit data to prosecuting people who are trying to get abortion care here.
Can the MTA sell my data to advertisers or whoever?
"Selling data to third parties is not permitted under MTA policy," the MTA told Hell Gate.
What about Cubic Corporation, the company who made OMNY for the MTA? Can they sell my information?
No, according to the MTA, because Cubic does not own any of the data they collect and manage for the MTA, the MTA does. 
Cubic has been working with the MTA since the early '90s—they also invented the MetroCard, and supply payment systems for the transit agencies in Boston, Chicago, and London. The company is being paid almost $600 million to create and maintain OMNY (which stands for "One Metro New York"). The project is more than $100 million over budget and more than a year behind schedule, though those sort of overruns are not uncommon at the MTA. (Cubic did not respond to our request for comment.)
Don't they also collect anonymized data? Can they sell that?
The MTA and Cubic do collect anonymized data, which is exceedingly easy to de-anonymize; researchers have found that you can ID someone with just four bits of anonymous demographic information.
But the MTA insists that this anonymous data cannot be sold by them or Cubic or anyone else. 
What about the geolocation data? Do the credit card companies see that? Can they sell it?
The credit card companies do not have access to OMNY's geolocation data, according to an MTA spokesperson. The banks only see that there was a transaction at a given time by a given customer. Geolocation data collected by the MTA or Cubic cannot be sold, though it's a valuable tool for improving transit systems.
How secure is all this information?
The MTA makes OMNY users acknowledge that there is an inherent "risk" to providing all this information, and Cubic has lost batches of data to hackers before. 
"Our transactions are encrypted from the moment you touch the validator," the MTA's OMNY supervisor told The Verge in 2020. "We do absolutely everything we can do to maintain the integrity of the transaction to ensure it's secure. If we have just one little glitch, our credibility goes out the door."
OK so, should I just give up and get on the OMNY train or dig my heels in until they pry my MetroCard from my cold hands?
Whether you use OMNY depends on how much you value convenience over feeding the information economy, and whether you can afford to.
"There are good aspects to what has been implemented," said Tom Pera, a program associate at the TransitCenter who wrote a report about tap-to-pay systems published last year entitled "Do Not Track."
Pera said that when he is forced to convert to OMNY, he'll probably use the cash-loaded version.
"You could say in the broader picture, there's a resignation for just people feeling like all of our data is just accessible anyways, and if they're not going to get it from [OMNY], they're gonna get it through someone else," Pera said. "I think as much as possible, as individuals, we should maybe take steps to not contribute to this data economy that exists."

Chris is an editor at Hell Gate. He spent a decade working for Gothamist, and his work appears in New York Magazine and Streetsblog NYC.
Read More:
Stay in touch
Sign up for our free newsletter